The Swiss Army knife was the be-all and end-all of every boy scout's dream. It was a complete wish-list of pliers, scissors, knife, saw, tweezers, can-opener, inflatable life raft. Wait, no, it didn't have the inflatable life raft, but you could use the multi-functional knife to make a raft out of wood.
Multi-Functional survival tools have become an industry packed with innovations. The Swiss Army knife has been pushed to the bottom of the list as outdoors companies are pushing out pocket-sized survival items that could build a house. It is as if Agent Q's multifunctional gun pens and shoe phones have been mixed with crowdfunding sites to produce some amazing products.
Must Haves Multi-functional Survival Items
Coming from a former military perspective, I was of the belief that shelter could be made with a good sturdy knife. There are survival specialists out there that are more innovative than a smart phone. But give a survivalist one of these multifunctional items, and you've got yourself a city.
Whether you are starting out as a prepper, or your bug-out bag has been collecting dust for some time now, take a look at the following seven items. I can bet some of them could replace a number of items in your survival kit.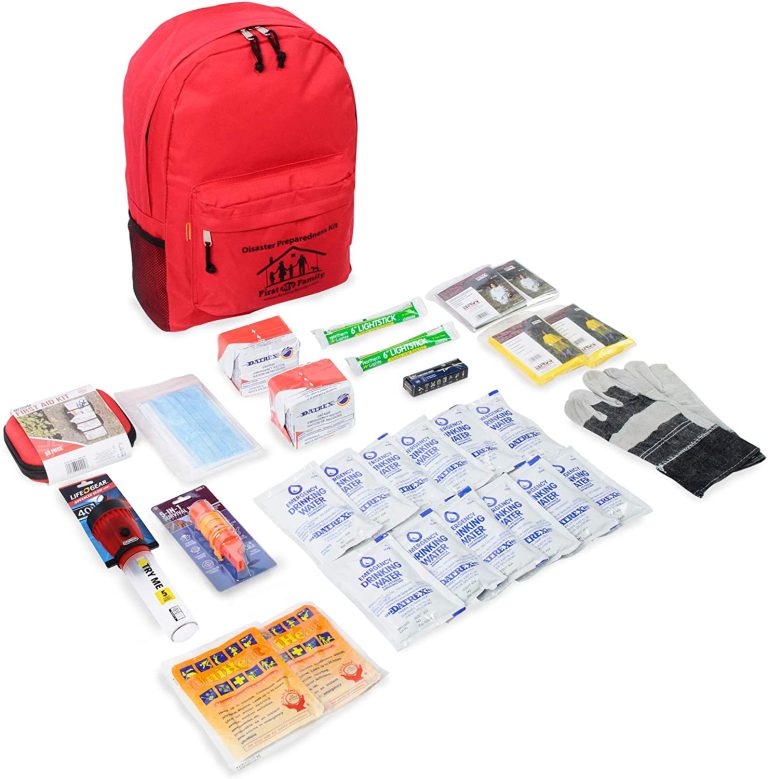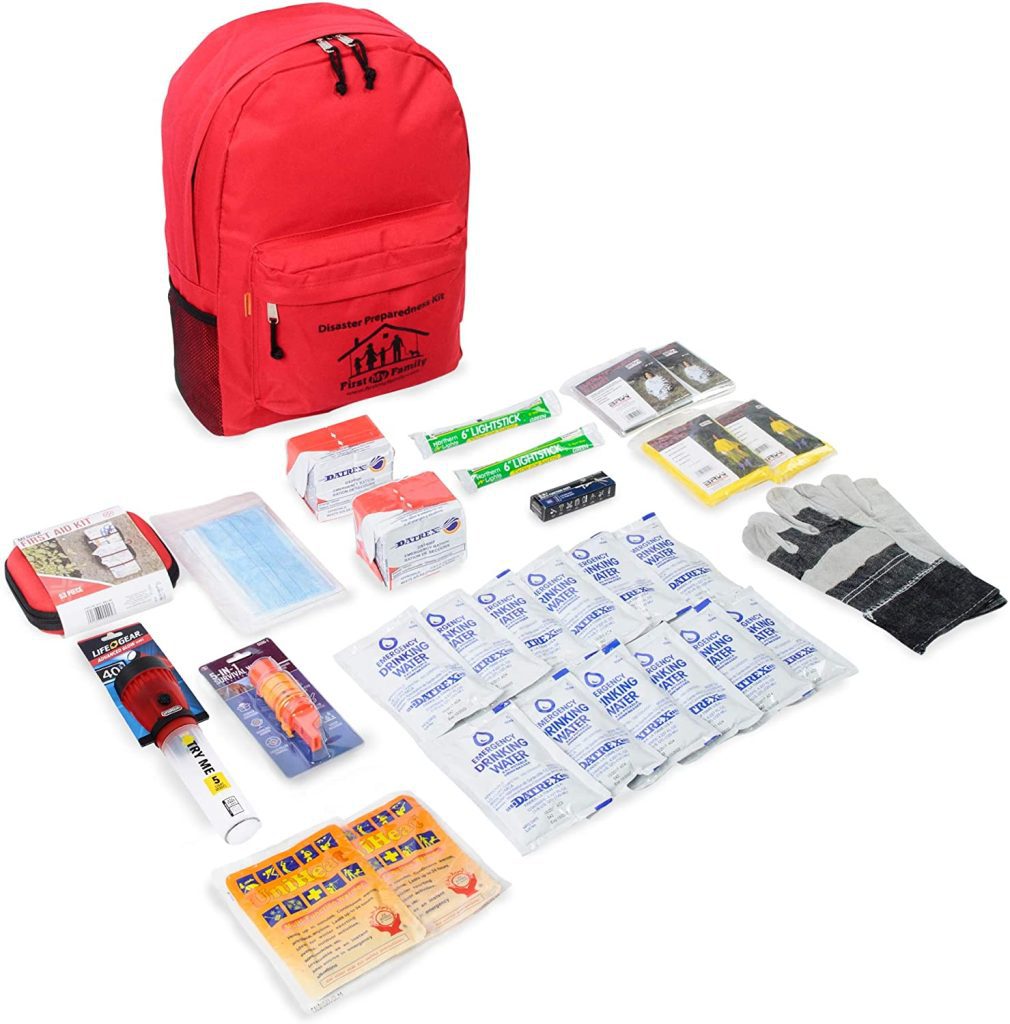 The First My Family Survival Kit is distinct from the other bug-out bags on our list. It is not available in multiple sizes, but the design can accommodate two people. Fires, earthquakes, hurricanes, floods, tsunamis, terrorist attacks, civil unrest, and other crises/disasters are all covered by the First My Family 72-Hour Emergency Survival Kit.
In general, each pack has food and water rations, a lifeline first-aid kit with a guide, and sufficient items to provide shelter and warmth. A well-stocked emergency preparation pack has everything you'll need to keep yourself and your family safe until assistance comes.
This bug-out-bag has a vast selection of emergency materials that go above and beyond the Red Cross requirements for readiness, allowing you to rest confident that you will have everything you need in a natural disaster.
This First My Family Survival Kit is suitable for a small family and is a convenient way to respond to the call of disaster preparation without going through the effort of purchasing many items.
This kit has one high-quality backpack that contains emergency and first-aid items such as body warmers, blankets, gloves, a face mask, a 5-in-1 emergency whistle, flashlight, and glow sticks that are sufficient for two people.
The food and water rations fulfill the high-quality criteria of disaster preparation established by the Red Cross, providing you with the confidence that they are safe to store and eat during a crisis.
Pros
This pack comprises goods that you may use in various weather conditions.
This kit contains the essentials needed for a two-person survival.
Having multifunction outdoor camping gear and a whistle is functional and space-saving in survival situations.
Cons
Because everything is pre-packaged, it may include things from brands that you would not have picked.
Some buyers have expressed dissatisfaction with the quality of some of the products, such as the flashlight.
When wholly loaded, these backpacks are not the most lightweight.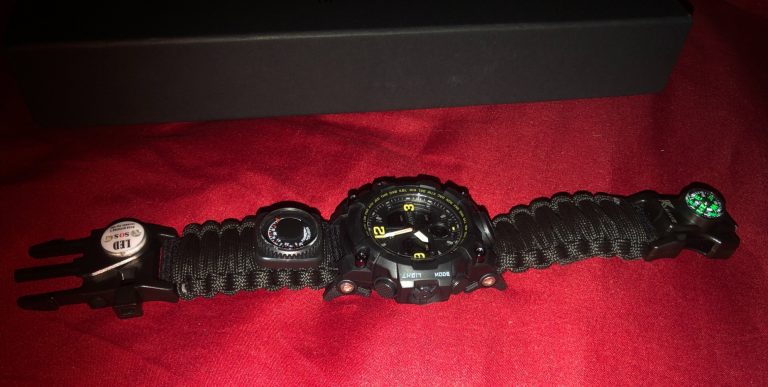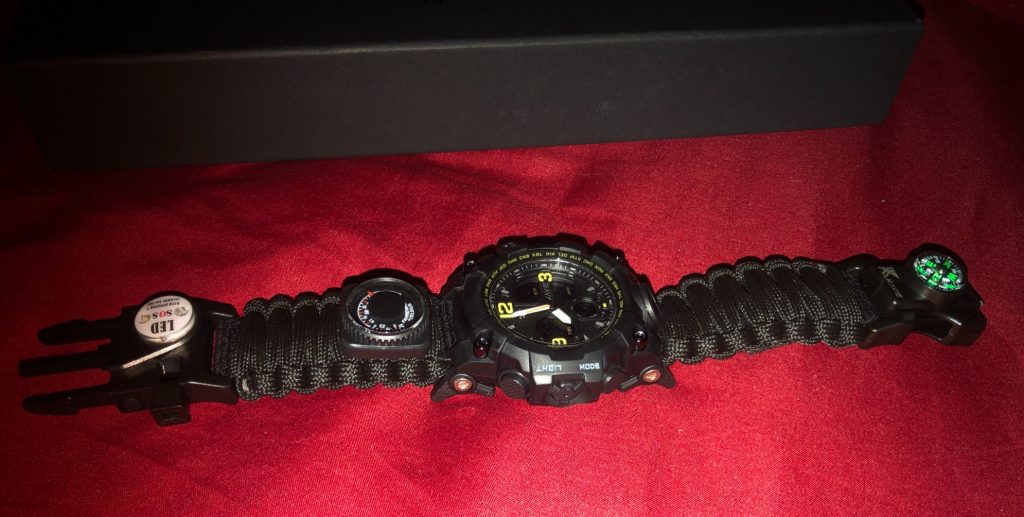 Smilkat's 23-in-1 Survival Military Digital Watch is just what you are searching for if you want a survival watch that is both stylish and useful while also being reliable and durable.
The most significant part about this watch is that it comes fully loaded with all of your outdoor survival necessities, making it a fantastic tool to have on hand in any outdoor emergency. With its 23 functional features, it is excellent for various activities such as hunting, fishing, hiking, kayaking, military, camping, and exploring.
Its all-new design provides an aesthetically pleasing appearance for regular usage while also matching your survival needs.
Compared to previous compass designs, this one features a dial of 0.79″ larger in diameter and is easier to see, making it more accurate and straightforward to use in various emergency and tactical circumstances. It also includes Velcro straps that you may adjust. You could take the rope out to make the wrist a little wider, or you could better fasten the watch somewhere else.
The wristbands are composed of a high-quality parachute cord during outdoor activities, which can readily lift a person or object. It can handle weights of up to 250lb (113kg) and can be stretched up to 10 feet in length, making it ideal for any circumstance where a strong rope or cordage is required. You can use it for various tasks, such as stabilizing a tent while building a shelter, making hunter traps, and trekking rope.
The whistle and compass will guide you back to your destination if you become lost!
Pros
23 multi-functional tools
Perfect for a gift idea
Good quality watch
Waterproof
Cons
The band was a little bulky for some
More suitable for a person who has a thicker wrist
The Military Style Tri Fold Shovel is a fantastic option to consider when it comes to survival shovels. Portable hole-digging tools are essential in today's world, and this one copies similar U.S. military surplus models.
It is highly durable since it has a serrated edge for sawing. If you need to get out of a tight location, it will quickly pound through hard ground and get you out of the situation. With so much adaptability packed into a single shovelhead, it is perfect for camping and anything else you would need to see.
Because of the lock nut function, the shovel remains very stiff when used, which is vital while digging in rugged terrain; the last thing you want is the handle to shatter while digging.
The tri-fold shape is very durable and takes up very little room.
The whole structure is an all-metal powder-coated steel construction for the utmost durability.
Overall, it is an excellent survival shovel at a fantastic price point.
Pros
Similar to U.S. military shovel
Locknut feature
Tri-fold minimalist design
All-metal construction
Serrated edge
Cons
A bit short
Not a replacement for a full-size shovel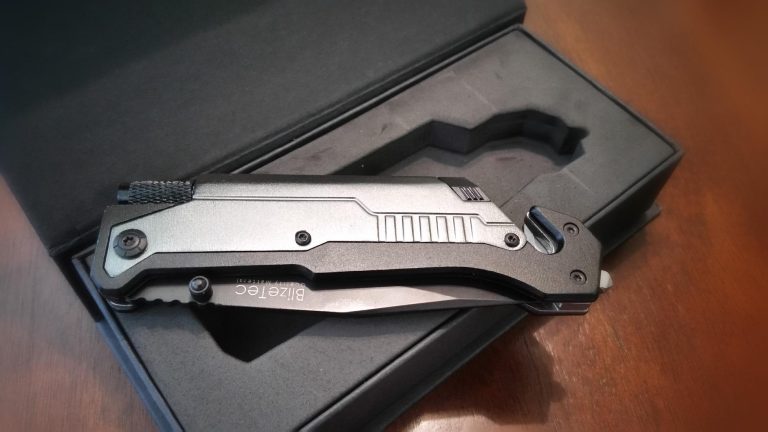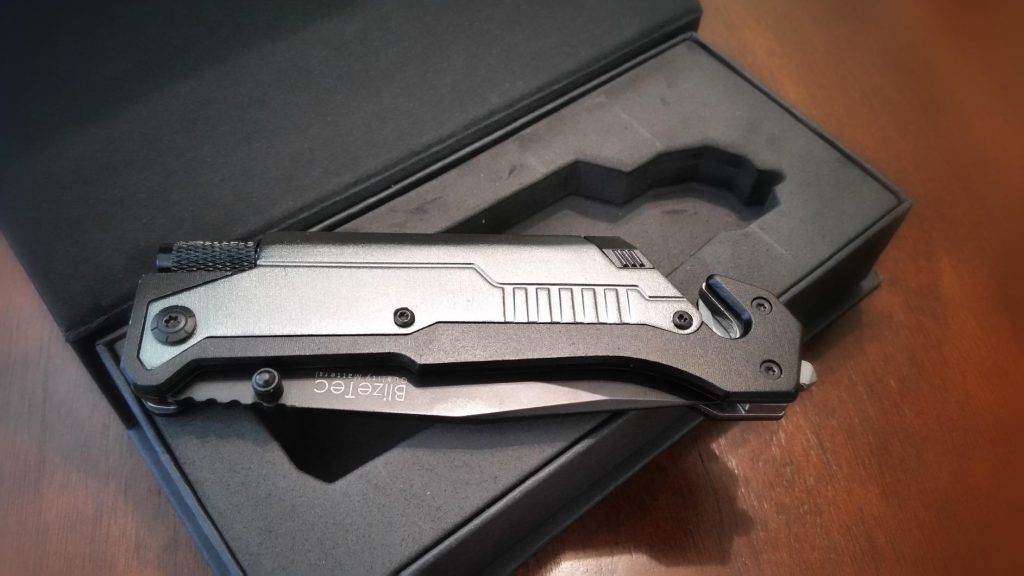 The BlizeTec Survival Knife is the knife most suited for travel that you can take anywhere. One thing is a standard pocket knife, but this tactical pocket knife makes a Swiss Army knife appear like a piece of Swiss cheese.
BlizeTec provides you with a high-quality tactical pocket folding knife capable of performing a wide range of tasks. Because of its adaptability and high craftsmanship, it is considered one of the best folding survival knives. The blade is not also cheap; it features a serrated edge that is useful for various cutting tasks. The blade is rigid stainless steel, and even though the whole thing is lightweight, it is not fragile like other foldables.
Despite its small size, the usefulness of this pocket folding knife is astounding. The durability of the folding knife design is intrinsically inferior to that of a fixed blade.
With a relatively modest purchase price for a high-quality survival knife, it is almost a no-brainer to include one in your collection just for the reasons of mobility and flexibility.
Pros
Multi-functional 5-in-1 design 
Lightweight and portable 
Blade versatility with a serrated edge
Sturdy but not too heavy
Cons
Folding design makes it weaker than fixed blades
The flashlight turns on and off by screwing it in and out, rather than on/off switch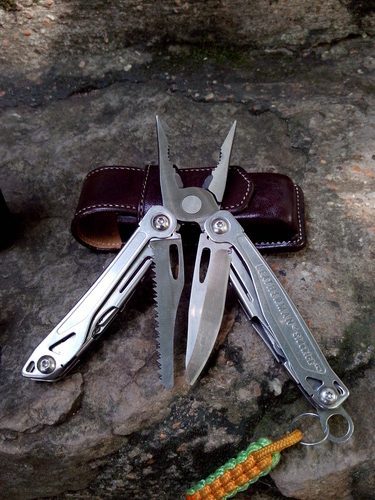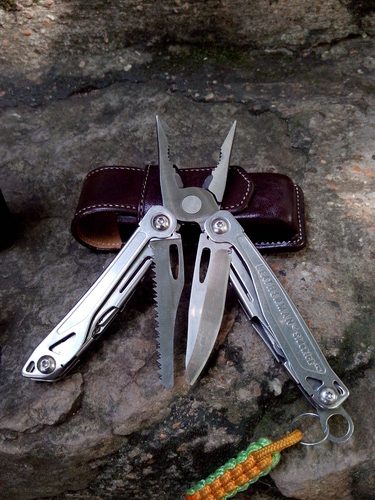 Aiming to attract first-time multi-tool purchasers and those seeking a backup tool, Leatherman has introduced the Sidekick Multi-tool, a more affordable "entry-level" tool.
When the Sidekick sample came, we inspected it to see if there were any areas where Leatherman might have saved money. After all, this is a gadget that is "reasonably priced." A thorough examination revealed nothing that screamed "low quality."
The Sidekick has a robust and well-constructed feel about it. When closed, it weighs 7.0 ounces and is 3.8 inches in length. Both handles open effortlessly to reveal the pliers, and the knife blade and other tools are deployed with the same ease as you open them. Inner tools are securely locked in position with a gratifying and comforting mouse click.
The 420HC steel blade of this liner-lock plain-edge knife is 2.6′′ in length with a liner-lock construction. Its usable cutting edge is approximately 1/4′′ shorter than its reported length, although this is not a significant difference.
The combo pliers include a spring-action that makes them very comfortable to use. The grooves in both the standard and needlenose gripping zones are well-grooved, and there are no apparent burs or imperfections.
The Sidekick may be worn or carried with the help of its detachable belt/pocket clip, lanyard loop, and leather bag.
Even while Leatherman refers to the Sidekick and Wingman multi-tools as "entry-level," their design and construction are significantly superior to what this implies. We were pretty satisfied with the design and performance of the Sidekick, and we would certainly suggest it.
Pros
Lightweight and durable
Outside tools are one-hand opening
Inexpensive
Pliers are spring-loaded
25-year warranty
Cons
Inside tools are smaller and do not lock
Ruler is useless
To determine whether or not the Smith & Wesson Multi-Tool Folding Knife would live up to the hype or prove to be a diamond in the rough, we had to wait and see how the knife performed.
Overall, the knife seemed to be of good quality and felt well in hand. Although it was lightweight and skeletonized, it felt substantial in our hands and had a considerable amount of heaviness for such a lightweight design. In addition to the skeletonized handle, there was a tight paracord warp to give it a bit more girth.
One of the top pocket knife alternatives available for individuals seeking a well-built package that delivers durable, dependable performance, the Smith and Wesson Multi-Tool Folding Knife is a good choice.
The Smith and Wesson Multi-Tool is a great EDC for outdoor enthusiasts since it comes equipped with a 2″ drop-point blade, three hex wrenches, a flathead screwdriver, a bottle opener, and a top-up pocket clip.
It is a little rough and ready, but it has serrated features and a decent weight, which makes it an excellent sturdy outdoor knife for any situation. Furthermore, you can fold it down into a pocket-sized size. This knife is excellent for outdoor enthusiasts.
Additionally, this knife has a limited lifetime warranty program.
Pros
Stainless steel material
2″ drop-point blade cuts through boxes, plastic, cord, and tape
It comes with a bottle opener
Multi-functional
Cons
The pocket clip is sharp and can scratch surfaces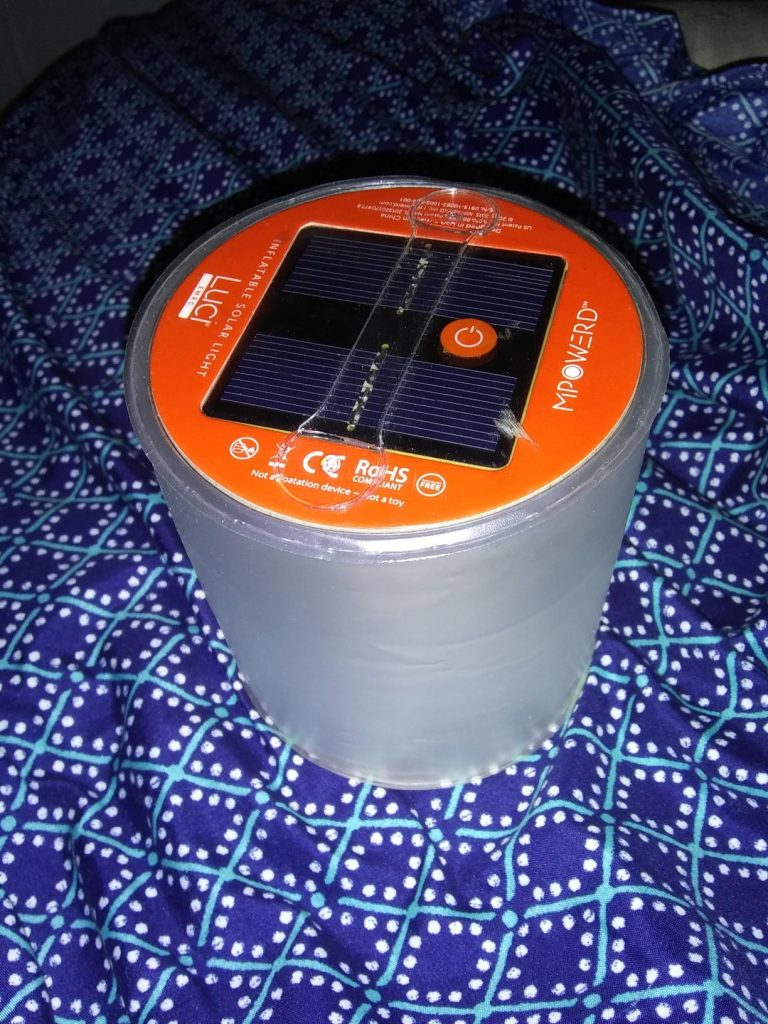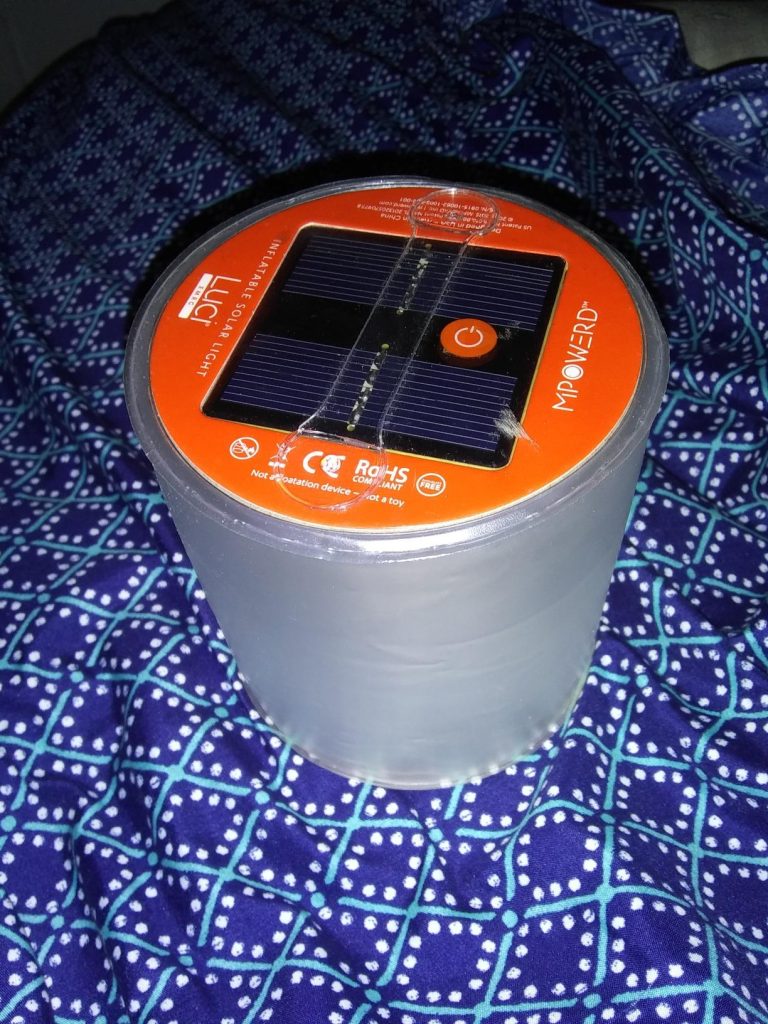 As one of our top suggestions, we've singled out MPOWERD Luci EMRG 3 in 1 Solar Light since it's a convenient pocket-sized lantern, flashlight, and emergency light. The price and weight are excellent for something of this versatility, plus it charges from the sun, so there is no need for batteries.
Designed for use in the great outdoors, the Luci EMRG 3 in 1 Inflatable Solar Light has a straightforward design that is lightweight and easy to use. Because it is convenient, waterproof, and lightweight, you can put it on the outside of your pack and charge it while you are on the go. As well as providing excellent lighting for your evening enjoyment, it also gives excellent lighting in camp.
Powered only by sunlight, Luci EMRG shines brightly and dependably through storms, blackouts, roadside emergencies, and any other situation when you need illumination. You can tuck one into your trip luggage, another in your vehicle, and one should be kept in your emergency pack.
Overall, it is a simple, discreet, but significant piece of equipment that you can bring anywhere. You won't have to worry about it breaking when being pushed into your pack or used. It takes around 7-8 hours when fully charged, although, in practice, a couple of hours in direct sunlight will offer enough illumination.
Pros
Lantern, flashlight, and emergency light all-in-one
It lasts up to 7 hours in a bright setting
Charges in 8 hours of direct sunlight
Waterproof
It has a battery level indicator
Cons
Shorter battery life
It starts to dim noticeably at the 60-minute mark
Let me know in the comment section below which one is your favourite, if you have another item you rely on.