If you emptied your pockets and bag right now, what would your everyday carry gear be?
The contents you keep in your pockets and bag is the curated EDC gear you have put through tests of durability, practicality, convenience, and balanced with the chance you would ever need to use it. It has come to be the gear you rely on every day and what you carry when you step out the door.
We all have those items we rely on the most, whether it's that pen your dad gave you, a wallet your wife bought you, or the multi-tool that you always rely on. What's different about these to the things you would find in an office or kitchen draw? It's the fact that they are reliable, and have proven to be useful in everyday situations. That's why we call it everyday carry.
If you have never heard of everyday carry (or EDC) before, it is about carrying just a select few items that you wouldn't leave home without. Take a moment to think about what you tap your pockets for when walking out the door. For most of us, it is our wallet, phone, watch, and keys. These four things make the base of everyone's EDC and withstand the practical test of will I use it, do I need it, and is it convenient to carry.
But these four items aren't just the only everyday carry items, and for EDC fans, this is only just the start. In this post, we take a look at the EDC gear that I have been using, and what I carry in my EDC backpack. This will give you some ideas about new EDC gadgets, or items you have not yet thought about carrying.
This is no child's play everyday carry and is no bug out bag for when the sh-t hits the fan. These are real, practical, durable items you should consider carrying every day. So let's dig in.
Two important things to know about everyday carry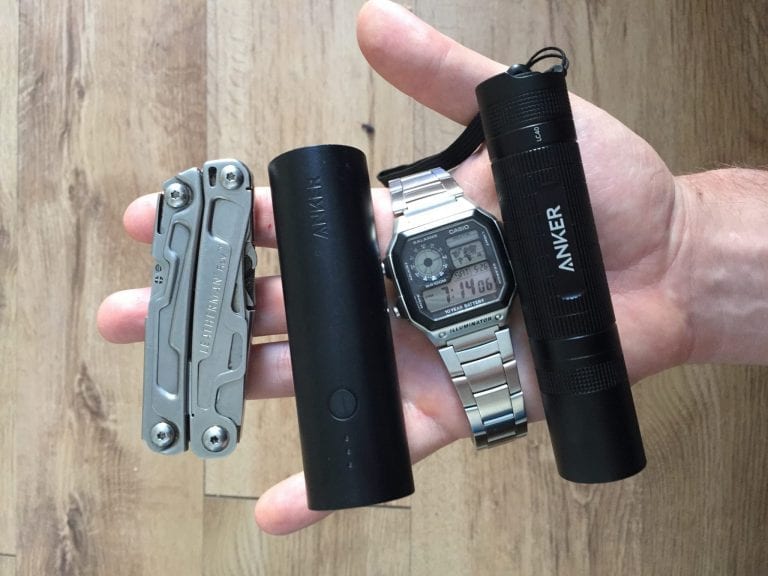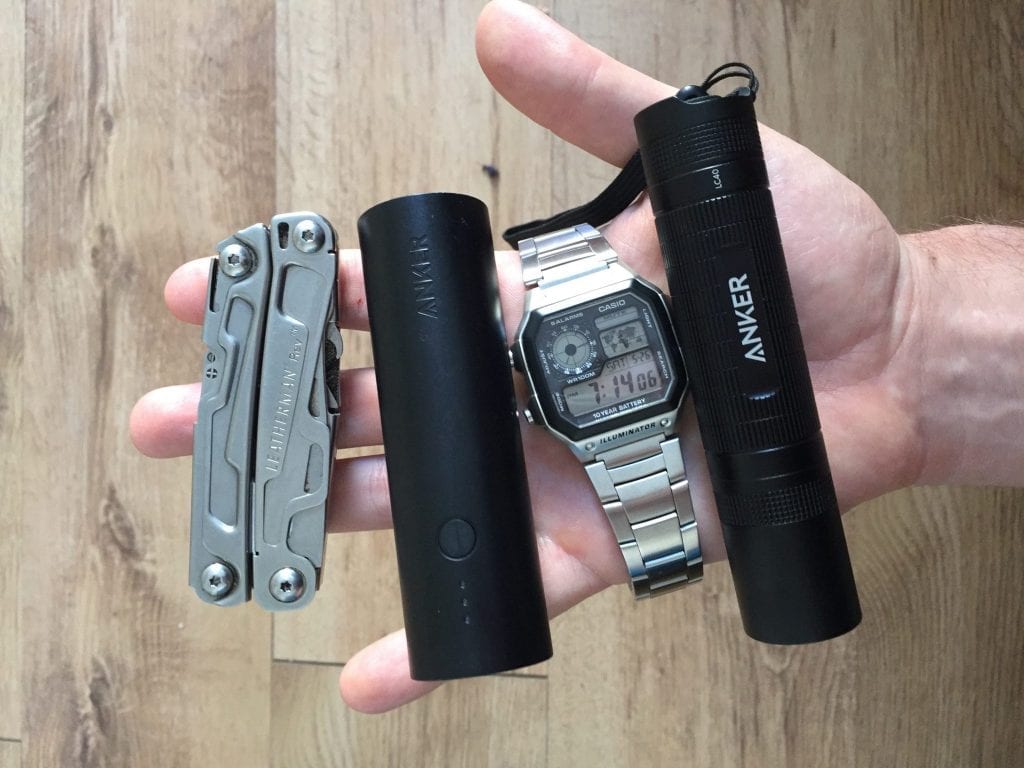 Two important things are frequently misunderstood by beginner EDC fans. The first is that EDC gear is about what you would carry every day of your life. The second is to make sure you do carry it, otherwise, what would be the point of getting it in the first place? Let me explain those a little further:
Only carry what you need
We all love survival gear and EDC gadgets and it is very easy to go out and buy the latest innovative tools and items. But everyday carry items are not about that. It is important to make the distinction between the two and not overthink what you might need. Otherwise, you are going to be carrying around a month's supply of food, water, guns, and enough ammo to wage a war with a small country. That's not necessary.
Instead, when it comes to EDC gear, we only carry what we need and what we are capable of carrying. This is entirely up to what you do in your everyday life. For example, if you are a military contractor in a war zone, your everyday carry is going to be a lot different from a schoolteacher (although being a school teacher can also be a dangerous occupation). So you need to think about your lifestyle and customize it to that.
You to need to carry your EDC gear
You are not buying EDC gear as a mantlepiece. If you are in a situation that needs a flashlight or multitool, there's no point leaving it on the bedside table or the kitchen drawer is there? You need to carry it. If you feel like you don't need to carry it then it's not going to be necessary to your life and would not pass the benchmark of a practical EDC item.
The other part of this is the way you carry it. Having bulging pockets isn't comfortable, and for those of you that might work in office environments wearing a suit or trousers, you might not want to have a flashlight, multitool, phone, and wallet all in one pocket. Instead, carry it in a backpack or satchel that you take to work. Most of us take some type of bag to work, so why not make it an EDC backpack that caters to your EDC gear as well as being a practical backpack?
So let's take a look at what our everyday carry essentials are, and other practical EDC items you might want to consider carrying.
What are the 5 EDC essentials?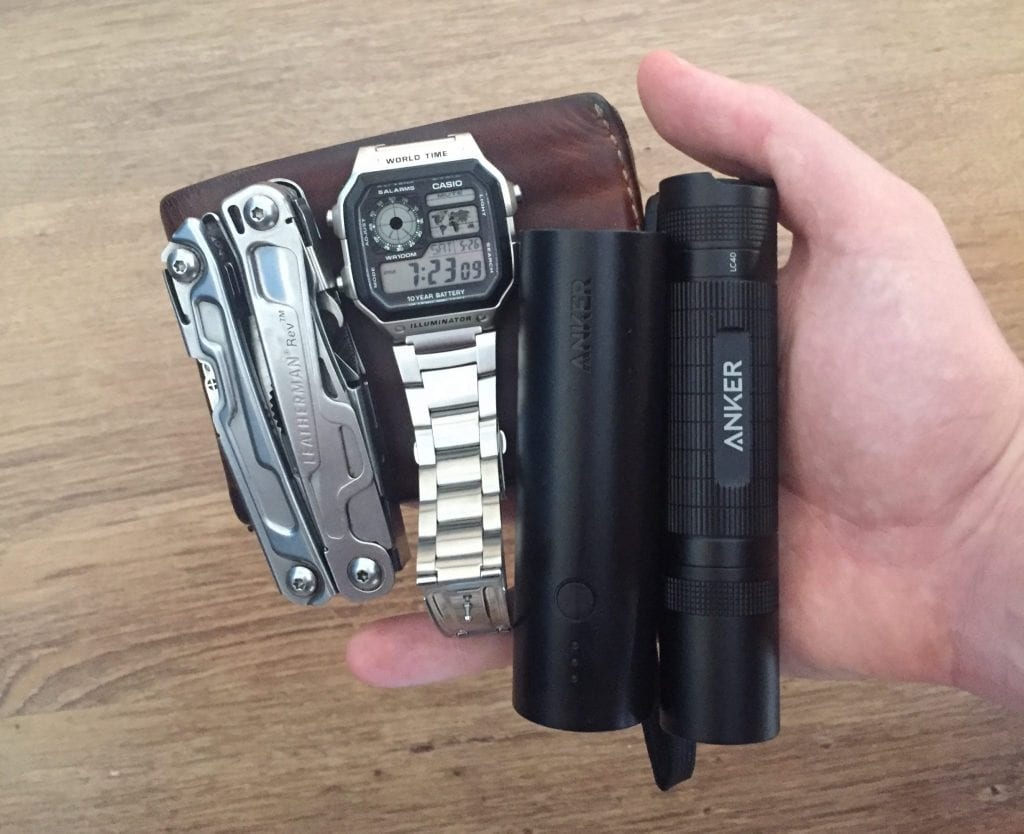 For carrying the gear, it's simple. Your everyday carry is in three layers: what you carry on your body, and what you carry in your EDC backpack, and generally what you'd carry in your car. For this post, we're going to look at what we carry on the body, and in our EDC backpack.
As far as the EDC essentials go, the average joe will already carry a lot of the basic items, and I think this is the benchmark of what the best EDC gear is. It's the stuff that you would use every single day. Most of those items will consist of a wallet, keys, phone, watch, multitool, flashlight, and pen. This is the minimum standard, and if you are anything of a practical prepper, you are probably already carrying this. Let's take a look at the strategies and best EDC items under each one of those.
Wallet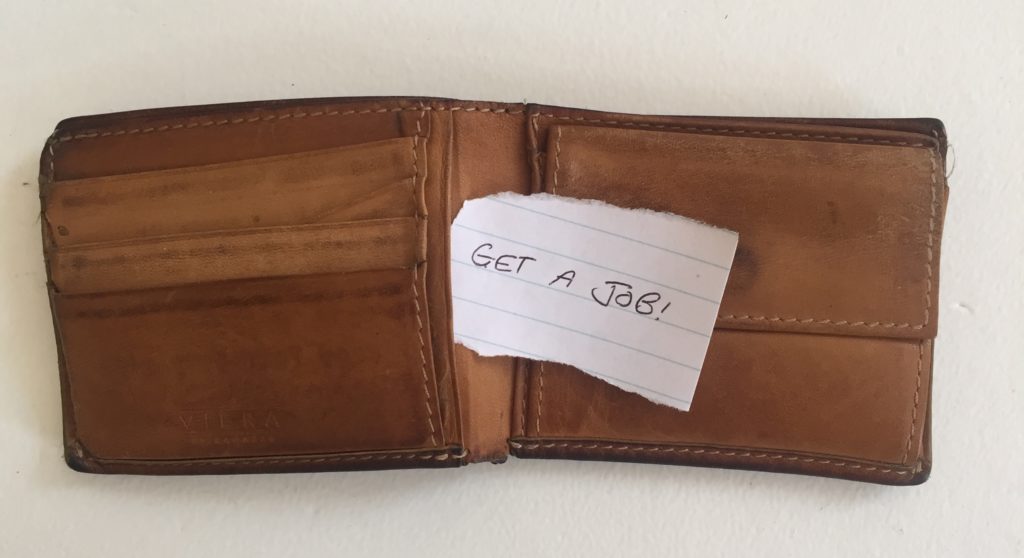 I am pretty sure most of you would have a wallet of some sort. Whatever the method is, there isn't much to say about a wallet. For me, I use a standard leather wallet. I don't have an RFID proof wallet as I wouldn't generally let someone get so close to me that they could scan my cards, and if they could, they'd get about five different cards at the same time which would confuse their scanner.
However, as I mentioned before, always cater to your EDC gear to what you do. I travel a lot and before living in Europe, I traveled through a lot of poor countries. One thing I was particularly aware of was pickpocketers, which they have in the States and Europe as well. One valuable lesson I learned is to carry a spare wallet as part of your EDC if you are going into areas that are likely to have thieves. While my daily routine takes me through safe areas at the moment, in the circumstance of living in those crime-prone areas I would that wallet in my back pocket with a nice message written on a piece of paper.
EDC Watches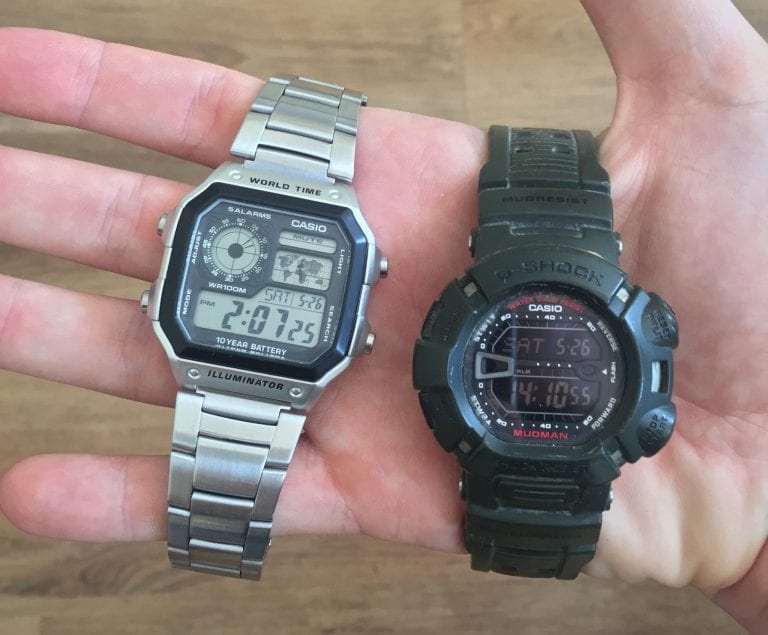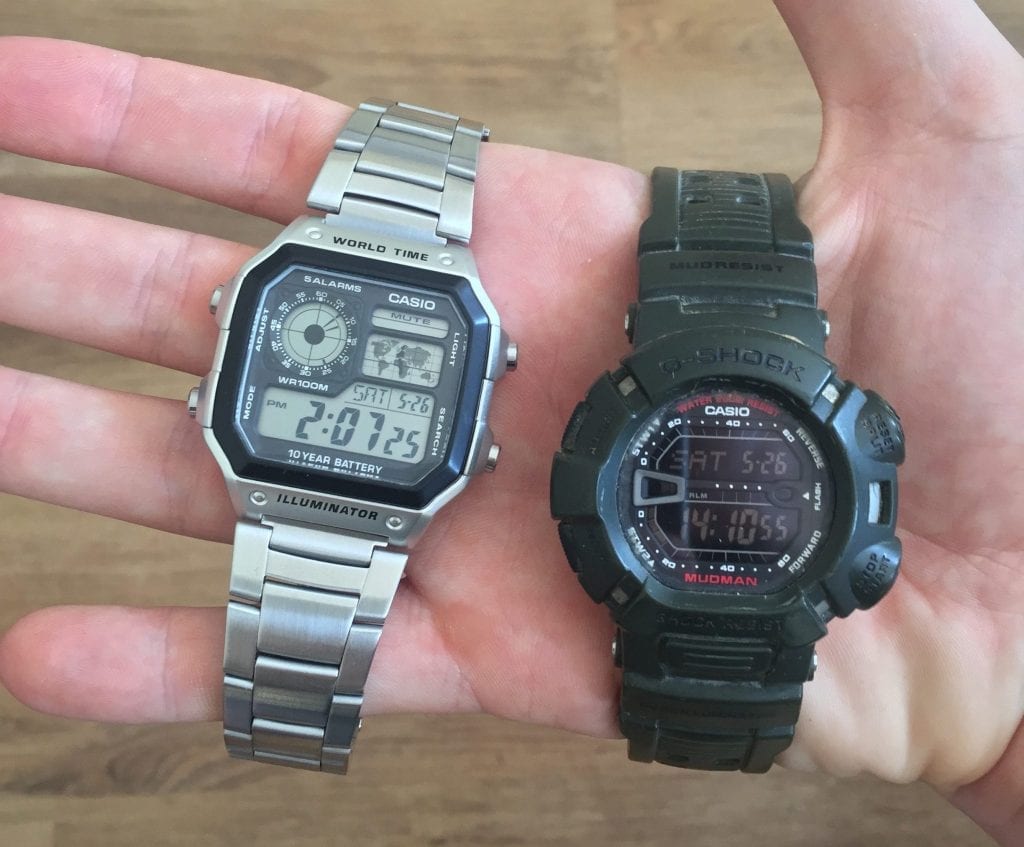 Depending on my circumstances I will change my watch to suit the occasion. It doesn't suit me to wear a dress watch when I am outdoors and when I am working in the office I would rather wear a more casual watch that doesn't cater to being rugged and tactical. That being said, I do enjoy quality, which is one of the resounding factors when looking at EDC gear. If you buy cheap stuff, you're likely to end up replacing it quite quickly. For watches, I stick with the quality Casio brand which has served me well in the past and is very affordable. I use either the Casio World Time watch or a Casio Mudman.
For the survivalists out there, you could always couple this with a paracord bracelet, or with a paracord watchband. Those items have a whole range of features such as fire starters, emergency whistles, cutting instruments, and cutting wire. I prefer not to wear these as they are highly distinguishable in work environments and as you will see further down this post, there are other ways to carry those items.
The Casio Mudman (pictured right) is the watch I use outdoors. I call it an EDC watch as was the watch I used during my military career and withstood heavy work, rain, cold, humidity, and could be worn underwater. Needless to say, this watch is still completely intact and works very well. As far as tactical watches go, I would say the Mudman is a great option and is even more enticing given its sub $100 value.
For urban occasions and office days, I wear the Casio World Time Watch. I picked this up quite some time ago and like the fact that it works with different time zones, which suits me as I have family and friends across the world and I have to be aware of international time zones for work. It is also water-resistant and very durable against impacts. Both of these watches feature backlights and stopwatch timers. The Casio World Time Watch is also a very durable dress watch and I am consistently surprised at the price these things go for.
Phone and battery pack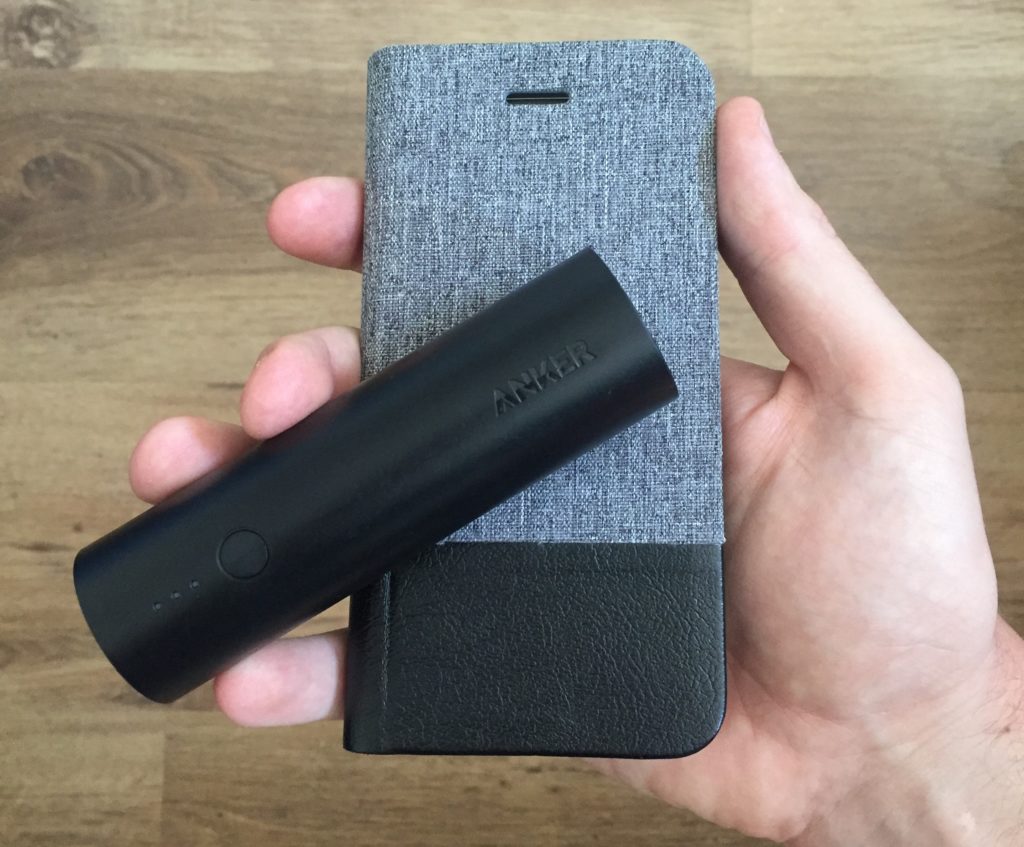 I am not going to spark a war between iPhone and Android users, but you most likely have one of them. In the EDC community, a phone is considered one of the most important things you can have, and it is quickly becoming that way as it works to phase out other essentials in life. People can use phones as payments, flashlight, calculator, pretty much anything, but what it primarily does is act as a means of communication, so carrying it as an everyday carry tool is important.
But a phone is only as good as its power source, and you need a good one. I am always on my phone taking calls and checking emails. I prefer using my phone for a quick email and social contact than I do a computer. I also use my phone regularly for navigation purposes. But I cannot do any of that without power, so a backup battery has become part of my EDC essentials. For a simple battery, I use Anker Astro E1 5200mAh Compact Portable Charger, which is compact, light, easily fits in my pocket or jacket pocket, and can charge my phone battery twice over.
EDC Multitool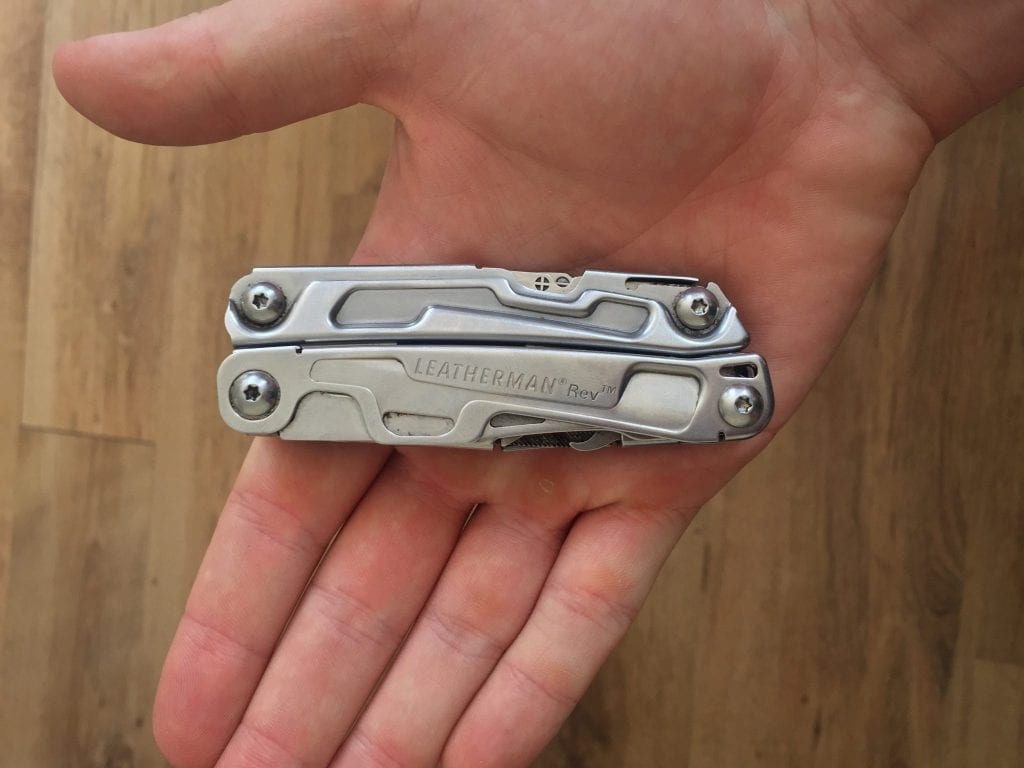 Multitools are a big part of EDC gear and there are dozens to choose from. If I were going outdoors or in some type of survival scenario I would have a bushcraft knife and a small hatchet with me. For urban EDC gear, I don't need to carry a large knife and I don't need a hatchet. The most cutting I would need to do would be easily performed by my Leatherman multitool.
The Rev by Leatherman is very small and I am never short of finding it useful every single day. It has the standard pliers, wire cutter, knife blade, screwdriver (Phillips, medium and small), ruler, package opener, bottle opener, and a metal file. There are always uses for this, yet I find the pliers, knife, and bottle opener the most used parts of this EDC item.
EDC Flashlight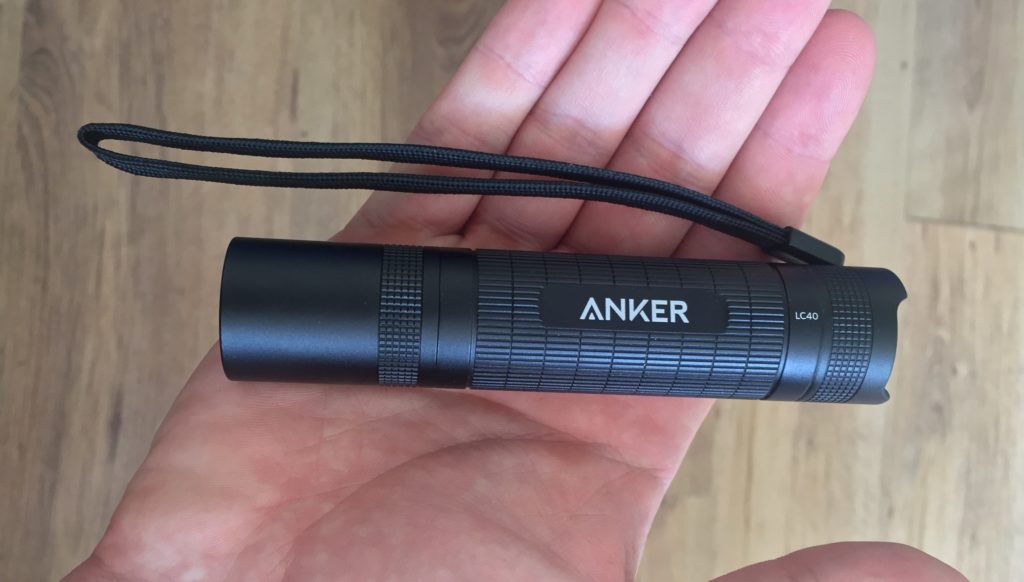 Another staple EDC item is the flashlight, or as some refer to as a tactical flashlight. What was once a large item has been refined to a small-sized item that can fit in your palm and produce a powerful beam of light. This can come in handy in a lot of different circumstances such as self-defense, during a blackout, walking home, or illuminating small dark areas if you are working on cars, engines, or other confined items.
I have used a few different flashlights and have a couple of favorites, but when it comes to EDC flashlights I use an Streamlight Polystinger Rechargeable LED Flashlight. It's a small flashlight that packs a very strong beam and has a couple of features that I find very useful in a flashlight in different scenarios. This small EDC flashlight has functions such as strobe lighting (great for self-defense) and the hold button lighting for SOS instances or when you only want to quickly flash the light.
What I carry in an EDC backpack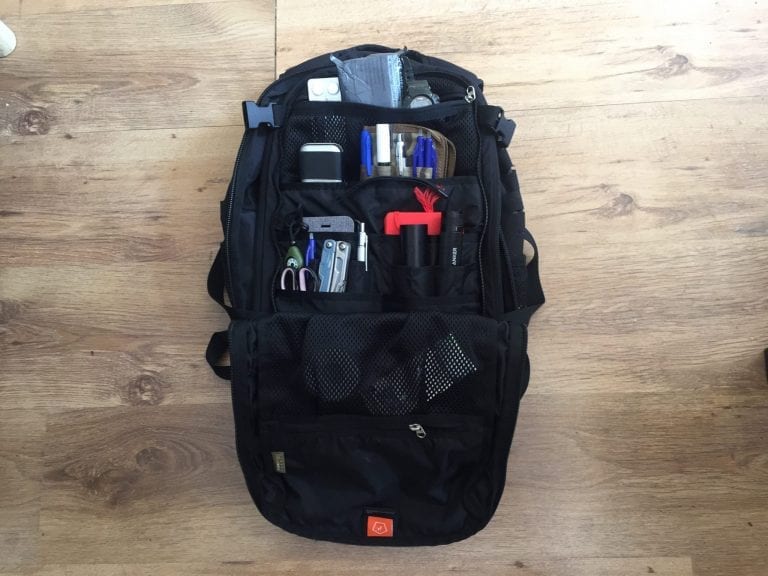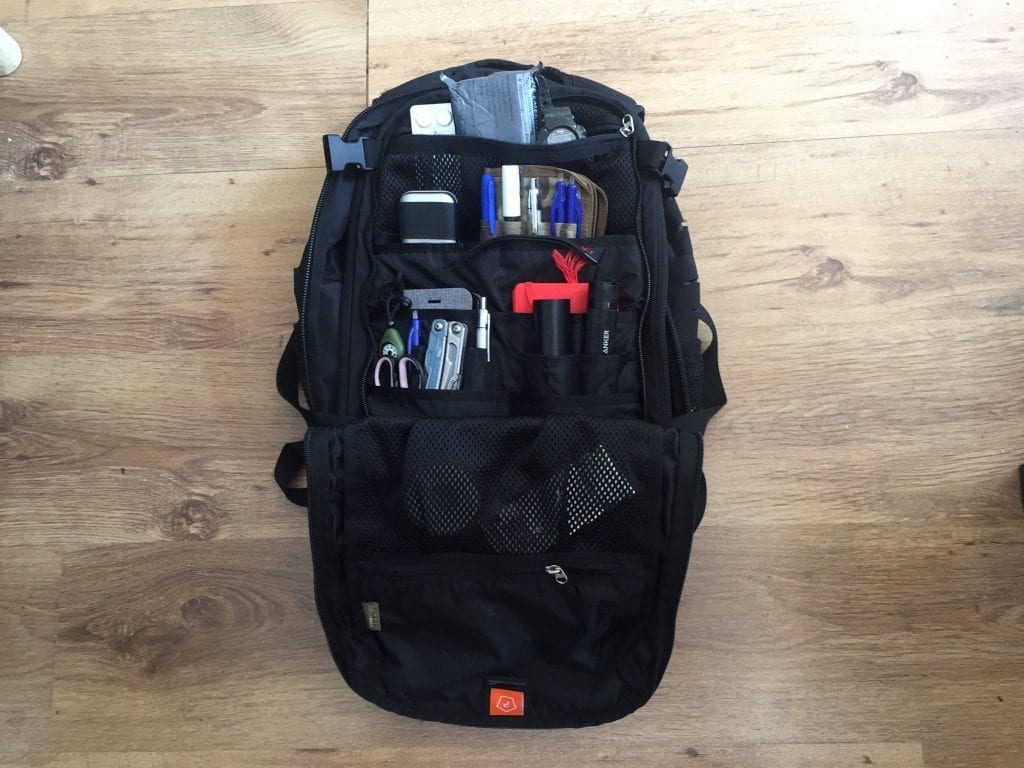 While those five EDC essentials I showed above are ones that I and many other prepared individuals and EDC fans use every single day, there are also some emergency or specific circumstance items that you might want to carry with your EDC gear.
Identifying the everyday carry gear you need is a bit like thinking about what you should prepare for, it's up to the individual, their lifestyle, and what they do. If you work in an office you might have to carry lunch, paper, a computer, and other things, whereas if you are a tradesman, you might have to carry something more suitable for tools.
The EDC backpack that I have designed for myself covers the necessities of almost any situation that I might come across as a person that lives in an urban area, frequents the city, carries a laptop, and works in an office.
Choosing an EDC bag
The first thing you should know about EDC backpacks is that they are not bug-out bags. A bug out bag will have sleeping gear, spare clothes, and plenty of food and water, which means it will also be considerably larger. This emergency 'get out of dodge' bag should be at home, or in the car, and is something you grab before evacuating an area. EDC bags differ in that they contain the items that you need in everyday life, and that will be able to provide you with the right gear for what you might come across.
Because the premise of EDC gear is to be the items you carry every day, an EDC backpack should be light, able to be worn comfortably, and with separate pockets. Tactical backpacks that suit EDC lovers come in all shapes, sizes, and costs. The three backpacks I have used and have found are the best EDC backpacks are Maxpedition's Falcon II, 5.11 Tactical Rush 24hr, and the one I currently use which is the Pentagon Kryer.


Of the three, I chose to stick with the Pentagon Kryer for a couple of reasons. It has a more complete opening compartment system than the other two backpacks, much thicker cushioning on the shoulder straps (almost seems too thick when you first try the bag), has some compartments that are felt-lined for electronic devices that might scratch (phone screen), and it has a great padding system on the backrest spots which help if you are ever carrying heavy loads in the bag.
With that said, you could choose to use the Maxpedition pack or the 5.11 rush as both are high-quality tactical backpacks that are specially designed to be used by people that care about their everyday carry.

As you can see in this image above, the fact that I can essentially 'peel' open the entire bag is a big plus to this backpack. When I have traveled, this has helped as it has allowed me to use my laptop without having to remove it from the pack, essentially turning it into a mobile office.
The practical EDC gear list for your EDC backpack
Because most of our practical EDC gear is worn on the body, there might be a few reasons specific to your lifestyle or job that requires you to carry particular everyday carry items.
Some of the items I keep in my backpack are: international adapters, extra phone charger cord, batteries, medication (painkillers), hand sanitizer, spare watch (I keep the Mudman watch in here for when I get changed to exercise), scissors, pens, stationery, medical tape, a trauma wound dressing kit, a compass, and a water bottle. Of course, that list is not exhaustive and you may need a lot of other items, but this would be a baseline EDC list of the gear you could expect to see in a backpack.
While that might be a simple kit, there are some EDC essentials that I have found are the best EDC items to keep in my backpack. You might find these useful as well.
EDC Pouch or holder


A lot of EDC fans use a Maxpedition pocket organizer or other types of pocket holders to hold all of their equipment. I chose my backpack for the reason that it has that built-in feature to hold separate gear. A similar item that I use is this field notes cover, which holds my notepad, pens, papers, as well as business cards and some spare cash, tucked into its back pocket. I also keep my GPS tile tracker tucked into the back of this notepad holder so that should my bag ever be lost, or stolen, I can track its position through either my phone or my laptop.
Having a notepad holder like this is a great asset for when you want to only carry a notepad, pens, and also a little pocket to throw small things in should you need to. This is one piece of administrative equipment I used in the military, and still find highly practical as an everyday carry item.
Toilet paper tablets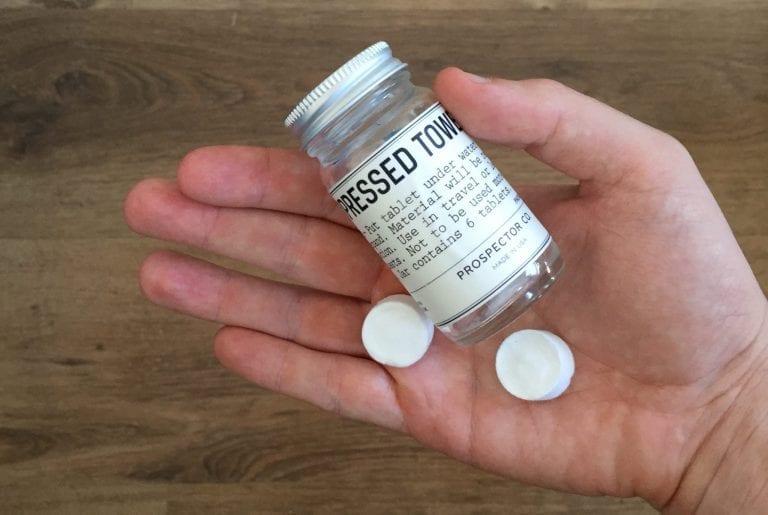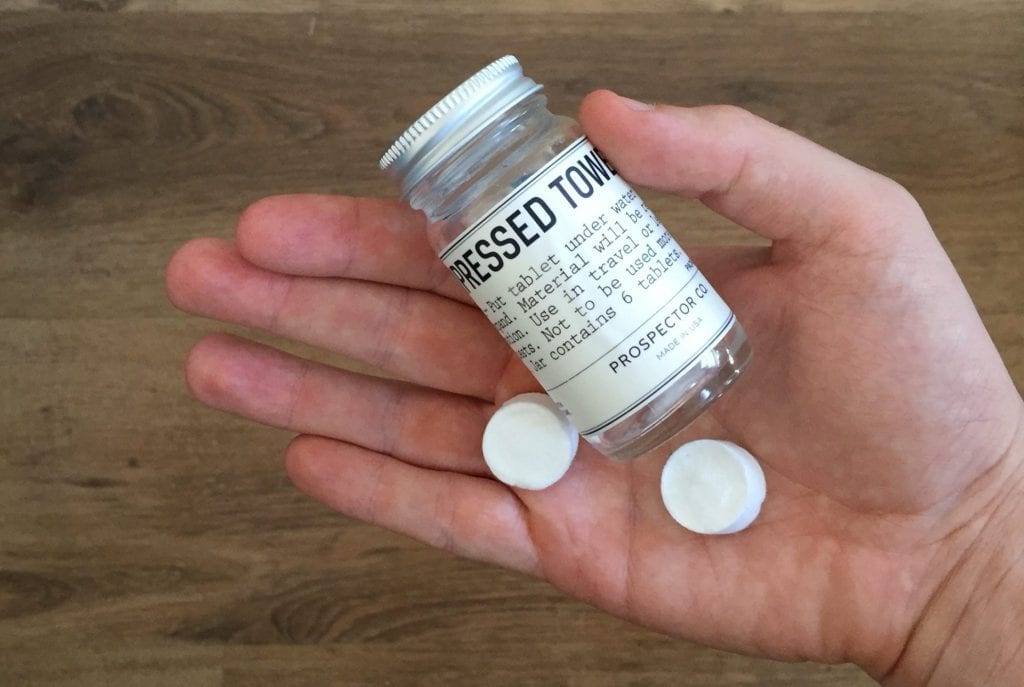 Toilet paper tablets are impressive, to say the least. Since I have been carrying these in my pack I have found countless uses for them. I first started using these in Asia and even returning to western areas, I still find a use for these as an everyday carry item. All it takes is 2-3 drops of water and these things expand into a strong hand-towel. Of course, some refer to them as toilet paper tablets, but they have a wide range of uses such as face wipes, gauze, baby wipes, nappies, general cleaners, or tinder for starting a fire.
Duct tape around a lighter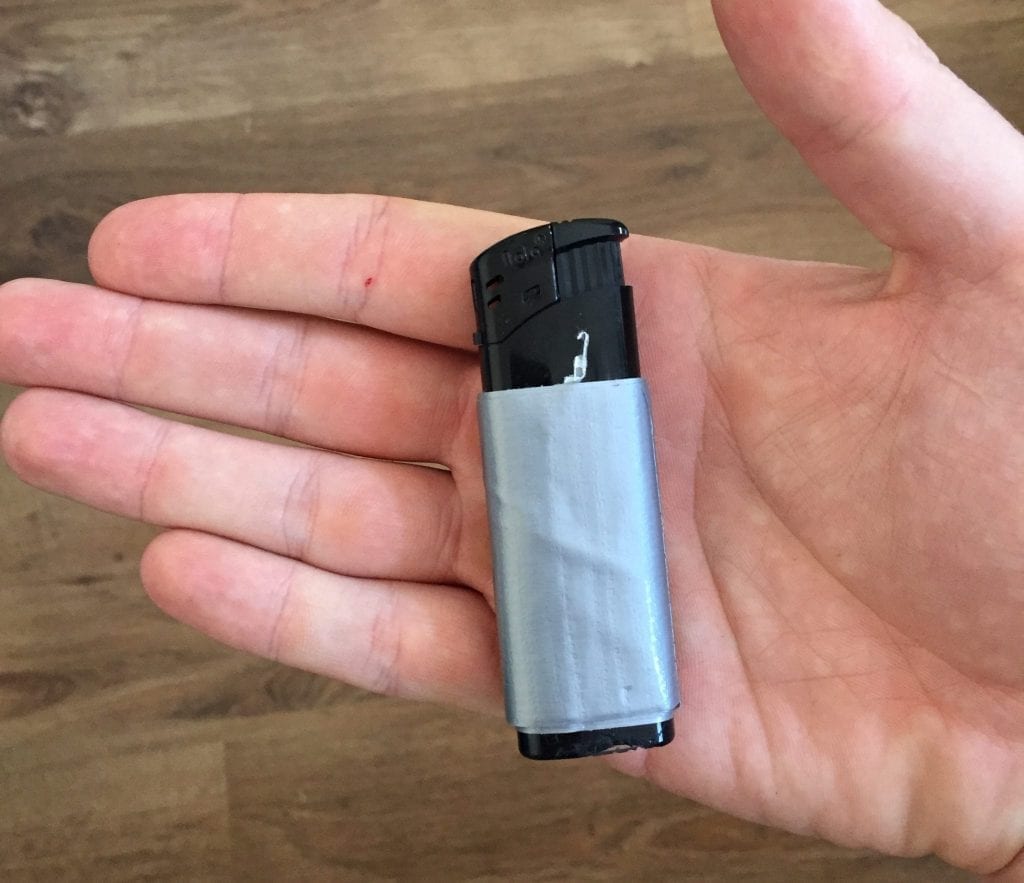 There are a million ways to use duct tape, I'm sure you know that. But there is one great way to hold it, which is around a lighter. Why would you do this? Easy, a roll of duct tape takes up an incredible amount of space and has a huge donut hole in the middle, and you're going to pack a lighter in any pack anyway, so combining both is just common sense.
I don't carry this duct tape and a lighter for survival outdoors. If I were going outdoors I would have more of a survival kit. Instead, as this is my EDC gear, I carry a smaller amount of duct tape for everyday applications.
GPS tile for your EDC backpack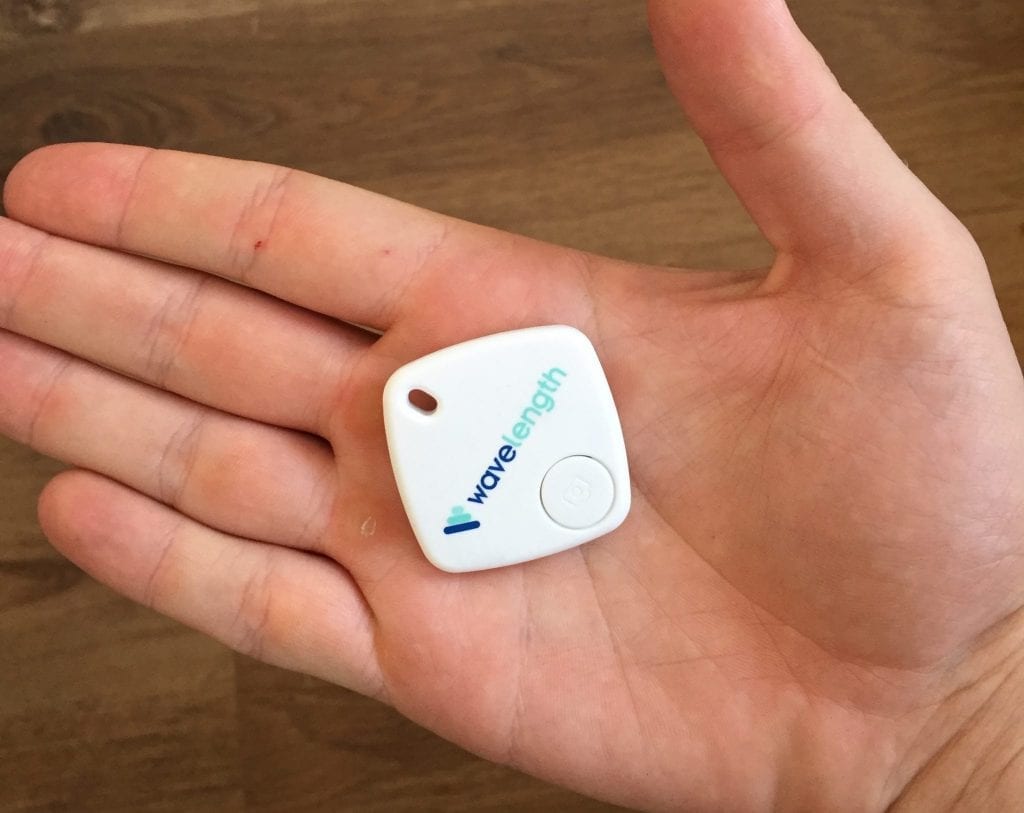 As an overcautious prepper, the worst thing that could happen to me is having my backpack stolen. With my computer in it and my gear, it would be a significant loss both workwise and financially. In that respect, just in case anything ever happens, I have a GPS tile that I leave in my pack in a secure location. Tiles such as this are a very budget-friendly option and are a great safety measure, especially if you have a concern about theft happening.
A Tile can also be used in your wallet as well and will provide accurate tracking of any thief's whereabouts, so long as they keep the wallet or backpack with them, and don't ditch it for the valuables.
Medical EDC items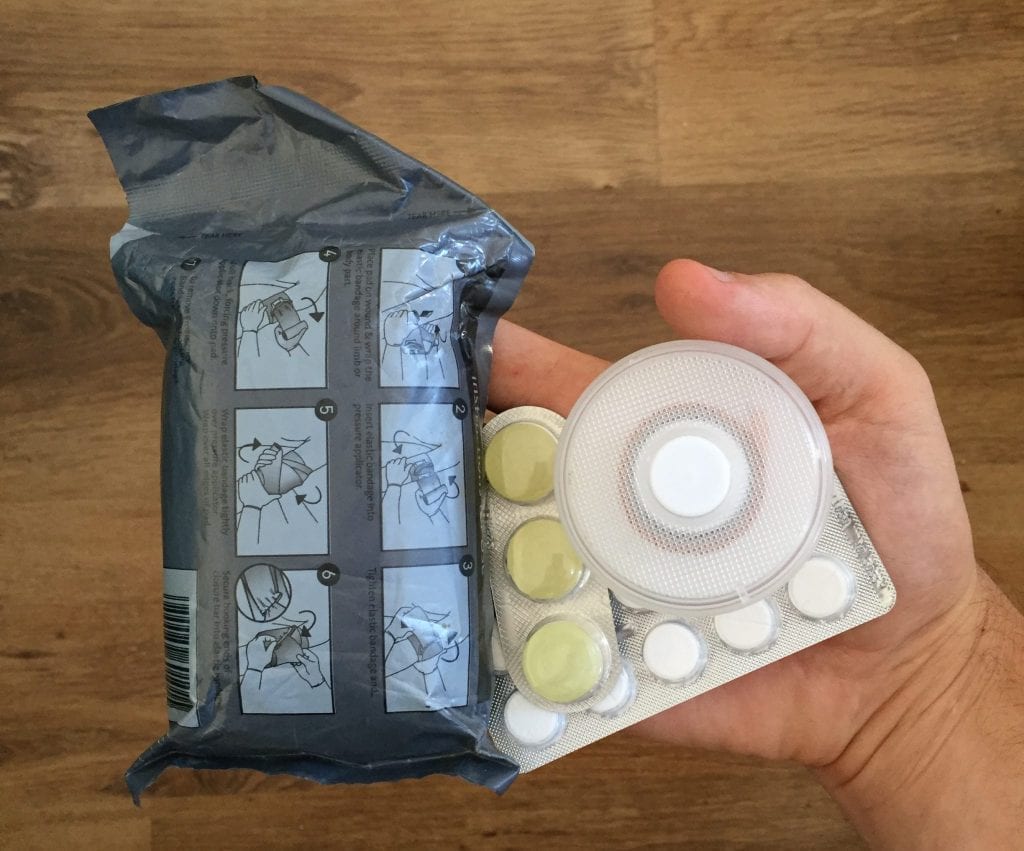 Something I make sure I always have if I know I am leaving the house for the day is some basic medical supplies. Now don't get me wrong, I am not intending on patching up any gunshot victims (hopefully) or anything like that. What I carry is just a few simple supplies to get me by should something ever happen.
Ranking from likely to least likely, I carry painkillers for headaches and soreness, some throat soothers with vitamin C, some medical tape (this gets used a lot for blisters or for people I know that get pain from high heels), and the least likely, an emergency bandage with a tightener which can be used for mass bleeds and hemorrhaging.
An EDC survival kit

As a prepper, I know it's always good to prepare for the worst and hope for the best. While the premise of everyday carry is to have durable, quality, practical items that you will use every day, there is still much of an element of practical preparedness in the idea that you are determining what gear you will need for what might happen in a future timeframe.
In that respect, I keep a very small survival kit in my EDC backpack. Of course, I don't intend on using a fishing kit when I step out the front door to go to work, and nor do I intend to have to use water purification pills or tinder and flint. These are highly unlikely scenarios, especially when you are thinking of an EDC list. But because of its size and practicality, I carry a small Altoid survival tin that fits in the palm of my hand and takes up very little space in my backpack.
This specific tin (pictured above) was from Polymath Products in the UK, but there are similar versions in the US such as the survival tin from US Heritage. In thinking about the practicalities of a lot of the equipment included in these kits, they do come with some important EDC items, such as a sewing kit (for any wardrobe malfunctions), an emergency whistle and fire starter, compass, safety pins, condom (water filter kit), a tampon (good for tinder but also if a friend has an emergency), and a basic first aid kit.
Simply put, this is the sort of item that makes you far more prepared than the average joe and it costs very little and takes up hardly any space in the EDC bag you take to work as your everyday carry.
The Sillcock Key (water access)
The average human can survive three minutes without air, three days without water, and three weeks without food. While we often have these needs met, occasionally, we find that we're unable to access some of these resources when we need them most. As preppers, this what we are ready for.
Water, in particular, is an invaluable resource. We need it to stay hydrated and healthy, but we also use water to cook and clean or to decontaminate dirty wounds in a medical emergency.
Finding water in the urban area – While water is often available, we can't always access it. Next time you are outside, take a look at the exterior walls of commercial or public buildings in your area. You'll probably start to notice that many of them have restricted water spigots.
Malls, office buildings, and even rest areas on the highway usually have these water spigots, which means that there's water available, you just can't access it.
But, what if it's an emergency? What if you find yourself in a disaster type scenario and REALLY need water?
Accessing water with a Sillcock Key – Luckily, after reading this article, you would have your 4-way Sillcock Key – an ingenious little device which can open tamper-resistant hose bibs and let you access that restricted water in an emergency.
Typical 4-way Sillcock Keys include four female ends that fit a different square valve stem in one of the following commonly found sizes: 1/4″, 9/32″, 5/16″ and 11/32″.
Do NOT use this tool unless you are in a true emergency. Otherwise, you will probably break multiple laws just going up to a random building and taking water as you wish.
Check out this video to see how quickly a Sillcock Key can change your situation and provide lifesaving water if you are in a true emergency!
Since water is such a high priority in our daily lives, and this tool is so small and inexpensive, I keep one in my car with my everyday carry EDC kit and one at home in my bug out bag.
A standard pencil sharpener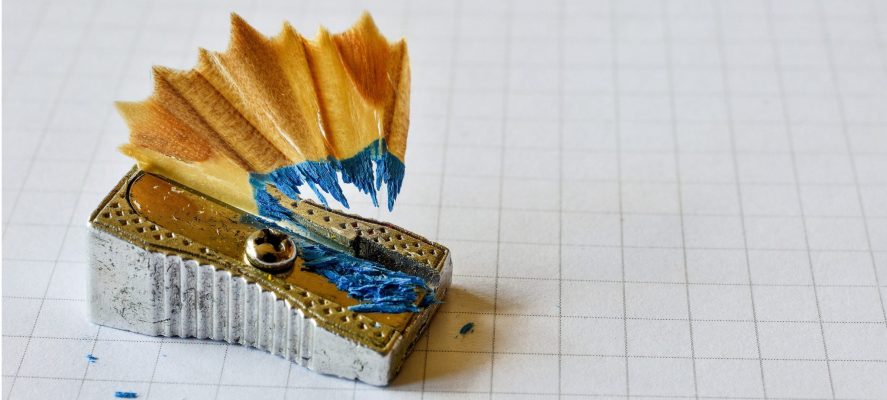 You might not be in elementary school anymore, but a pencil sharpener should always be part of your EDC kit.
Most preppers carry a lighter and a set of waterproof matches, just in case they need to make a fire. But, think about it – you might have something that can light a fire, but do you always have the right things to light?
Why would you use a sharpener? Yes, you can shave down wood into tinder using a great knife (if you have one handy) or you might be able to find some small twigs, but nothing you can carry can make kindling as easily as a pencil sharpener.  Look at how quick and easy it can be to start a fire with pencil sharpener shavings in the video below!
If that wasn't good enough, consider this: a pencil sharpener is cheap and weighs nearly nothing. They take up little space in your bug out bag and can make reliable kindling in a matter of seconds. Plus if you carry a small golf pencil with you, too, you won't even need to search for kindling.
Pencil sharpeners are incredibly convenient ways to start fires reliably and easily whenever you need it most. Be sure to include a pencil sharpener in your EDC kit or bug out bag so you'll never have to struggle to start a fire again.
Activated charcoal

Activated charcoal has been around for a long time (10,000 plus years), but only recently has its benefits and uses regained the attention of the masses.  Activated charcoal is a very basic compound that comes from ancient medicinal practices.  It is the byproduct of burning a carbon source like wood or coconut shells.
Why is activated charcoal good? The final product in activated charcoal is highly absorbent with millions of tiny pores that capture, bind, and remove poisons, heavy metals, chemicals, gases, etc.  When someone takes activated charcoal, the drugs or toxins they ingested bind to the charcoal, which helps the body get rid of it and prevents further complications.
For preppers, activated charcoal is a key tool to keep handy in case of an emergency, or if medical help is not quickly available.  A variety of situations could benefit from activated charcoal such as poisoning, stomach flu (I can attest to this personally), digestive relief from gas or bloating, accidental drug overdose, alcohol poisoning, etc.
If you live in a rural or remote area, having activated charcoal readily available can make a major difference in an emergency by providing a first response before professional medical treatment can be administered.
While it's not a cure-all substance for all poisonings or overdoses, activated charcoal can be a life-saver. Every prepper should carry activated charcoal and know how to use it to help people in need.
Before you buy activated charcoal, you should do some research to learn when it should be used and when it ought to be avoided. It's also important to note that someone who has taken activated charcoal for a suspected poisoning or overdose should still seek further medical attention at a hospital.
That being said, proper use of activated charcoal can and does save lives, so it's an excellent addition to any EDC kit.
Have I inspired you to start carrying more?
I think the contents of this EDC gear list is a great place to start if you are new to EDC, or a great way to find some extra ideas if you are looking for more EDC essentials.
Is this an exhaustive list that will see you survive the next war or attack with the gear you are carrying? No. But these EDC gear ideas are ones that I have found through practical use are the best EDC gadgets. They are items that you can and will use, and will help you with whatever circumstances you are 'likely' to encounter.
If you are carrying these simple items, even if they are just the five EDC essentials of the wallet, phone and battery, flashlight, multitool, and watch, then you are significantly much more prepared than those that don't carry anything.