A survival axe completes the picture when you are outdoors camping, surviving, or just plain old having fun in the wilderness. But when it comes to relying on an axe, whether it be a small axe, a survival hatchet or a tomahawk, for cutting, slicing, and hammering objects, what are the best survival axes you should be looking at?
Nothing beats quality, and in the case of a survival axe, there is no argument that quality matters. So we have made our way through the burly world of axes to bring you the know-how, the specifics, and the right details to make sure you are well aware of what you need to look for when getting the right axe to suit you.
But first, let's get some general knowledge out of the way by looking at the difference between an axe, a hatchet, and a tomahawk.
Is it an Axe, a Hatchet or a Tomahawk?
While in this post, we use the term axe quite liberally, for the finely crafted axe lovers out there, knowing the difference between your chopping blades is important. So what is the difference between an axe and a hatchet? And where does a tomahawk fit into the equation?
Put simply, it all comes down to size. And for most things in life, size matters. But in this case, small can definitely pack a punch.
Axes come in a range of sizes, largely depending on their use. You can have a wood-chopping axe which would be considerably longer than a hand axe, or camping axe. Generally, a large axe is wielded with two hands and is driven by power for large chopping jobs. The hand axe is much smaller and is often relatable to a hatchet which is suited to cutting anything less than four inches in diameter.
Apart from size, one main difference between hatchets and axes is that the head differs in size and weight. Hatchets usually have quite a small head and body, but expand out to quite a large chopping blade, whereas an axe, and a hand axe, will have a blade that is only slightly bigger than the body. The weight of these heads also gives the hatchet a much lighter feel to the regular axe.
Other differences remain in the shaft design, with hatchets using a more forward bend design, while axes are generally quite straight in their build.
Tomahawks are used quite interchangeably with the term hatchet, however, tomahawks have a much more combat-orientated meaning as they have been used by generations in that manner. There is much overlap between the design of tomahawks and hatchets, however, you will find that the best tactical tomahawk heads have been fit onto the shaft from the bottom, and fits as the tomahawk shaft gets larger at the top.
Quality Chop – 10 Best Axes For The Outdoors
Interesting knowledge right? Now let's get stuck into these eight best axes that you can rely on when you are outdoors, going camping, or working on those weekend projects in the backyard.
IMAGE
NAME
LENGTH
Schrade Full Tang Hatchet

11.1 inch
28.1 cm
SOG Voodoo Hawk Mini
12.5 inch
31.75cm
Estwing Sportsman's Axe
14 inch
35.56cm
Gerber Gator Combo Axe II
15.60 inch
39.6cm



Gransfors Bruk Wildlife Hatchet
13.50 inch
34.3cm
SOG Tactical Tomahawk
15.75 inch
40cm
IUNIO Camping Axe
16 inch
40.6cm
Cold Steel Trail Boss
27 inch
68.5cm
SOG Camp Axe
11.5 inch
29.21cm
Prandi German Style Hatchet
15.75 inch
40.01cm
Let's take a look at each one of these in detail.
1. Schrade SCAXE10 Full Tang Hatchet 
The Schrade SCAXE10 Full Tang Hatchet is a well-crafted stainless steel hand axe measuring at 11 inches in length, a blade length of 3.6 inches, and a total weight of 1lb and 5.9 ounces which is easy to swing, and not tiring on the hands with its firm rubber grip.
Because of the handy sizing of this hatchet, many wear it as a 'belt hatchet' while outdoors or working on bushcraft projects. But make no mistake, even though the Schrade is a small utility axe, it still bites deep into branches and logs making it a great addition to any survival kit or bug out bag, should you need one.
As a wood-chopping tool, this hatchet obviously isn't made for leveling an entire forest. But as a branch or small log cutter, it is perfect. Anything that has around a four-inch diameter will be easy to cut with this and will make much lighter work than using a survival knife.
The Schrade SCAXE10 has a block form on the back of the head which can be used for hammering and because of its stainless steel make, works well with ferro-rods to start a fire.
Pros
SK-5 high-carbon steel
Grip that is formed like a hand and fingers
Handle is made of a strong nylon fiber
Full-tang construction
Hatchet that can be used all-around
Cons
Because of its tiny size, it may have trouble cutting heavier items
May run in small sizes
Fair balance with a slight bias towards the handle
The blade is prone to becoming dull
The hatchet's sheath may fail to hold it secure
The blade may be honed a little more to increase its efficacy
2. SOG Voodoo Hawk Mini Axe
The SOG Voodoo Hawk – what a name right? SOG has always made great gear for survivalists and people working in the more tactical-related professions, and the Voodoo Hawk Mini is no exception. As it stands, the Voodoo Hawk Mini is a heavy-duty ax measuring in 12.5 inches with a 3.5-inch steel blade mounted to its compact glass-reinforced nylon handle.
Where this ax differs from many of the others that we picked out for our best ax list is that the Voodoo Hawk Mini has a rear spike for piercing applications. This also adds weight to the back of the ax, and with its extremely light shaft, is regularly marketed and used as a throwing ax. This is why some prefer to call this an ax/tomahawk hybrid.
When we had a play around with this SOG axe, we were throwing this axe lightly into an old stump where it would easily sit in the wood at least two inches deep, giving it a great application as a very reliable throwing axe as well as an all-round handy camping tool, and something to keep in the car in case a carjacker comes your way.
Pros
It's the perfect size for working at a small camp
Just feels right in the hand
The tiny form of the Voodoo Haw makes it easy to transport for tourists, hikers, and hunters
It may be carried comfortably without falling out thanks to the sheath
The handle contains a soft cushion on which to rest your hand
Cons
The blade is not properly aligned with the handle. As a result, negligent hits may lose the hold on the edge.
A little bit of a letdown in terms of quality
For maximal usage, the handle will break
Not very sturdy
Weak durability
3. Estwing Sportsman's Axe
The Estwing Sportsman's Camping Axe is one of the most popular one-piece forged camping axes on the market. Why? It has been around for a long time and has been rated as a top durable, long-lasting, and quality striker.
This camping axe's overall length is 12 inches, with a 3.25-inch stainless steel blade, but what sets this axe aside is its genuine leather handle and its drop-forge single-piece design, which makes this one a long-lasting tool.
Another benefit to these axes is that they are crafted in the US since 1923, so you know that they're going to be quality as they have a history of great work and reliance behind them.
As you can see in the product images, the superior leather handle that comes with this axe will have varnish for display purposes. Take it off. The varnish will crack and chip with use and the grip will start to absorb water and moisture and will ruin the leather. Instead, when you get this fine axe, use 100 grit sandpaper over the varnish until all of it is gone. Once you have removed all of the varnishes, get some Neatsfoot Oil and rub it into the leather. You will have to do this over several days just to make sure the leather has soaked up the oil, but once you have soaked it in the oil, the handle will literally last forever. If your axe is going to last forever, you want the handle grip to do so as well.
Pros
Affordable
Lightweight and easy to transport
Easy to use
Versatile for lighter tasks
One-piece forged steel construction
Comfortable leather grip handle
Nice balance
Cons
Flimsy
Limited chopping power
A tad heavy
A bit pricey
Not too easy to bring for backpacking
4. Gerber Gator Combo Axe II 
Gerber comes out with some pretty interesting items at times, especially in their axe and knife range. With Gerber's Gator Combo axe, we've got both, all so you can handle your way out in the wilderness with, essentially, a multitool axe.
This Gerber axe contains a coarse blade saw for handling brush and branches when you are outdoors. It is held inside the handle with a firm magnetic hold so as to make sure it doesn't fall out when the axe is strapped to your backpack, or in your side belt.
The axe itself is 15.6 inches long and has a forged steel head with a 2.7-inch blade. The saw blade is also quite long at 6.10 inches – that's not including the handle.
While the axe itself is quite light, the blade bites very well into any type of regular wood and will easily cut anything that is around four to five inches deep.
Gerber's products also come with a lifetime warranty, so if there's ever any serious damage to your goods, you know that they have got your back.
Pros
Durable
Useful saw
The saw is quite useable on trees up to 4in in diameter
For car camping, this hatchet will serve you well
Super handy and quickly accessible
Cons
Blade shape isn't the most practical
Saw retention
The magnet that holds the saw in the handle isn't very strong
Not so ideal for bushcrafting, trekking, and backpacking
The steel core does not go all the way to the head
5. Gransfors Bruk Wildlife Hatchet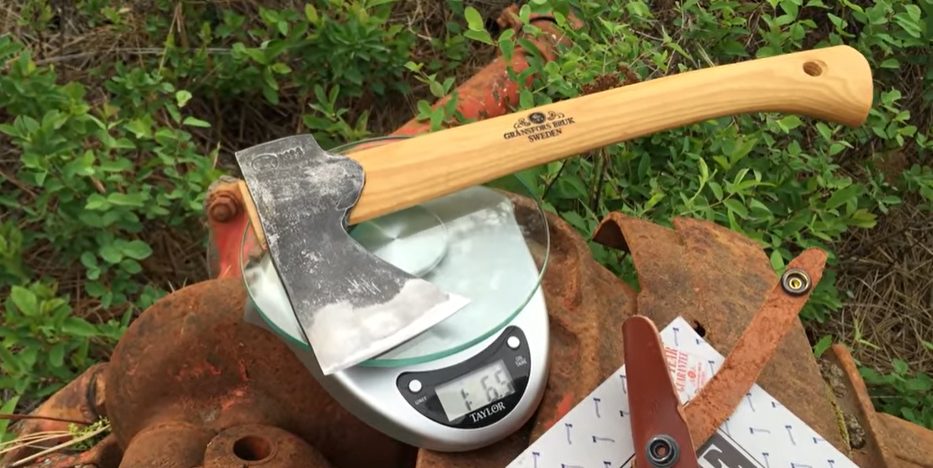 Gransfors Bruk Wildlife Hatchet is a handmade scouting and camping axe from Sweden. The make of this axe is something you would expect to be passed on from your grandfather after it was passed on from his father – it has that long-lasting feel of something a pioneer would have used
The expert quality in this 13.5-inch 1.7lbs axe is felt when you are outdoors, chopping away at branches and small logs for building projects. Felling small trees is a breeze as this axe has a relatively well-sized handle and thick, durable head that lops into trees. As a small axe with volumes of power, this is one that you would keep hitched into the side of your canvas bag, ready to pull out so you can start felling trees for your bushcraft shelter.
There is one bit of advice I have with this axe, and that is to not lose it, otherwise someone else will have an axe that will last them a lifetime.
Pros
Excels at general bushcraft chores
Long-lasting
Handmade to ensure quality
Do a great job every time
Versatile
Cons
A bit more costly
There have been reports of some finishing problems with the handles
A couple of people have said they've received axes with nicked blades
The head becomes slightly loose over time
Difficult to use with two hands
6. SOG Tactical Tomahawk
Yet another top-selling product from the SOG tactical range, this time, a specially designed SOG Tactical Tomahawk. What's so good about this tactical axe that you will want to buy it? Well if you are anyone working in defensive fields, or you are after a survival weapon, this tool is your best backup.
This well-crafted tomahawk is designed for breaching operations, obstacle removal and extraction yet is also a highly efficient cutting axe and tomahawk weapon with a length of 15.75 inches and a 2.75-inch stainless steel head.
Because of the versatility of this useful tool, it suits the outdoors just as much as it does the urban environment as a tool for emergencies or disasters. This is why we would recommend this item as an addition to any good bug-out bag or as an easy-to-grab item in your bug-out vehicle for emergencies.
While there are better weapons and tools you can use as a self-defense item, this tomahawk can still provide that application, as well as act as a reliable tool for those mountain trips.
Pros
Axe arrived with a really sharp ground blade
All handle hardware was tight
Quality build
Quality finish
The included nylon sheath will protect you from handling harm
Cons
Not for chopping down a large tree
The handle lacks any texturing or paracord wrapping
Limited in its applications as stated
The head is nowhere near full tang
As far as a breaching tool or survival item, not so much
7. IUNIO Multitool Survival Axe
For those of you that love multitools, then you should check IUNIO's survival axe. This multitool axe has a number of internal components that make up the shaft and can be screwed apart to be used as separate tools. For instance, in this 16-inch axe there is a ferrocerium rod for fire starting, a hammer application, knife, whistle, compass, glass breaker, bottle opener, scaler, and a saw blade – pretty much everything you need to ever impress the friends and family when you go camping next time.
IUNIO's camping axe also comes with a lifetime warranty, which is quite rare for items like this given its affordable budget price.
The design of this axe is great. On the outset, what you have is a hand axe and hatchet that is made of steel and an aluminum alloy handle with the entire axe measuring at 16.14 inches. The handle unscrews allowing you to use the extra applications that this axe comes with. On top of that, the ability to shorten this axe means that you can use it in more finer situations where you might be in a tight working space, or wherever else you find that a longer handle is not useful.
Because of the multiple uses this axe has, it also comes with a nylon sheath that you can attach to your belt. This is because when you are outdoors, you are going to use this more than anything else you own.
Pros
The swiss army knife of axes
Can be disassembled
Inexpensive
Good teaching tool
Comes with additional survival gear, such as compass and whistle
Cons
Its head simply isn't broad enough when it came to chopping your average log
Features are too diversified
Isn't the greatest at chopping wood
Quality is not the highest
Doesn't perform well with heavy-duty
8. Cold Steel CS90TA-BRK Trail Boss
Cold Steel Trail Boss is the biggest axe on the list. coming in at 26 inches, with the head made out of drop forged 1055 carbon steel and an all-round weight of 2.7lbs.
This axe uses a European-style design for the head with a blade measuring at just over four inches. The cut on this tree lopper is huge, and so it should be, it is a well-weighted head on the end of a very solid shaft made out of American straight-grain hickory that gives a long swing and a deep bite into any thick logs.
Because of its 26-inch legnth, this axe is still useful to carry strapped to your pack so that you can carry out the tasks that a tomahawk or hand-axe simply wouldn't be able to perform. If you are like me, and enjoy bushcrafting and already have a smaller hand axe or hatchet, I recommend you consider taking this Trail Boss outdoors so that you can start with much larger bushcrafting projects, and maybe even consider building your own log hut
Pros
Extra weight adds to the power
4.5-inch cutting edge
Good option as an all-purpose tool
Ideal in most situations when camping, survival, outdoors
Good price
Cons
Lacks hammer face
Lacks specialization
Not as sharp as expected
Poor balance
Its cutting edge needs some thinning
9. SOG Camp Axe
With its compact size, the SOG Camp Axe is a nice option if you want to make breaking up firewood and cutting tree limbs quick and easy. For survival, you wouldn't want to be without it either.
With glass-reinforced nylon handle, the axe feels quite sturdy. You can chop through moderately large trees without a lot of effort. However, because it doesn't have the same weight as a full-sized axe, you may not get the same type of deep cut with a full swing when using it.
However, the axe excels in hammering in tent stakes, chopping pre-cut firewood, chopping off foliage and breaking branches from larger branches, allowing you to get the materials you need to make a temporary shelter.
Pros
Very easy to carry and use
Highly sharp and easy to handle and turn
Very lightweight tool
Is used textured GRN for the hand axe
It also has an integrated LED light
Cons
Surely require a cord to put nearby the wrist
The head is not smooth all the way back
Not conducive to a non-gloved hand
A little pricey
Not so good at splitting
10. Prandi German Style Hatchet
This hatchet is quite remarkable in terms of price and quality. It's made from C45/1045 high carbon steel while its handle is American hickory.
It's a good choice if you want to have that nice cutting power in a small package. About 14-inches long, it's easy to transport. In fact, with its size and weight, you can just strap it on your bag or keep it in your toolbox.
Just take note that its contouring is a bit thick. It may not accommodate one-handed use.
Pros
Heavier head weight
Ideal for camping and cutting firewood
Good price
It has the "bearded" axe head
Decent sheath and design
Cons
Over-all length is shorter than stated
Head is off set to the left
Not the highest quality
Slightly subpar handle
Head is slightly loose
Over to you…
If you do end up choosing one of these top axes, or if you are one of the many that already owns one of these, let me know what you think of it in the comments section below.
As always, make sure you use any axe with safety and care, and enjoy the great outdoors.