Wearing a watch is a necessity for most people. Some wear watches for work and sports while others use them as a fashion accessory.
And these days, they come with different features, like the best solar powered watches. These features make them better, more useful, and in demand.
If you are looking to buy a solar watch, this guide lists the best watches to choose from.
Comparison of Top 5 Solar Powered Watches
| Best Solar Watches | Band Material | Display Type | Movement | Water resistant depth | Check Price |
| --- | --- | --- | --- | --- | --- |
| Casio Tactical Rangeman G-Shock Solar Atomic Watch | Rubber | Digital | Tough Solar (solar powered) | 200 meters | Check Price |
| Seiko SSC141 Stainless Steel Solar Chronograph | Stainless steel | Analog | Japanese quartz | 100 meters | Check Price |
| Seiko Men's SNE039 Stainless Steel Solar Watch | Stainless steel | Analog | Quartz | 30 meters | Check Price |
| Timex Men's Expedition Scout Solar-Powered 40mm Watch | Leather | Analog | Quartz | 50 meters | Check Price |
| Casio MTPS120L-1AV Classic Watch | Cloth | Analog | Quartz | 100 meters | Check Price |
The Top Solar Powered Watches You Should Definitely Consider
1. Casio Tactical Rangeman G-Shock Solar Atomic Watch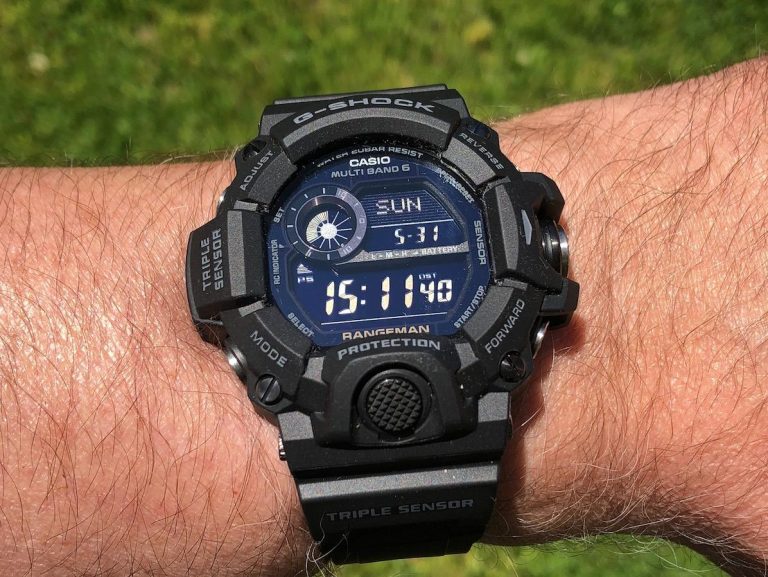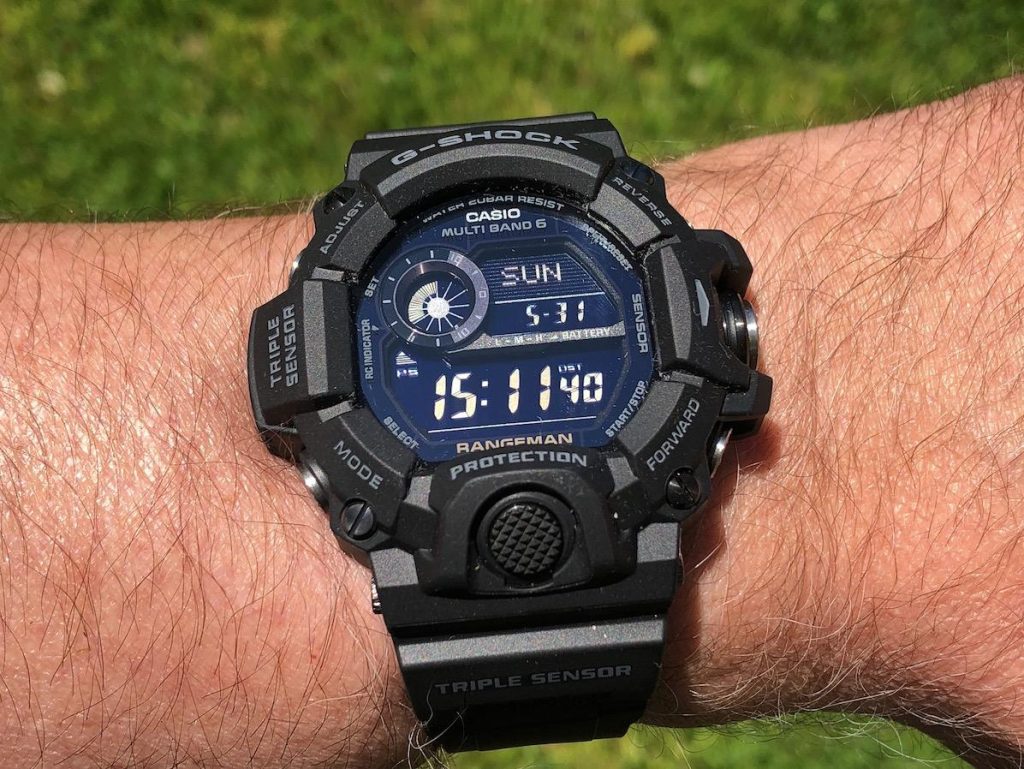 The Casio Rangeman G-Shock Solar Atomic Watch is a sleek all-black wristwatch. It features triple sensor technology which can provide you with vital survival information in harsh conditions. The solar-powered digital watch is the standard size for men.
Additionally, the watch is also great for diving enthusiasts for it is water-resistant up to 200 meters deep. It even has an LED backlight feature.
This solar dive watch is also shock-resistant. It is a perfect partner for hikers and mountaineers because it records altitude and barometric pressure.
Key Features:
Weighs 9.6 ounces
Digital display type
Requires a lithium metal battery
Has a temperature indicator and compass
Has a stopwatch, timer, and alarm features
Pros
Enlarged direct sensor button
Anti-slip buttons
Wide faced display
Includes 1 battery
Offers customer support
Cons
Can be prone to self-reset and glitches
You may need to turn on the backlight to read the negative display
2. Seiko SSC141 Stainless Steel Solar Chronograph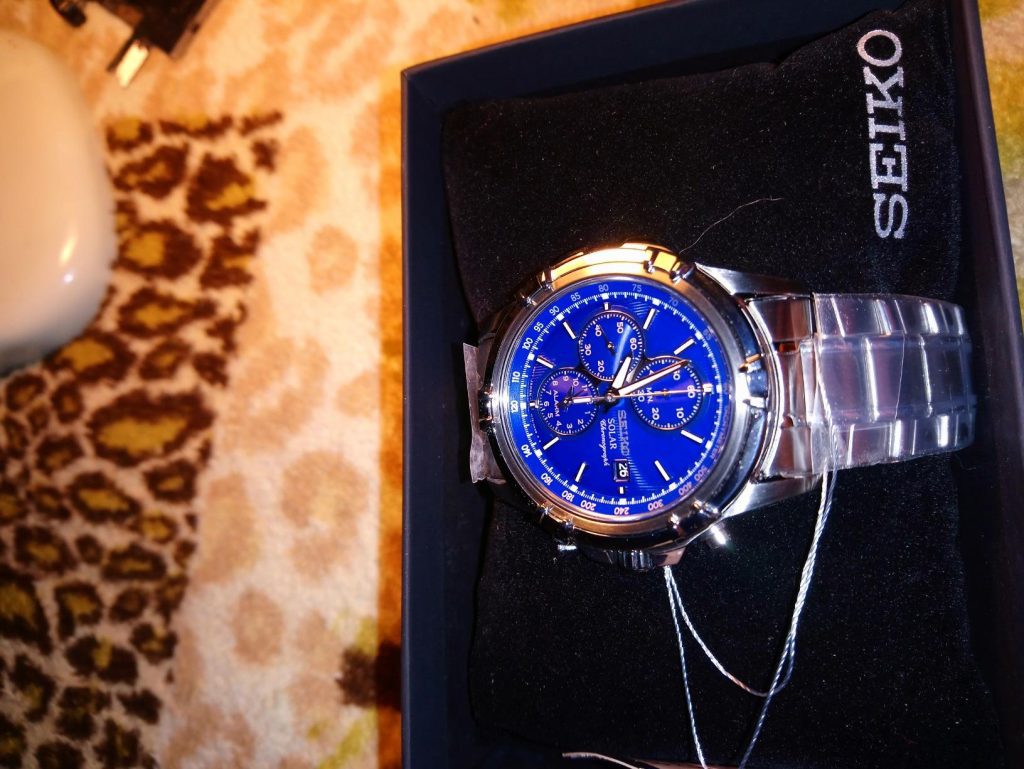 The Seiko SSC141 wristwatch features solar power technology that is convenient for you since it no longer needs battery changes. Any light source or type can power it.
The watch features an elegant blue dial with an analog display and hour, minute, and second hands. It features a stainless steel bracelet.
The chronograph (stopwatch) measures up to 60 minutes (1/5-second increments) and comes with a split time measurement function. This watch is ideal for swimming and snorkeling but not for scuba diving. You can even use it when you go fishing.
Key Features:
LumiBrite hands and markers
Japanese quartz movement
Solar alarm chronograph (stopwatch)
Screwdown caseback
Fully charged: 6-month power reserve
Glow-in-the-dark dial
Pros
Battery included
Manual is available on their website
Watch registration for an additional 1-year warranty
Cons
California's Proposition 65 (which may contain lead)
Requires a brand-specific battery
May fail to charge overtime
3. Seiko Men's SNE039 Stainless Steel Solar Watch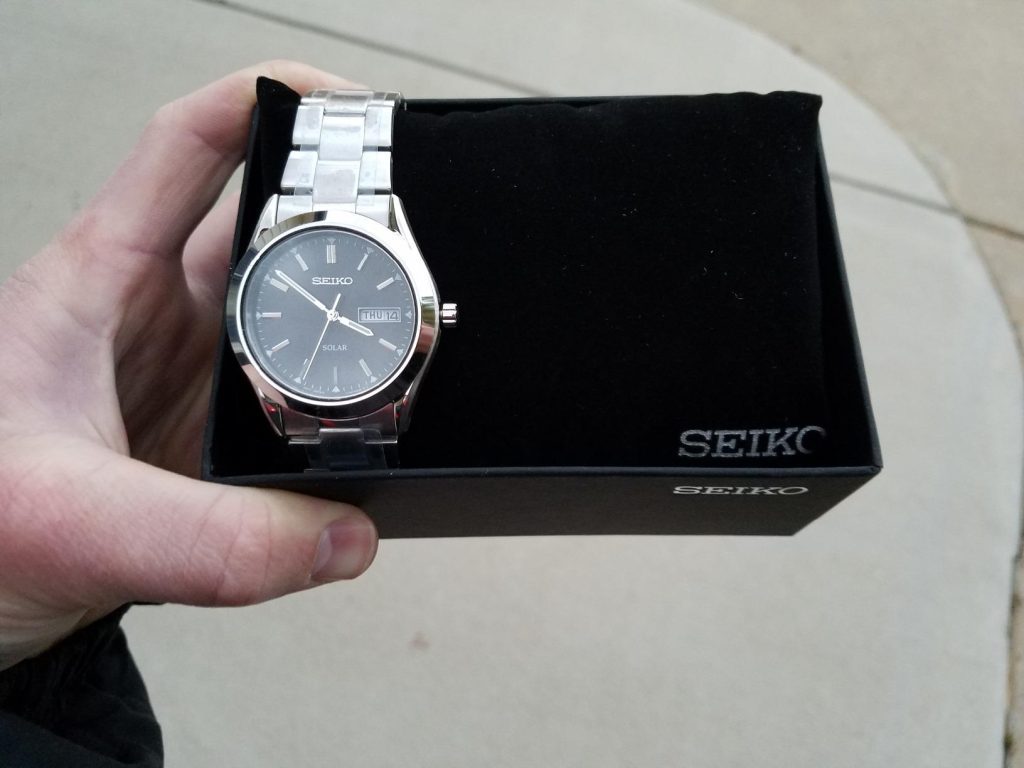 The Seiko SNE039 solar watch is proudly made in the USA. Released in 2010, this is the newer version of the Seiko Men's Japanese Quartz Dress Watch (model SUR361). Though some people may not like dress watches, the Seiko SNE039 is still a must-try. This is a classic-looking solar-powered watch that comes in a silver color and a black dial.
A durable crystal protects the dial. It is water-resistant by 30 meters. If you are looking for a watch that is not too small or large for your hand, you may consider the Seiko solar watch. You can also enjoy looking at the watch for it offers a bigger calendar display, friendly for those with eyesight problems.
Key Features:
LumiBrite hands
English/Spanish day and date
Fully charged: 10-month power reserve
Caliber V158
Stationary Bezel function
Pros
Simple and practical watch
Versatile: can be worn for both formal and casual events
Manual is available on their website
Watch registration for an additional 1-year warranty
Cons
Currently unavailable
Unreliable time: may need to be constantly reset when used overtime
The display lens is not scratch-resistant
4. Timex Men's Expedition Scout Solar-Powered 40mm Watch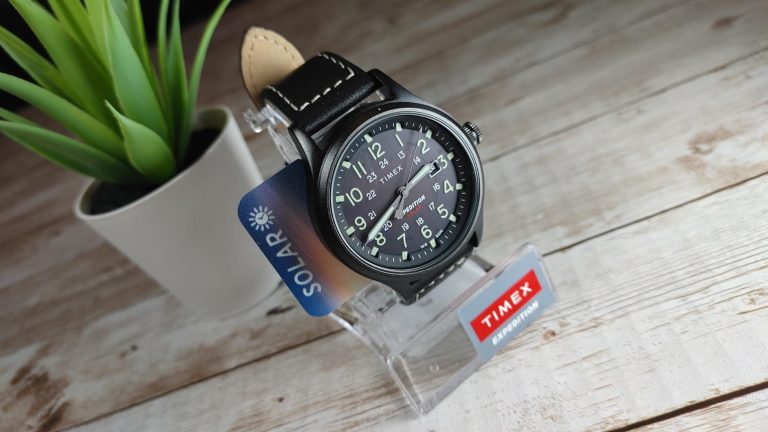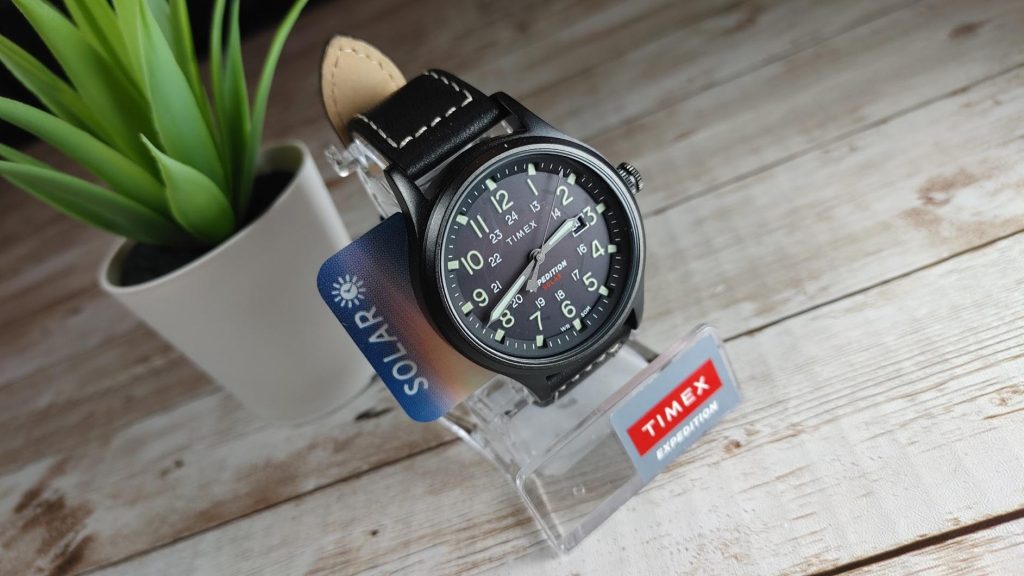 The Timex Expedition Scout Solar Watch boasts its legendary durability and scratch-resistant mineral display glass. It is made of quality materials with a classic analog design. It gives off a rugged feel because of its adjustable leather strap. Its maximum wrist circumference can fit up to 8".
It can absorb any lighting type, even indoor lighting. It is water-resistant for up to 50 meters and can survive rain storms and crossing rivers. However, this watch is not advisable to be used for snorkeling and diving.
Key Features:
Stationary Bezel function
Solar quartz movement
Luminous hands
Requires a lithium metal battery
Fully charged: 4-month power reserve
Easy to set calendar
Pros
Comes in three different colors: black, brown, and gray
Battery doesn't need replacement
Easy-to-read display
Comfortable when worn
A movable second strap holder on the band
Cons
Repair issues with the manufacturer
Hands may need to be calibrated
Time can change when it bumps to clothing or when performing a particular movement
5. Casio MTPS120L-1AV Classic Watch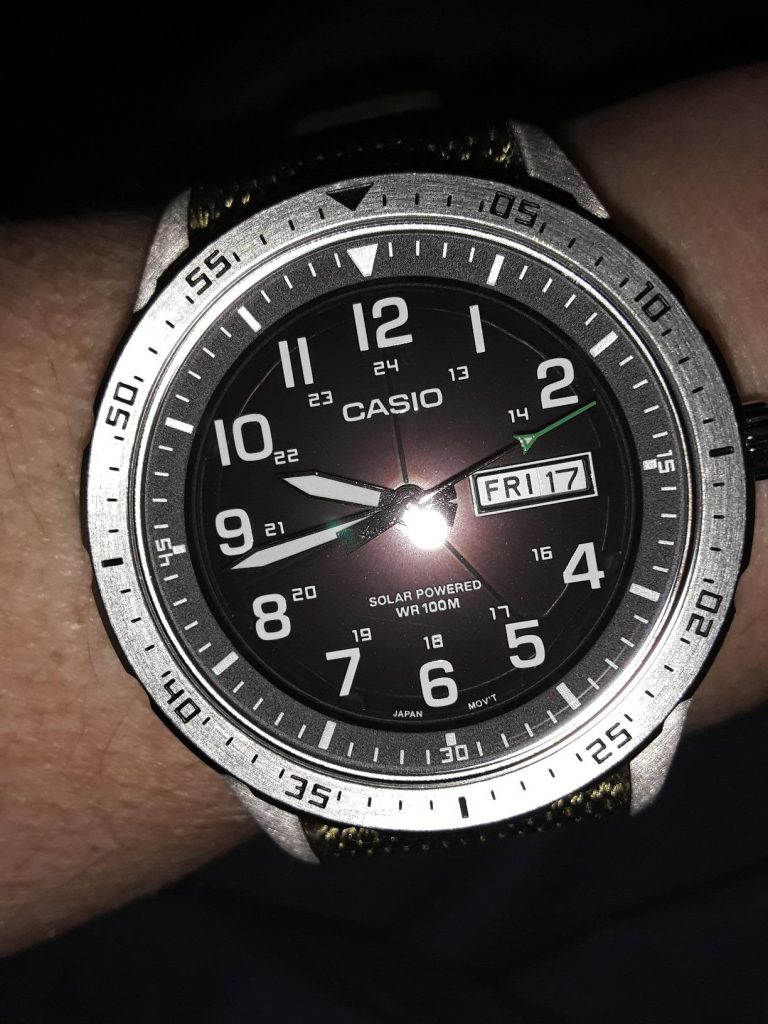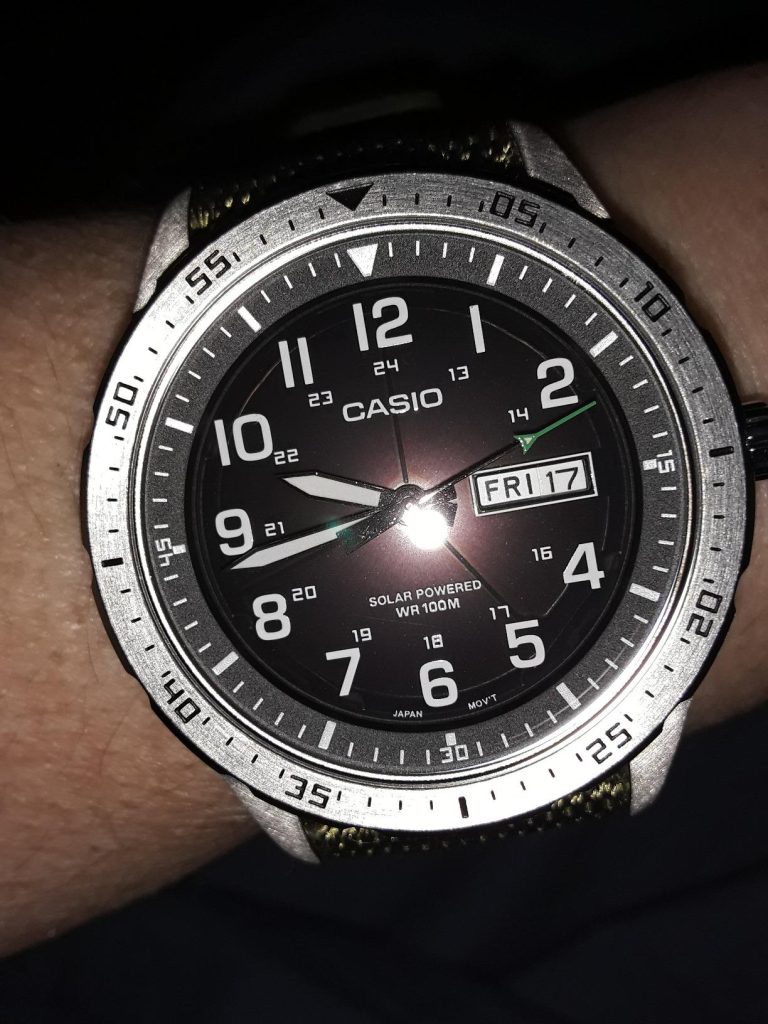 Regarded as one of Amazon's top choices for men's wristwatches, this Casio MTPS120L classic watch comes in two colors – black and green. It houses a sporty look that can complement your active lifestyle. It is water-resistant up to 100 meters. It is also solar-powered with a rechargeable battery.
Key Features:
Fully charged: 6 to 8 months of power reserve
Date/Day indicator
Low battery alert
Easy-to-read display
Screw lock back
Pros
Charges effectively
Comfortable band 
No need to constantly reset or wind
Removable or replaceable band
Cons
Requires a brand-specific battery
The display has no anti-reflective coating
6. Citizen Eco-Drive Garrison Men's Watch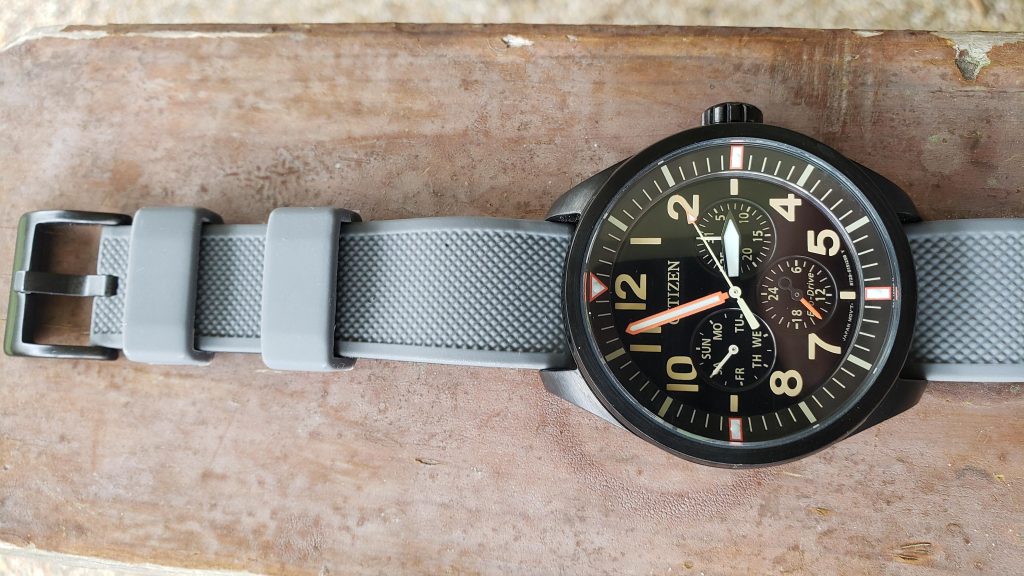 The Citizen Eco-Drive Garrison Watch is an analog chronograph that is eco-friendly. It makes use of both natural and artificial lighting. It is capable of storing surplus energy into a power cell and you don't have to worry about changing batteries.
The Citizen Eco-Drive is military-inspired with its rugged look but still comfortable to wear. It has a stainless steel case and features a Condura strap. It is water-resistant up to 100 meters deep which makes it ideal for swimming and snorkeling.
Key Features:
Eco-Drive movement
Day-Date calendar
Nylon band strap with buckle clasp
12/24 hour time
Luminous hands and markers
Pros
1 CR2 battery included
Size: average male fit
Removable or replaceable band
Easy to read
Cons
Currently unavailable
The band is thick and stiff
Display glass may scratch easily
7. SWII Solar Watch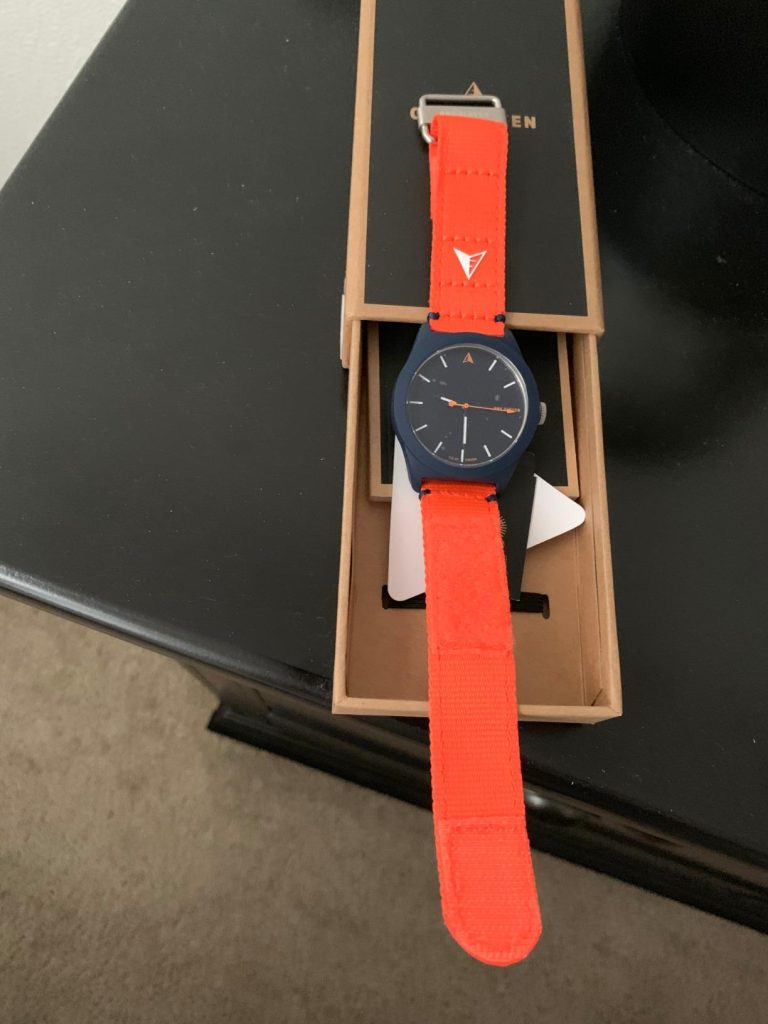 If you want a more expressive wristwatch, you can try the SWII Solar Watch which comes in different colors. Aside from the variety of colors to choose from, the SWII is sustainable and environment-friendly. This is a timeless, durable, and stylish solar-powered watch.
True to their word of being environment-friendly, these solar watches can continuously charge with both natural and artificial lighting. Thus, fewer battery wastes. It is water-resistant up to 100 meters. For every purchase of SWII watches, you are donating 1% of the amount to a good cause.
Key Features:
Made from sustainable materials: plant-based castor oil and recycled water bottles
Analog display type with three hands
Hook and loop clasp
Made of nylon
Unisex design
Pros
Comes in 8 fun colors
Includes 1 lithium-ion battery
Easy to read
A portion of the sales proceeds are donated to environmental causes
Offers a 30-days replacement warranty
Cons
May not keep time accurately
Poor customer support
8. Instinct 2S Solar Fitness Watch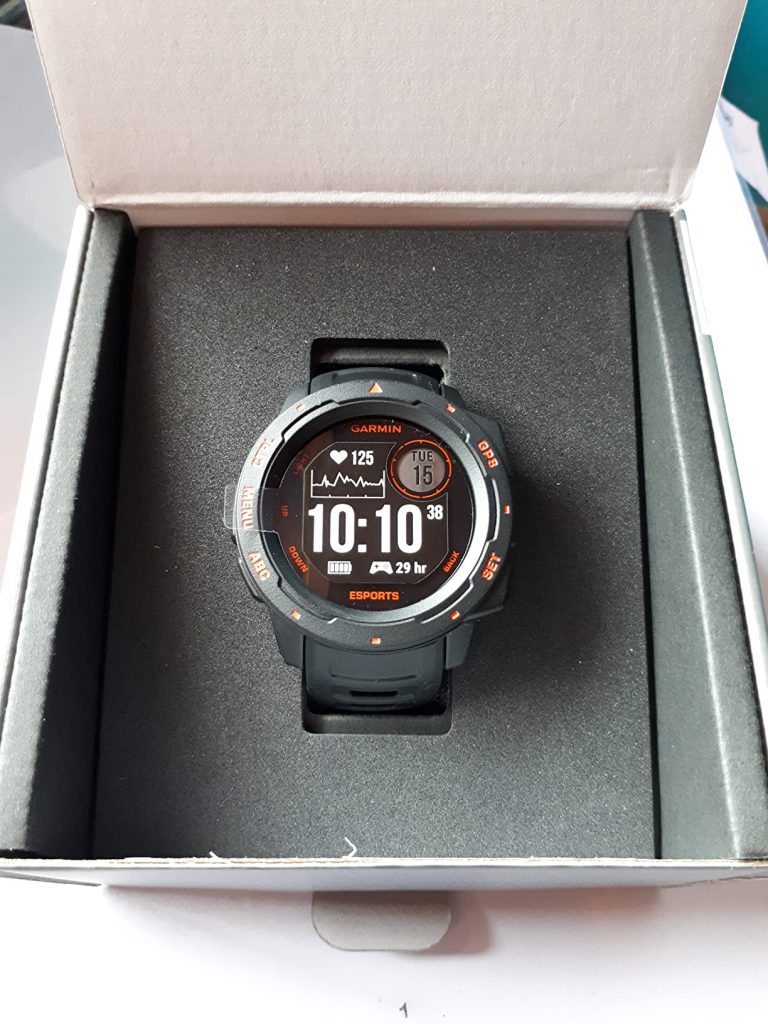 The Instinct 2S Solar Fitness Watch is perfect for your active lifestyle. Not only is this watch tough and rough, but it is also packed with awesome features that you need for your lifestyle. It is available in two different sizes which is good for every wrist size.
Instinct 2S is a GPS-charging smartwatch. It houses some sports apps, a perfect partner for training. It is durable because it is both resistant to thermal and shock. You get more out of the battery because of its unlimited battery life potential when in battery saver mode.
Key Features:
Sends alert notifications for important matters
24/7 health monitoring feature
Scratch-resistant display glass
Battery life: 51 days in smartwatch mode
Has built-in ABC sensors: altimeter, barometer, and compass (3-axis)
Smartphone compatible
Has a built-in incident detection
Offers daily workout suggestions
Water-resistance: 100 meters
Pros
Comes in 36 fun colors
A perfect partner for a person with an active lifestyle
Has a built-in GPS tracker
Packed with so many useful features
Cons
The battery may degrade over time
Poor customer support
Could burn your wrist
Built-in compass not as accurate as traditional compass
9. Casio Oceanus OCW-T200S-1AJF Radio Solar Bluetooth Watch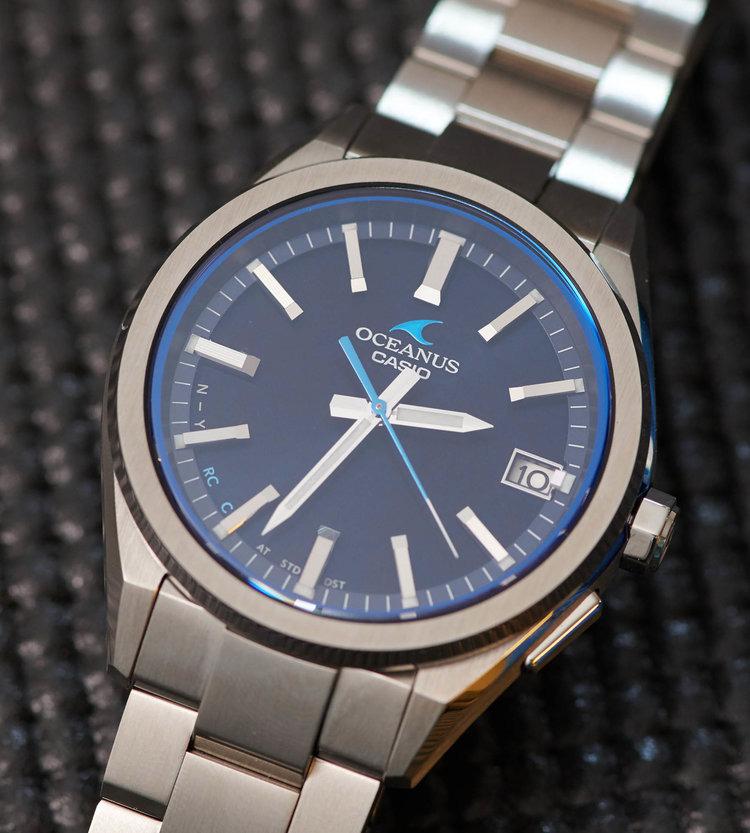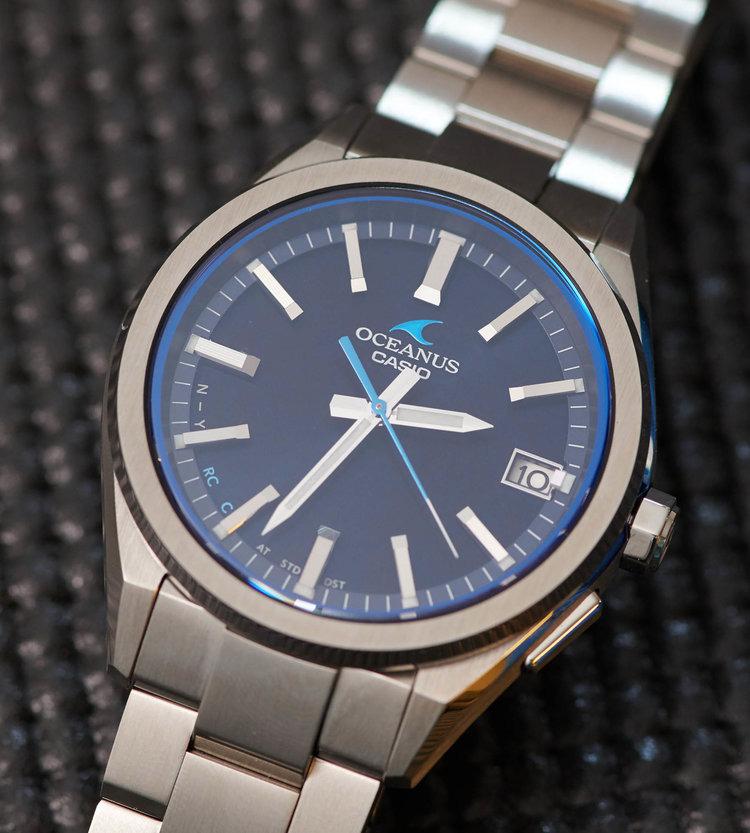 The Casio Oceanus watch is a Japanese imported product that is Bluetooth capable (mobile link). First released in May 2019, the Oceanus is water-resistant up to 100 meters. It comes with an analog display with blue dials. This is one awesome solar-powered watch that you should consider.
Key Features:
Tough solar power
Smartphone connectivity
Can pick up radio wave signals
Non-reflective sapphire-coated display
Automatic needle correction function
Pros
Instruction manual included in the set
Easy to read
Easy to set up
Comfortable to wear
Cons
Requires a brand-specific battery
Bracelet clasp doesn't hold on well
Overpriced
10. G-Shock GWM5610 Solar Watch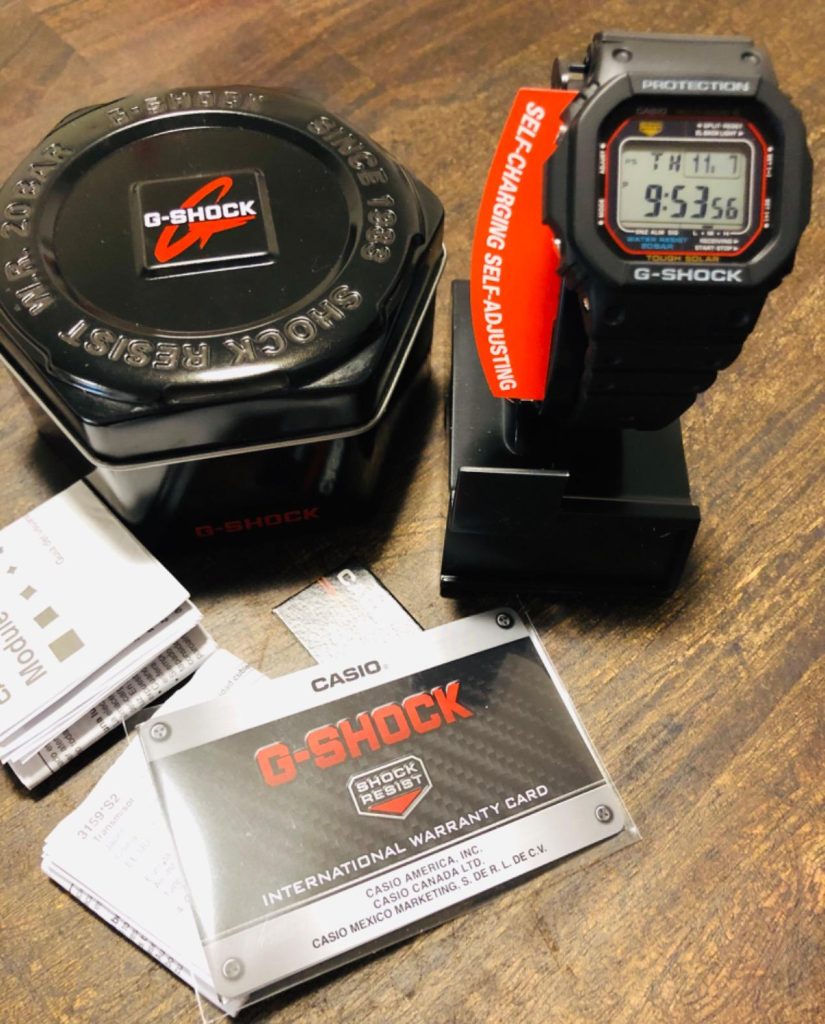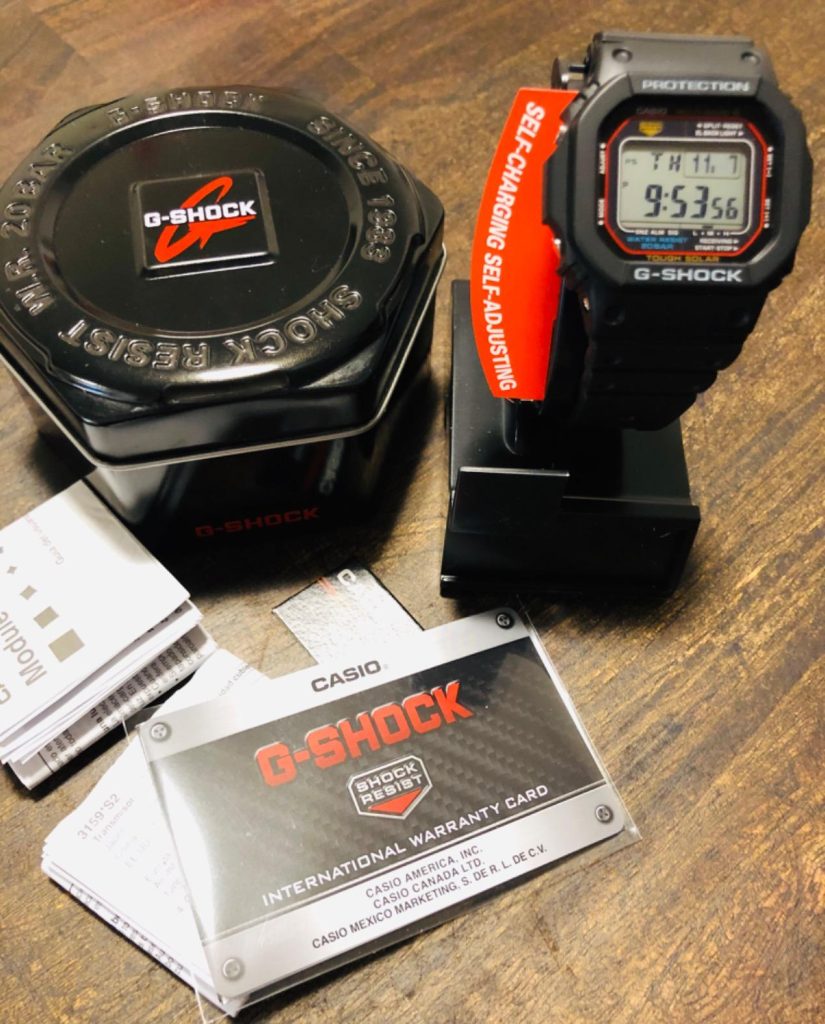 If you are looking for a durable and trusted watch brand, then you should consider G-Shock. It is a solar-powered timepiece that can easily convert the artificial and faint light source into energy for stable watch operation.
This watch is shock-resistant which protects the watch from any impact or vibration. It is water-resistant for about 660 feet. You can wear it while you are showering, swimming, surfing, and jet skiing.
Key Features:
Day-Date-Month calendar
Buckle clasp
Digital display type
EL backlight
Tough solar and multi-band 6 atomic timekeeping technology
Black resin band
Function buttons are on a protected side which can be accessed only with fingernails
Pros
1 lithium metal battery included
Small, light, and thin
Easy to read
Comfortable to wear
English manual available online
Cons
Resets randomly
Defective alarm
Battery slowly depletes over time
Reasons Why You Should Buy a Solar-Powered Watch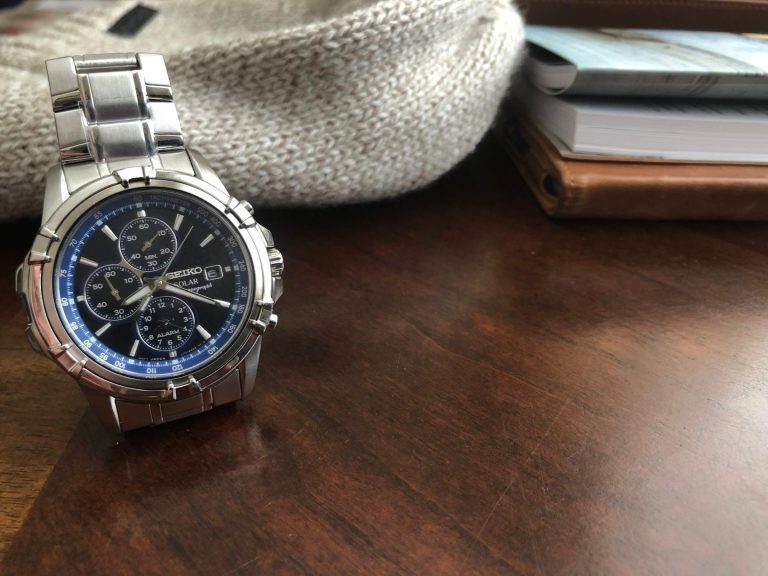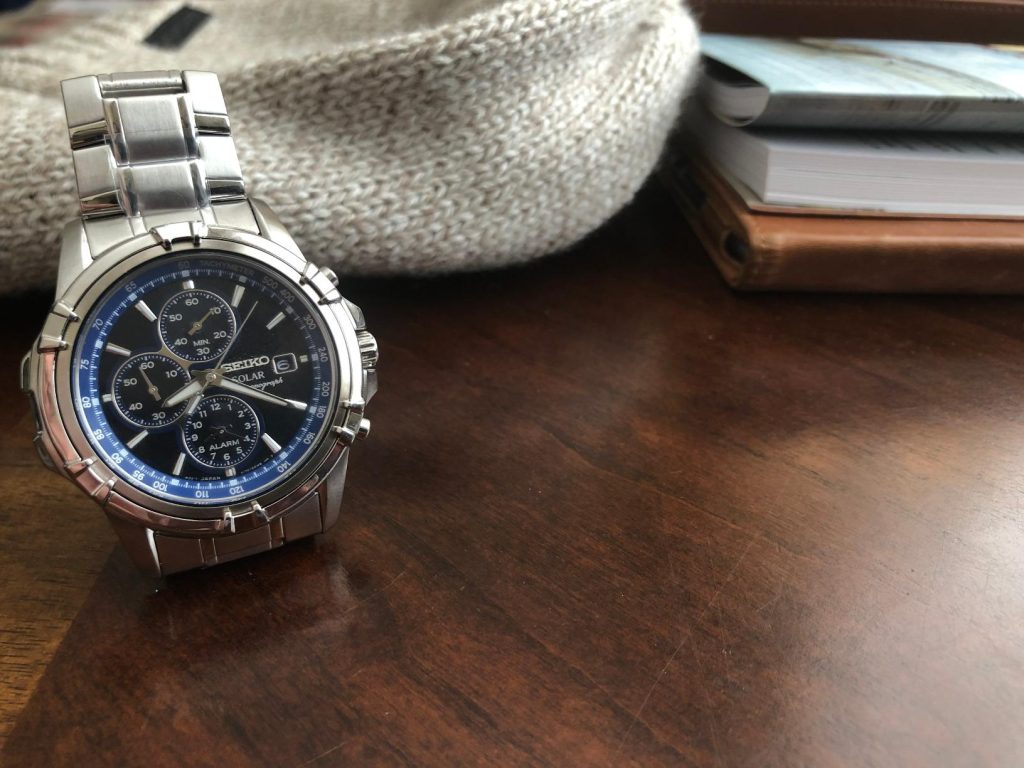 Most people turn to solar power for two common reasons: energy efficiency and environmental sustainability. When solar technology is applied to watches, most people notice that the watches are more reliable and durable.
Listed below are the common reasons why you should buy a solar-powered watch:
Accuracy and Reliability
The advantage of having a solar-powered watch is the fact that it can recharge anytime and anywhere as long as there is a light source. With improved technology, solar-powered watches can absorb both natural and artificial light. So you don't have to worry if the sun is not constantly shining on your side of the world.
Since solar-powered watches are constantly charging, they can accurately tell the time. This makes them reliable. Solar-powered watches have outshined other types of watches like quartz, atomic, automatic, and mechanical watches.
Efficiency and Longevity
The advantage of being able to charge anywhere there is a light source makes solar-powered watches very efficient. Solar-powered watches have built-in rechargeable batteries that can store reserve energy for long-term use.
Whenever the watch is exposed to a light source, it will automatically convert it to energy and be stored accordingly. The life of a solar-powered battery can last for weeks or months without exposure to any light source. Your watch would signal an alarm to inform you that it needs to be charged. This signal is in the form of two-second increment movements in time.
Water- Resistance and Durability
Solar watches are durable. They are housed in high-quality and heavy-duty materials such as titanium and hardened crystal. Also, solar watches are durable because they are not prone to be opened for access to the battery or to wind to prevent them from stopping.
Solar watches are also water-resistant. Since you don't have to open or need to manipulate the watch, the rubber gasket can protect the watch. The internal parts are protected from water penetration. This is a problem for other types of watches such as mechanical, quartz, and automatic.
Eco-Friendliness
Human waste has poisoned the environment. Because of this, many watch manufacturers are trying to do their share in non-polluting the environment. They have done their research to find the most efficient and eco-friendly power source for their watches.
Battery production and disposal cause a lot of carbon emissions and other harmful effects on the environment. Thus, it addresses these concerns, and the possible solution is to lessen the use and disposal of batteries. This is what makes solar watches great, they utilize rechargeable batteries!
How Do Solar Watches Work?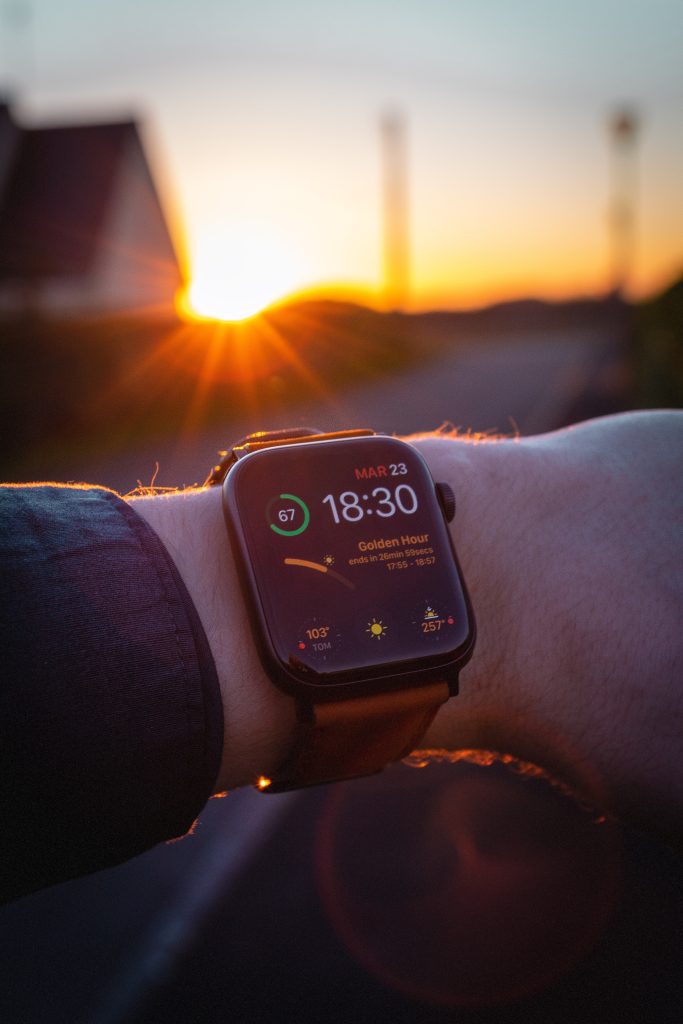 Solar watches take advantage of sunlight or artificial light sources for energy. They can store energy from the sun in their batteries. They can also function without batteries. They have built-in power reserves which allow them to be operational even at night.
Photovoltaic solar cells are arranged around the face of the watch and are responsible for absorbing light. If you decide to buy a solar-powered watch, it should be charged and ready to use. Most solar-powered watches can last for a few months before recharging. The package should include an instruction manual on how to charge your watch.
What You Should Know about Solar Watches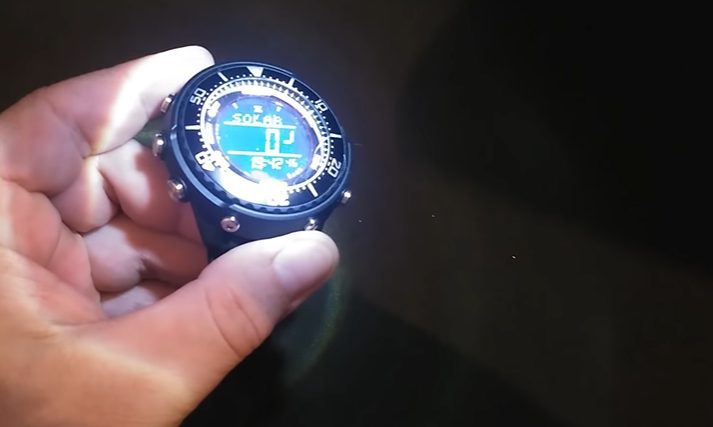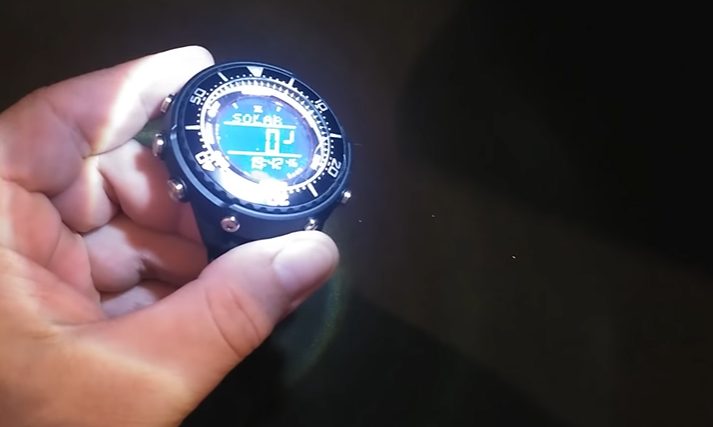 The first solar watch became very popular in the 1970s. The idea was first conceived in 1968 by Roger Riehl, an inventor. This achievement by Riehl was marked as a great advancement in the horological industry.
With many more improvements built upon the idea of Riehl, you are now seeing modern-day solar watches. The current solar watches are more advanced, durable, and efficient. They have better solar cells that are unrecognizably embedded on the watch's surface and can accommodate all types of light sources.
Solar Cells
Solar cells act like solar panels but on a small scale. Solar cells are also called photovoltaic cells. Solar cells are electric devices that are responsible for the conversion of sunlight or artificial light into energy. These are incorporated into the dial or bezel of the wristwatch to be able to capture as much light as possible.
Solar watches can still function at night or when in areas that are not well-lit because energy is stored in rechargeable cells. This power reserve is used by the watch to power itself when no light is available. Avoid leaving your solar watch in places where they have no access to light for a long time. This could drain their energy completely and leave them unable to recharge.
Light Source
The great thing about solar watches is the fact that they can absorb and convert both natural and artificial light sources into energy that can be stored in the battery inside the watch. The upside of exposing your watch to natural light (sunlight) is that it charges faster and can give more power to your watch.
If you don't have 12-hour access to sunlight in your location, don't feel disheartened. You can still expose your watch to artificial light sources such as fluorescent lights or lamp shades. What is important is your solar watch is frequently exposed to light.
What To Look For In Solar Powered Watches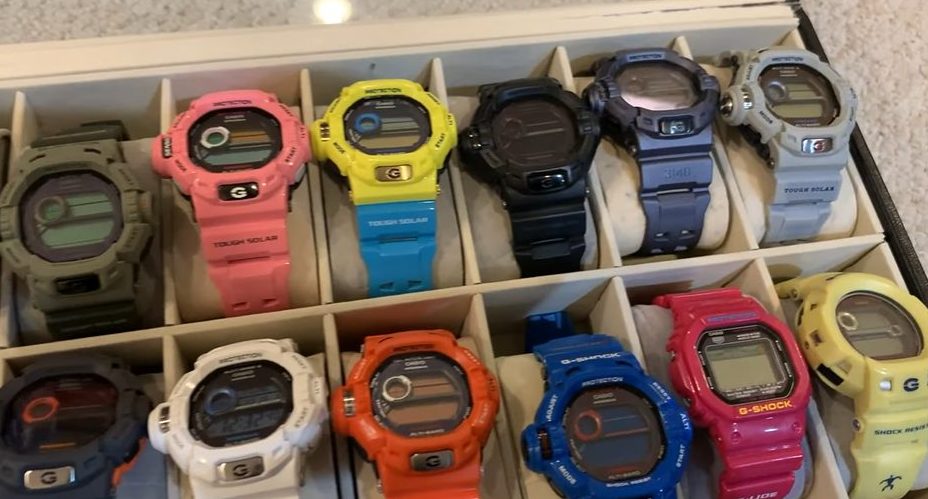 You want a watch that you can use for a long time. You want it to have features that you consider important for your everyday life. Listed below are some considerations you need to look into when buying a solar-powered watch:
Technology
The biggest consideration, by far, that you have to be mindful of is the kind of technology the watch has. Technology these days is constantly evolving. Your watch should be up-to-date with the latest for it to serve you well.
Most current watches do not only tell time. They also provide you with other information such as the date, atmospheric measurements, and even smartphone compatibility. Getting a solar-powered watch with a lot of features is what you should avail of today.
Budget
In making any kind of purchase, you should have a set budget for it. It would be impractical to buy an expensive watch and lose your life savings in one go. The best watch brands are expected to be expensive for you to get what you pay for.
If this is your first time buying a watch, do buy one that is within your budget. You don't have to spend so much on your first attempt. There are several affordable solar watches that are of excellent quality but will not force you to break the bank.
Design
A watch is an extension of you. Aside from your personal choice of clothes, your watch also describes your personality. Do you prefer a more classic and elegant watch? Or, do you want a bulky or colorful one? How it looks when you wear it should also be a consideration.
Look for a watch that is just right for the size of your wrist. You want to be comfortable with your watch; you don't want it to be too big that it gets caught on things. If you are more comfortable reading a digital clock, then don't buy an analog watch.
Water-Resistance
If you have an active lifestyle, you should invest in a quality water-resistant watch. You can wear it without worrying about ruining it. Without second thoughts, you can easily jump into water activities such as swimming, snorkeling, and scuba diving. It is best to own a watch that is water-resistant for hundreds of meters underwater.

Even if you are not a sporty person, it would still be advantageous if your watch is water-resistant. You don't have to worry about the rain and how it could affect your watch. You can even dip in the pool without worries.
Functions
When buying a watch, you must break down what you need in a watch. Are you satisfied that it can only tell you the time and date? Would you prefer that it is packed with a lot of apps and features that you can use while doing outdoor activities?
If you are an outdoor enthusiast who enjoys camping, you should consider a watch that is packed with all the good stuff such as a GPS tracking system, timer, stopwatch, compass, thermometer, barometer, provides time zone information and can be connected to your email.   
Special Features
It is not enough for a wristwatch to be comfortable and durable. It should also have special features that are beneficial to use. It is great to own a watch that is packed with a lot of useful functions. Some functions that you may want your watch to have are a multi-time zone display, water-resistant, a compass, barometer, Bluetooth capability, and many more.
Aside from the multitude of functions your watch can do, it would also be great if the material it is made of is made from special material. There are watches made from titanium or stainless steel. There are displays made of sapphire crystals or hardened mineral crystals. It adds to the appeal if the dials also come in interesting colors like blue and gray.
Quality
Many people consider watches as investment pieces. Watches ideally should last you for years. It is a simple machine that you use every day and you expect that it will not bug down anytime soon.
High-quality watches are expected to last longer than poor-quality ones. However, not everyone can afford a high-quality watch. Go for a watch that is durable and at the same time within your set budget.
Battery Life
Most watches run on batteries. With the current advancement in technology, you can now enjoy solar-powered watches. With solar-powered watches, the light source is converted into light energy and stored in your watch's battery.
Since your battery can be recharged using solar power; you don't have to buy replacement batteries every time it dies. Minimal battery waste helps the environment. Several solar-powered watches have a battery life of more than one year without the need to recharge.
Weight
As much as possible, you should look for a watch that is comfortable and not burdensome to wear. A watch that is bigger than your wrist can make your hand feel weighed down. Aside from this, you would look awkward with a bulky watch on your small wrist.
You may consider plastic-made watches for these to be lighter. However, many prefer stainless steel watches because of their durability. If you are looking for durable watches, you should purchase those made from high-quality materials.
How to Take Care of a Solar Watch


The band of the watch is the part that needs a lot of maintenance and care to last longer. There are different types of watch bands. Each type has its particular set of maintenance instructions. For stainless steel bands, you can clean them using a damp cloth. Avoid using vinegar because this can damage your stainless steel band.
On the other hand, if your band is made of nylon, leather, or resin, these are prone to getting damp and smell bad due to wrist sweat. Allow these bands to completely dry before wiping with a cloth. Give your bands a quick clean every week to keep them in good condition longer.
Avoid exposing your watch to direct and intense sunlight. This could cause damage to other parts of the watch. If the battery needs changing, you need to bring it back to the manufacturer for proper maintenance.
Frequently Asked Questions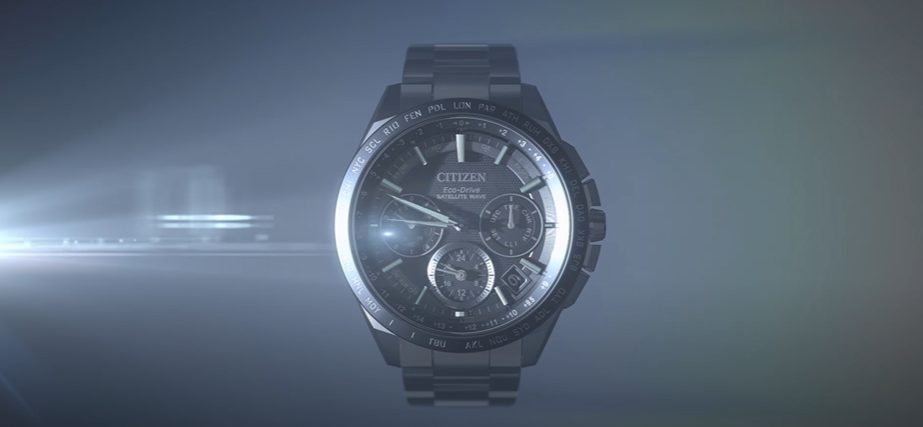 Are Solar-Powered Watches Worth It?
Yes, they are definitely worth it. They function well and are also packed with a lot of useful functions and apps. They are eco-friendly making it all the more worth it to own.
Do Solar-Powered Watches Work Well?
Yes, they work well because they can accurately tell the time. After all, the batteries are constantly charging when there is a light source around.
Can You Put a Regular Battery in a Solar Watch?
No. Regular batteries are not meant to be used on solar watches. Regular batteries such as alkaline-based are not ideal for solar watches for they are meant to be disposed of when it dries out.
Can a Solar Watch Battery Be Replaced?
Solar watches do not require regular battery replacement. Your battery can last a long time if you give your watch regular maintenance.
Can Solar Watches Last Forever?
No, solar watches won't last forever. All types of watches, at some point, will fail or stop working after years of use. Also, over time, some component parts may be unavailable, thus irreparable. However, if you just bought your solar watch and it is not functioning, it needs to be replaced.
How Is Recharging Affected When Seasons Change?
Charging can be affected when seasons vary. During summer, sunlight is abundant and strong. It is easy to charge your solar watch during this season. You will notice that the charging is faster and more efficient. It is during winter and fall that you may need to make behavioral changes for you to be able to charge your watch and make the most of the available light.
Final Thoughts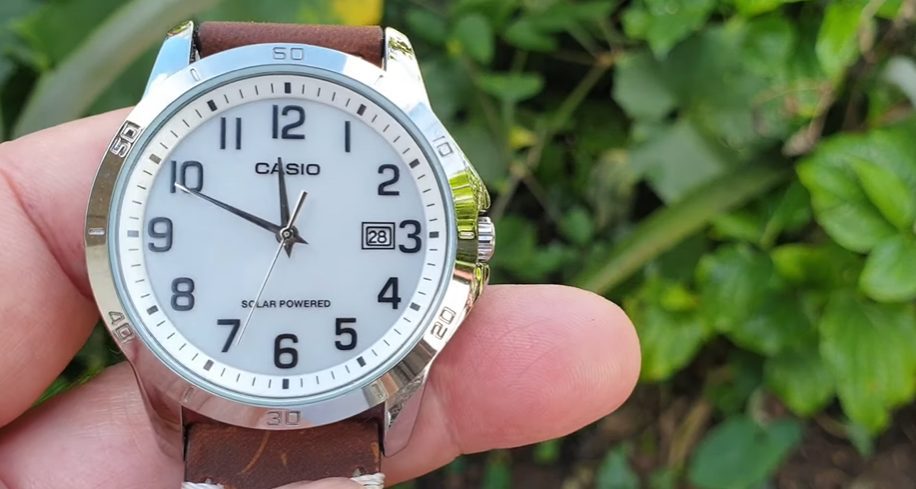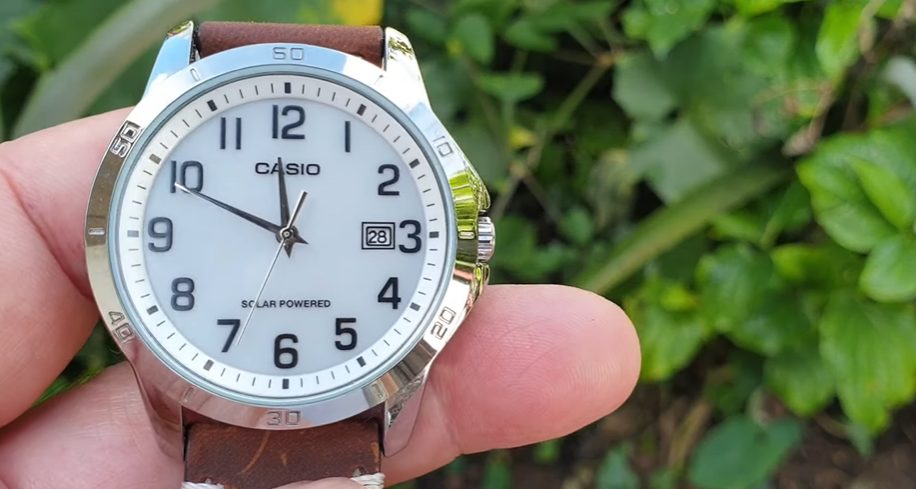 Due to technological innovations, using high-quality solar watches is the most sustainable way to go. You don't need to purchase replacement batteries and you can save the environment this way. You can use and enjoy your solar watch longer than other types of watches.
A solar watch is your active lifestyle partner. Owning a solar watch is not a waste but rather a worthwhile investment. The 10 best solar watches listed above are excellent brands that you may consider. It is high time you get your own solar-powered watch for they are the "next big thing".