Who doesn't love a good tactical vest?
If you do anything that involves shooting or having projectiles fly at you, chest rigs and plate carriers should be part of your protection.
Without them, you're going to be walking around with ammo magazines clunking in your pocket, and no ballistic protection, and that's just not effective.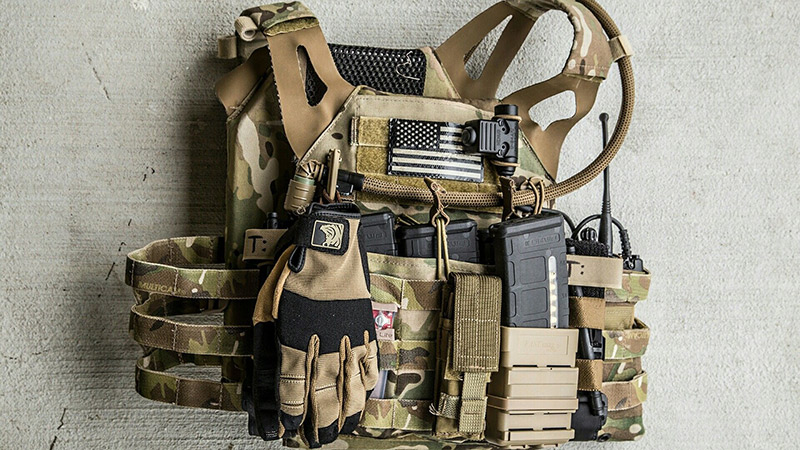 If you have ever worn a tactical vest before, you will know how handy they are. Basically, it's like having 10 quick-access pockets where you barely notice any weight.
If you think about it, it's an item that a lot of people could find very useful, whether you're a tradesman, surgeon, or a chef.
In their more-useful environment, being conflict areas, a vest provides body armor protection against bullets and shrapnel and can potentially save your life.
Having that accessibility and protection ensures that not only are you protected, but you are able to move with ease while carrying the gear you need to survive.
Since the introduction of a military culture in the sporting world with military simulations (MilSim), airsoft sports, and crossfit, the market of tactical vests, chest rigs, and even plate carriers, has been flooded with cheaply made, poorly stitched products that would fall apart after one day of use.
When you're using tactical gear in any given situation, you need it to perform well.
So we have gone ahead and done the research to inform you what the best tactical brands are that make the best tactical vests and plate carriers.
Why? Because we want to help you make an informed decision when you purchase the gear you want to rely upon.
How did we arrive at these 10 vests and plate carriers? We have put these things through their yards in mud, sun, crawling, running, and over extended periods.
We've used this equipment on home soil in sporting uses, as well as training environments, and we've used them overseas, where our life has counted on it.
Let's just say, we know what makes noise, what rattles, what causes chafing, and what operates well.
But first, you might have noticed that we have been mentioning both tactical vests and plate carriers together. Are they are the same thing? No. Here's why.
Top Tactical Vests Comparison
| Name | Colors | Sizes | Adjustability | Top Features | Check Price |
| --- | --- | --- | --- | --- | --- |
| Condor Modular Chest Set | Coyote Brown, Black, Olive Drab | Large to XL | Adjustable/ removable chest platform | 6 Built-in M4 Mag Pouch | Check Price |
| Patriot Tactical Multi-Threat Vest | Green | Small to 5XL | Adjustable cummerbund | NIJ Certified | Check Price |
| Multi-Cam All Star Tactical Vest | Color Multi-cam | Small to 5XL | Adjustable | MOLLE Compatible | Check Price |
| Coyote All Star Tactical Vest | Coyote | Small to 5XL | Adjustable | Reinforced, heavy duty rescue strap | Check Price |
| WarTechGears Tactical Fast Vest | Black, Green, Tan | 11" X 14" | Fully Adjustable | Large quick connect plastic buckles that can be extended | Check Price |
10 Best Tactical Vests and Plate Carriers
You might see some brands in this list that you are familiar with, and you might have seen some new ones too.
While we'd like to include more plate carriers in the list, we feed that tactical vests represent a much more significant portion of the market in comparison to plate carriers.
This might be because fewer individuals hve the need for plate carriers except for if they are doing Crossfit.
Each of these tactical load bearing systems have their own unique specifications, which might or might not suit what you are after.
Below we get into the nitty-gritty of each of these load bearing systems, and weigh out their pros and cons.
1. Condor Modular Chest Set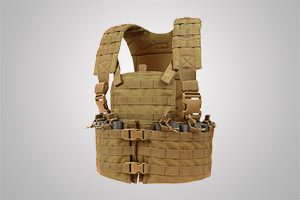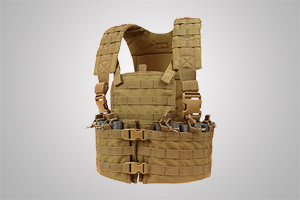 Condor is a very popular brand of tactical vests and you don't have to go far on a military base before you see Condor chest rigs. Why are they so popular? First, they fit. And they fit very well.
Condor's Outdoor Modular uses a buckle fastening system with multiple spacing and tightening points so that you are able to customize and tighten the chest rig to your exact size.
This is important as while it is nice to be comfortable in any given load bearing system you are wearing, you need to ensure that it doesn't move around too much so that you are free to run, jump, and crawl with the rig firmly attached to your body.
The Condor Modular uses inner padding that is coated with a layer of mesh on the underside of its chest rig.
This is to ensure that when you are carrying full weight in the rig, it doesn't create sore points or rub spots on your skin and still stays cool.
This is helpful for hot, jungle environments where you might experience prickly heat and heat rash underneath a chest rig.
This system also has a bladder sleeve in the back so that you can fit a water bladder inside it without having to carry an extra water pack.
Pros
Very easy to adjust to conform to your body armor
Durable and versatile
Very high value
Allows any configuration
Adjustment points have two forms of slack retention
Cons
Front opens on its own
It will not fit super skinny people
No bladder hanger in the H20 pouch
2. Patriot Tactical Multi-Threat Vest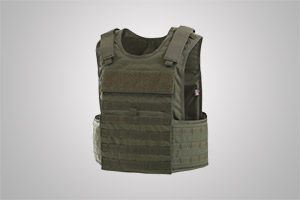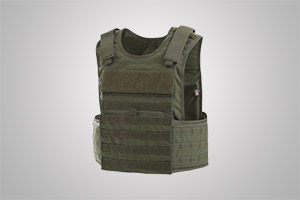 The Patriot Tactical Vest is a versatile tactical vest that you can wear all day. It comes with 1 Carrier in Ranger Green and 1 NIJ-certified set of Light Soft Armor.
It has rear and front plate pockets measuring 10″ x 12″. It includes a solid rescue strap, adjustable cummerbund, and is MOLLE compatible.
Upon testing, the trauma pad pocket in the front provides improved comfort for all-day usage, while the overlapping side coverage provides enhanced protection. It is also simple to wash.
This vest is ideal for law enforcement or security personnel that want full-body protection on a comfortable platform that you can wear all day.
It is lighter and simpler to maintain than similar products. You may adjust the shoulder straps to better fit, and the low-profile Velcro prevents snagging.
The adjustable cummerbund maintains a snug fit, and the bottom panel access makes it easy to wash the whole carrier.
Lighter or Lighter alternatives are available for inserts. For further protection, you may add optional ballistic plates to the 10 "x12" front and rear compartments.
A cost that you can pay. Although it is hard to place a number on your safety, the Patriot Tactical Multi-Threat is one of the most cost-effective solutions available.
Pros
10″ x 12″ rear and front plate pockets
MOLLE compatible
Reinforced rescue strap
Frontal pad pocket
Comfortable for all-day wear
Cons
No other color is available
3. Multi-Cam All-Star Tactical Vest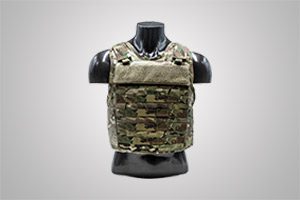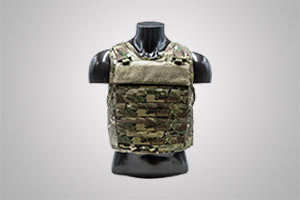 The Multi-Cam All-Star Tactical Vest is one of the most popular vests among police, correctional, and private security officers.
The vest includes 1 All-Star Multi-cam Carrier and 1 Set of soft armor that is Light IIIA NIJ Certified.
It has front and back 10″ x 12″ plate pockets and wrap-around armor, reinforced, strong rescue strap, multi-threat protection, and a trauma pad pocket in the front.
It provides improved comfort for all-day use and includes overlapping side coverage for more protection when worn.
It is MOLLE compatible and readily washable.
Whether you're a cop, a prison officer, or a security guard, you know that you need proven protection from a reputable manufacturer. You can get all of this and more with the All Star Tactical Vest.
The Multi-Cam All Star Tactical Vest is the best solution for seeking absolute protection in risky conditions.
Pros
Easily washable
10″ x 12″ front and back plate pockets
Overlapping side coverage for increased protection
Comes with front and back wrap around soft armor
Multi-threat protection
Cons
Only available in Multi-cam
4. Coyote All-Star Tactical Vest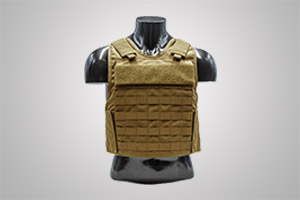 The Coyote All-Star Tactical Vest contains one set of NIJ Certified Level IIIA or IIIA+ Soft Armour, made of a front and back that completely wraps around the sides.
The Coyote All Star has 10″ x 12″ front and rear plate pockets and is MOLLE compatible, much like the other all-star tactical vests on the list.
It has a solid rescue strap in the front, multi-threat protection, and a trauma pad pocket.
The test proves it delivers improved comfort for all-day wear. The overlapping side covers provide increased protection.
For those long days in the field, this is a fantastic vest.
The Coyote All-Star Tactical Vest comes with a range of tactical pockets to meet the demands of most operators. It is fully adjustable and will suit the majority of users.
Pros
Multi-threat defense
Trauma pad pocket in front
Comfortable to wear all-day
Reinforced, heavy-duty rescue strap
Side covering that overlaps for further protection
Cons
5. WarTechGears Tactical Fast Vest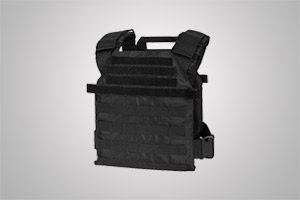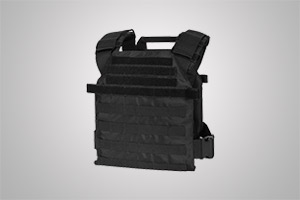 The WarTechGears Tactical Fast Vest is an excellent vest to have on hand and use with HDPE or lightweight ceramic plates. The vest is quite comfy and easy to put on.
It securely holds 14×11 plates with the Velcro flap holding method; however, the material against hefty Level 3 plates will not endure running, leaping, and climbing over time.
The vest's most significant feature is its reasonable pricing.
In the container, our steel 550 11×14 plates fit flawlessly. It contains a comprehensive Velcro portion for securing the plate bag and a modest amount of cushioning on the back.
So far, the stitching has held up nicely, and the shoulder cushioning is functional. It is pretty pleasant to wear for many hours, even with the hefty steel plates.
It seems to be well-made and neatly fits 11×14 plates. Simple to put on and take off.
Pros
Very comfortable and very quick to get into
Affordable and minimal
It holds 14×11 plates very well
With large quick, connected plastic buckles that you can extend
Cons
Not ideal for everyday use
Plates over time will not last
6. Shellback Tactical Banshee Elite 2.0 Plate Carrier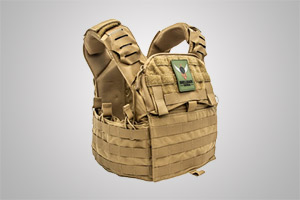 The Shellback Tactical Banshee Elite 2.0 Plate Carrier offers superior protection at a moderate price.
It includes web connection points throughout to completely personalize your carrier with all of the necessary gear and extras.
Each carrier comes with an adjustable cummerbund that easily accommodates magazines and other equipment. The vest has 3D mesh on the front and back panels for optimal ventilation.
It has a wire guide for use with hydration packs or communication equipment.
It has a 500D Cordura, matching webbing, loop/Velcro, and a feature-rich sophisticated plate carrier.
With multiple PALS web connection points spanning the vest's front, back, and shoulders, we found it to be quite versatile.
It has cushioned front and rear shoulder sections and is adjustable.
This vest is moderately pricey, but it is well worth it. There's plenty of capacity for stuff, and the zipper bag is much superior to the velcro pouch.
Pros
Plenty of room for gear
Has admin pouch and built-in hydration pouch
It comes with a cummerbund
Excellent quality
Cons
Expensive
Sling gets caught on the shoulder straps
Cummerbund is only helpful for the bigger user
7. Condor Exo Plate Carrier Gen II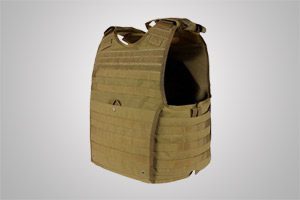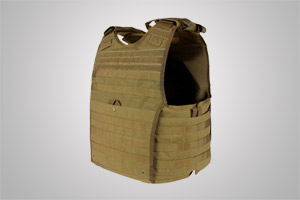 Secure yourself with the Condor Exo Plate Carrier Gen II, a comfortable and safe carrier that can store both plates and soft armor.
It contains an emergency drag handle that your squad members may use to swiftly move you out of dangerous situations.
The Condor EXO has a 3D mesh interior that is breathable for optimal comfort.
It also has adjustable shoulder straps for a unique fit.
MOLLE webbing is also available for adding modular accessories.
It has anti-slip shoulder pads that are detachable and have hook and loop guides.
You can use the snap, hook, and loop closures to close the front map pocket and the rear auxiliary pocket.
It also includes a breathable 3D Mesh lining and a cummerbund that is fully adjustable, together with the built-in soft armor pockets.
We thought this would be an excellent match for larger men. It seems to be well-made and has enough mole for extra connection. It is comfy, and it is not too difficult to alter it for the correct fit.
This Condor EXO Armor Plate Carrier Gen II provides enough protection in risky situations.
Pros
Well-made and great quality
Emergency drag handle
Shoulder straps that are fully adjustable
Hook and loop webbing
3D Mesh liner
Cons
Small/medium doesn't fit a 10×12 plate correctly
No plate carrier pocket in the front of the vest
8. Gloryfire Tactical Vest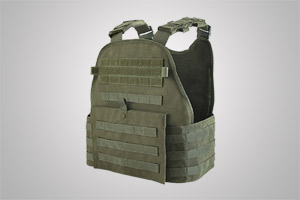 Having Crye's JPC at the top of the ladder for body armor is all well and good, but what about a plate carrier for those that aren't willing to fork out money for an investment, but want something that, if we need it, we can rely on it?
Well there's an answer for that, and it's from that company Gloryfire that's new, and keeps its prices very low for the great gear they make.
While they've already got their tactical vest which has been widely popular with the security and airsoft market that we mentioned earlier, their plate carrier vest is becoming just as popular and is a very good budget alternative to Crye Precision's JPC plate carrier.
The Gloryfire tactical vest uses a similar system to the JPC with anti-slip shoulder pads, and a donning system that uses velcro flaps to fasten it, which is far more secure and size-fitting than using strap buckles.
The sizing is quite diverse with this vest, as it is able to be customized for varying body types.
Pros
Comfortable and adjustable
Fully customizable for a specific layout
Many MOLLE webbing
A few pockets for maps and tools
Excellent materials and breathability
Cons
It comes without any pouches
A little expensive
9. AR5 Armor Veritas Lite Modular Plate Carrier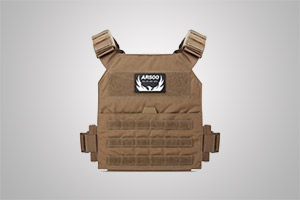 The AR5 Armor Veritas Lite Modular ensures quality for space even with its slim appearance.
It has a lightweight, less complex design that makes them easier to utilize in the field.
The AR5 Armor Veritas is a great choice for beginners because of its simple design.
This plate carrier is the non-bulky solution for daily carry. It is comfortable, well-ventilated, and ergonomic.
Because it is from authentic 5D Cordura nylon and bar-tacked at all stress locations, the AR5 Armor Veritas Lite Plate Carrier is very durable.
It is comfortable for testing with its cushioned and detachable shoulder pads and front and rear Velcro Pontoon Pad attachment points. These are, however, sold separately.
You may also add alternative cummerbunds and side-plate pockets for complete versatility.
It is also of military quality.
The AR5 Armor Veritas Lite Modular Carrier is designed to be worn over a soft armor vest and is impact-resistant.
Pros
Constructed of genuine 5D Cordura nylon
Comfortable padded and removable shoulder pads
Customizable
Military-grade
Sturdy construction
Cons
Pad attachments are sold separately
10. 5.11 Tactical Tac Tec Plate Carrier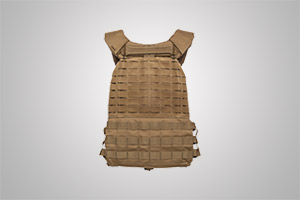 It goes without saying that anything made by 5.11 is good.
They're one of, if not, the biggest tactical gear manufacturers in the world and is a name that runs synonymous with professionals in security and military industries.
So of course, their TacTec Plate Carrier is a top-of-the-line item for ballistic protection.
The 5.11 TacTec competes with the Crye Precision JPC as one of the lightest and best fitting plate carriers available.
So what does it have that makes it so good?
This 5.11 plate carrier uses abrasion-resistant 500D nylon material and has a water-resistant coating with airflow panels, so whether you're using this in dry or wet environments it is a plate carrier that will see you through what you need.
What's also handy about this plate carrier is that it has a one-handed quick-release system, which is great if you need to get this vest off in a rush.
As for plates, it fits medium and large ballistic plates, as well as Rogue's weighted vest plates for Crossfit enthusiasts.
This plate carrier also offers prime real estate for molle spacing.
For anyone that has to carry a lot of gear on their vest and has the annoyance of not having enough space to molle on every pouch you want to use, then a TacTec is more suited for you.
For my TacTec, I am able to fit at least 6-8 rifle magazines, a couple of pistol mags, a pouch for radio equipment, a medical pouch, and a hydration pouch on the back and still have space to fit an admin panel in the upper part of the vest.
Pros
Durable construction
Adjustable design that can fit anybody
Affordable price
Ideal for gym-goers (with extra pockets)
Cons
Color options aren't all great
What Are Tactical Vests and Plate Carriers?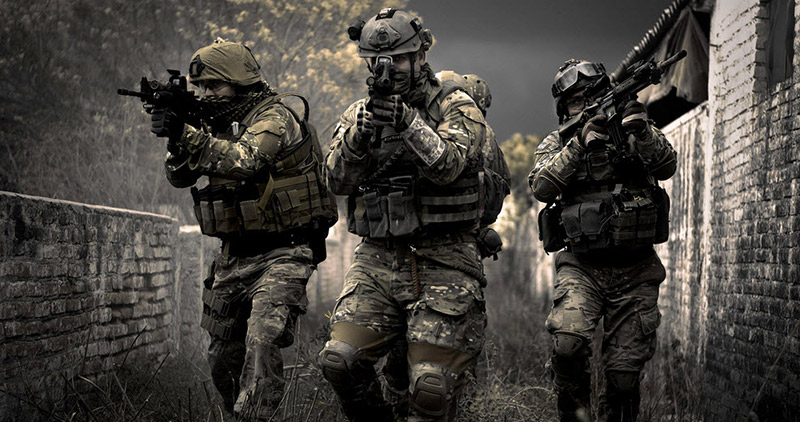 You have no doubt seen those films where someone has been shot, only to reveal that they were actually wearing a bulletproof vest underneath.
If you are in any situation where you need ballistic protection, you are better off wearing a plate carrier. Let me explain why.
Plate carriers – Plate carriers are a load-bearing system designed to provide ballistic protection.
They're called plate carriers not because they help you carry plates in a restaurant, but because they are able to carry inserted 'plates' that provide varying degrees of ballistic protection.
These inserts go in the front and the back of the plate carrier which is to protect those vital organs such as the heart, lungs, and center of the torso from any projectiles (bullets and shrapnel).
The difference between bulletproof vests and plate carriers are that vests are generally worn underneath clothing.
So public officials in potentially dangerous areas and federal police on security might wear these.
They can be limiting in movement, and bulky in appearance. Plate carriers, however, are worn on the outside of clothing and use the MOLLE (Modular Lightweight Load-Carrying Equipment) system and use thin bulletproof plates.
The benefit of plate carriers is that they allow you to carry pouches and panels using molle straps that interweave into positions on the plate carrier. Why is this good?
Because it allows you to customize your plate carrier to the specific role you are involved in.
If you are military, you might have standard M4 magazine pouches, a dump pouch, and pistol magazine pouches, in administrative roles you might use an admin panel above your magazine pouches and so on.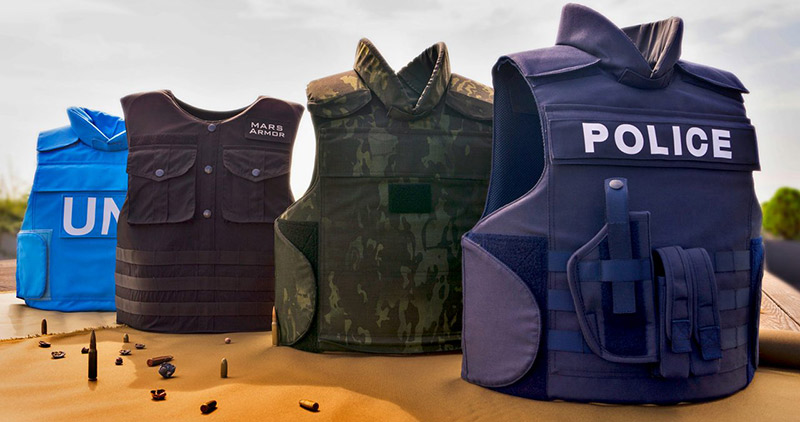 So what are tactical vests?
Tactical vests – Tactical vests, or what you might have heard referred to as chest rigs, molle vests, or even a battle bra, are not plate carriers. They do not provide any protection whatsoever. But they are great.
Many choose to wear a tactical vest rather than a plate carrier for obvious reasons of weight differences (although you can choose not to use the plates in a plate carrier) or because they are more mobile and flexible to wear.
However, there are some vests that can attach to plate carriers with fasten buckles or velcro attachments. That way you can use the system you have trained with, on your plate carrier.
In many military training exercises, unless there is there is a presence of real explosives being used, or artillery, soldiers wear chest rigs to carry their supply of ammunition, medical items, note keeping, batteries, communications gear and generally a bladder of water on their back.
Most people that have a plate carrier for dangerous situations, will always have a chest rig for training purposes.
Do You Need Ballistic Protection?
If you are reading this and are thinking 'when am I ever going to need ballistic protection' and don't see yourself getting into any combat situations where a plate carrier is a must, then a chest rig might be a better option for you.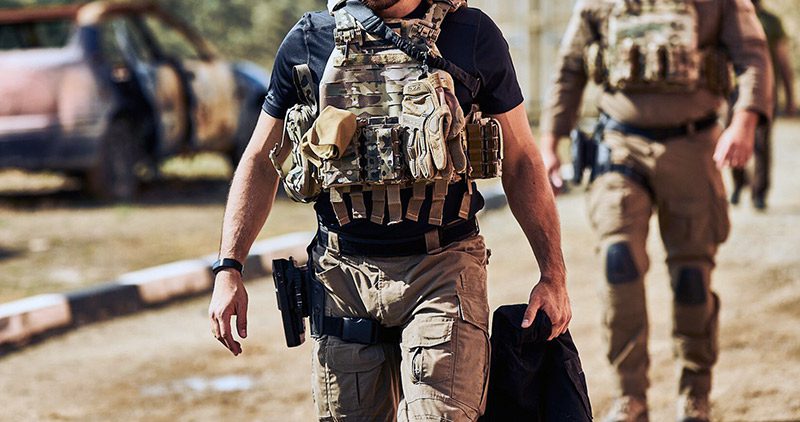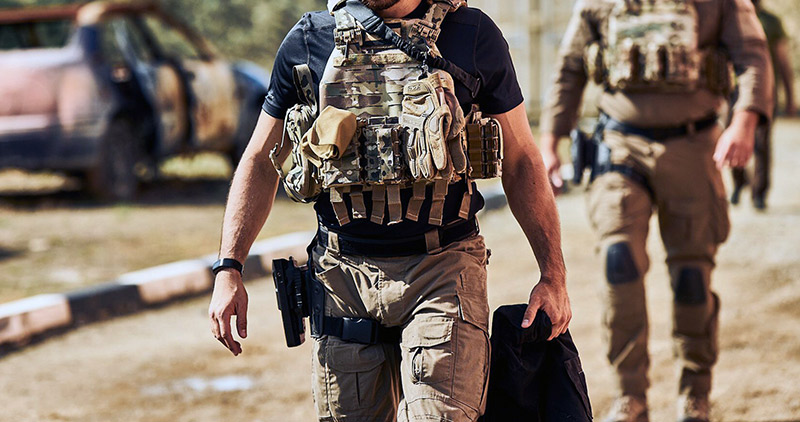 Tactical vests are great to use at the range for quick reloads, to carry your magazines, cleaning kits, and even a molle pistol pouch.
However tactical vests have other uses we have seen, such as carrying equipment for hunters, airsoft players, and even fishermen. In fact, any job that uses tools and equipment, could use a chest rig.
No matter who you are, or what you do, a tactical vest can be customized for what you need. There are even tactical vests for carrying babies.
So now that we know a little bit more about tactical vests and plate carriers, let's take a look at what options there are.
Choosing Quality Over Budget?
These 10 options are what we have deemed the best plate carriers and chest rigs for functionality and performance in all fields.
Of course, if you go onto the many online marketplaces you will find that there may be tactical vests for $10, $20, or $30, but many of those are cheaper products made in a way that is not meant to last.
If you're just getting into airsoft, go for it. If you are looking for a tactical vest or plate carrier that exceeds in quality and reliability, then these load-bearing vests are the ones that you should consider purchasing.
Remember to make sure that if you do anything that involves shooting or having projectiles fly at you, then you should be considering one of the carriers we have mentioned that can provide safe, ballistic protection for when the sh-t hits the fan.