Who doesn't love a good tactical vest?
If you do anything that involves shooting or having projectiles fly at you your chest rig and plate carrier are part of the clothing you need to perform. Either that, or you're going to be walking around with ammo magazines clunking in your pocket, and no ballistic protection, and that's just not effective.
If you have ever worn a tactical vest before, you will know how handy they are. Basically, it's like having 10 quick-access pockets where you barely notice any weight. If you think about it, it's an item that a lot of people could find very useful, whether you're a tradesman, surgeon, or a chef.
In their more-useful environment, being conflict areas, a vest provides body armor protection against bullets and shrapnel and can potentially save your life. Having that accessibility and protection ensures that not only are you protected, but you are able to move with ease while carrying the gear you need to survive.
Since the introduction of a military culture in the sporting world with military simulations (MilSim), airsoft sports, and crossfit, the market of tactical vests, chest rigs, and even plate carriers, has been flooded with cheaply made, poorly stitched products that would fall apart after one day of use.
When you're using tactical gear in any given situation, you need it to perform well.
So we have gone ahead and done the research to inform you what the best tactical brands are that make the best tactical vests and plate carriers. Why? Because we want to help you make an informed decision when you purchase the gear you want to rely upon.
How did we arrive at these 10 vests and plate carriers? We have put these things through their yards in mud, sun, crawling, running, and over extended periods. We've used this equipment on home soil in sporting uses, as well as training environments, and we've used them overseas, where our life has counted on it.
Let's just say, we know what makes noise, what rattles, what causes chafing, and what operates well.
But first, you might have noticed that we have been mentioning both tactical vests and plate carriers together. Are they are the same thing? No. Here's why.
What are tactical vests and plate carriers?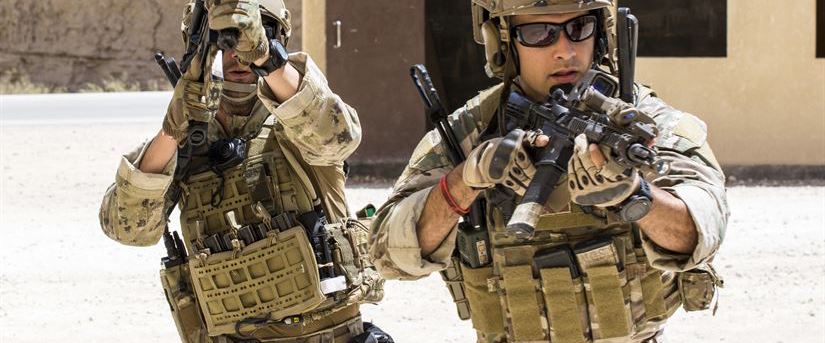 You have no doubt seen those films where someone has been shot, only to reveal that they were actually wearing a bulletproof vest underneath. If you are in any situation where you need ballistic protection, you are better off wearing a plate carrier. Let me explain why.
Plate carriers – Plate carriers are a load-bearing system designed to provide ballistic protection. They're called plate carriers not because they help you carry plates in a restaurant, but because they are able to carry inserted 'plates' that provide varying degrees of ballistic protection. These inserts go in the front and the back of the plate carrier which is to protect those vital organs such as the heart, lungs, and center of the torso from any projectiles (bullets and shrapnel).
The difference between bulletproof vests and plate carriers are that vests are generally worn underneath clothing. So public officials in potentially dangerous areas and federal police on security might wear these. They can be limiting in movement, and bulky in appearance. Plate carriers, however, are worn on the outside of clothing and use the MOLLE (Modular Lightweight Load-Carrying Equipment) system and use thin bulletproof plates.
The benefit of plate carriers is that they allow you to carry pouches and panels using molle straps that interweave into positions on the plate carrier. Why is this good? Because it allows you to customize your plate carrier to the specific role you are involved in. If you are military, you might have standard M4 magazine pouches, a dump pouch, and pistol magazine pouches, in administrative roles you might use an admin panel above your magazine pouches and so on.
So what are tactical vests?
Tactical vests – Tactical vests, or what you might have heard referred to as chest rigs, molle vests, or even a battle bra, are not plate carriers. They do not provide any protection whatsoever. But they are great.
Many choose to wear a tactical vest rather than a plate carrier for obvious reasons of weight differences (although you can choose not to use the plates in a plate carrier) or because they are more mobile and flexible to wear. However, there are some vests that can attach to plate carriers with fasten buckles or velcro attachments. That way you can use the system you have trained with, on your plate carrier.
In many military training exercises, unless there is there is a presence of real explosives being used, or artillery, soldiers wear chest rigs to carry their supply of ammunition, medical items, note keeping, batteries, communications gear and generally a bladder of water on their back. Most people that have a plate carrier for dangerous situations, will always have a chest rig for training purposes.
Do you need ballistic protection?
If you are reading this and are thinking 'when am I ever going to need ballistic protection' and don't see yourself getting into any combat situations where a plate carrier is a must, then a chest rig might be a better option for you.
Tactical vests are great to use at the range for quick reloads, to carry your magazines, cleaning kits, and even a molle pistol pouch. However tactical vests have other uses we have seen, such as carrying equipment for hunters, airsoft players, and even fishermen. In fact, any job that uses tools and equipment, could use a chest rig.
No matter who you are, or what you do, a tactical vest can be customized for what you need. There are even tactical vests for carrying babies.
So now that we know a little bit more about tactical vests and plate carriers, let's take a look at what options there are.
10 Best Tactical Vests and Plate Carriers
You might see some brands in this list that you are familiar with, and you might have seen some new ones too.
While we'd like to include more plate carriers in the list, we feed that tactical vests represent a much more significant portion of the market in comparison to plate carriers. This might be because fewer individuals hve the need for plate carriers except for if they are doing Crossfit.
Each of these tactical load bearing systems have their own unique specifications, which might or might not suit what you are after. Below we get into the nitty-gritty of each of these load bearing systems, and weigh out their pros and cons.
1. Condor Outdoor Modular Chest Rig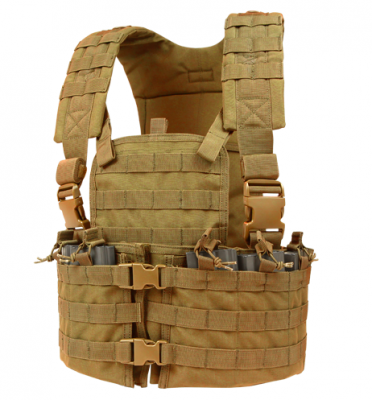 Condor is a very popular brand of tactical vests and you don't have to go far on a military base before you see Condor chest rigs. Why are they so popular? First, they fit. And they fit very well. Condor's Outdoor Modular uses a buckle fastening system with multiple spacing and tightening points so that you are able to customize and tighten the chest rig to your exact size. This is important as while it is nice to be comfortable in any given load bearing system you are wearing, you need to ensure that it doesn't move around too much so that you are free to run, jump, and crawl with the rig firmly attached to your body.
The Condor Modular uses inner padding that is coated with a layer of mesh on the underside of its chest rig. This is to ensure that when you are carrying full weight in the rig, it doesn't create sore points or rub spots on your skin and still stays cool. This is helpful for hot, jungle environments where you might experience prickly heat and heat rash underneath a chest rig. This system also has a bladder sleeve in the back so that you can fit a water bladder inside it without having to carry an extra water pack.
Pro: The bladder sleeve in the back removes the need to carry an extra bag for a water drinking system and fits really well with multiple adjustment points.
Con: There's not much to say bad about the Condor rig except that some have experienced the shoulder straps riding up during two-handed pistol shoots. I get this with almost any rig I have used.
2. Condor Recon Chest Rig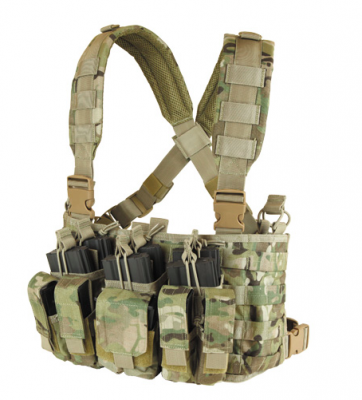 The smaller alternative to the Condor Modular Rig is the Condor Recon Rig. It is commonly referred to as a battle bra as it is pulled on over the head in a similar way to a sports bra with its cross back strapping. The Recon's front magazine shingle holders are fixed in position with molle spacing on the sides of the belt and functional molle on the shoulder straps for smaller pouches, such as small radio pouches or flashlight holders.
So why is the Condor Recon so popular? It is a great carrier for training environments. Simply slip it on and you are able to carry the right gear to get the job done. Of course, if you are looking to pack a lot of extra ammo you might need to consider adding larger pouches on the sides of this rig otherwise you are only left with space for six front magazines (for most this would be enough).
The other attractive option about the Recon, is its affordability for a quality rig. A lot of rigs tend to be well above the hundred dollar mark, so for a training solution, the Recon doesn't have to leave a hole in the hip pocket.
Pro: The Condor Recon is much more comfortable to wear than larger, full body vests and much more mobile if you are moving or running. The kangaroo retention straps that hold the magazines in place are great for when you need to quickly pull out magazines and are a very durable system given their ease of magazine withdrawal.
Con: The magazine pouches are fixed into place. While you do have molle space around the sides, this can be an issue for those that wish to customize their entire layout.
3. Yakeda Tactical Vest KF-099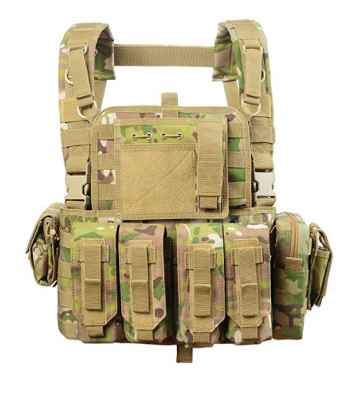 Much like the Condor Recon, the Yakeda KF-099 is a great budget option for those wanting to stay light on the cost but still purchase a durable tactical vest. This Yakeda vest is fully customizable for size so that you can adjust the height it sits at (great if you are wearing a battle belt) and at the waist and torso which is done with pull straps and clip buckles.
I've used the Yakeda a few times and enjoy the fact that it has a great airflow system with a 3D meshing technique usually seen in plate carrier systems. Oh, and for those that like customizing their gear, this one is fully customizable as everything can be removed and new molle systems added. Great for those that are after different setups such as administrative navigation setups, or customizations for hunters.
Pro: The Yakeda is another cheap but well-made chest rig that competes against highly priced vests. It is also one of the best rigs for adjusting to varying sizes, so if you find that you usually have comfort issues with fitting rigs, this might be one to consider.
Con: We actually don't have any complaints about this rig at all. Especially when it comes to the fact that it's at such a low price for something so good. One complaint that I would have, is that it would only fit four M4 magazines and can't double up in each pouch.
4. Condor Rapid Assault Chest Rig MCR6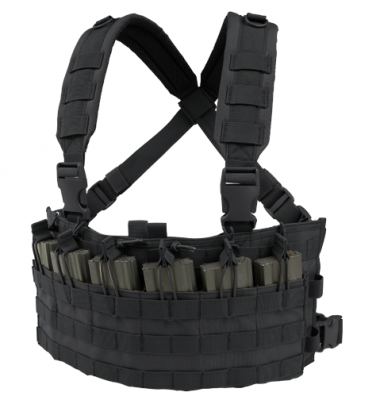 Condor's Rapid Assault vest was made with a simple purpose, to provide a lightweight quick tactical option for rifle users to carry the very bare minimum. It is priced accordingly so as one of the cheapest options on this list for that reason.
The Rapid Assult rig has six open-top M4 pouches that use swivel locks to hold them in place. However, while it has those six magazine ports, there are also options to add molle pouches on top of those and we have seen some great layouts done this way. As a moderate form of layout, this extra space is great for adding pistol magazine pouches, and a molle knife sheath with it as well.
There have been a number of people saying that this rig only fits a certain size of person. That rumor can be dispelled here. The straps can fit anyone from 5'5 and 150lbs to someone at 6'4, 300lbs. We've seen all of them use it and they have had no issues with either the girth of the belt, or the shoulder strapping. While there are no sizing issues for the larger wearers, much smaller users have said that they need to wear something underneath to make sure it fits and doesn't bounce around.
Pro: There are a lot of positive notes about this rig, such as its comfortable cross-strapping at the back that I personally have found is a great support system for running and doing obstacles in (urban operations), as well as the customization in sizing. The fact that all of the weight is centered around the midsection is a way to stop too much movement in the rig when it is fully loaded with magazines and gear as well.
Con: Smaller wearers have found that the Rapid Assault rig bounces around and have had to wear jackets under it just to keep it from moving about.
5. Haley Strategic Partners D3CRX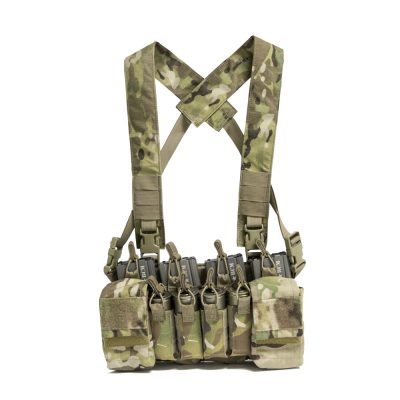 The first thing you need to know about the Haley Strategic D3CRX is that its pouches are fixed. That means you can't change them up for anything else. Haley Strategic do make pouches that can be added onto their rigs, such as holsters and additional mag pouches but what you see in the product picture is how this chest rig comes.
That being said, there is a benefit to this as the D3CRX's layout is actually quite functional. The rig holds four magazines, as well as four pistol magazines and has two extra administrative pouches on the sides which can fit whatever other tactical gear you find necessary to carry. Remember that these pouches come fixed into the rig, which is why the pricing is higher on Haley Strategic rigs. When you purchase a bare tactical vest such as a Condor rig, you also have to purchase the extra molle pouches that you need to add on to the rig, which can often be quite expensive.
One of the most popular adaptations of the D3CR, and one of the reasons it was created, is for military and contractor use over a plate carrier. The backing of the D3CR allows it to be velcro attached to a plate carrier, or to be fastened to any plate carrier using a swift clip attachment. This has made Haley Strategic's rigs very popular in the special forces community for its use in tactical environments.
So let's take a look at the pros and cons of the Haley Strategic D3CRX.
Pro: The D3CRX is great for urban and vehicle use as it is a compact carrier for essential tactical gear. It is able to be used in conjunction with a plate carrier, either by the velcro attachment system, or through swift clip fasteners. While it doesn't use the molle system, it uses a highly functioning stackable pouch system that has proven well in conflict environments and when wrapped around the body, keeps a nice, low profile so as to not interrupt in the shooter's working space.
Con: None.
6. Gloryfire Tactical Vest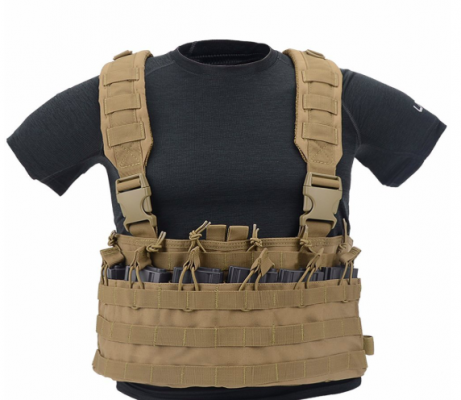 It's always nice when a tactical brand enters the market and delivers quality and durable gear while keeping its prices competitive and low. Gloryfire is just that. While being a relatively unknown brand a few years ago, they have since dominated the market with their plate carrier and chest rig.
The Gloryfire comes with a basic setup you'd expect to have on a vest, with a built-in map and utility pouch, zippered main storage area, pistol mag pouch, space for a radio, medic pouch, shotgun shells or 40mm round space, so you can definitely be versatile with how you design this for your needs.
What I also like about the Gloryfire is that is poses as a much cheaper alternative to the Haley Strategic (above), but still acts as an easy chest rig that you can fix to your plate carrier, either with velcro attachments or buckle fasteners. So in that sense, if you are on a budget but want a rig that you can use in both circumstances, the Gloryfire Tactical Vest is a great option, and a reason why so many airsoft players, as well as military professionals take a shining to this vest.
Pro: The pricing makes this tactical vest very competitive in the market. The size, fitting and feel of this rig is much more comfortable than some that we have tried, and compares well against its competitors that are in much higher price ranges. It also works well in conjunction with plate carriers for your operational needs.
Con: For the price, we have had no complaints. There are much more expensive rigs that have far more issues than anything we have encountered with the Gloryfire.
7. Crye Precision Jumpable Plate Carrier (JPC)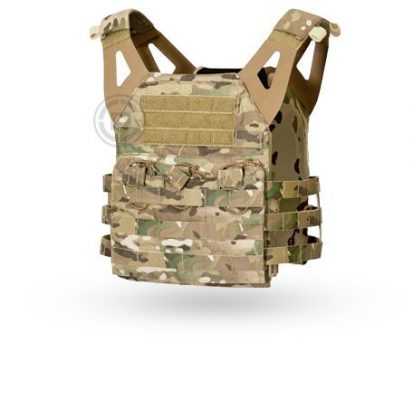 Crye Precision's JPC is the Rolls-Royce of the plate carrier world. Whenever anyone mentions 'best body armor' it is generally in reference to the Crye JPC.
So what is it? The Crye JPC is a very lightweight and minimally designed vest made for mobility, movement and saving weight. There's a reason why this is one of the most used pieces of equipment by special forces professionals, let alone body armor in security professions worldwide.
The vest itself comes with three in-built magazine pouches on the front of the carrier as well as a built-in admin pouch in the upper portion of the carrier which is able to carry pistol mags, maps and other necessities.
For circulation, the JPC uses a padded ventilation system on the interior panels of the vest to allow for full circulation for when you are wearing a full-weighted load with plates.
The shoulder straps on the JPC are an anti-slip pad and are very adjustable using the interlocking velcro points that the rest of the vest runs on. I've used this rig before with a full load and can tell you it is one of the easiest things to put on in a rush, as well as to take off.
The entire front panel has a velcro lid which what you lift to undo the side support system. When taking the plate carrier and vest off it's as easy as lift, tear, and pull over the head like a tank top. This velcro system allows users to easily configure the Crye to whatever size they want, whether you are big, small, or are doing cold-weather work and need to wear thick underlayers.
Pro: The Crye is an ultra-lightweight system that is both a plate carrier and tactical vest. This means that you don't have to wear an extra rig with this body armor, yet you can still very easily use the vest without the plates as a normal training vest. Its design is ultimately for professionals in the military and private security, and is reflected in its quality design, make and durability.
Con: None. If you can afford a Crye JPC, get it.
8. Gloryfire Tactical Plate Carrier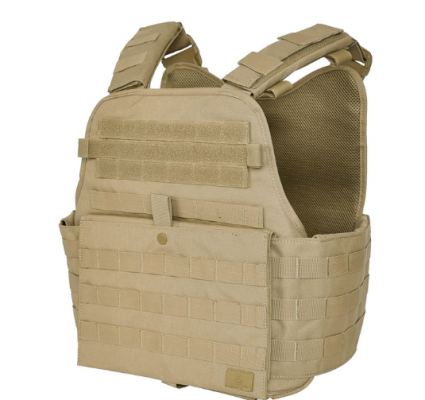 Having Crye's JPC at the top of the ladder for body armor is all well and good, but what about a plate carrier for those that aren't willing to fork out money for an investment, but want something that, if we need it, we can rely on it? Well there's an answer for that, and it's from that company Gloryfire that's new, and keeps its prices very low for the great gear they make.
While they've already got their tactical vest which has been widely popular with the security and airsoft market that we mentioned earlier, their plate carrier vest is becoming just as popular and is a very good budget alternative to Crye Precision's JPC plate carrier.
The Gloryfire tactical vest uses a similar system to the JPC with anti-slip shoulder pads, and a donning system that uses velcro flaps to fasten it, which is far more secure and size-fitting than using strap buckles. The sizing is quite diverse with this vest, as it is able to be customized for varying body types.
Pro: Being significantly cheaper than the Crye JPC is a big bonus given this is a very reliable plate carrier. It also comes with a back sleeve for a water bladder and has a lot of space on the front and the sides for molle pouches.
Con: When first used some magazine types can be hard to remove from the pouches, and some have found that the rig itself is a little hard to remove.
9. vAv Yakeda Tactical Plate Carrier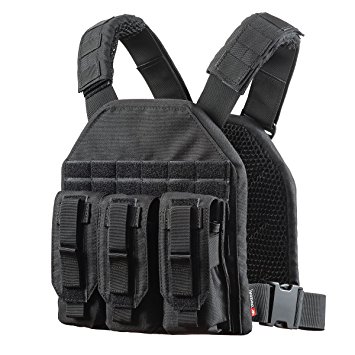 The Yakeda plate carrier is a low-budget minimal design entrant that focuses more on the application of being a plate carrier than a tactical vest as well. The vest comes with three magazine pouches that are removable from the Yakeda, turning it into just a plate carrier for front and back body armor.
When Yakeda designed this plate carrier they had more of a rapid response scenario in mind for those that are not in warfare environments, but moreso urban environments for law enforcement officers. If you are looking to carry more tactical gear such as what a military professional would carry, this vest would be more appropriate to wear with a battle belt.
However, this vest has become increasingly popular as a workout vest for the Crossfit enthusiasts out there that do workouts such as the Murph challenge that requires participants to wear a body armor vest with plates to successfully complete the workout. While 5.11 is also a popular option for many Crosfitters, Yakeda's vest is a much more budget-wise option.
So let's take a look at the Yakeda's pros and cons.
Pro: Fully customizable sizing and heights using the velcro lock straps and tightened fasteners on the sides. Customizable front and rear space with molle real estate on both sides.
Con: The vest can be a bit small for anyone wanting to use it in an environment where a normal tactical vest would be required. Large plates have to be really forced in to fit into the plate carrier sleeves.
10. 5.11 TacTec Plate Carrier Vest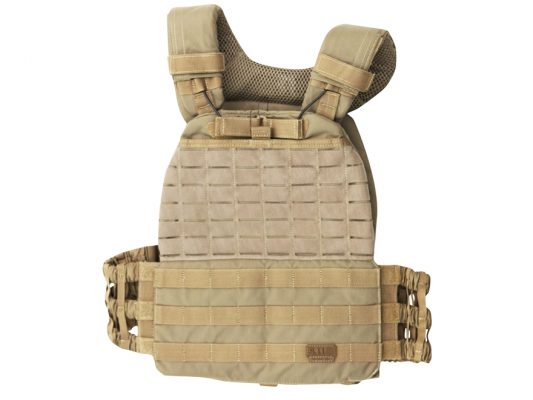 It goes without saying that anything made by 5.11 is good. They're one of, if not, the biggest tactical gear manufacturers in the world and is a name that runs synonymous with professionals in security and military industries. So of course, their TacTec Plate Carrier is a top-of-the-line item for ballistic protection.
The 5.11 TacTec competes with the Crye Precision JPC as one of the lightest and best fitting plate carriers available. So what does it have that makes it so good? This 5.11 plate carrier uses abrasion resistant 500D nylon material and has a water-resistant coating with airflow panels, so whether you're using this in dry or wet environments it is a plate carrier that will see you through what you need. What's also handy about this plate carrier is that it has a one-handed quick release system, which is great if you need to get this vest off in a rush.
As for plates, it fits medium and large ballistic plates, as well as Rogue's weighted vest plates for Crossfit enthusiasts.
This plate carrier also offers prime real estate for molle spacing. For anyone that has to carry a lot of gear on their vest and has the annoyance of not having enough space to molle on every pouch you want to use then a TacTec is more suited for you. For my TacTec, I am able to fit at least 6-8 rifle magazines, a couple of pistol mags, a pouch for radio equipment, medical pouch, and a hydration pouch on the back and still have space to fit an admin panel in the upper part of the vest.
Pro: Great fit and very lightweight plate carrier. Is made to withstand very harsh environments and long-term use. This 5.11 plate carrier also has a lot of molle area for those that need to gear up, but is just as popular to use as a training vest for Crossfit enthusiasts.
Con: None.
Choosing quality over budget?
These 10 options are what we have deemed the best plate carriers and chest rigs for functionality and performance in all fields. Of course, if you go onto the many online marketplaces you will find that there may be tactical vests for $10, $20, or $30, but many of those are cheaper products made in a way that is not meant to last.
If you're just getting into airsoft, go for it. If you are looking for a tactical vest or plate carrier that exceeds in quality and reliability, then these load bearing vests are the ones that you should consider purchasing.
Remember to make sure that if you do anything that involves shooting or having projectiles fly at you, then you should be considering one of the carriers we have mentioned that can provide safe, ballistic protection for when the sh-t hits the fan.