You never know what to expect when an emergency strikes. It might be an early winter day and you don't notice ice forming on the backroad you're driving. You may be hunting in the spring and can't get out of the woods before dark.

You may be surrounded by people who are in survival mode if SHTF. In spite of the fact that a survival fishing kit may not seem so important for these activities, it can save your life.
If you are lost in the woods, away from civilization, an emergency fishing kit can be the difference between going to bed hungry or having the energy to make it one more mile.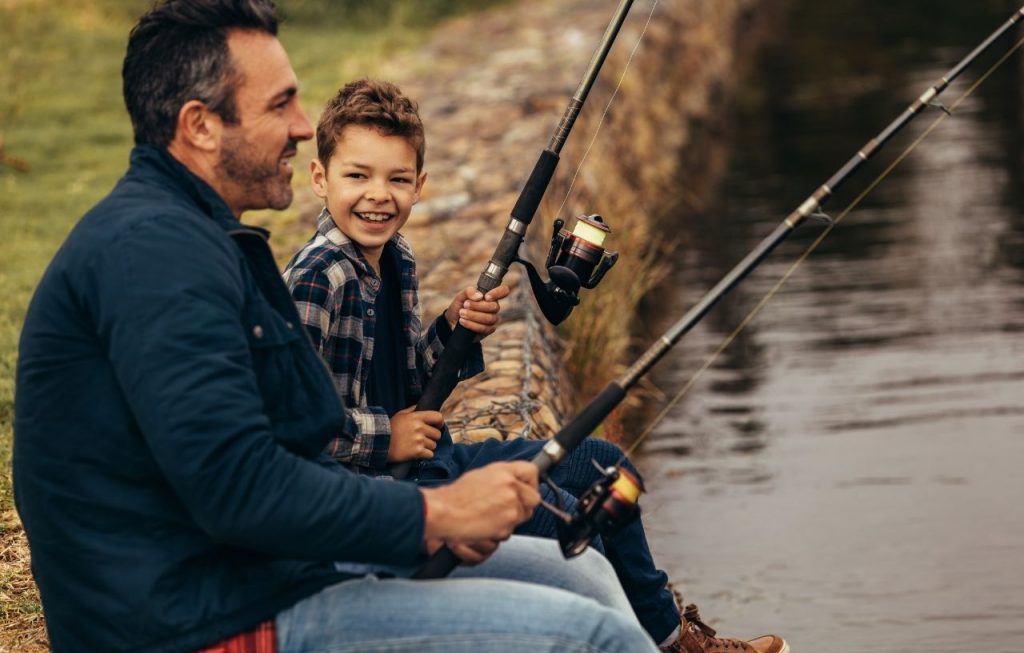 If something drastic happens and it's TEOTWAWKI, knowing how to fish can provide enough nourishment to keep you and your family alive for a long time. When you're away from home, it's even more crucial to have a survival fishing kit with you.

Our guide covers the best fishing kits for survival situations and helps you determine what you need in your bug-out bag, your car, and maybe even in your wallet.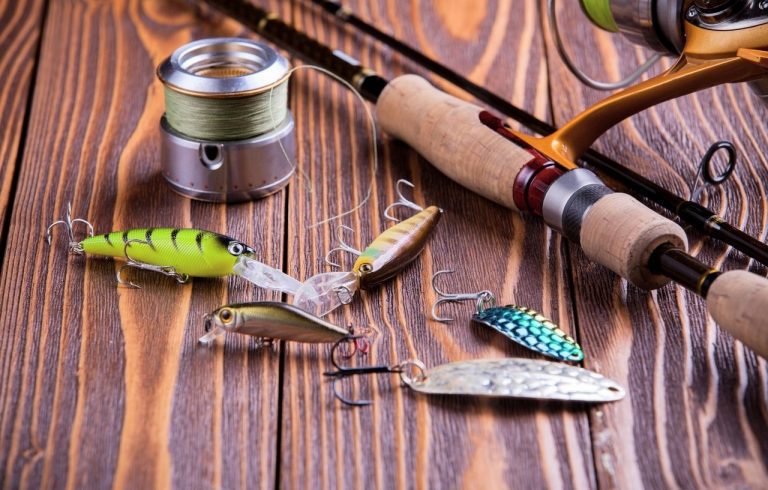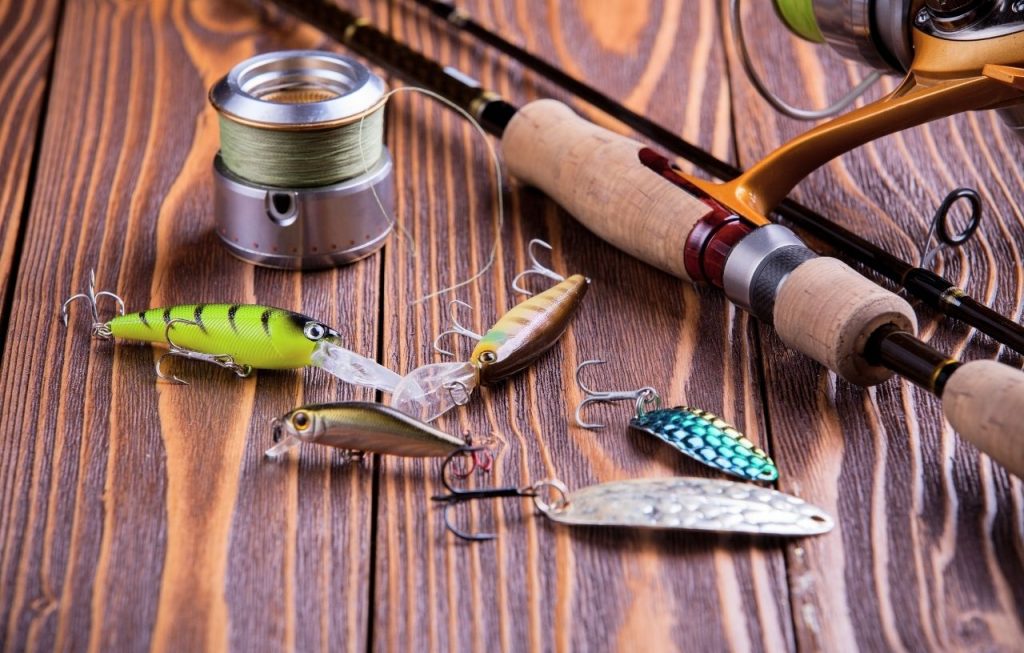 What is a Survival Fishing Kit?
Survival fishing kits should include hooks of different sizes, a good test size line of at least 25 feet, weights, and bobbers. The kit is very basic. Others will offer more options that we will discuss later.
Survival fishing kits are incomplete without hooks. A big hook can make all the difference. Small fish cannot bite larger hooks.
Smaller hooks can be used to catch larger fish. This is a good reason to include small hooks in your kit.
Depending on the size of the fishing kit, the size of the Bobber will vary. Some fishermen prefer to use a bobber, while others do not. The use of a bobber increases your chances of catching a fish when dealing with smaller "bait-stealing" fish.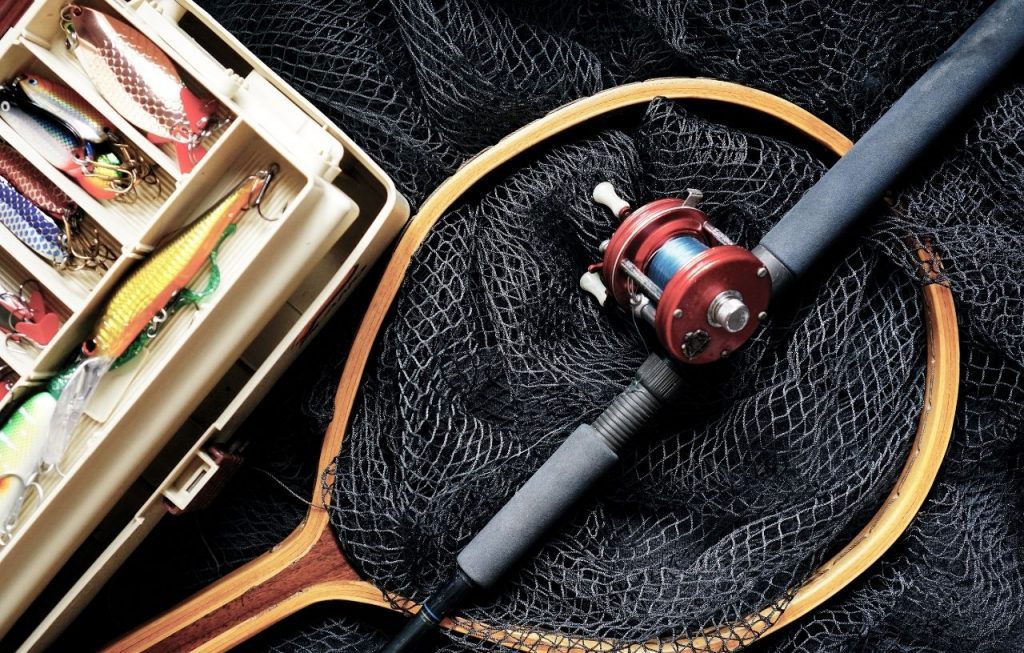 When Do You Need a Survival Fishing Kit?
If you are out in the wilderness or far away from others, you may find yourself in a survival situation.
Anytime you go fishing, camping, or hiking, the possibility of getting stranded or even injured is very real.
You should always carry a good fishing survival kit when you go fishing. If you are separated from your standard fishing gear, you can put this in your pocket.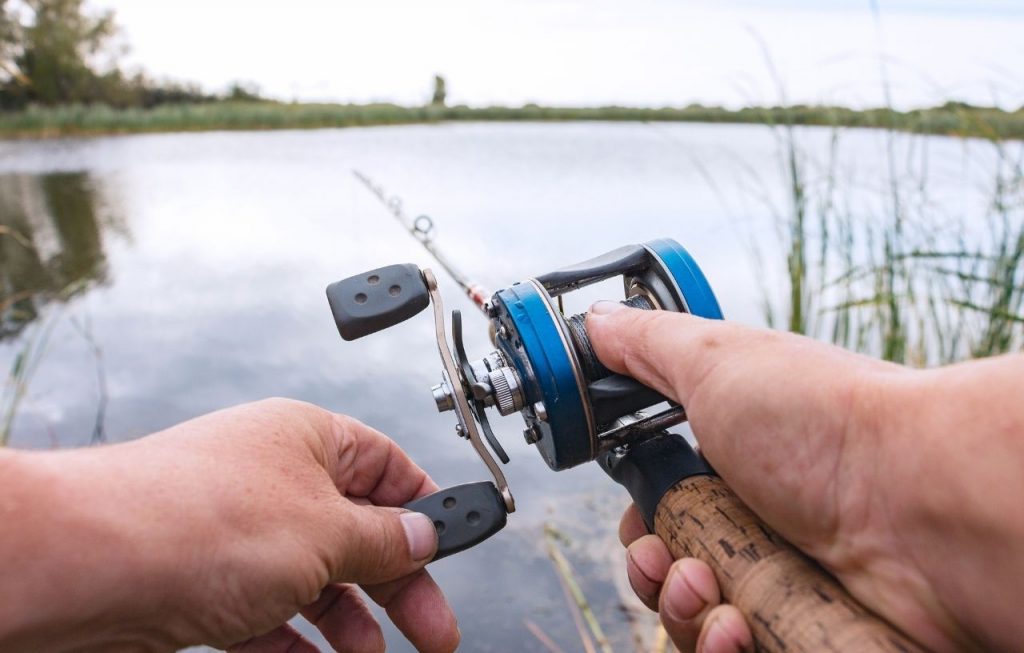 Saltwater or Freshwater?
Saltwater fishing poles are longer, thicker, and heavier than freshwater poles. The reels are also larger. A collapsible or telescopic pole can be used as a freshwater pole.
What size are the fish in your area? What are you going to try to catch?
Your line and hook size should match the size of the fish you are trying to catch. Trout and other smaller fish can see a thick line in the water and be far too cautious to approach it. A hook must also be small enough for them to actually get it in their mouths. However, if you have a big run of steel heads that are 3 feet long and 20 pounds, you're going to need a thicker line.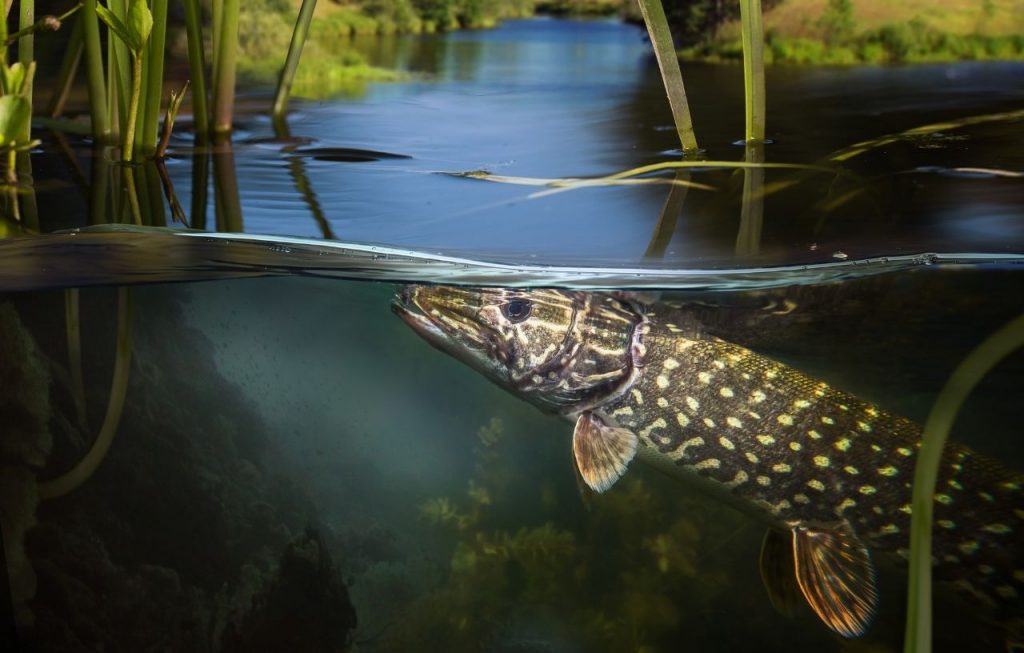 The Test Strength Of Line Is VERY Important!
In my experience, the fishing line is rated by lbs, but it's a lot stronger than the number would suggest. My hands can break a 2-lb test line, but a 5-lb test trout line hurts. You can also put a longer length of line on any fishing reel using a thinner line.
Collapsible poles or traditional ones
A collapsible lightweight backpacking pole is pretty handy for hiking back into remote locations. These poles are designed for light fishing such as trout and other small freshwater fish.
It's easy to slip them into a water bottle holder in your day pack! They are inexpensive, thus I recommend that you have extras because their collapsible nature can make it difficult to repair if they break.
You can find compact and lightweight poles that break down into pieces. They can be repaired more easily or you can use pieces from another pole if something breaks. You can lose a piece if you are not careful with these. There is an easy solution to the problem: a small bag.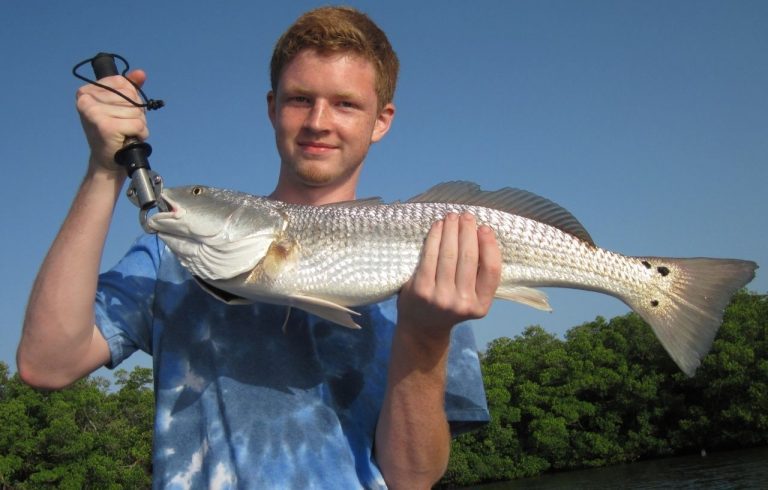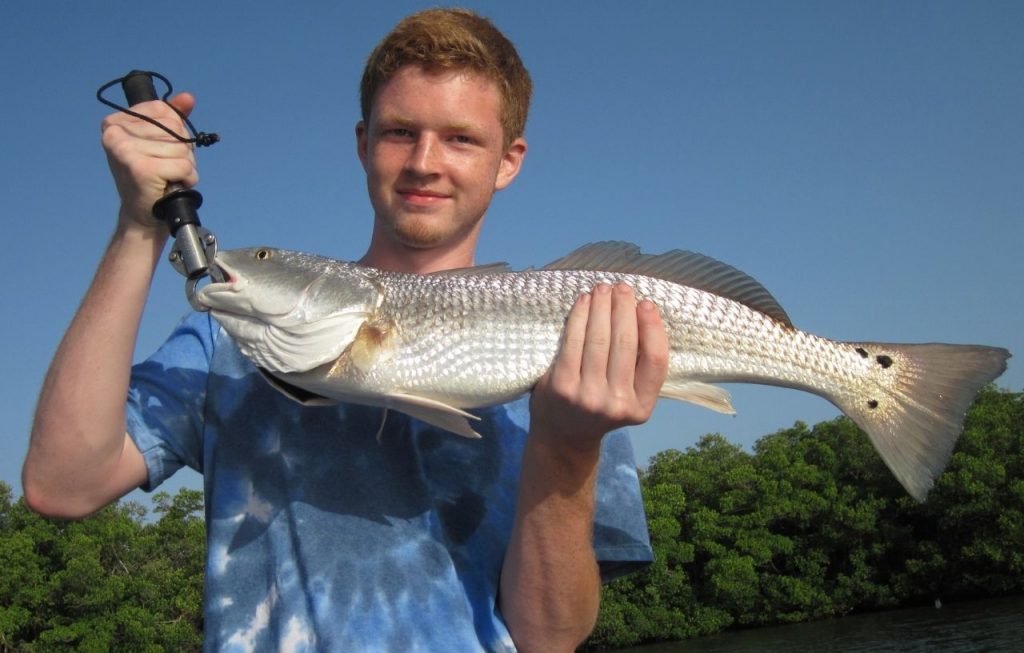 Best Survival Fishing Kits for 2021 Reviewed

The steel storage container (4.25 x 3.125 x 1 in) has a hinged lid and is made of firm steel.
The Survival Fishing Kit includes over 63 pieces of essential survival fishing equipment.
The Survival Fishing Kit easily fits in the pocket of a coat, small backpack, vest, etc.
The Survival Fishing Kit includes 50 feet of 20 lb test monofilament line and 50 feet of 40 lb test monofilament line.
This survival kit is not to be confused with lower quality products on the market today.
The Uncle Flint Survival Fishing Kit may just be the ultimate fishing survival kit. This kit is designed to work in a variety of conditions.
The kit includes:
Monofilament line: 50 ft. 20 lb test and 50 ft. 40 lb test
The floating jig head lure (size: small), the floating jig head lure (medium), and the floating jig head lure (large)
Six plastic twist tail fly lures, artificial fly lures
1 spinning lure
1 spoon lure
3 size 4 baitholder hooks
3 size 6 baitholder hooks
3 size 8 baitholder hooks
2 size 12 panfish hooks
4 size 2/0 Tru-Turn catfish hooks
2 size 1 treble hooks
2 size 2 circle hooks
2 size 3 snap swivels
2 size 6 snap swivels
2 size 8 snap swivels
2 size 10 snap swivels
2 steel leaders 20 lb test
2 steel leaders 40 lb test
10 size 5 split shot sinkers
2 size 3/4 inch plastic bobbers
4 large safety pins
Mini scraper
Single edge razor blade and plastic holder
Heavy-duty aluminum foil – folded –
1 piece approximately 12″ x 24″, basic fishing knot tying instruction sheet.
Pros:
This kit contains all the fishing equipment you could possibly need
The lures and spoons are of good quality
Stronger lb test line than other kits
The perfect kit for a prepper's bug out bag
A good beginner's survival fishing kit
Pocket-sized fishing kit with all essential gear to find fish in survival and non-survival situations
Pre-spooled with 100 feet of 10 lb monofilament line and 50 feet of 20 lb monofilament line on two hand reels
A wide variety of artificial lures will help land many North American fish species.
Fishing Gears Included: fish stringer, lock back knife and terminal tackle
Compact, portable and lightweight, fits into a shirt pocket – weighs 5.1 oz
Includes artificial corn, jig head, ten single shank hooks, and two treble hooks
A unique list of items is included in this user-friendly and economical survival fishing kit by Vigilant Trails.
The kit includes:
1 VIGILANT TRAILS Fishing Guide
1 Crush Resistant Hinged Metal Case
2 VIGILANT TRAILS Hand Line Winder (sm)
1 10 Pound Clear Monofilament Line (100 ft)
1 20 Pound Clear Monofilament Line (50 ft)
3 Artificial Worms
1 Cricket Lure 1
Frog Lure
1 Curly Tail Grub
1 Snap-on Cigar Fishing Float
2 Nylon Coated, Wire Leaders
2 Egg Sinkers (1/2 ounce )
2 Treble Hooks (size 10)
2 Barrel Swivels (size 7 )
2 Split Shot Sinkers (size 7)
1 Poly Stringer (6 feet)
10 Single Shank Hooks (size 8)
1 Lock back Folding Knife.
Pros:
The kit is very comprehensive.
The device is extremely compact and lightweight.
There is a nice selection of lures here.
There is a locking blade on the knife.
The kit includes:
(1) Tin Container, 4 1/4 x 3 1/4 x 7/8 inches. The fatwood sticks are 4 1/8 inches long and hand-cut in the USA. There is one (1) tactical band
One (1) bag of fatwood chips/dust, 2 1/2 inches wide, 3 inches length
One (1) New and improved extra thick metal striker bottle opener, which creates more sparks than previous model
2 7/8in long 5/16in thick x 2 7/8 in long thick ferro rod which produces showers of sparks
To light fatwood chips/dust, one (1) 36-inch piece of jute is used.
There is one (1) survival cable hand saw with a 21 in long blade.
The materials used in Kaeser Wilderness fire starting kits are the strongest available. Our fire starting kits are tested in the field before they are offered for sale. Designed and assembled right here in the USA, Kaeser Wilderness survival kits and firestarters are built to withstand even the harshest of conditions.
Anyone interested in survival, bushcraft, camping, hiking, fishing, and other outdoor activities will love this gift.
This product ships from the USA and is 100% guaranteed to meet your expectations. A pocket-sized survival tin contains everything you need to start a fire. Fatwood sticks, ferro rod, striker, fatwood chips/dust, jute, survival hand saw, and a fixed-blade stainless steel pocket knife.
Fires have been started with fatwood for hundreds of years; these are naturally soaked in resin. There are no chemicals in this, it's non-toxic and safe to handle. It ignites instantly and burns very hot.
You can always count on Fatwood in an emergency. Sparks from a Ferro rod ignite jute very quickly. The lights will work in all kinds of weather if you place them on top of fatwood chips or dust.
Create sparks from your Ferro rod using the striker or pocket knife. No need to make tinder, fatwood chips are already prepared for you.
Don't forget to add your own fishing gear to this kit or purchase one separately.
Made in the USA in a 6 mil heavy duty zip lock bag with a silica gel desiccant for moisture absorption
The perfect size for your personal survival kit, small first aid kit or emergency fishing kit
Includes a variety of jigs, flies, hooks, leaders, salmon eggs or crappie nibbles, split shot, fishing line, and bobbers
Designed collaboratively by survivalists and fishermen to meet Alaska and Canada Over Flight Requirements
Sometimes minor substitutions are necessary
Best Glide ASE Survival Fishing Kit, Compact Version is assembled in the USA. The design was a collaborative effort between survivalists and avid fishermen.
The kit includes:
One heavy duty 6 mil zip lock bag
1 Swirl Tail Grub Jig
1 Tiny Shad Jig
2 1/16 Unpainted Round Jig Heads
4 Salmon Eggs Bait
1 Size 10 1/8 Fly
2 #4 Hooks
2 #6 Hooks
2 #8 Hooks
1 Wire Wound Leader
3 BB Split Shots
3 3/0 Split Shots
1 Toothpick Float (Bobbers)
1 50 ft – 12lb Line.
Pros:
Designed to catch small fish in an emergency, so it's only 12 lb line with #4 – #8 hooks
The outer plastic bag is made of heavy-duty plastic and feels durable
Upgrades can be made
Small enough to fit in the buttstock of a rifle
The price is very reasonable for the quality
Designed in the USA
The kit includes a durable, water-resistant tin container with a rubber seal on the interior, a vinyl tape seal on the exterior, and a silica gel desiccant to absorb moisture.
Contains a variety of jigs, flies, hooks, leaders, tubes of salmon eggs or crappie nibbles, split shot, fishing line, and bobbers.
The perfect size for your personal survival kit, small first aid kit or emergency fishing kit.
Collaboration between survivalists and fishermen; meets Alaska and Canada Overflight Requirements
The kit includes:
1 Metal Durable Tin Container
1 Swirl Tail Grub Jig
1 Tiny Shad Jig
2 1/16 Unpainted Round Jig Heads
4 Salmon Eggs Bait
1 Size 10 1/8 Fly
2 #4 Hooks
2 #6 Hooks
2 #8 Hooks
1 Wire Wound Leader
3 BB Split Shots
3 3/0 Split Shots
2 Toothpick Float Bobbers
1 50 ft – 12lb Line.
Pros:
An emergency kit that contains the right amount of gear
This kit is about the size of a breath mint container, carrying it is easy and comfortable
Fits easily in a cargo pocket when hiking
The tin has room for extra hooks and small rubber tube worms
Great to give as a gift
A traditional survival fishing kit developed by experienced fishermen that will stand up to any survival situation.
This survival kit has a thick and tough 6 mil resealable bag.
Compact, weighs an ounce and measures 4 x 3 in. Great to have around in case of an emergency.
Handmade in the USA using high-quality components. A detailed list of components can be found in the description below.
The manufacturer is proud of the service they provide their customers. They will address any issues or concerns.
The product is imported from the USA.
The kit includes:
Fifty feet of 14 lb test mono-filament fishing line
Six hooks (size 4, size 6, and size 8)
Two 1/16 oz jig head
One steel leader
Six reusable split shots
One toothpick bobber
One swirl tail grub soft plastic lure
One baby shad soft plastic lure
Berkley Powerbait scented fish nibbles
One thick and rugged 6 mil resealable plastic container
Size: 4″ x 3″
Weight: Less than 2 oz.
So don't get caught in a survival situation without this quality fishing kit!
What amazes me is just how small the kit is. A lot of kits do not fit pants pockets. This is a unique kit because it's not just a fishing kit, it's a firestarter kit too! It comes with 11 hooks, 6 BB-sized split shots, a cork bobber, 3 barrel swivels, a ferro rod, steel wool, a striker, and jute string. The fishing line in this kit is of a reasonable size.
The 6 lb test is ideal for smaller freshwater fish, while the 20 lb line can take on some catfish. While this kit is a bit pricey, it offers a lot of functionality and a unique approach. You could at least use it for inspiration if you don't want to pay for this one.
The kit includes:
30 cm jute twine Pinch of Fine #0000 Steel Wool
1 clothespin
1 sewing needle
3m 2.7kg monofilament fishing line
6.1m of 2.7kg braided fishing line
1 Ferrocerium Rod
1 Striker for Ferrocerium Rod
1 #10 Surgical Razor Blade
1 Small Toothpick. This is used to lock fishing line into natural cork bobber
Natural Cork bobber
6 size BB Split shot sinkers
3 Barrel swivels w/clip size 14.
2 red size 14 treble hooks (three-sided hooks) Red colour is important because it can catch fishes' attention without bait
2 Size 8 Bait holder hooks
2 red size 6 hooks
2 size 12 bait holder hooks
1 Bee fly hook
1 Beetle fly hook
1 Caddis fly hook
3 Eyelet hooks 2 "L" hooks
1 Ranger Band (this is just a thick high quality rubber band)
With the exception of a fishing line and a pole, this kit has everything you need. It's pretty amazing how many different items can be organized and fitted in such a small space. This is a great kit for saltwater and freshwater fishing.
Although it is not quite small enough to fit into a standard pants pocket, it will fit into a very small pack compartment. There's enough gear to keep several anglers fishing for a long time with this gear.
The kit includes:
Bullet Sinker 10g * 2 pcs.
Bullet Sinker 7g * pcs.
Bullet Sinker g * pcs
Bullet Sinker .g * pcs
Bullet Sinker 1.8g * pcs
Red Trebles 8 # * pcs.
White Trebles # 6 * pcs.
O-shape Split Ring mm diameter * 10 pcs.
Small Spoon Lure * pcs.
Big Spoon Lure * pcs.
Night Luminous Beads 6mm * 10 pcs.
Stainless Steel Fishing Lure Trace Wire * 2 pcs.
Random Color Fishing Lure Hooks Keeper * pcs.
willekeurige Color Fishing Line Holder * 2 pcs.
rode Fishing Lure Tails * 10 pcs.
Random Color Jig Head Fish Hook * 6 pcs.
Interlock Snap Pin * 10 pcs.
Bearing Swivel + Interlock Snap Fish Pin Connector Set * pcs.
Fish Spring * 10 pcs.
Bearing Swivel Connector * 10 pcs.
Plastic Fishing Tackle Box * 1 piece (12.2×10.x.4 cm)
A full set of fishing gear is included in this kit for successful passive and active anglers.
Includes a hand reel pre-spooled with 20 Pound Mono and an automatic metal reel When you're busy, you can still angle, now includes self-snag hook jig.
Most North American fish species can be caught with a variety of artificial lures. You can go from pocket to pond without hesitation.
Lightweight, portable and compact, can be carried in ATVs, glove compartments, rafts, RVs, backpacks, etc.
A self-snag fishing jig, metal leaders, terminal tackle, an EZ Cut line cutter, a fishing hook remover, a fishing guide and a lockback knife are also included.
Extra Features:
Features a variety of lures to attract most North American fish
Buying Advice:
There is a self-snag hook in this survival fishing kit that isn't legal in all municipalities in the United States. Use this in a true survival situation and at your own risk.
Pros:
This kit contains everything you need to catch fish.
The pocket-sized carrying case makes it a breeze to transport.
You can return it to Vigilant Trails if you don't like it.
Cons:
The kit contains items that are likely not necessary if you have a fully-stocked bug out bag.
The most reliable survival pocket fishing kit you can buy is the Pocket Reel. The Pocket Reel is the most reliable survival pocket fishing kit you can own because it has no moving parts and there is extra gear inside. If anything should go wrong, like a lost lure or broken line, you still have extras.
Weighing 5″ x 1″ and 2.5 oz, the Pocket Reel is perfect for a survival kit, camping or canoe trip, glovebox, bug out bag, or just a simple trip to the lake.
Due to its secure design, it can be used and abused without worry of affecting its functioning. It is made of very thick plastic and is extremely durable. The tube can be stepped on, thrown, dropped and it will not break.
I threw an assembled kit out of my 2nd story office window onto my driveway (just for testing) and it bounced. In a survival situation, you need ROCK SOLID gear.
Your line should not be wrapped around a soda can or some cheap flimsy tube that can buckle under the weight of your catch.
Features:
Compact packaging with a 5"x1" size and a weight of just 2.5 ounces
Strong and durable container construction
120 feet of fishing line to ensure you won't run out
Storage container acts as a reel
Extra Features:
It is small enough to fit in your coat pocket, glovebox, or carrying bag, and is designed to outlast any survival situation
Buying Advice:
Replace monofilament with braided line, which is stronger, lasts longer, and does not gain memory as easily as single-strand fishing line.
Pros:
Despite only taking up a small amount of space, it holds a good amount of survival supplies
Provides you with everything you need
In the event of a SHTF scenario, the container can also contain a small amount of live bait
Cons:
Someone with no fishing or survival experience may struggle on how to use this kit.
The OGT Fishing and Hunting Kit is a must-have for any hiker, hunter, or outdoor enthusiast. If food supplies are low, this kit has everything you need to not just survive, but thrive.
Use the resealable waterproof bag to carry all the tactical gear and accessories from this kit without getting damaged or wet. This kit will supplement your bug-out bag or hiking pack.
The kit is 4.25 x 8 x 2.5 inches and fits in a cargo pocket. Additionally, there is a survival information sheet to assist you on your hunting and fishing adventures.
Off Grid Tools offers the latest and greatest outdoor multipurpose tools that are functional, versatile, high-quality, and innovative. Take survival into your hands while hiking, hunting, fishing, and camping.
The kit includes:
1 folding multi-tool
6 – 3/8" slingshot ammo
6 screw eyes
2 – 1.5" floats
4 jig heads
1 slingshot band
4 – 4" zip ties
20' snare wire
5 safety pins
1 razor blade
2 L screws
100 yds – 8 lb. test line
20' – 50 lb. test line
30 hooks
20 swivels
1 – 6' stringer
1 yo-yo reel
25 weights
5 artificial lures
5 artificial grubs
5 salmon eggs
15' bank line
Pros:
Allows the user to harvest fish or meat in multiple ways
The equipment is versatile enough to be used in other survival situations
Small enough to fit in your BOB as well as your vehicle
Cons:
The slingshot band may not last long if long-term survival is required
Survival kits do not have any type of pole
Survivalists may think that a pole and reel adds weight, but I disagree. You'll have a much better chance of getting a fish with a real pole and reel. If you are bugging out and in an area with a decent fish population, a real pole is worth it.
In a survival situation, meat is a luxury, so anything you can do to obtain calories is beneficial. Additionally, you can fish in places where you can't hunt as easily. If you are in a bug out situation, you may find you have more time for fishing anyway.
Fishing Poles you must consider buying:
This is a quality fishing rod and reel combo that comes with a plastic cap to protect the guide rings on the fishing pole.
A strong metal handle with soft-grip rubber knobs makes it easy to hold and reduces the amount of stress.
Using the top button, shake the reel cover, outlet hole, and other components. The spinning reel volume trunking and the closing lines are visible. There is no chaos cord.
A great equipment kit for fishing beginners, fishing enthusiasts, backpackers, and campers, the fishing reel comes with a fishing line.
It has a full opening and an extra pocket on its side. It can be used to store fishing rods, fishing reels, fishing lines, fishing lures, fishing hooks, etc.
You can use this for both freshwater and saltwater fishing. Includes one carbon fiber telescopic fishing pole, one fishing reel, three fishing lures, a 110-yard fishing line and some necessary accessories, without a carrier bag.
A rod made of high-density carbon fiber mixed with fiberglass, the hard and light weight guide ring made of SIC Ceramic, and an outstanding heat dissipation system. Comfortable EVA fore grip
Telescopic fishing rods are portable, and the closed length design is convenient for travel and storage.
Sougayilang YB Fishing Reel with Left or Right Interchangeable Handle and Anti-Reverse. 13 + 1 stainless steel ball bearings, gear ratio 5.5:1. Line Lay Oscillation System is excellent. Model:YB3000.Line capacity: LBS/YDS 8/215 10/190 12/130
Lightweight and portable, easily fits into a car trunk, boat or backpack. You can travel to your favorite fishing spot and enjoy fishing whenever and wherever you want with the Sougayilang spinning rod reel combo.
You can enjoy a worry-free one year service with them! Their customer service will resolve any problem you may have.
Assembling Your Own Emergency Fishing Kit
Based on the above reviews, survival fishing kits come with a variety of items that differ from brand to brand and kit to kit. What do you really need in your survival kit? What items aren't worth the space they take up? Depending on where you live, the type of hooks, line, and lures you need will vary.
There are basic items you need to survive when fishing and some items you don't need, but sure are nice to have on hand. Let's start at the beginning. To catch fish, you just need a few things. Even with just a hook and a line, the average person is unlikely to catch dinner with just those.
Therefore, your basic survival fishing kit should include:
Different sizes of hooks
Fishing line braided
Sinkers
Fishing lures
Foam or cork bobbers
Paracord
Multi-tool or survival knife
In addition to these essential fishing supplies, you can add some additional items to your fishing survival kit to improve your chances of catching a fish and make the process easier. Add the following:
Jigs
Yo-yo fishing reel
Circle hooks
Swivels
Split shot
Snare wire
Spear point
Gill net
Fishing clips
Telescoping fishing rod
No matter whether you purchase a survival fishing kit or build your own, you'll want to make sure you not only have the right equipment and tools, but you'll also want to make sure you have enough supplies without overstuffing yourself.
An ideal fishing kit will have multiple hooks in various sizes. Some will get lost, and others will rust out. Choosing a smaller hook will be more effective in the long run than larger hooks if you can only hold a few. You should determine this based on the fish species in the area you'll be fishing.
A fishing line is another survival kit item worth examining before you rely on it to catch dinner. Retail survival fishing kits often contain a lightweight monofilament line that will not hold up to large fish or last over time. If your kit contains this type of fishing line, replace it with a braided line of strength between 10 and 20 pounds. A braided line lasts longer and does not lose memory as much as a monofilament line.
You should include lures in your survival kit if they're appropriate for your area of the country and the type of fish you're likely to encounter.
Finally, there is the issue of bait. In addition to lures and jigs, live bait can also entice our finned friends. If you have the space, a jar of salmon eggs may be a good addition to your survival kit. You can also find live bait by looking under rocks and decaying trees and leaves for worms and insects. You can use small pieces of whatever you're eating, and I've heard that some fish like pork rinds as a snack.
In some cases, a 60 lb test line can be too thick for fishing purposes, although these reels are strung with the material. It may be possible to combat this problem by attaching a thinner line to the swivel. During a survival situation, these reels are a good alternative to a pole. It wouldn't be a bad idea to have a dozen of these to make extra fishing kits.
These little circular marvels are inexpensive and a great place to start when creating your own survival fishing kit. These are small enough to fit in a pocket or the smallest backpack pocket.
What Makes a Good Emergency Survival Fishing Kit?
There are many good survival kits out there, but the best among these kits often share similar features. A good survival fishing kit should be compact and lightweight. When it comes to survival fishing, you don't want to take up too much space or carry too much weight.
A good kit contains high-quality, durable items that won't break on you or wear out after a few uses. The container is water-resistant and won't break if dropped on a hard surface.
Survival fishing kits should also contain ready-to-use tools. You can craft a bone hook and strip down a sapling to make a fishing pole, but if you simply have line, hook, and sinker readily available, then you don't have to waste time and energy finding and crafting them.
The best survival fishing kit is the one you know how to use. No matter how elaborate or highly recommended, a fishing kit is only as good as the person using it. Whatever survival fishing kit you choose, make sure you know what each piece does and how it's used before you place it in your vehicle, backpack, or bug-out bag.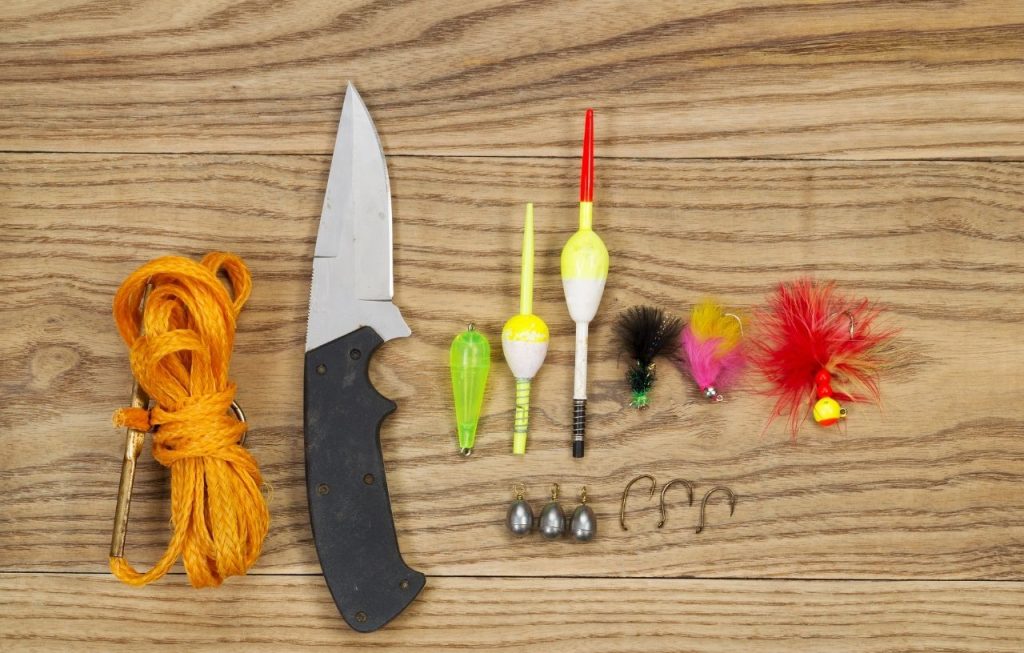 How to Use a Survival Fishing Kit
Much like your standard fishing gear, a fishing survival kit works in much the same way. There should be hooks, weights, bobbers, and lines on it.
If your kit does not include a mini-pole, you can easily fashion one from a small branch or limb. That is why it is a good idea to always have a knife, or better yet, a multitool with you.
Bait is usually easy to find in most situations. In your survival fishing kit, you may also have artificial bait with attractants.
You can tie your line to a small branch or limb if you do not have a pole with eyelets. Ensure you have enough line to flip your bait a good distance into the water.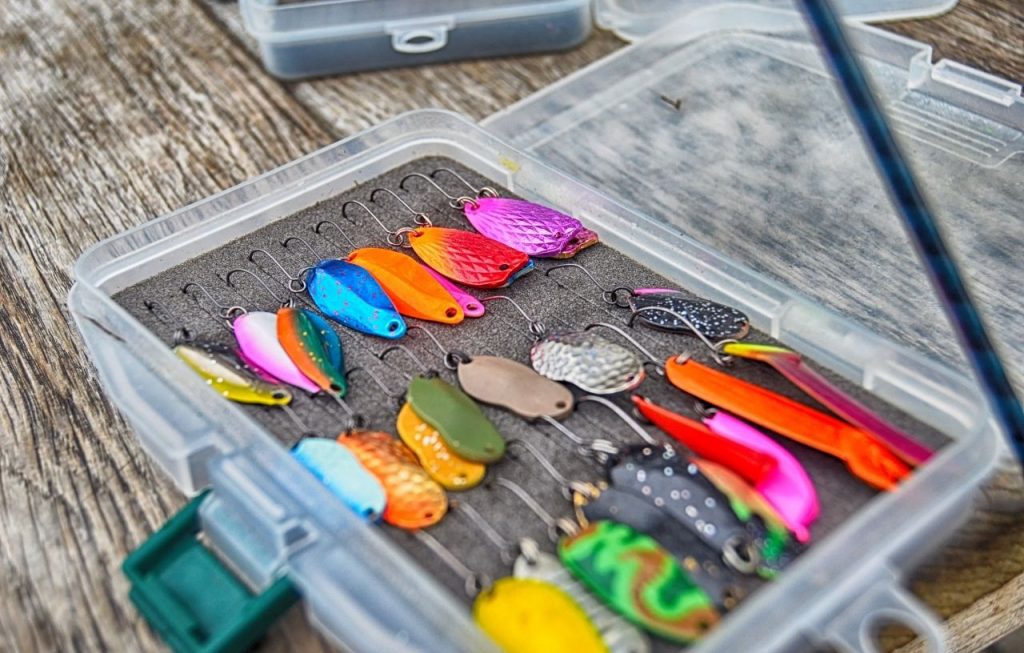 Why You Need a Survival Fishing Kit
No matter if you're a survivalist, a prepper, or just packing up to spend a weekend camping in the woods, it won't hurt to have a survival fishing kit with you. There's a good chance your picture of a survival situation does not include zombies, TEOTWAWKI, or an apocalypse.
Your survival gear will come in handy if your car breaks down in a rural area and your cell phone is dead. You can get lost while hunting. If you find yourself in a similar situation, you may or may not have a bug-out bag available. Even a small emergency kit can make the difference between going hungry or going to bed full.
Yes, you can hunt or trap, but if you can find a body of water with fish, chances are you'll have a much better chance of getting a bite than harvesting a hare or coyote. Even if you aren't exactly a pro at survival sets.
Where to Store Your Survival Kit
It is important to keep your fishing survival kit in your pocket, in case you become separated from your standard fishing equipment.
Survival fishing kits usually include lures. You can always add lures and attractants that are appropriate for the area you're in.
Most areas have live baits such as crickets and grubs. Live bait greatly increases your chances of catching fish.
The importance of teaching children how to use this basic equipment cannot be overstated. You may find it to be one of the most important things you teach them.
Hopefully, we will never find ourselves in a survival situation. However, it is a very real chance we take each time we go out.
Preparing for the worst shouldn't be put off. You'll thank yourself later if you think about it now.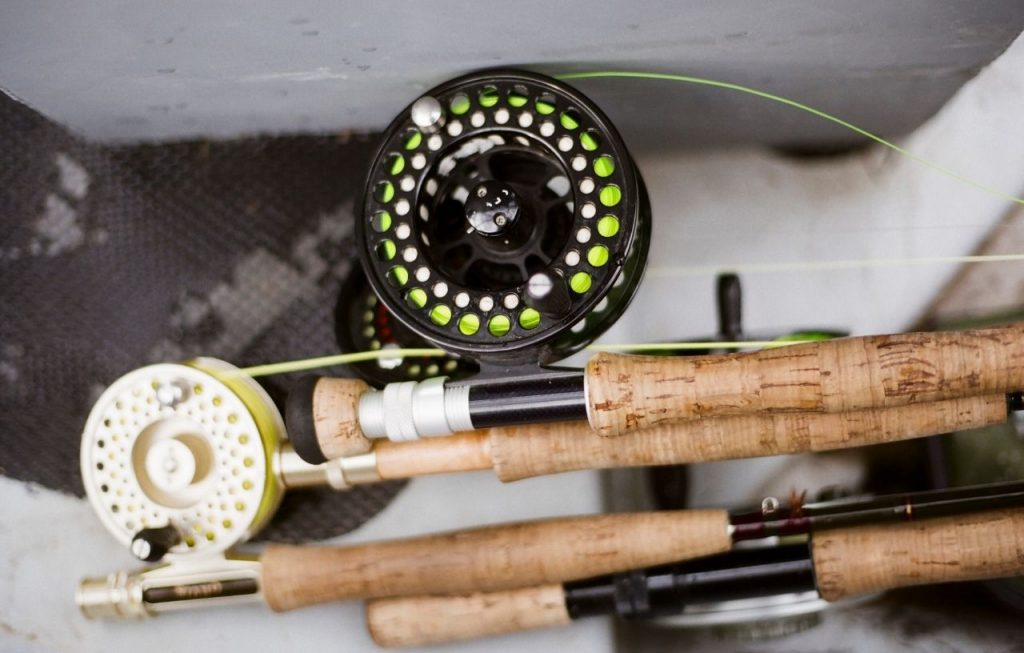 Bait and Other Fishing Rules
In an emergency survival situation, you won't be concerned about breaking some fish and game rules. In some streams, fishing is catch and release or only certain types of bait are allowed. Sometimes it's really hard to keep up with the rules. You can only do this if there are signs or if you read the annual fishing guidelines before going out.
Having said that, I have had excellent success using a medium cheddar cheese molded around a trout hook. The mild cheese falls off the hook too soon, and the sharp cheese cannot be molded so well. Sometimes, fish won't be as cautious approaching bait that has been in a hole a lot as they would be if it were new to them.
Another thing that everyone will ignore in a survival situation is keeping size. When roughing it and bugging out, an inch short is still better than not eating or getting valuable protein. During good times, though, you better keep that ruler with you, because you never know when the game warden will stop by and check your license and catch. Fines are outrageous and it is not worth the risk!
Insider Advice
Even the most experienced outdoorsman may find themselves in a survival situation. The best way to stay safe until you can get help is to be prepared and stay calm.
In a survival situation, you need protein more than anything else. It keeps your body warm and gives you energy.
Nearly all areas where people become stranded have bodies of water nearby. It is easy to obtain meat from fish, which are one of the most abundant sources. If you have the basic equipment, you can usually catch fish.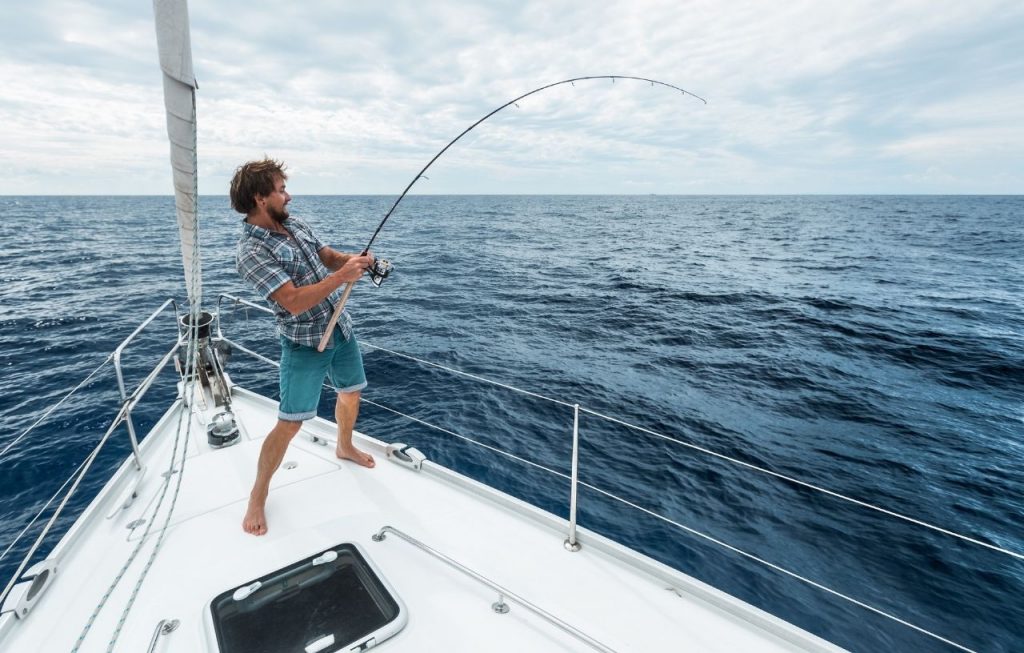 Final Thoughts
If you like to be prepared, then you'll need a survival fishing kit not just for SHTF or TEOTWAWKI, but for any emergency, from getting lost in the woods to having your car break down at inconvenient times. It doesn't matter if you buy one or make your own, a simple and small kit will be enough to help you find the food you need in an emergency. Don't just get your hands on one. Make sure you practice with it. When you really need it, you already know what to do and don't have to go through an emergency situation to learn. I appreciate you taking the time to read this guide!