While nothing beats an axe at chopping wood, it's tough to pack a full-size axe when you're camping, backpacking, or surviving in the wild.
Hatchets are a great compact alternative, but they're pretty much limited to chopping wood and hammering in tent stakes around the campsite.
Machetes are much more versatile, with the ability to chop wood, clear brush, and bushwhack your way through whatever the wild throws at you.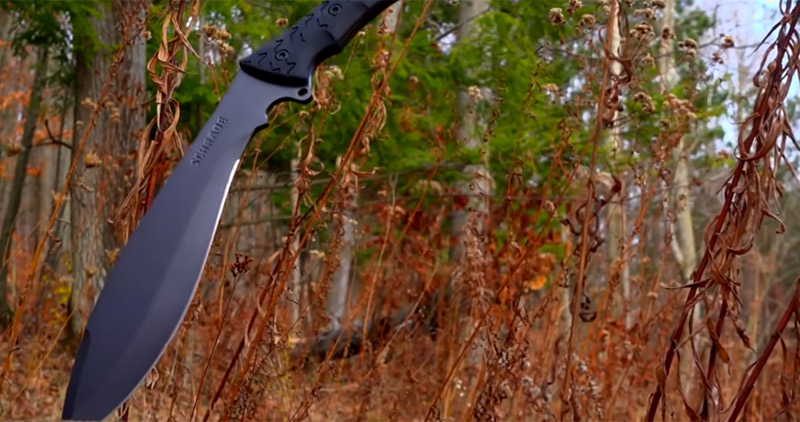 That said, not all machetes are designed to chop wood. To cut through anything larger than twigs, you'll need a heavier machete with greater swing power. You'll also need a solid steel blade that can withstand the wear and sharpens easily for a cleaner cut.
Following is a list of the top 5 machetes for chopping wood based on field tests, reviews, and a bit of personal experience. These machetes deliver the heft you need to cut through thick wood, along with a comfortable grip that'll keep the tool from slipping while you're chopping away.
Best Overall: Gerber Gear Gator Bolo Machete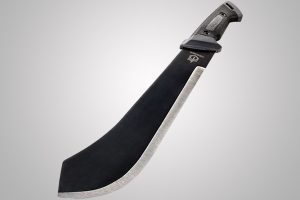 The bolo knife has been the blade of choice in the Philippines for generations. Its stout, burly blade features a distinctive bulge near the tip for extra swing power that's helpful when chopping wood and clearing brush.
Gerber takes this classic design and delivers a modern upgrade with the Gator Bolo Machete, with smart upgrades like an ergonomic handle, a slip-proof grip, and a hefty full tang construction. As Gerber puts it, this blade is "part axe, part trimmer, all business."
Upon testing it, I was amazed to find that Gerber Gator Bolo Machete is capable of delivering heft and reach with a 15.5-inch corrosion-resistant steel blade. The ergonomic handle is comfortable to hold and easy to maneuver with a secure, tactile grip.
There's a wrist lanyard as a backup measure, though the grip is solid enough you shouldn't have to worry about this machete flying through the air.
The Gator Bolo Machete comes with a rugged nylon sheath for safety and portability. You can strap it to your belt with the belt loop, or lash it to your pack with the D-ring attachments.
Specs
Blade Length – 15.5 inches
Blade Material – 1050 steel
Overall Length – 22.5 inches
Weight – 20.8 ounces
Handle – Gator® grip
Sheath – nylon
Pros
Perfectly balanced
Textured and ergonomically designed
Has a wrist lanyard
Features a full tang construction that prevents it from breaking easily
Great handle that is comfortable to hold
Cons
Slightly heavier weight
May arrive dented due to ordinary packaging
The blade is thin and lightweight and requires sharpening after purchase
The sheath is only okay
Build quality not quite up there to some of the other machetes
Ontario Knife Company 6144 Military Machete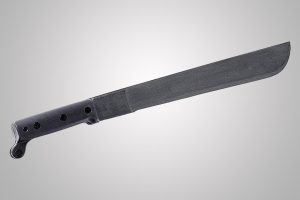 The Ontario Knife Company has been manufacturing quality American-made blades for over 125 years. They've designed countless blades over the years, but none are as storied as the 1-18 Military Machete.
Originally produced for American soldiers during WWII, today's iteration of the historic 1-18 Military Machete reflects the same quality and rugged reliability that the company has been supplying to the US government for over 70 years.
The 1-18 Military Machete is a massive, two-foot weapon with an 18-inch carbon steel blade. The rugged blade features a zinc-phosphate finish and a classic molded-plastic handle.
The 1-18 Military Machete doesn't come with a standard sheath which I found to be quite disappointing. Fortunately, you can purchase a matching nylon sheath separately for better protection and portability.
Specs
Blade Length – 18 inches
Blade Steel – 1095 carbon steel (50-55 HRC)
Overall Length – 24 inches
Weight – 16 ounces
Handle – molded plastic
Sheath – sold separately
Pros
Professional grade quality
One of the top Japanese gardening tool machetes for limbs and branches
Includes an easy to carry sheath to make transport and travel simple
Made of carbon steel for a simple option to cut bamboo and other items
Excellent value for money
Cons
Can be a bit heavy compared to other coated machetes
Have to purchase the sheath separately
The bad grip (can be fixed)
Needs to be sharpened
Snapped after continuous use (according to some complaints)
CRKT Chanceinhell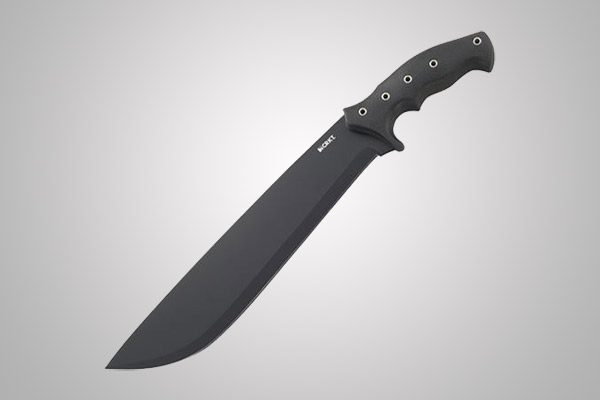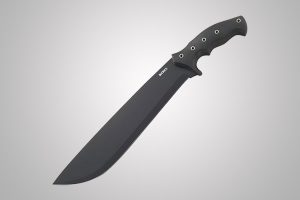 Designed by award-winning custom knife-maker Ken Onion, the Chanceinhell from Columbia River Knife and Tool is built to perform in the harshest environments.
Whether you're chopping firewood, clearing underbrush, or constructing a survival shelter, you can count on this reliable workhorse to pull its weight.
The Chanceinhell features a 0.1" thick carbon steel blade with a black powder coat. It's durable enough to thrive in extreme conditions, corrosion-resistant, and easy to sharpen.
The double injection-molded handle is ergonomically designed to reduce hand fatigue. I personally like that it features a football-texture grip with multiple lanyard holes for varied grip options.
As an optional upgrade, you can purchase a package that includes the knife and a nylon sheath. The sheath's unique velcro belt loop system allows it to be worn dangling or snug against your belt, or you can use the extra paracord fob to lash it to your pack.
Specs
Blade Length – 12 inches
Blade Steel – 65Mn carbon steel (52 – 56 HRC)
Overall Length – 17.88 inches
Weight – 20 ounces
Handle – PP core & TPR overmold with textured grip
Sheath Material – nylon (sold in an alternate package)
Pros
Carbon steel blade with black powder coat for durability
Easy to sharpen when necessary
Handle design prevents slipping and hand fatigue
Corrosion-resistant blade finish
Ergonomically designed handle
Cons
Thick blade can affect the quality of a chop
Not appropriate for hardwood chopping
A little too thin and too light for heavy-duty use
Pins in the handle are not anchored and may be off-center
Grinds are way off from either side
Kershaw Camp 18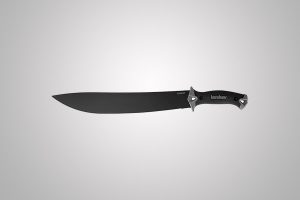 The Camp 18 is the biggest, baddest blade in the Kershaw arsenal. The 18-inch blade makes campsite chores a piece of cake, chopping kindling and stripping bark with ease.
Should an unlikely turn of events lead any zombies to your camp, the gargantuan Camp 18 should be able to handle those pretty well, too.
The Camp 18 features a full-tang construction with a 65Mn carbon steel blade. Kershaw applies a basic black powder coat for protection against corrosion and wear, keeping maintenance nice and simple.
The handle offers a secure, contoured grip that's comfortable in your hand, and a built-in hand guard to stop your hand from slipping in wet weather.
The machete comes with a glass-filled nylon sheath, with gear straps and a belt loop to keep the blade close at hand when you need it. The handle also has dual lanyard holes you can use to attach a lanyard for even more carrying versatility.
Specs
Blade Length – 18 inches
Blade Steel – 65Mn carbon steel
Overall Length – 24 inches
Weight – 23 ounces
Handle – rubber overmold
Sheath – glass-filled nylon
Pros
A multi-purpose machete
Non-slippage grip
Long design for speed and accuracy
Engineered using a top-quality blade
Rubber and nylon added
Cons
Its blade is less shiny
Users report that the black finish on the blade is thin
Steel beneath can become exposed after use
Not ideal for backpacking
Slightly subpar sheath
Condor Tool & Knife Golok Machete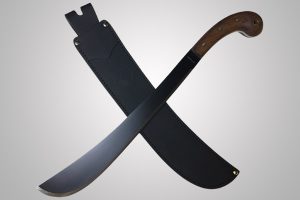 Condor Tool & Knife traces its history back to 1787, when the Gebr Weyersberg Company began crafting blades in Solingen, Germany.
Gebr Weyersberg grew to become the largest manufacturer of swords and knives in the world, making Solingen the cutlery capital of the world.
The company expanded production to the Americas in the 1960s with a plant in El Salvador, then sold the Central American operations to local investors in the 1980s.
In 2004, the new owners of the Central American plant leveraged their expertise to launch Condor Knives and Tools for outdoor enthusiasts.
The Golok Machete features a full tang design with a 1075 high carbon steel blade. The 14-inch blade has an epoxy black powder coating to enhance its durability and resilience. The hardwood handle is constructed with walnut.
It highlighted the manufacturer's rich heritage. It comes with a handcrafted welted leather sheath, a major upgrade from the standard nylon sheaths that typically accompany commercial machetes.
Specs
Blade Length – 14 inches
Blade Steel – 1075 high carbon steel
Overall Length – 19 inches
Weight – 16 ounces
Handle – walnut
Sheath – handcrafted welted leather
Pros
Blade made with 1075 carbon steel that is coated with a black epoxy powder Rust and corrosion resistant
Perfect for cutting, slashing, and chopping
Has an ergonomic walnut handle that is sturdy
Ultra-sharp thick blade for the toughest cutting tasks
Cons
This machete does not have a sheath
Taste is subjective, but it isn't the coolest looking machete on the market
Mid-price – not the cheapest machete around
Awkward handle construction
Inconsistent build quality