They're affordable, dangerous, ridiculously accurate, and they are the perfect survival weapon for hunting and security. What are we talking about here? The good old air rifle.
Whether it be a backup addition to your plans for security, for when you bug out, whether you need to cache a backup weapon, or have a simple home security weapon, an air rifle is the one survival weapon that you should be considering.
In this post, we are going to look at the 11 best air rifles, and what it is about air rifles that make them so useful. We've had a lot of fun testing these out to make sure we ony used the top air rifles that will do the job when you need it the most. But the big question is, why do they make a great survival weapon?
Now don't get me wrong, I enjoy a good shoot at the range as much as the next person, but there are some pretty good reasons why air rifles make a great alternative to the standard bullet-firing gun, such as:
Air rifles are an affordable weapon with cheap and light ammunition
There are less requirements to register the weapon or to hold a license (but you should always check for your local laws)
They are easy to maintain as there is no excess carbon from bullets like a normal gun
They can be a much quieter option if you are looking to keep your position unknown
Are a great way to start learning or to teach others how to use weapons and to practice their aim
Are a very dangerous and accurate weapon when used safely
Of course, they don't pack as much of a punch as real guns, but they are still very dangerous weapons and are very suitable for hunting or defense. So with that in mind, before we get into the nuts and bolts of the best air rifles we tried, let's take a look at which ones made the cut.
12 Best Survival Air Rifles Reviewed
IMAGE
NAME
RATING
CALIBRE/
MAX FPS
PRICE
Umarex
Ruger
.22
1200FPS


Benjamin
Marauder
.177/.22/.25
850FPSw/.22


RWS Model 34
.22
1000FPS


Ruger Blackhawk
.177
1000FPS


Ruger Air Hawk
.177
1000FPS


Hammerli AR20 Pro
.177
577FPS


Gamo Whisper Silent Cat
.177
1200FPS


Gamo Varmint
.177
1250FPS


CROSMAN 760 Pumpmaster
.177
350-700FPS


Crosman Vantage
.177
1200FPS


Umarex Hammer
.50
1200FPS


AirForce Texan SS
.45
1100FPS


How does an air rifle work?
Air rifles come in three different types: spring-piston, gas spring, and pneumatic, all of which are present in both air rifles and their counterpart pistols. In contrast to where a normal rifle would shoot a projectile by using combustible materials (gunpowder) in a bullet casing, the air gun does not rely on any explosive reactions so there is a very different sound comparison between the two.
For spring piston firing methods, a coil spring piston pump operates in a compression chamber that is separate from a gun barrel. These guns can use a lever or the barrel crack, where cocking the lever by cracking the barrel will cause the pump to pull the spring back until it is locked into a sear or ledge that is subsequently released by the pull of the weapon's trigger.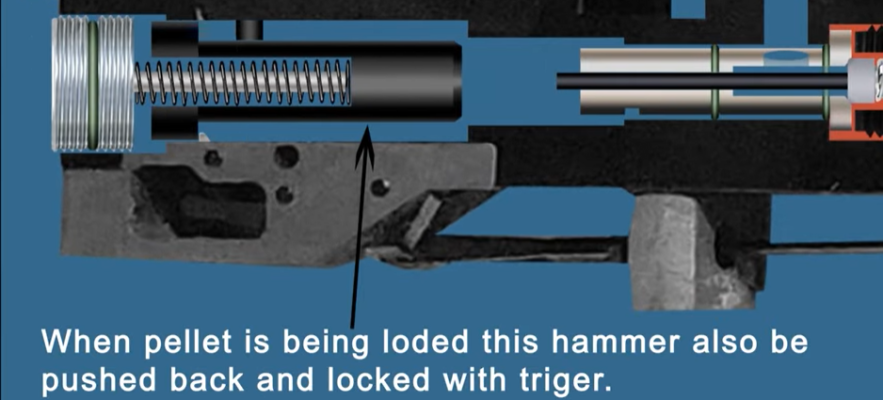 Gas spring guns differ from the previously mentioned mechanic spring by using an enclosed piston pump with pressurized air or inert gas. The gun is still cocked in a similar way but with the compression available due to the compressed chamber there is much more stability in the weapon when firing and there the window of time between the pull of the trigger and the release of the piston is much smaller so as to hold more of a strength on accuracy.
One of the added benefits of gas air rifles is the fact that you can keep it cocked indefinitely. When the gun remains in a cocked position there is no extreme pressure on a spring as it is cocked on the gas chamber. This benefits hunters and marksmen who want to sit for quite some time to either aim or to wait until prey steps out before firing.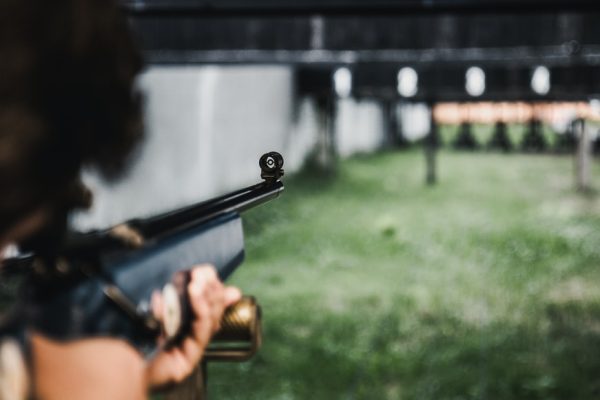 Pneumatic air guns, pre-charged, and Co2 guns use internally stored compressed air as the source to drive a projectile. They do this by using an inbuilt pump. While the pneumatic guns use a pump arm to still complete the process, pre-charged or PCP guns do not use an external pump or lever methods to cock the weapon.
The benefit of PCP guns is that they are able to cock instantly and they are completely noiseless as there is only air moving when the weapon is fired. This means that a PCP weapon is capable of automatic fire, and because there is no need for an excessive spring of gas piston system, the PCP system allows for air handguns to use automatic fire as well. The CO2 system works in a similar way, but unlike the PCP system, the CO2 can be reloaded with air canisters.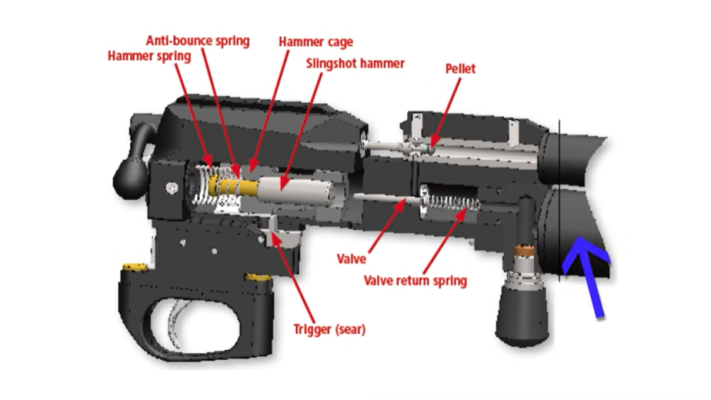 How fast can air rifles shoot?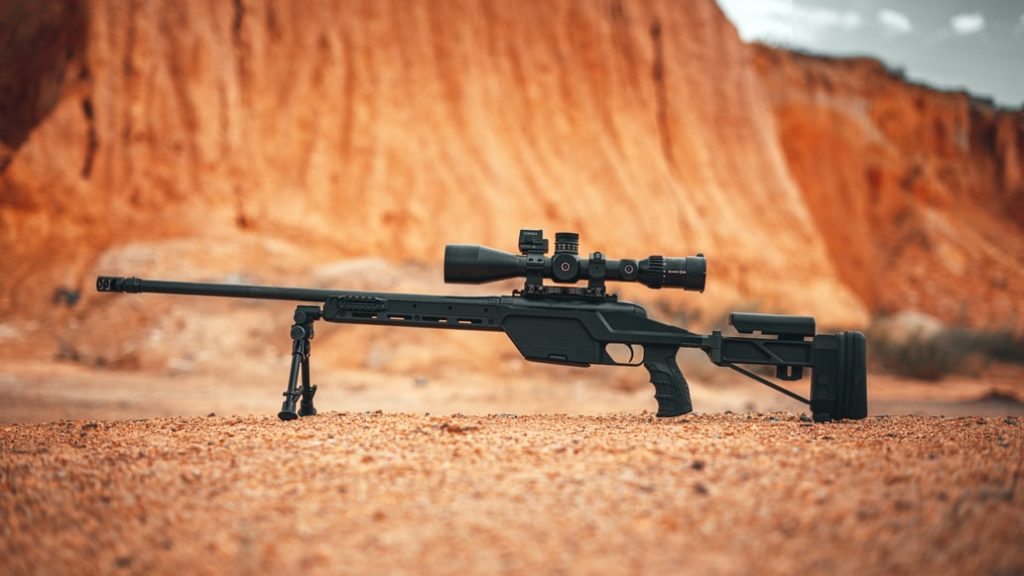 A lot of the airguns available on the market hold a muzzle velocity that can range anywhere from 600 – 1300 feet per second (fps) when they fire a metallic pellet.
Now let's consider that in comparison to some other personal protective weapons:
Compound crossbow and bows are around 400 fps
Slingshots can fire at up to 200 fps
A pistol will shoot at 1000 fps
The AR-15 will fire at a max of 3240 fps
Of course, an air gun is not as powerful or as fast as an AR-15. Otherwise, it would be a lot more expensive and more regulated. That doesn't detract from the safety of an air rifle or an air-based pistol, their projectile is essentially a small metallic bullet that can easily rip through the skin, and is in fact a hunting item relied upon by many hunters for small game and has been known to be used against large game as well.
An air rifle is a deadly weapon, and in the right hands, can seriously injure or kill someone. Make no mistake, even though they are not as powerful as a real gun, an air rifle should be treated in the exact same manner with the same gun safety precautions.
What ammunition do you use for an air rifle?
There are various types of designs of ammunition available for airguns and are commonly referred to as 'pellets'. They are simple diabolo designed bullets made of lead and generally come in .177 cal or .22 cal sizes.
Ammunition for air rifles, much like normal guns, will depend upon the capability of the rifle you own. Large caliber air rifles, usually for PCP guns, would include .357, .45, .50, .58 as well as much larger calibers of 20mm and .87 calibers.
The range on most types of ammunition for air rifles is quite good, with 50m being the effective range for hunting any small animals. When tested with ballistic soap and shot from 10 meters away the pellet is able to penetrate to more than eight centimeters.
One of the great added benefits of air rifles is the ammunition it uses. First, ammunition for air rifles is very cheap. For premium brands, air rifle pellets cost about $20 for 400 rounds. Second, the ammunition is very light so you don't always have to hunt around large cases of ammunition.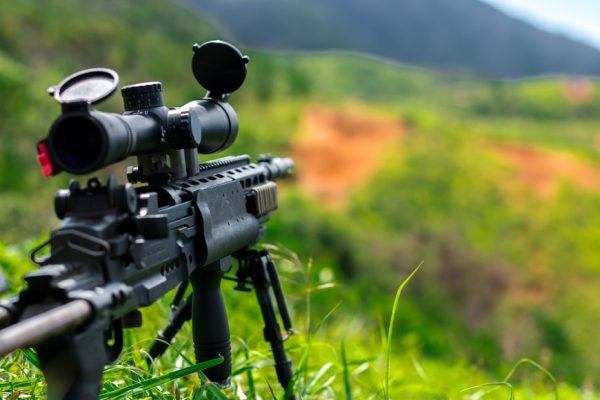 So now that we know a little more about air rifles, what they are capable of, and their benefits, let's take a look at the 11 best air rifles and how they compare.
A tip for when you are looking to buy an air rifle is to make sure you select something that has been peer-reviewed. Choosing an air rifle just because it is cheap will end up costing you more. Why? Because it will perform poorly and eventually fail. The air rifle industry is flooded with products that do not meet a lot of assurance standards and are manufactured as an expensive BB gun rather than an air rifle.
You should be aware that while they may appear very similar, there is a big difference between a child's BB gun, and a serious hunting or safety air rifle. Indicators such as speed, quality, and durability, should appear in any review before you make a purchase.
12 Best Survival Air Rifles
To help you, we've found the best air rifles that match the standard many expect a quality air rifle to have. So let's take a look at each one.
The Umarex Ruger Targis Hunter .22 cal is a great-looking air rifle. It is a spring piston break-barrel survival weapon that has a good 1200fps capability. While some air rifles are capable of still making quite some sound, the Umarex air rifle uses a SilencAir Noise Dampening System. In my experience, it's a huge help in keeping your position quiet. It won't disturb the nature around you (animals that might get stifled from loud noises). It is essentially a non-removable air rifle suppressor that has a very strong impact on muzzle noise.
As a magnum air rifle, the Umarex has a very simple break-barrel cocking system, so if you are someone that hates how tough some rifles can be at cocking, this one might suit you much more. The cocking effort on the Umarex requires a 34lb effort.
This air rifle also comes with an adjustable (Picatinny) 3-9×32 scope and has an all-weather stock and a 2-stage trigger.
Pros
All-weather stock
Air noise dampening system
Highly powered
Cons
The Benjamin Marauder air rifle is a PCP (compressed air) with great accuracy. The build of this survival weapon is great, with features such as a raised aluminum breech, metal trigger, a synthetic stock, and a very durable body.
I can describe the Benjamin Marauder as a high-powered rifle with no recoil. It has a very similar feel to its design and capability, just without the kickback. I enjoyed using the .22 Marauder as it's what I wanted in an air rifle. These types of rifles have been used in hunting for many years and are capable of dropping any game that a 25 caliber could, so long as your aim is on point.
You can customize this air rifle to your own preferences in a number of ways. Sure you can add a scope and bipod, but the more popular customizations are to decide whether you want to use a gun with a hand pump, or you can decide to use an air tank if you don't mind spending the money (and you have a place where you can fill it up). The bolt on this rifle is also customizable for left-handed firers, so should you need to, you can reverse the bolt switch. The manufacturers can do this for you.
Pros
Has an upgraded valve
Gagged barrel offers unrivaled precision
Reversible jolt
Cons
The RWS Model 34 .22 Air Rifle is a German-made hardwood-stock weapon with a great ambidextrous design, two-stage trigger, adjustable scope, and an easy break-barrel cocking system.
This survival weapon is a great addition to any survivalists kit as it is a commonly-used small game hunting rifle, easily capable of taking out accurate shots. This can be with both the .177 and .22 caliber systems as they reach a great 1000 – 800fps respectively. As an added benefit for small game hunting, this air rifle comes with a 4×32 air rifle scope with a plex reticle. It helped me achieve better target precision when using it. Plus, there's an adjustable parallax for distance variables.
Pros
Top-notch craftsmanship
Easy safety checking
Has a great feeling on the shoulder
Not noisy
Cons
The Ruger Blackhawk .177 caliber air rifle is an impressive spring-piston-based rifle that has a great 1000fps velocity and a 4×32 scope. The Blackhawk's body is made of an all-weather polymer black stock with checkered grip areas, a blued metal finish and a solid rubber pad for the air rifle's recoil.
This is the type of pellet gun I enjoyed because of its heavy and dense body. When I first picked it up, it felt very similar to what a normal hunting rifle would. The break-barrel system on the Ruger Blackhawk is something to note. I found it very easy and smooth to crack the weapon, and was happy with the in-built safety pop that happens at each crack. I feel as though this would be a great air rifle to use to teach anyone what a real gun feels like and be happy that it has a good feel and is safe to operate.
If you are looking for an easy-to-use, low-maintenance rifle that you can take outdoors to hunt rabbits, birds or other small creatures and work on your target practice by plinking rusty cans on a log, then you might want to consider the Ruger.
Pros
Excellent power
Lightweight but solid
Little to no maintenance needed
Feels good in hands
Cons
Dovetail scope rail is limited
The Ruger Air Hawk is a 1000 fps pellet rifle that features a single-shot cocking mechanism, giving you better control over the ammunition. It also boasts of its amazing accuracy, unlimited shooting capacity, and ease of repair.
As a spring piston break barrel airgun, it has a rifled blued barrel and receiver. I didn't have a hard time loading pellets because its breech is exposed when it breaks open. It is made of dark hard wood sleekly formed into an ambidextrous stock, making it suitable for both left-handed and right-handed shooters.
One of the best features of the Ruger Air Hawk is its 4×32 airgun scope which allows it to endure the double recoil action of air rifles. You will also notice a comfortable grip when you shoulder this air rifle, thanks to its conveniently placed rubber recoil pad. Its other practical features include fiber optic sights, an adjustable trigger, and a muzzle brake.
Pros
Good fiber optic sight
Affordable price
Solid stock
Cons
Quite heavy for young shooters
The Hammerli AR20 Pro features an adjustable stock, making it an ideal choice for shooters of all sizes and ages. This rifle is a sophisticated sporting arm with a 300 bar compressed air system and a wide range of other features, including its Lothar Walther match barrel, wide loading recess with precision feed, ambidextrous cocking piece with release button, and more.
Pros
Good price
Ambidextrous receiver and stock
Adjustable match trigger
Cons
Not for serious competitors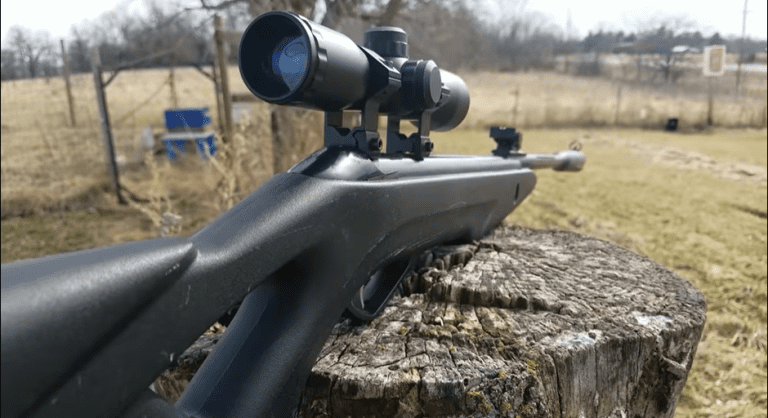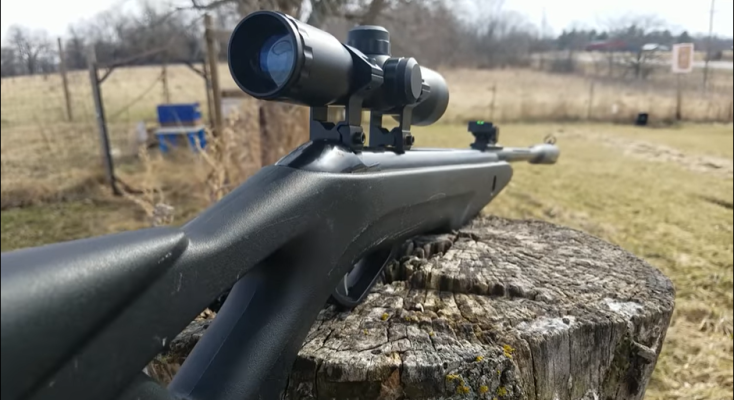 The Gamo Silent Cat .177 is a very impressive air rifle with a 1200fps velocity, 4×32 scope, and a light, durable body. The power and accuracy of this gun are something to be desired. I found it very easy to cock with a light break-barrel system.
For small game hunting, this is a great air rifle since it's an excellent performer as a survival weapon. This is also a very quiet weapon as well. When I was shooting the Gamo Silent Cat the targets made more sound than the rifle itself.
Pros
Accurate
Lightweight
Powerful
Cons
The Gamo Varmint .177cal air rifle is a break-barrel loading weapon that is able to reach a velocity of up to 1250fps. This Gamo air rifle comes with a 4×32 shockproof scope, polymer jacketing, rubber recoil pad, and adjustable trigger system.
Out of the box, I'm impressed with this rifle's amazing accuracy. The stock scope is able to shoot tight groupings at 30-40 yards away. However, I feel that with a more advanced scope, this air rifle is capable of being just as accurate, much further away. As for the sound of this gun, it is very similar to the sound of a BB gun. If you have ever heard one of those, you will know that it is tremendously quiet.
Pros
Comfortable to use
Lightweight
Best for small-game hunting
Features a non-slip texture design
Cons
Accuracy of the laser sight is a common issue
Scope has to be adjusted frequently
A certified favorite for four decades now, the CROSMAN 760 Pumpmaster is a dependable rifle that comes with a smooth trigger pull, considerable reservoir capacity, easy-access BB loading port, and more. This .177-calibre pellet rift boasts its easy-to-use variable pump features, allowing you to control your power from 350fps to 700fps.
The CROSMAN 760 Pumpmaster also comes with an elevation-adjustable rear sight and blade front sight. This allowed me to easily stay on target when testing it out.
Its smooth bore steel barrel comes with crossbolt safety, making it ideal for young shooters who want to learn proper use and handling. This rifle is also highly durable and water-resistant. Plus, it features a large reservoir capacity and easy-access BB loading port.
Pros
Decent scope
Easy to use
Recoilless
Quiet
Cons
Accuracy of the laser sight is a common issue
Scope has to be adjusted frequently
The Crosman Vantage is a Nistro Piston powered, break barrel air rifle with velocities of up to 1200fps. This .177-calibre rifle produces 70% less noise than spring powered airguns.
While testing it, I noticed that it has less recoil and quicker locking time. With its quiet shooting, smoother cocking, and zero spring torque, the Crosman Vantage makes an ideal rifle for plinking, small game hunting, spinners, pest control, and more.
This single-shot air rifle offers a traditional feel with its handsome wood stock and foregrip and lever safety features. It also comes with an adjustable two-stage trigger, fiber optic sights, and centerpoint 4x32mm rifle scope to ensure downrange accuracy, as well as a dovetail mounting rail for accessory mounting.
Pros
Good power
Decent scope
Quiet
Requires little maintenance
Cons
Accuracy of the laser sight is a common issue
Trigger has a long pull
Among the most powerful air rifles on the planet, the Umarex Hammer boasts innovative engineering and advanced technology. One full tank of this .50 calibre rifle delivers 4 full power regulated shots and one finishing shot at 760fps, dumping a ton of energy into its target.
The air rifle feels ultralight. It comes with a 24 cubic inch carbon fiber air tank and features a modern stock design with M-LOK locations for accessory mounting.
Perfect for hunters and shooting enthusiasts, the Umarex Hammer is very quiet shooting. It's nice that it includes two 2-shot linear mags, straight-pull bolt with a 2-pound pull weight and 2 inches of travel. Plus, it comes with two safety features that include mag lock-out and trigger block safety.
Pros
Great looking
Amazing power
Excellent accuracy
Cons
The AirForce Texan SS, Hawke Scope Combo features a solid extruded aluminum frame and retains the same 490cc onboard air tank and 2-stage trigger of the classic big bore airgun.
While it has the same solid extruded aluminum frame, I noticed that it has a shorter barrel and introduces a new sound suppression technology. This .45-calibre single-shot rifle features a sidelever, 11mm dovetail, 24.75'' barrel, and has the ability to shoot at velocities of up to 1100fps.
The Airforce Texan SS air rifle also features a buttplate that you can rotate right and left for some cast-on and cast-off adjustments. With its ability to shoot at near silence and so much power, there is no doubt the Texan SS is sure to take your air gun game to the next level.
Pros
Powerful
Features automatic safety
Low maintenance
Cons
No scope attached
Not silenced
Final thoughts on air rifles as an ultimate survival weapon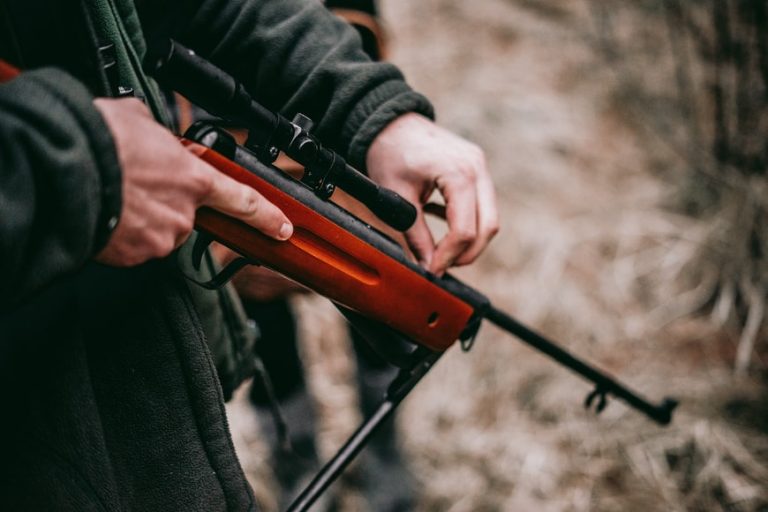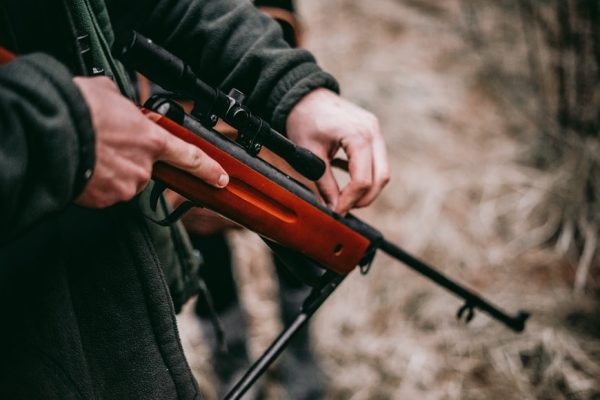 There is no doubt that there is a lot of pressure on gun regulations at the moment and this is being reflected across the board through gun registrations, licensing, weapon price and ammunition cost.
The fees to own a rifle are already a deterrent. So considering a viable and alternative option such as the air rifle makes sense, especially when you see that their power, accuracy, and reliability come at such a cheaper cost.
Not only that, but the fact that air rifles and pellet guns are a much quieter weapon, able to be used without the need for registration, and have cheap, light, ammunition makes them not only a great hunting or personal security instrument, but also a great item to use if you are not so confident with handling a weapon and perhaps want to work on your accuracy and shooting principles.