One of the first lessons in Emergency Preparedness 101 is that disaster strikes anytime, anywhere. Your home may be well-stocked with supplies and locked-down better than Fort Knox, but what happens if a disaster strikes when you're away from home? With all the time we spend at work, school, or driving around running errands, surviving when you're away from home is definitely a contingency worth preparing for.
The easiest way to prepare for an emergency situation while you're away from home is to prepare a "Get Home Bag." Think of it as your mobile bug out bag, but with the opposite intention (you want to get home instead of get out). Stash a Get Home Bag in your vehicle or at work, and it'll significantly boost your chances of surviving the journey home.
The Best Premade Get Home Bags
There are two ways to approach a Get Home Bag: you can gather the necessary materials yourself, or you can save some time and buy a premade kit. There's no right or wrong answer here — it just depends on what suits you.
Field-ready kits tend to be the popular choice, so we'll start with the best premade Get Home Bags. The first two Get Home Bags are intended for the solo traveler, with one offering the standard 72-hour kit and the second offering an extended 5-day kit. The final two premade Get Home Bags are designed for two people, both offering 3-days of food, water, and supplies.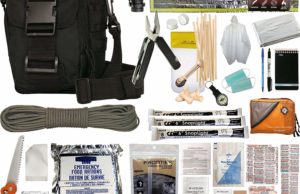 The Prepper's Favorite Get Home Bag has everything you need to survive for 3+ days on your journey home, including food, water, shelter, tools, first aid, light, and fire. It's ultralight, compact, and easy to stash in your vehicle or office for when disaster strikes.
The Get Home Bag is constructed with rugged military-grade material. It has a large main compartment with a drawstring, two internal pockets, one rear external pocket, and one large zippered front pocket. The MOLLE-compatible bag features a fitted storm flap with a quick release buckle, a fully adjustable padded shoulder strap, and a sturdy carry handle.
The Get Home Bag comes pre-packed with survival gear and supplies recommended by FEMA and the Red Cross. The emergency food rations are vacuum-sealed with a five-year shelf life that exceeds Coast Guard standards. Instead of wasting valuable space with water bottles, the kit includes a water filtration straw that you can use to drink water directly from any river, pond, bottle, or cup. The straw provides instant filtration using an activated coconut shell carbon filter to remove bad tastes, odors, and 99.9% of Giardia and Cryptosporidium.
Inside the kit:
Heavy duty (600D) Fox Tactical Shoulder Bag, ultralite fire starting kit (UST Micro SparkWheel, 20+ wooden tinder sticks, Quik Fire Starting Tabs, waterproof case), water filtration kit (Aquamira Water Filtration Straw, 250ml water bag, 500ml water bag, 3 compressed hand towels/strainers), 11-in-1 credit card tool, 14-in-1 survival multi-tool, 550 paracord (50-foot coil), 72 hour / 3600 calorie emergency food rations, adult rain poncho, ballpoint pen, carbon steel hand saw, compass, 3 Cyalume 8-hour glow sticks, heavy duty mylar aluminized emergency sleeping bag, high-power 300-lumen aluminum-body CREE LED flashlight, Mead notebook, mylar emergency blanket, Sharpie permanent marker, fully-stocked Lifeline 57-piece Trail Light Dayhiker First Aid Kit
Specs:
Supplies: 3 days for one person
Dimensions: 10 inches tall
Weight: 5 pounds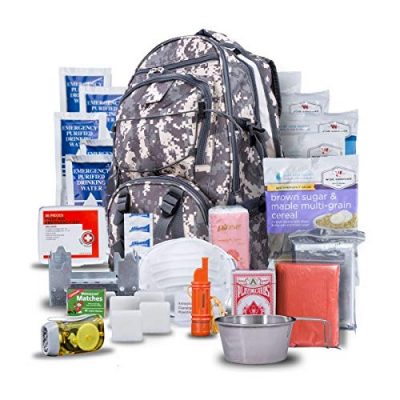 If good food is your main priority, go with the Wise Food 5-Day Survival Backpack. The Wise Company has received national recognition for their ready-made freeze dry and dehydrated foods, with endorsements from celebrities like Dave Ramsey, Laura Ingraham, George Noory, and Ruth England. Their premium foods taste great, have a shelf life of up to 25 years, and are easy to prepare with just water and heat.
The Survival Backpack comes with 32 entrees, including apple cinnamon cereal, brown sugar cereal, whey milk, creamy pasta, southwest beans and rice, and hearty tortilla soup. The pack includes water to prepare your meals, and a portable stove with fuel tablets to heat the food.
Of course, you'll need more than food to survive for 5 days on your way home. The Wise Food 5-Day Survival Backpack includes plenty of other survival tools and supplies to help you on your journey, including a 37-piece First Aid Kit, waterproof matches, a flashlight, and a mylar blanket. The supplies take up less than half of the space in the backpack, so there's plenty of room to add your own survival gear, too.
Inside the kit:
32 Servings of food, 5 water pouches, 37-piece first aid kit, N95 dust mask, pocket tissues, 3 wet wipes, waste bag, portable stove (with fuel tablets), stainless steel cup, squeeze flashlight, 5-in-1 survival whistle, waterproof matches, mylar blanket, emergency poncho, playing cards
Specs:
Supplies: 5 days for one person
Dimensions: 16" x 10" x 10"
Weight: 8.25 pounds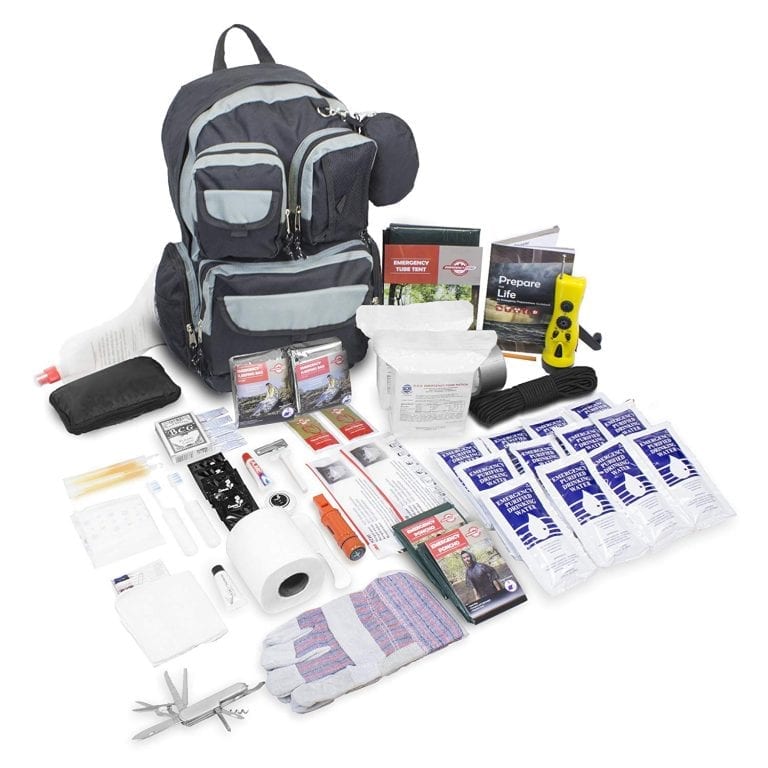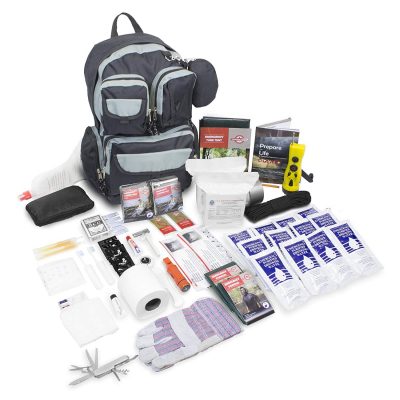 Emergency Zone's products are designed to prepare you and your family for anything — hurricanes, earthquakes, floods, wildfires, severe storms, tornados, evacuations, civil unrest, pandemics, and more. No matter what type of disaster strikes, the Urban Survival Bag provides enough food, water, and supplies to sustain two people for 3 days, or one person for 6 days.
The Urban Survival Bag is uniquely designed for discrete carry in urban environments. After all, the last thing you want to do in an emergency situation is draw attention to your personal supplies. On the outside, it'll look like you're carrying a standard backpack. On the inside, you'll find a fully-stocked 72-hour kit that meets FEMA's guidelines for emergency survival kits, with everything from food and survival gear to hygiene and comfort items.
Unlike many Get Home Bags that rely on boiling water for meals, the Urban Survival Bag relies on SOS brand food rations and water packets that you can eat and drink on the go. Both have a 5-year shelf life and are approved by the US Coast Guard.
The Urban Survival Bag also comes with a handy emergency guidebook. Inside, you'll find helpful information on how to create an emergency plan, what to do in a natural disaster, how to administer first aid, and more.
Inside the kit:
Large urban backpack, 2 food bars, 12 water pouches, folding 1L water container, 5 water purification powder packets, 118-piece First Aid Kit, 2 N95 masks, Dynamo radio/flashlight, emergency preparedness guidebook, pencil, weatherproof zip bag, 2 toothbrushes, toothpaste, comb, razor, shaving cream, 4 shampoo packets, soap bar, 2 feminine pads, washcloth, roll of toilet paper, small sewing kit, 2 glow sticks, 5-in-1 survival whistle, 5mm x 50' rope, duct tape, work gloves, multitool knife, playing cards, GI can opener, 2 reflective sleeping bags, 2 emergency ponchos, tube tent, 2 hand warmers
Specs
Supplies: 3 days for two people
Dimensions: 19" x 15" x 10"
Weight: 14.5 pounds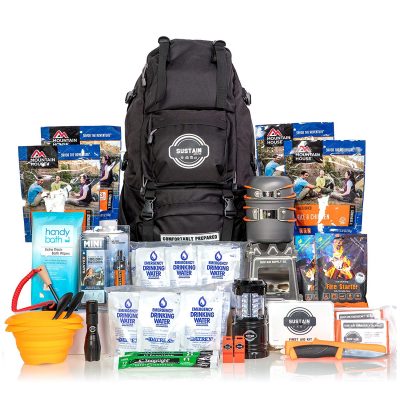 The founders behind Sustain Supply Company launched their business with a simple goal: to provide premium emergency preparedness products for a fair price. They were tired of purchasing emergency products that didn't last, didn't taste good, or didn't pass basic quality standards, so they created a company that could deliver a quality alternative. Their emergency products may cost a little more than some of the budget-friendly options out there, but they're 100% worth the upgrade. A little extra quality and comfort in an emergency situation goes a long way.
The Comfort2 is a 72-hour survival kit with enough food, water, and supplies for two adults. Using the portable stove, you can cook delicious Mountain House meals by simply adding hot water. You'll have plenty of clean drinking water to wash down your meals, and a fully-stocked First Aid Kit to care for any injuries. The luxury of a shower may be out of the question, but the kit does provide bath wipes pack for basic sanitation.
For survival, the Comfort2 provides everything you need to stay warm with emergency blankets and fire-starting materials. Darkness won't be an issue thanks to the flashlight, LED lantern, and glow sticks. The large water-resistant backpack provides extra storage space and organization pockets, so there's room to supplement the kit with your own gear and supplies.
Inside the kit:
Large premium backpack, 12 Mountain House food servings, 24 Packets of Datrex water, Sawyer Mini water filtration system, portable stove, 2 bowls & utensils, 4 Cyalume SnapLights, Morakniv companion knife, LED lantern, flashlight, First Aid Kit, 2 emergency blankets, bath wipes pack, ferrocerium rod, 2 InstaFire tinder, 2 whistles
Specs
Supplies: 3 days for two people
Dimensions: 16" x 12" x 20"
Weight: 21 pounds
The Best Backpack for a DIY Get Home Bag
Feel like building your own Get Home Bag? You'll need a backpack with a durable, water-resistant outer shell, and plenty of storage space on the inside. There are several good options out there, but none of them beat the quality and value you'll find in the RUSH72 Tactical Backpack from 5.11 Tactical.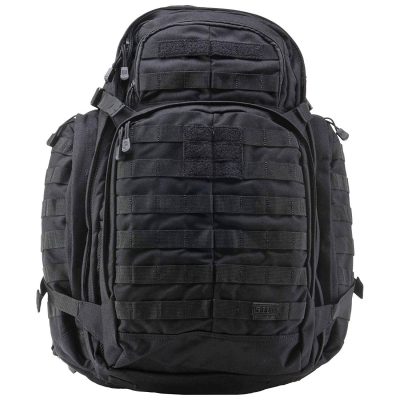 The RUSH72 Tactical Backpack provides the perfect platform to create your own Get Home Bag. It's engineered for mobile 72-hour kits, providing you with the storage space, organizational features, and rugged durability you need to survive when you're on the road.
Constructed with high-strength, water-repellent 1050D nylon, the RUSH72 Tactical Backpack is rugged and reliable enough for extended excursions in any weather. The backpack features adjustable dual-density closed-cell foam shoulder straps, dual compression straps, a clinching waist strap, and a contour yoke system with a grab-and-go handle. It's compatible with the 5.11 Tier System and the Rush Tier Rifle Sleeve.
The RUSH72 Tactical Backpack has plenty of space for your emergency gear with unrivaled storage capacity. The main and front compartments are dual-zippered with molded grip pulls, and offer multiple integrated organization pockets. Inside the front pocket, you'll find an admin organization pocket to store maps, pens, and important documents, and a fleece-lined pocket for electronics or sunglasses. On the outside, there's a full wrap-around MOLLE and SlickStick-compatible web platform at your disposal.
The RUSH 72 Tactical Backpack has a 60 oz hydration pocket with hangers and toggles, though you'll have to purchase a bladder separately. There's also an integrated drainage grommet in case you spring a leak inside the bag.
Specs
Main Compartment: 23" x 13.5" x 8.5"
Front Pocket: 15.5" x 11.5" x 2"
Hydration Pocket: 21" x 13.5"
Side Pockets: 16.5" x 6" x 1.75"
Total Capacity: 55 Liters
Weight: 5.2 pounds