Shelter is of the utmost importance when faced with an emergency situation. To survive subzero temperatures, piercing wind chills, and treacherous weather conditions, you need to say dry and warm. Building a shelter using natural resources like branches and logs is not feasible for most people.
A survival tent can help protect you from insects and the elements. These durable tents are designed to be quick and convenient to get you through an emergency situation. Unlike regular camping tents, survival tents tend to be lightweight and easy to grab and go. Most are constructed of weatherproof or waterproof material and contain insulating properties.
There are countless survival tents on the market but not all are equipped to handle extreme environments. When comparing options, ask yourself a few crucial questions, such as:
What type of climate and terrain will the tent be used in?
How many people will need to fit in the tent?
Will the tent be set up in moist conditions, such as snow?
Modern survival tents often feature high-quality materials and sophisticated technology which makes them a basic must-have for preppers and survivalists. To help ensure you make the right choice, we've compiled a list of the best survival tents. The following tents can brave through even the toughest situations.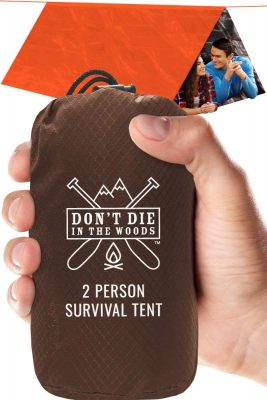 If the name doesn't draw you in, the functionality of this survival must-have will. The Don't Die in the Woods Tent is the self-proclaimed "Toughest ultra-light emergency tent on earth." The extra-thick, tear-resistant tent features HeatFlex mylar that makes it extraordinarily strong and has 425-lb strength paracord with reinforced tape seams. At just 9.5 ounces, the tent offers the perfect balance of durability and convenience.
The NASA-designed mylar material reflects up to 90 percent heat to help the body remain warm in cold conditions. When exposed to hot conditions, the tent can be turned inside out to reflect the heat away. Using the tent is also simple. Just run the paracord through the tent and tie the ends to opposing trees. The corners should be anchored with something heavy, such as extra gear or rocks.
Highlights:
Advanced strength and durability
Ultra-light and compact
Quick to setup with room for two
Safe to use in hot and cold conditions
Waterproof for year-round use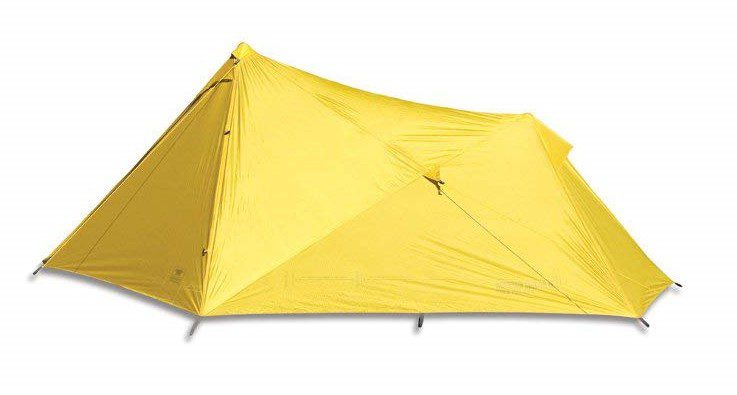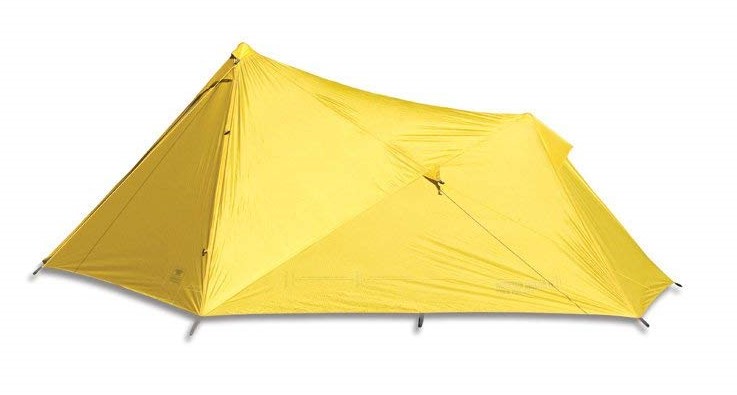 Designed for minimal weight and hassle, the Mountainsmith Mountain Shelter LT is a three-season tarp shelter weighing in at just 2 lbs. The two-person survival tent consists of an ultra-light floorless shelter with a zippered front and a rear-vent on the ceiling for ventilation. Set up requires two trekking poles which you will need to buy separately.
The free-standing shelter has a rear height of 3'4" and contains a Sil-nylon exterior coating and PU2000mm underside coating for added warmth and weatherproofing capabilities. The Mountainsmith survival tent has reflective guy-lines that help create a taut, adjustable setup. The tent can also be set up between two properly spaced trees or used with stakes which are included.
Highlights:
Three-season tarp
Stuff sack and reinforced V-stakes included
Rear ventilation window
Guyout attachment points
Two person layout with single zippered door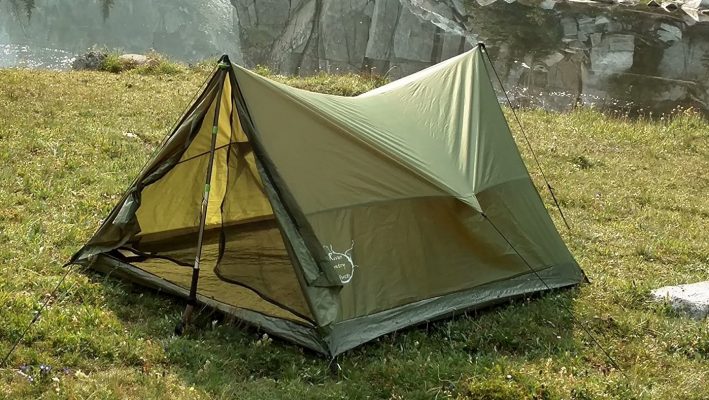 From hiking and camping to preparedness and survival, the River Country Products Trekking Pole Tent is the ultimate find. The versatile survival tent can accommodate one person with gear or two people without gear and measures 7 feet long and over 5 feet wide. The tent comes with eight ultra-light aluminum stakes, but trekking poles must be purchased separately. You can substitute a pole with any stick over 42 inches tall.
The River Country tent weighs in at 2 lbs. 12 oz. and is one of the lightest backpacking tents currently on the market. It's also simple and fast to set up. Stake the corners down and insert the trekking poles and you can have your tent up in as little as one minute. The two layer door has an inside mesh layer to keep bugs out and for added ventilation. Inside, there is plenty of room for personal items, as well as loops in the corners to hold flashlights and hanging lanterns.
Highlights:
Lightweight and compact
Works with trekking poles
Comes equipped with aluminum stakes
Spacious and easy to set up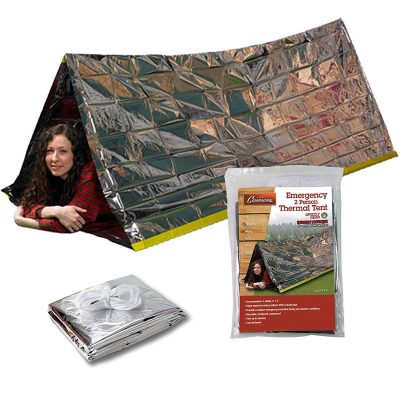 With enough room to accommodate two adults, the Grizzly Gear Emergency Survival Tent measures 8 feet by 3 feet and is made from durable, insulating mylar material. The survival tube tent features a thermal barrier that retains heat to prevent shock and hypothermia in freezing conditions. It's also watertight and wind-resistant to stand up against all types of weather.
Grizzly Gear uses insulating mylar material that is specifically created by NASA for use in space. The tent helps retain 90 percent body heat to keep you warm in all seasons. The versatile preparedness product is lightweight and easy to set up, making it a great selection for hiking, camping, and backpacking. It also functions as a sleeping bag, emergency thermal shelter, signaling device, and water collector.
Highlights:
Comes in XL size
Wind-resistant and watertight
Features a heat-retaining thermal barrier
Made from insulating mylar material
Best Bivy Option for an Emergency Shelter
The bivy, also known as a bivouac, is a compact and lightweight option for an emergency shelter. Essentially it is a waterproof sleeping bag. Bivy users get the warmth and protection of a tent with a small and reduced weight packing size. Bivies are not a perfect choice for all peppers but they offer a great solution and fit neatly in your bug out bag.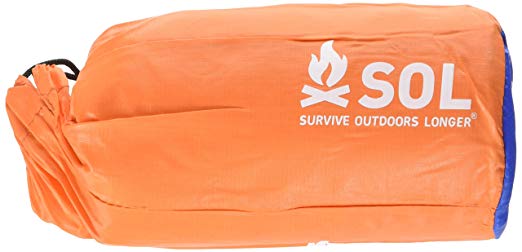 When you're forced to brave extreme conditions, having the right gear can make all the difference. The S.O.L Emergency Bivvy is designed to improve your odds of survival in treacherous weather. Constructed of tear-resistant polyethylene, the bright orange bivvy reflects 90 percent of body heat back to you for unbeatable warmth. The seam edges are also sealed to help keep you dry from rain and snow.
Each pack contains a 4.9 ounce emergency bivvy measuring 60 inches by 84 inches. The bivvy is lightweight and breathable for maximum comfort and can add 5 to 15 degrees when used in combination with a sleeping bag. The material is stretchy, won't shred if punctured, and can be easily repaired with duct tape. The incredibly compact sleeping bag is the ideal addition to your survival kit or to-go bag during overnight trips.
Highlights:
Reflects 90 percent of body heat
Features sealed seam edges
Weighs just 4.9 ounces
Orange for high visibility
Made from tear-resistant polyethylene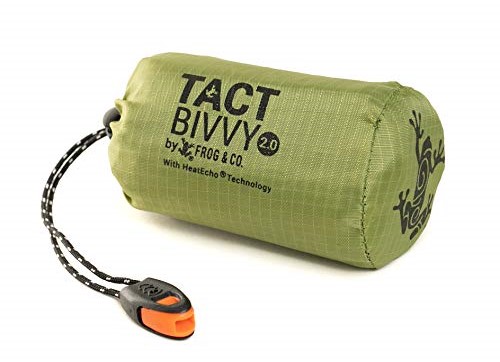 If you're ever stranded in your vehicle during a storm or are forced to spend the night in the blistering cold, having a survival sleeping bag could mean the difference between life and death. The Tact Bivvy Compact Ultra-Lightweight Sleeping Bag is made of HeatEcho reflective polyester film for heat retention. The material reflects 90 percent of your body's heat back to you. The Bivvy Bag is also windproof, waterproof, and reinforced at the seams for enhanced durability and strength. It's also bright orange to allow rescuers to easily identify you in an emergency.
You'll find the Tact Bivvy compressed into a tiny carry bag that can be stored in your car or survival kit without taking up much room. In fact, the thermal survival sleeping bag weighs just 4.8 ounces and can fit in the palm of your hand when inside the stuff sack. When faced with an emergency situation, the compact sleeping bag is easy to use. Simply wrap the bag around you for warmth or use it to line your sleeping bag and increase your body temperature by as much as 20 degrees.
Highlights:
Super lightweight
Incredibly durable
Easy to use
Made for emergencies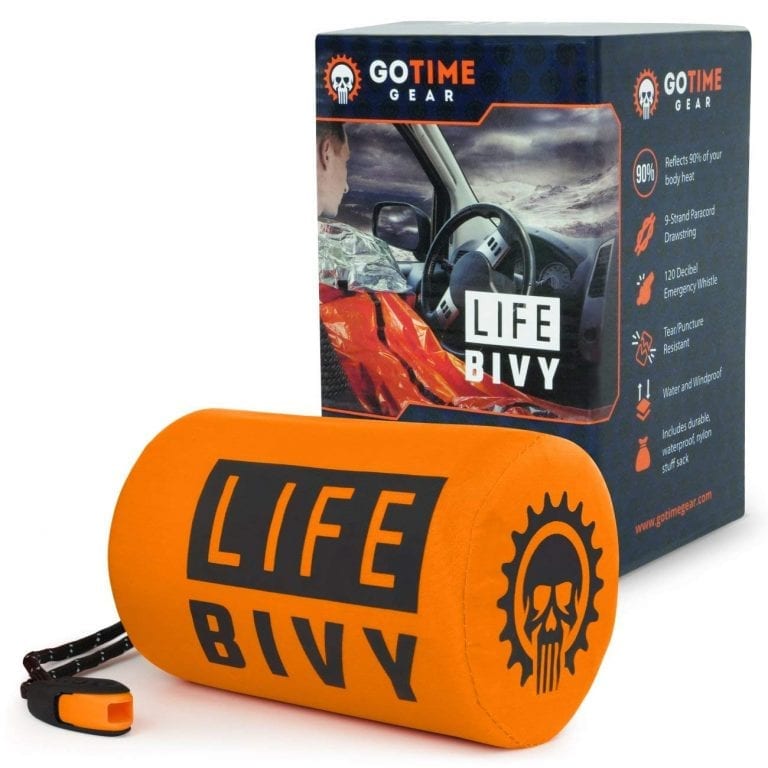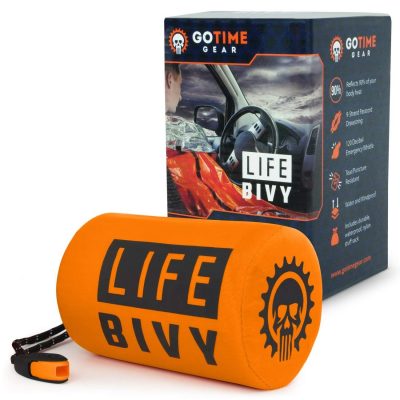 When exposed to extreme conditions, staying warm and dry are of critical importance. The Life Bivy Emergency Sleeping Bag is an all-in-one emergency blanket, survival shelter, and carry bag. The survival shelter is constructed of a 26um extra-thick tear- and puncture-resistant material that is durable enough to resist extreme weather conditions. In addition to being windproof and waterproof, the survival bag protects from hypothermia by reflecting 90 percent of your body heat back to you.
The survival bag is ultra-lightweight, just 4.1 ounces, and small enough to fit in your hand. It comes rolled up tightly in a waterproof stuff sack that can be stored nearly anywhere, including the glove box in your vehicle. The Life Bivy Emergency Sleeping Bag also comes with a 120-decibel emergency whistles that can alert rescuers up to 1 mile away. The bright orange color of the bag increases your visibility to potential rescuers and all items are completely reusable.
Highlights:
Extra-thick polyethylene material
Includes patent-pending Para-Synch technology
Seam-sealed edges to keep the elements out
Ultra-lightweight and compact