Night vision isn't a strength for humans, so it's helpful to have a tool in your arsenal to boost your sight when the sun goes down. Whether you're stalking an animal or scouting for threats, a night vision monocular is generally the best way to go. They're light, compact, and easier to transport than traditional binoculars, and you can easily attach them to a tripod or headset for hands-free operation.
What to look for in a night vision monocular
Night vision goggles typically use infrared (IR) light to enhance vision in low-light environments. In a nutshell, they magnify what little light is present to illuminate dark places. As you're comparing devices, pay attention to the IR illuminator and how many levels it offers, as this will significantly impact the brightness.
In the sub-$200 price range, most night vision monoculars employ Generation 1 (aka Gen-1) technology developed in the 1960s. There are more advanced night vision devices with Gen-2, Gen-3, and Gen-4 night vision upgrades, but these are much more expensive (think $500 to $1000 or more). If you find a Gen-2 device for under $200, be skeptical — it's probably too good to be true.
Some newer night vision devices offer digital night vision, which essentially upgrades a Gen-1 device to Gen-2 quality optics. Advanced digital night vision devices also offer additional perks to control the brightness, such as exposure control. These are great upgrades, though they tend to push the price. With all of the optional tech and features, it comes as no surprise that NV devices range in price from a couple of hundred rands ($50) to nearly R300 000 (over $2000). If your NV goggles are for hunting, security, and surveillance, or wildlife watching, it's best to go for the best model in your price range.
Finally, pay attention to the quality of materials used on the exterior. Plastic devices will be cheaper, but they're also prone to breakage. Look for durable metals or shock-resistant rubberized shells for protection against drops.
Night Vision Goggles Buying Guide Factors to Consider
Resolution: Defines the NV system's ability to intensify the image. Also measures how high the image quality will be shown.
Spectrum: The NV feature that allows the user to have a wider spectrum range, for example, infrared or ultraviolet radiation.
Batteries: NV needs batteries to provide the electricity it needs to work. Both lithium and alkaline are acceptable, but lithium batteries have a longer lifespan which should be considered for hunting and survival users.
Weather Resistance: Don't buy any model that comes with less than the ability to withstand up to 95% of all existing weather conditions, no matter where you live.
Weight, Size, and Easy to Use: These are the 3 most important factors to consider when buying NV goggles. If the unit doesn't feel lightweight and comfortable when you are wearing them, you won't be able to function efficiently. If you are using the device for hunting or survival practice, you have to think about mobility as well, so only look at smaller size models. They should be compact enough to fit into one hand, and light enough to be mounted onto the weapon or headgear you are using.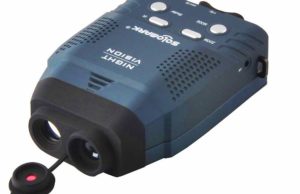 Highlights
Range: 328 feet / 100 meters
Multi-coated glass objectives
Integrated color LCD screen
Rubber-coated shell
7-Level IR illuminator
Solomark's Night Vision Monocular gives you the power to see in complete darkness. The device features seven IR illumination levels to obtain the perfect brightness, and its natural low-light sensitivity can even deliver images in dim conditions without the IR illuminator. You'll enjoy a maximum range of 328 feet (100 meters) with up to 2x zoom capability.
Weighing less than a pound, the Solomark Night Vision Monocular is compact, lightweight, and easy to transport. Its rubber-coated surface is easy to grip in your hand, or you can mount it on a tripod for maximum stability. Whether you're simply observing, snapping pictures, or recording video, the integrated color LCD screen inside the lens offers a clear image of your target.
Unlike some monoculars that require separate accessory purchases, this one comes out of the box with everything but the batteries. You'll get a soft carrying case, a neck strap, a 4GB micro SD card for image/video storage, an AV cable to connect to your television, and a mini USB cable for your computer.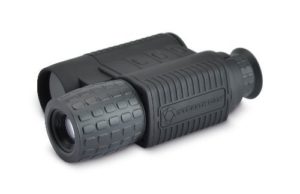 Highlights
Range: 400 feet / 122 meters
Advanced low-light CMOS sensor
High-quality 3x20mm objective lens
Powerful 9x digital zoom
ABS high impact housing with a rubberized grip
For preppers on a budget, you can't beat the value of the Stealth Cam Digital Night Vision Monocular. This affordable monocular features an advanced low-light CMOS sensor, a high-quality 3x20mm objective lens, and a 1.5 high-resolution TFT display. The integrated IR filter makes it easier to use the device during the day, while the 1-watt IR illuminator helps you see better at night.
To prevent accidental damage, the Stealth Cam Digital Night Vision Monocular features a rubberized grip and ABS high impact housing. It also comes with a carrying case for extra protection while you're on the move.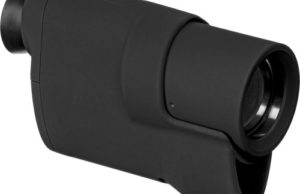 Highlights
Digital night vision with black and white imagery
3x – 6x magnification
IR illuminator with 3 brightness settings
Adjustable gain and exposure control
Auto-off feature to preserve battery
The Night Owl Optics xGenPro is a digital night vision monocular that produces black and white images. While black and white imagery may not be ideal in some situations, it does mean that the optics are immune to daylight and bright lights — two factors that can damage traditional night vision optics. The digital optics also deliver better zoom with a combined 3x – 6x optical and digital magnification.
When you're in an ultra-low light environment, the Night Owl Optics xGenPro offers a few ways to improve visibility. The primary tool is a built-in IR illuminator with three brightness settings and a status indicator that can extend the device's range or add some light to complete darkness. You can adjust the gain and control the exposure.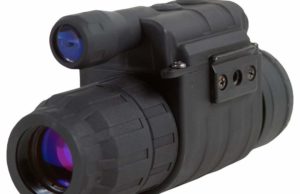 Highlights
Range: 430 feet / 131 meters
805 nm IR illuminator
2x Magnification
IPX3 waterproof
Auto shut-off feature
The Sightmark Ghost Hunter 2×24 Night Vision Monocular delivers bright, clear images in the darkest conditions. Engineered to meet the highest standards and requirements, the device features an 805 nm IR illuminator capable of capturing vivid images in total darkness, and 2x magnification for close-range observation.
The Ghost Hunter 2×25 Night Vision Monocular is compact and lightweight for easy travel. It's built for endurance with a durable polymer construction that's 100% weatherproof. The device also has an automatic shut-off feature that kicks in when the optics are exposed to bright light, which saves the night vision tubes from damage and extends the life of the device.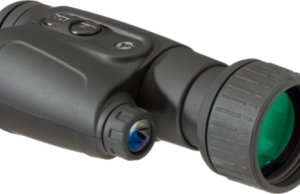 Highlights
Range: 591 feet / 180 meters
Gen-1 technology
5x Magnification
PULSE IR illuminator
Weatherproof with rubber-armored housing
With one of the largest objective lenses on the market, the Firefield Nightfall 5×50 Night Vision Monocular delivers excellent image quality, resolution, and range. This Gen-1 night vision monocular features 5x magnification, a close focus range, and a power-saving PULSE IR illuminator. It also has an ergonomic design to improve your grip, and rubber-armored housing to protect against wet weather and accidental drops.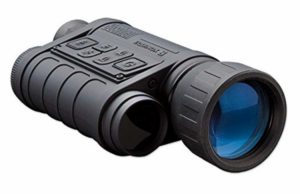 Highlights
Range: 738 feet / 225 meters
3x Zoom
Daytime color
Captures images and video
IR illuminator with adjustable brightness
For maximum range, go with the Bushnell Equinox Z Digital Night Vision Monocular. It's the only night vision monocular under $200 with a range of 750 feet, and it's built by the leading manufacturer of high-performance sports optics.
On top of its superior range, the Equinox Z Digital Night Vision Monocular delivers exceptional optical clarity and illumination with an unrivaled field of view. Whether you're looking through the lens, capturing an image, or recording a video, the device's daytime color features are remarkable. Between the built-in IR illuminator and adjustable IR brightness, you'll be able to see anything in the darkest environments.
Final Thoughts
For general preparedness, any of these night vision monoculars would be an excellent choice. They're easy to stash in your bug-out bag with a pack of batteries, though hopefully, you'll bring them with you on camping trips and recreational activities, too. Speaking from experience, it's fun to take pictures and videos at night that you can share with family and fellow outdoor enthusiasts.
For hunters and outdoorsmen, the range may be the most important factor. We'd recommend going with the Firefield Nightfall or the Bushnell Equinox Z, as both offer superior range. If your budget has some wiggle room, consider upgrading to the Bushnell Equinox Z 6x50mm version for maximum range.
Of course, a monocular isn't the only way to go when you're looking for a night vision to support your rifle. There are also night vision scopes and night vision rangefinders that can be even more useful. For more information, see our discussion of the 10 Rifle Accessories You Should Have in a Survival Scenario.