According to 2016 data from the U.S. Energy Information Administration, the average U.S. residential customer lives with nearly 198 minutes of electric outages every year. Of course, that's child's play compared with the potential for extended outages during a grid-down scenario, where it can take months to fully restore power to an area. For those dark nights when the luxury of electricity is gone, LED lanterns are a must.
What to look for in an LED lantern
LED lanterns employ fairly simple technology, so you don't have to worry about sifting through complicated tech specs as you're searching for the best LED lantern for power outages. There are just three key things to look for:
Brightness: you'll notice on the packaging that brightness is measured in lumens. Most LED lanterns will have a lumen rating that denotes the maximum brightness, as well as options to lower the brightness (consequently prolonging battery power).
Red light: brighter isn't always better. Red lighting can be useful when you want to preserve your night vision (like when you're stargazing), preserve battery power, or activate an SOS beacon to attract help. If these are important to you, look for an LED lantern that offers both white and red lighting modes.
Power source: lanterns with a rechargeable lithium ion battery usually hold a charge longer than standard batteries, and they often have a built-in power bank with a USB port to recharge your accessories. However, recharging your lantern during an a power outage isn't an option, so rechargeable batteries can be problematic during extended outages.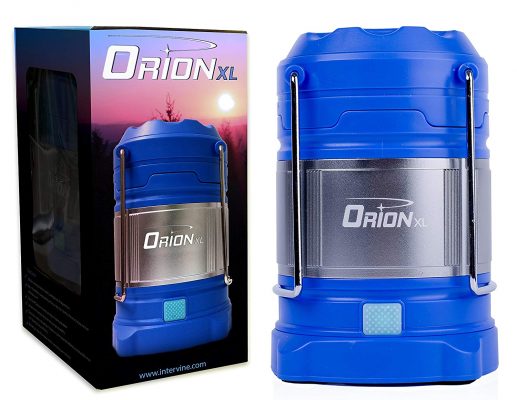 Highlights
Collapsible design
Built-in power bank
4 Independent lighting modes
Water-resistant
The Orion XL is a versatile survival tool with an ultra-bright LED light and a built-in power bank. The lantern has four independent lighting modes — ultra, bright, red, and flashing red — and features a collapsible, retractable design. Simply expand the lantern to turn it on, then collapse it to turn off. The device is just 5 inches tall when collapsed, so it's easy to squeeze into your bug-out bag and doesn't waste valuable space.
The Orion XL comes with two lithium batteries that can be recharged with a mini USB power cord (included). The lantern can also run on high-capacity AA batteries, so you don't have to worry about finding a new power source while you're on the road. In fact, the Orion XL's built-in 5200mAh power bank allows you to recharge your accessories on the go with a USB cord, so it can help sustain crucial electronic devices during an emergency.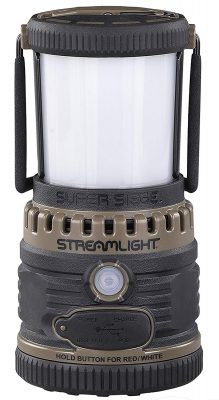 Highlights
6 Lighting modes with flashing SOS
Unbreakable polycarbonate lenses
Built-in power bank to recharge accessories
Removable cover and glare guard
IXP7 Waterproof
The Streamlight Super Siege may stretch your budget, but it's worth every penny for the added functionality and longevity. At maximum power, the LED lantern emits 1100 lumens of stunningly bright light for up to 5.75 hours. You can crank it down to 550 lumens for 11.5 hours of use, or 125 lumens for over 36 hours of light.
You can also switch to red light to preserve your night vision and extend the battery even longer. The standard red light mode produces 2.7 lumens and lasts for 140 hours, while the ultra-low red light mode produces 1 lumen for 348 hours. There's also a flashing SOS mode that produces 2.7 lumens for up to 320 hours.
On the outside, the Super Siege has everything it takes to handle severe weather and rough environments. It's constructed with a durable polymer that's rugged and waterproof, and features a rubber base for added stability on slippery, uneven surfaces. The lantern floats in water, and has a watertight compartment in the base to keep valuables dry. It also features unbreakable polycarbonate lenses to protect against accidental drops.
Like many of the other LED lanterns on this list, the Super Siege has a built-in power bank that you can use to recharge your electronic accessories. The rechargeable lithium ion battery packs enough juice to fully charge four smartphones or two tablets. The battery level indicator makes it easy to track how much juice you have left so you can conserve your power when recharging isn't an option.
Finally, the Super Siege lantern features a removable polycarbonate cover for 360 degrees of light distribution. This works best when the lantern is suspended from the ceiling with the attached D-ring, though you can also hook onto horizontal edges or place it on the table.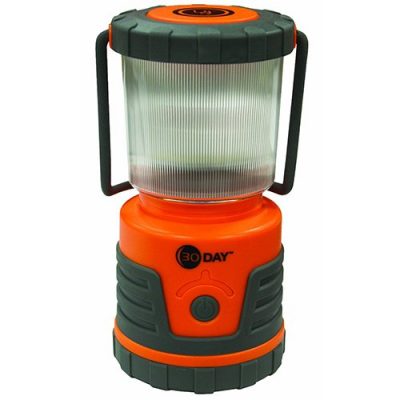 Highlights
3 Lighting modes plus SOS strobe
Lasts up to 30 days on low setting
Unbreakable housing protects lifetime LED lights
Removable globe for use as a downlight and area light
IXP4 water-resistant
For extended power outages, you can't beat the longevity of the UST 30-Day Duro LED lantern. The lantern features three flicker-free lighting levels: high mode delivers 700 lumens for 20 hours, medium mode delivers 140 lumens for 106 hours, and low mode delivers 30 lumens for 30 days.
There's also a flashing SOS emergency strobe that lasts for 15 days. The lantern accomplishes all of this using three D batteries, so you can easily extend its lifespan during extended outages with a few extra battery packs.
The 30-Day Duro LED Lantern is built to be indestructible with impact-resistant, rubberized ABS housing and an unbreakable lifetime LED. The device is IXP4 water-resistant, so it can handle splashing water and heavy rain. You can remove the globe to function as an area light, and you can use the built-in recessed hook to hang the light from the ceiling as a downlight.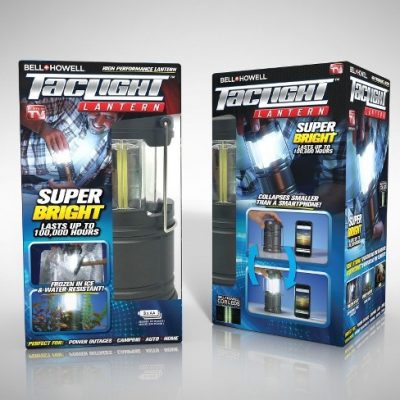 Highlights
Produces 600 lumens for up to 200 hours
Collapses to the size of a smartphone
Weighs less than one pound
Waterproof and submersible
For a military-grade LED lantern that can withstand the most extreme conditions, go with the Taclight Lantern from Bell + Howell. Its patented COB LED lights produce 600 lumens of white light that can be seen up to 5 miles away.
The lantern just needs 3 AA batteries to operate, and each set of batteries will last for up to 200 hours. Even better, the COB LED lights are guaranteed to last over 100,000 hours, so this may be the last lantern you ever have to purchase.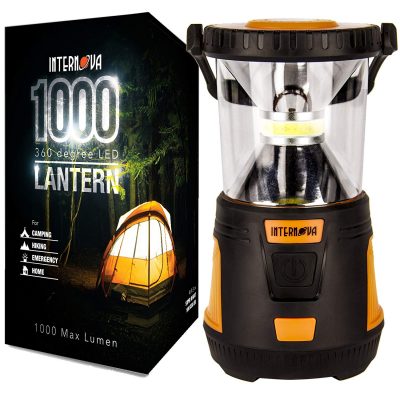 Highlights
Dimmable arc LED light
Up to 1000 lumens of brilliant white light
Toggle between white and red light
Water resistant
Runs on four D batteries
With the Internova 1000 LED Camping Lantern, you can crank the brightness up to 1000 lumens for up to 5 hours of non-flickering, cool-running, 360 degree arc lighting. You can also dim the lights to preserve battery power, switch to red LED for stargazing, or activate the SOS strobe light in case of emergencies. All of this is possible with four standard D batteries, so it's easy to swap out the batteries when you're on the go.
This lantern is built to weather the elements. Its water-resistant shell performs well in the rain, and the rubberized-plastic molded base provides a sturdier grip on uneven surfaces. The top handle is also coated in rubber for a more comfortable, secure grip in your hand.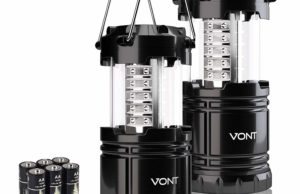 Highlights:
Includes two LED lanterns
Super bright 360 degree light
Lightweight, compact, collapsible design
Water and weather-resistant
Button-free design
This 2-pack of LED lanterns from Vont is the perfect choice for families. We recommend purchasing a pack of these in addition to one of the other five LED lanterns that we've discussed, so you have a primary LED lantern for the primary living space and four mini LED lanterns for personal use around the house or campsite.
Each Vont LED lantern is equipped with 30 individual LEDs which can last for more than 30 hours. They feature a military-grade exterior that's water and weather-resistant. When you're not using the lantern, it collapses into a small bundle that's easy to carry or store.