Your feet are your transport when it comes to the outdoors, and without the right protection, one wrong step could turn a good wilderness trip into a horrible event. When it comes to foot care and management, nothing beats the best military boots that professionals rely upon every day.
I never really thought too much about hiking boots before I joined the military. My idea was if the store recommends it and if it feels good then it should be good enough for me. Wrong. Foot management is a principle when it comes to safety outdoors as well as in everyday life and the most important part of that is choosing the right shoe for your foot.
For military professionals, your shoes are your preference. They are the only thing you have to be unique with. People enjoy the flat top some enjoy the rounding style. It is the only personalization you get to have when you're all in the same uniform.
For outdoor enthusiasts, hikers, survivalists and practical preppers, the choice of a shoe is also an important key to safety. You could be outdoors in the wild, in an urban environment, in various climates or just working in the garden, so you're going to need a versatile boot, and there's nothing more fitting for that purpose than proven combat boots.
I have chosen to look at the best military boots that are approved by military forces around the world, simply because they are a tested shoe relied upon by so many feet, over so many miles, in so many different environments. It's also because I still wear my own military boots that I have used in jungle environments, abandoned buildings, and desert landscapes.
So let's take a look at the 8 best combat boots so that you might have a few ideas in mind if you are looking at better ways to keep your feet in good shape.
8 Best Military Boots
IMAGE
NAME
RANK
MATERIAL
PRICE
Garmont
T8
Suede
Canvas


Altama
Foxhound
Synthetic
Suede Leather


Ryno Gear
Tactical
Leather
Nylon


Reebok
Rapid
Leather
Textile


Rocky
C4T
Leather
Fabric


Oakley
Light Assault
Textile
Synthetic


Danner
USMC
Leather


Belleville
One Xero
Leather


Now that we have an overview of those combat boots, let's take a closer look at how they are made, how they operate, and what the feedback has been from the people we have spoken to who have actually put these military boots to good use in the field.
I put these first because they are my personal favorite and the only ones that I have kept with ever since I started using them several years ago. Without a doubt, in regards to their sales figures as well as feedback, I would have to say the Garmont T8 is the most comfortable military boot and by far one of the best military boots.
They're great in wet weather climates or warm temperatures, however, I would not recommend them in anything colder than 0 degrees as their breathability can work both ways and your feet can get cold without a fire very quickly.
A lot of people I know in the military wear these religiously just because they are ultra-light boot so good for running boots and when you're walking big distances they don't end up feeling like concrete blocks on your feet.
Make:
Suede
Canvas vibram sole with a quick-dry skin
Good ventilation with a nylon meshing around the upper area
Reinforced with texon and canvas for durability.
Pros
Durable
Available in both medium and wide
Vibram Bifida outsole
Water resistant
Lightweight
Cons
No side zipper
Can cause blisters in heel area
May need to change insole (if you have flat feet)
Not waterproof
Not budget-friendly
These are great all-terrain shoes that work well in water, sand, dirt, and mud. For a standing shoe, a lot of people have told me this is the best as they only start to hurt from about 4-5 hours of just standing in them. As a prepper, you shouldn't have to stand that long but it says a lot about the comfort of this shoe.
A plus is a very close resemblance to Oakley military boots but a much cheaper option.
One downside to these is that they seem to have little grip on muddy paths, but they deal well with rocks because of the stiff underlining of the boot.
Make:
Synthetic materials
Suede leather fabric with a Scotchgard stain resistance
Breathable and tear resistant upper shoe
Gusseted tongue to keep dirt and debris out, Durable polymer speed lace eyelets, Airport friendly nylon shank
Moisture-wicking air mesh lining with AEGIS antimicrobial protection, 22 OZ. (680 G)
Removable custom fit EVA insole with PORON performance cushioning pad
Custom-molded phylon EVA midsole for lightweight comfort and cradled support
Pros
AR 670-1 compliant
Breathable
Durable
Slip Resistant
Water Resistant
Cons
Thin Insoles
Rub in the rear heel area
A little pressure on the front shin
A bit bulky
The toe box is probably the least favorite feature
These are definitely a very affordable boot and perhaps if you are making a go-bag for a friend, these would be a great option.
These boots are a bit of a throwaway and replace just because they are not built to walk military miles in like the others. They can wear through quite quickly and after a few good hikes, you may start seeing tears or holes in the side of the material.
But again, that's what you pay for. These are as comfortable as any of the other boots and are very sturdy on the foot.
These are great for the short hikers and outdoor casuals as well as the bank account, but for anything more than that it might be advisable to look at another shoe
Make:
Features a combination of leather and ballistic nylon for comfort and durability, Padded collar
Contrast stitching detail
Breathable mesh lining, Slip-resistant rubber outsole for added grip Water resistant inner lining
Removable shock-absorbent insoles for your comfort
Pros
Combination of leather and ballistic nylon offers durability
2.55 Pounds lightweight material makes it convenient to wear
Long-lasting comfort due to padded collar and mesh lining
Removable and shock-absorbent insoles
Water-resistant inner lining
Cons
Not intended for outdoor activity
Sizes run big so may need to size down
Not fully waterproof
A little warm when not moving
Not insulated
If you've got a wide foot these might help, these are a wide easy-to-put-on boot with a side zipper. Although some people find the side zipper a bit pointless and always leave it done up.
The only downside that I found out about these is that they are a bit of an ugly boot. They have a small Reebok emblem on the side which after some distance can start to cause an annoying rub on the side of the heal. Some people have just patched the emblem with band-aids and that has fixed the issue.
Make:
Leather/Textile
Rubber sole
Shaft measures approximately 5″ from arch
Heel measures approximately 2″
Platform measures approximately 1.25″
Stealth 6″ tactical boot with side zipper
Pros
Electrical hazard safe
Supportive and stable
Good shock absorption
100% non-metallic
Flexible feeling
Cons
Suffers durability problems
Not the most comfortable
A bit stiff
Not true to size
Squeak a bit when you walk
These are super light-weight sports boots with strong ankle support. These are made a little smaller than others so going half a size up is a better option when you're purchasing your size.
The soles of these feel like pillows so perform well as running boots, and obviously walking, is a breeze.
There have however been issues with people doing long marches and hikes in them and having the sole of the boot coming off. A few people have superglued it back on.
Make:
Leather/Fabric
Import
Rubber sole
Shaft measures approximately 7″ from arch
Heel measures approximately 1.5″
Platform measures approximately 1″
Durably water-resistant/fast drying
Pros
Comfortable
Snug fit that doesn't compromise movement
Great value for money
Balance between support and comfort
Strong and durable
Cons
Felt like a new boot for weeks
Not as well-ventilated as advertised
Inconsistent quality
Poor ankle support
Subpar sole
A company like Oakley really has to make a good boot if they're going to do one at all. They provide a lot of high-quality tactical equipment and this one is no exception.
The lightness of this boot is almost inspirational. It's the reason why a lot of special forces and infantrymen fork out money on these things. They're practically wings for running in military boots and despite that lightness, no sacrifice has been made to the durability of the shoe. If you plan on doing a lot of running, especially for special forces roles, or law enforcement work, Oakley's, much like the Garmont's are great running boots that offer great foot protection.
The soles hold up great during long-term use and are great on any sort of road. They are not waterproof shoes but they dry in an instant.
There's not much bad to say with these shoes and rightly so, as soon as a problem happens Oakley generally responds with a fix to stock.
Make:
Textile/Synthetic
Imported
Synthetic sole
Shaft measures approximately 8.5″ from arch
Lace-up military boot in lightweight sneaker-inspired silhouette
Removable insole
Pros
Extremely light
Grippy on concrete and asphalt
Breathable
Cover your feet
AR670-1 compliant
Cons
No ankle support
Wears out quickly
No arch support
Thin soles
Expensive for a low quality made in China boot
If you're a USMC provider, you're going to be a good shoemaker. These are the bee's knees of hard army boots. They're light, leather, and durable as all hell. Anyone who I have ever spoken to that has worn these have said they are the best boot they have ever tried.
Most Marines would tell you the ultimate boot is the Danner.
If you can afford these go for it.
Make:
Leather
Durable, nubuck leather upper with rugged and lightweight 1000 Denier nylon
Abrasion-resistant polyurethane coated toe and heel cap
Double stitched for uncompromising fit and superior protection
Speed lace fastening system and lace-to-toe design for secure fit
100 waterproof and breathable Gore-Tex lining
Pros
Rugged and Durable
Great value for money
Waterproof
Good construction
Comfortable
Cons
A bit narrow
Not as strong or scratch resistant as full grain leather
Toe box is a bit smaller
Subpar heel counter
No leather counter cover
The Belleville Combat boot is one of the best light tactical boots you can find on the market of army boots approved by US DOD (Berry Compliant). This makes these boots very popular with anyone who regularly rucks or marches and needs a durable boot that is in regulation to do so.
Some say Belleville boots are the best alternative to the Danner (above) as they have a bigger toe area for when you're dealing with hot temperatures and humid environments. The great thing about these boots, which is why I personally gave them five stars after using them, is that they use reinforced stitching on every part of the shoe.
This is so that if, on the off-chance, part of the stitching on the boot comes loose, you've got reinforced joins that will hold the boot together for the rest of their wear. This greatly increases the lifespan of this military shoe to more than what a lot of others last for.
Make:
Leather combat boot with a Vibram sole
Lite polyurethane midsole (cushioned)
Flesh out suede leather
Nylon fabric in the upper boot area around the ankle
Polyurethane removable inserts
Pros
AR 670-1 compliant
Lightweight
Breathable
Cushioned and shock absorbing midsole
Vibram outsole
Cons
8 inch Boot height may be too high for non-military use
Inconsistent quality
No arch support
Poorer construction
Stitching is unraveling near the toe box
Take care of your feet
When it comes to wearing these types of combat boots you should also make sure you are taking care of your feet as well, as the boots aren't all the reason soldiers are able to walk hundreds of miles in these boots. Of course, for the military folk out there, this is second nature. But make sure you are wearing the right socks with these boots, and if you are experiencing hot spots on your feet, try your next trip outdoors, or your walk, with the same socks, but a thinner sock underneath. This might stop the rubbing that is causing you to blister up.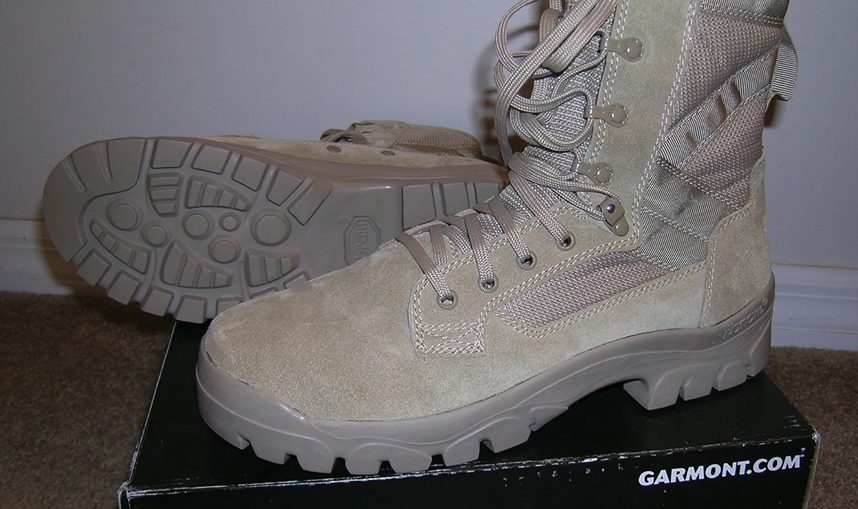 If you have feet that are prone to blistering, consider using skin-friendly rubbing alcohol. You can find brands that are specifically made for feet. I use it for my feet when entertaining any type of marathons as I have quite soft feet that are sensitive to friction.
If you do find that you can't walk for more than a mile or two without experiencing hot spots on your feet, you are probably wearing a bad size for your foot and should consider a smaller size. The best thing about ordering many of these combat boots online is that you are able to send them back for a trade-in quite easily. So keep that in mind because if you are not wearing the right boot when you walk for more than 10 miles, you can rub your heel right off.
Find a combat boot that fits your foot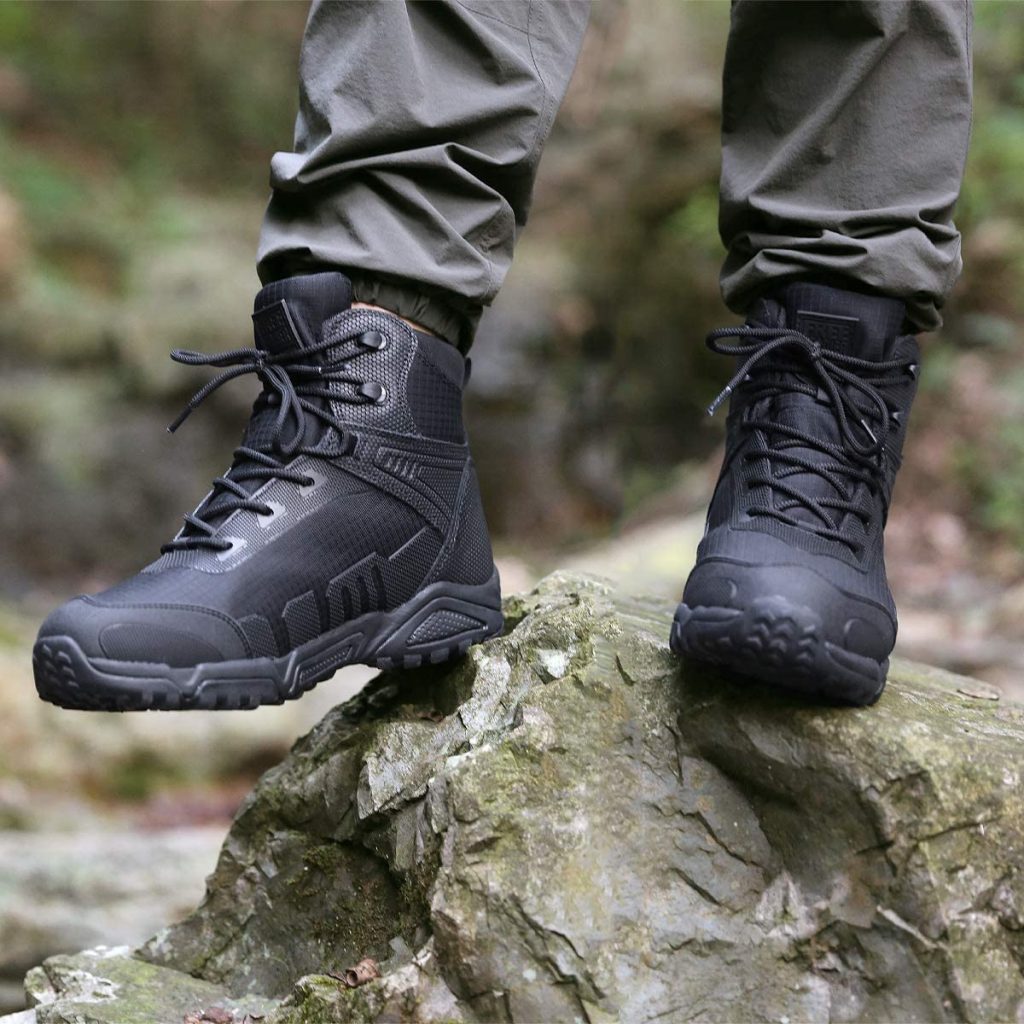 For those of you that have trouble finding a good fit for your foot, it pays to look around. Up until I found the Garmont T8's I was trying a lot of different pairs. The T8's fit me, however, because I like the wide foot feel and a large area in the front for my big toes, however, you might prefer the Danner boots or the Belleville's for their own characteristics.
Over to you
I'm interested to know if you have any tips or stories you'd like to share about any of these boots. Drop a line in the comment section below!
If you enjoyed this post, you might also enjoy my posts on military tactics such as: