We are under the impression that meals in survival mode mean cooking for the sake of putting food in our stomachs, for the purpose of trying to survive. However, with a bit of creativity, resourcefulness, and a couple of survival cooking recipes, it's possible to enjoy good food even when in survival mode.
Choose recipes that require easy-to-acquire ingredients. As much as possible, pick those with high-calorie content and longer shelf-life.
The list of survival cooking recipes below can help you learn how to cook good food even when outdoors.
Quick Navigation
10 Survival Cooking Recipes
The trick to survival cooking is to be creative and resourceful. If an ingredient is not available, that's okay. Don't limit yourself to cooking only recipes in which you have a complete set of ingredients.
Always opt for substitutes and do away with missing ingredients. Without further ado, here are 10 survival cooking recipes you need to take note of.
1. Campfire Beef Stew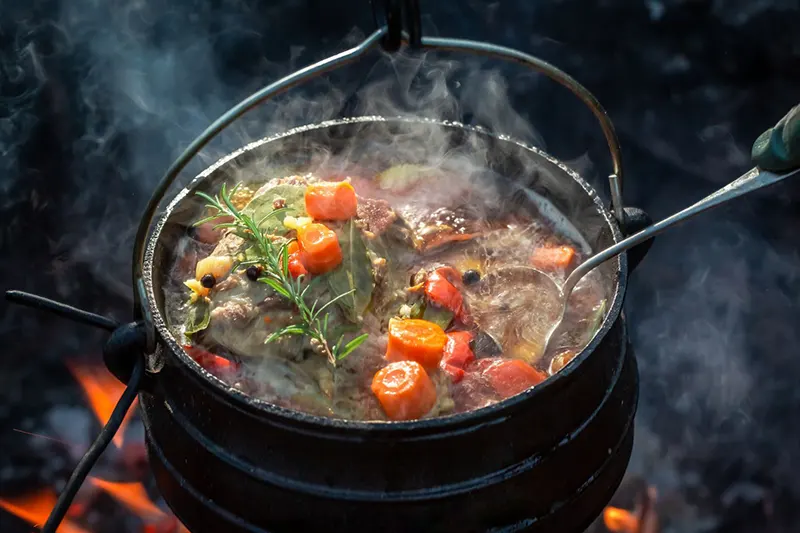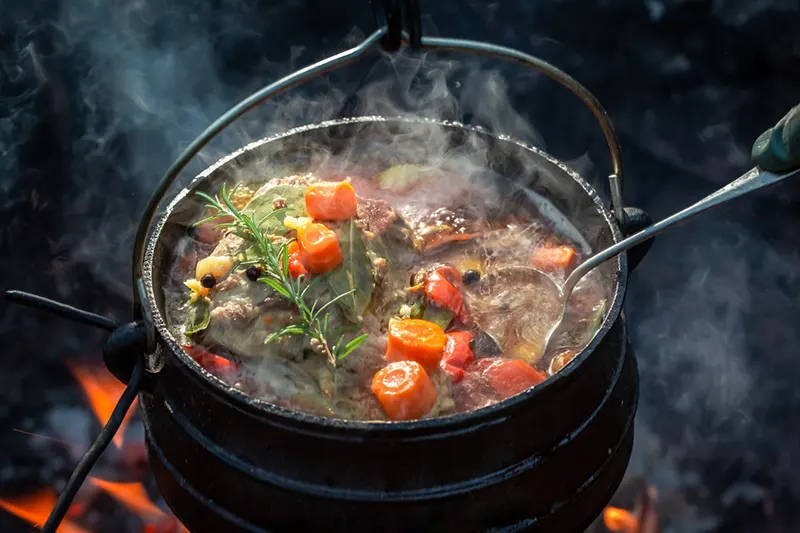 A campfire beef stew is a must-try recipe when outdoors. Many camping enthusiasts live by a beef stew when outdoors because it's easy to cook. Plus, it's complete with protein and carbohydrates.
Ingredients:
Beef stew meat (substitute with beef jerky or dried meat)
Tomato sauce or paste
Cooking oil
Onion and garlic
Salt and pepper
All-purpose flour
Potato
Carrots
Beef broth
Peas (optional)
Cooking steps:
Saute garlic and onion in cooking oil
Sear the beef pieces on medium heat
Add salt and pepper
Add stock
Add veggies and broth and let it simmer
Add all-purpose flour in water until the sauce thickens

2. Beef Pot Roast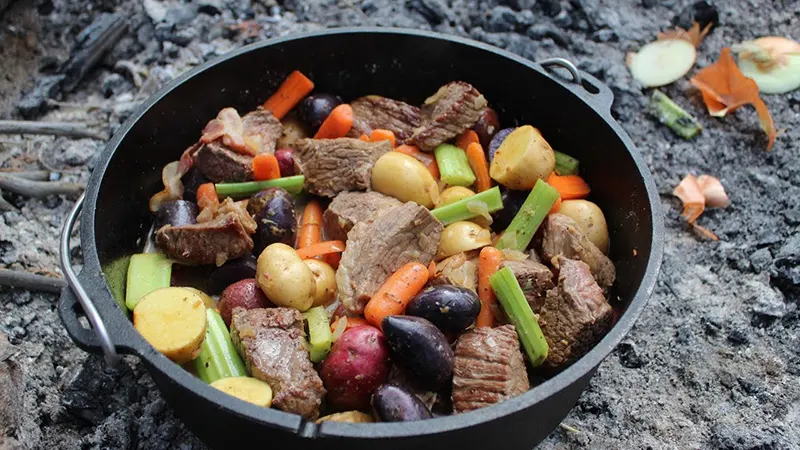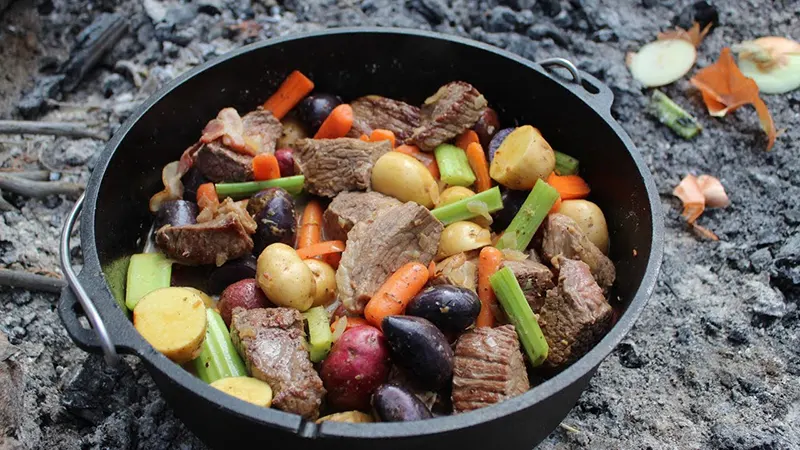 If you have leftover ingredients from the beef stew, you can also cook a pot roast. Usually, a pot roast is cooked using a Dutch oven. But you can be creative and cook pot roast using a pan and with a camping fire, much like stovetop cooking.
Ingredients:
Salt and black
Onions
Carrots
Beef broth
Beef chucks
Diced tomatoes
Olive oil (or any cooking oil will do)
Spices: Rosemary and thyme
Cooking steps:
Season the beef with salt and pepper
Heat the cooking oil in a large cooking pot on medium heat
Add the pot roast until brown and turn on the other side.
Make a flavor base by stir-frying the onion, garlic, and other vegetables.
Season with spices.
Tip: You can also add sausage gravy to the pot roast for added flavors.

3. Jerky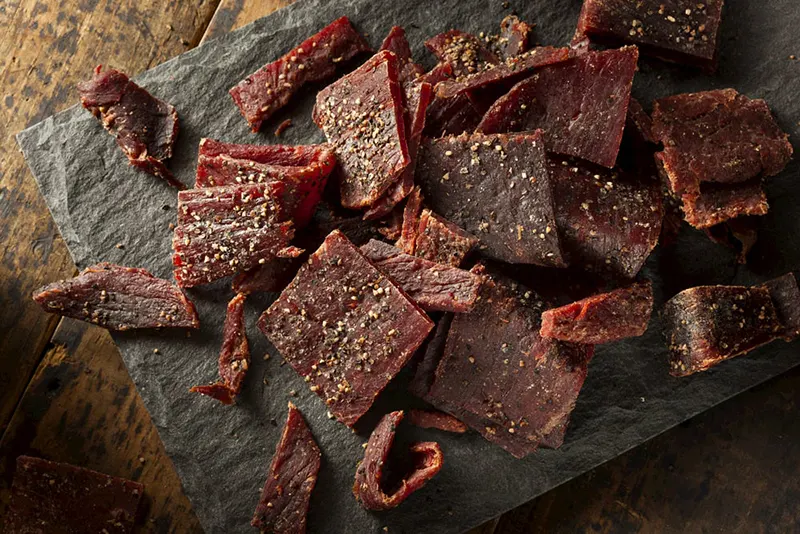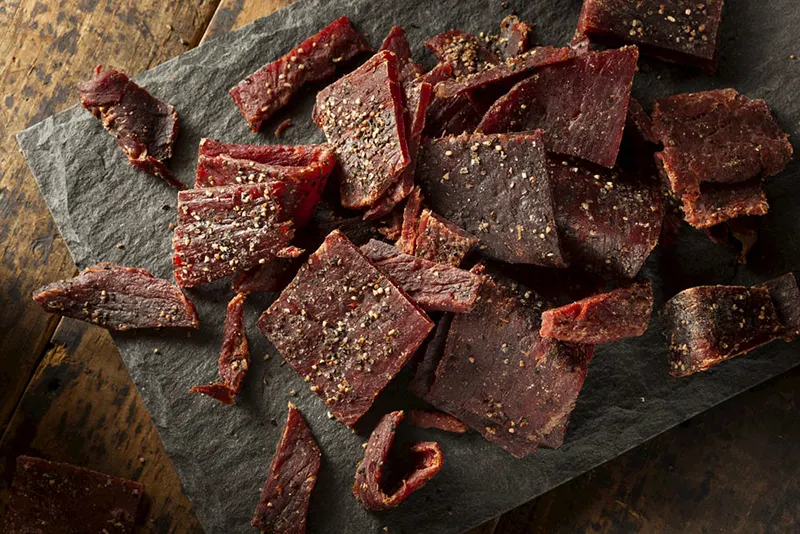 Smokey, salty, and just the right amount of sweetness. A classic survival food you should learn about is jerky. It's rich in protein and calories, plus it doesn't spoil that fast. Using a DIY reflector oven, you can try this basic recipe:
Ingredients:
Worcestershire sauce
Beef cut with a grain (top round, sirloin, lean meat)
Spices: Paprika, red pepper flakes, garlic powder, chili powder
Salt and pepper
Honey
Garlic and onion
Cooking Steps:
Marinade beef with Worcestershire sauce, all spices, salt, pepper, honey, garlic and onion
Let the marinated beef sit for a while before cooking
On your DIY reflector oven, place the beef jerky

4. Pemmican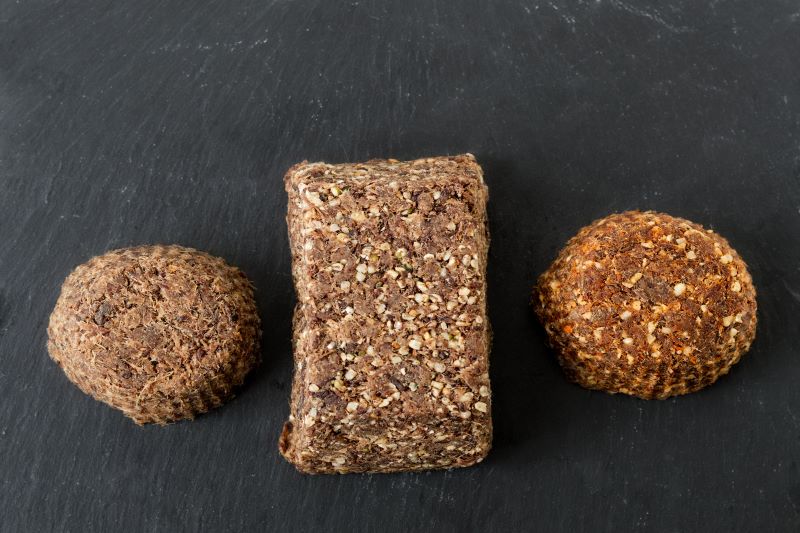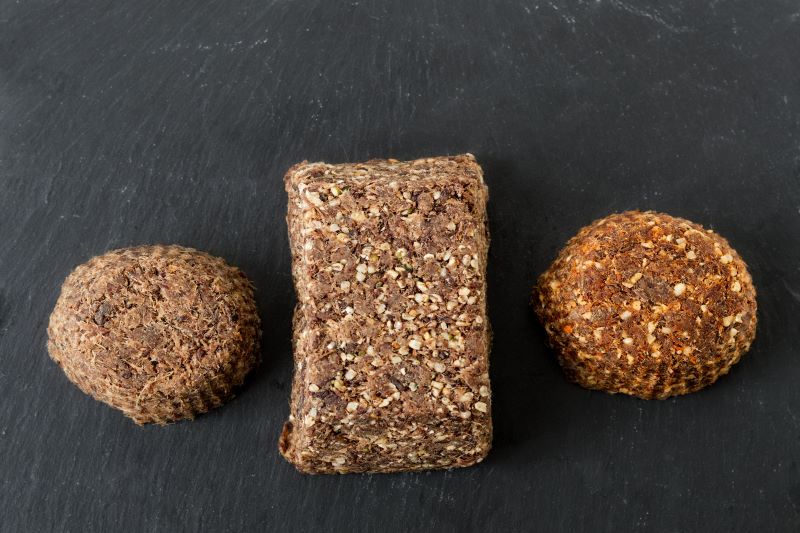 The superfood that, rightly deserves its title as the ultimate survival food, is Pemmican. It's a mixture of dried meat, fat, and dried berries if you want. Here's how you can cook pemmican:
Ingredients:
Red meat (dry meat)
Liquified fat (substitute: bacon grease)
Salt and pepper
Optional: Dried berry
Cooking Steps:
Cut the fat off the meat and dry the meat
Season the meat with salt and pepper
Typically, a meat grinder or food processor is used to turn the dry meat to finer cuts. But in survival situations, you can cut up the meat thoroughly using a knife until it's in a finer form. The same goes for berries.
Heat the fat until it liquefies.
Pour the liquified fat over the fine cuts of beef and berries.
Add spices as needed
Let the mixture cool and form it into balls or bars.
Wrap in a plastic bag or wax paper to store.

5. Grilled Fish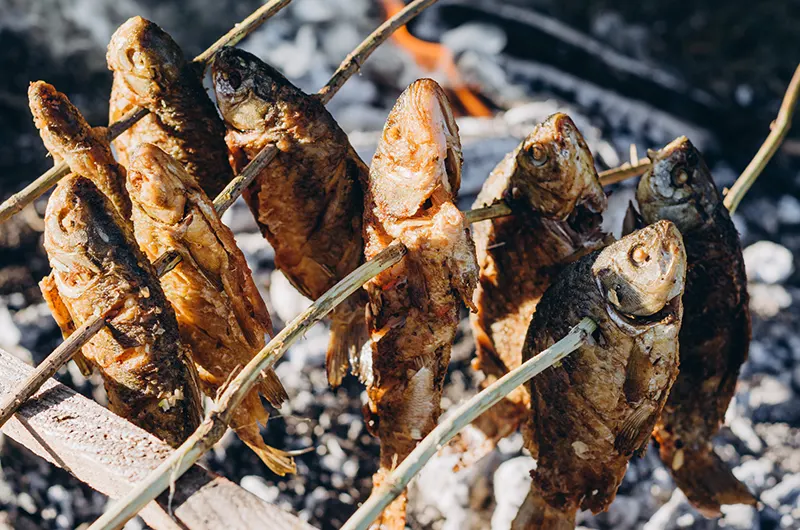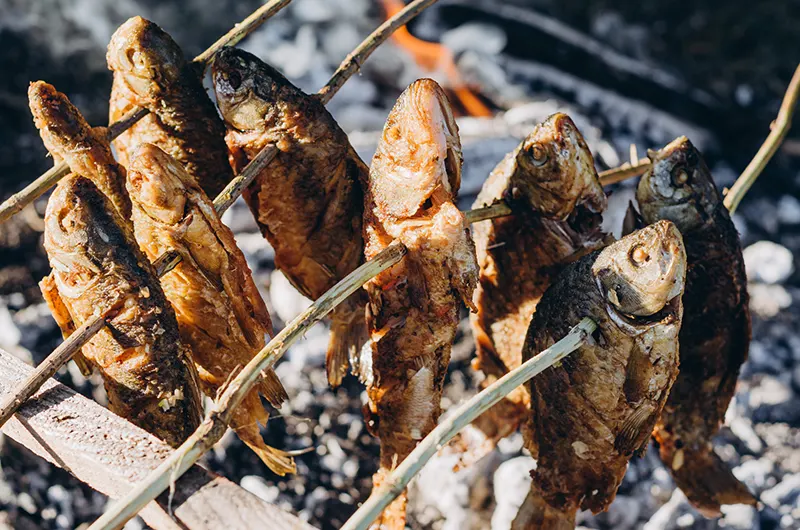 Put your fishing skills into good use and take advantage of nature's gift by cooking grilled fish. This is one of the easiest survival foods to prepare, pair it with cooked rice and enjoy a full meal.
Ingredients:
Salt and pepper
For seasoning: Garlic powder, chives
Lemon
Cooking Steps:
Gut and remove the scales of the fish.
Season the fish using salt, pepper, garlic powder, and chives
In medium heat, grill the fish
Squeeze lemon on top when cooked (optional)
Viola! You're done

6. Potato Soup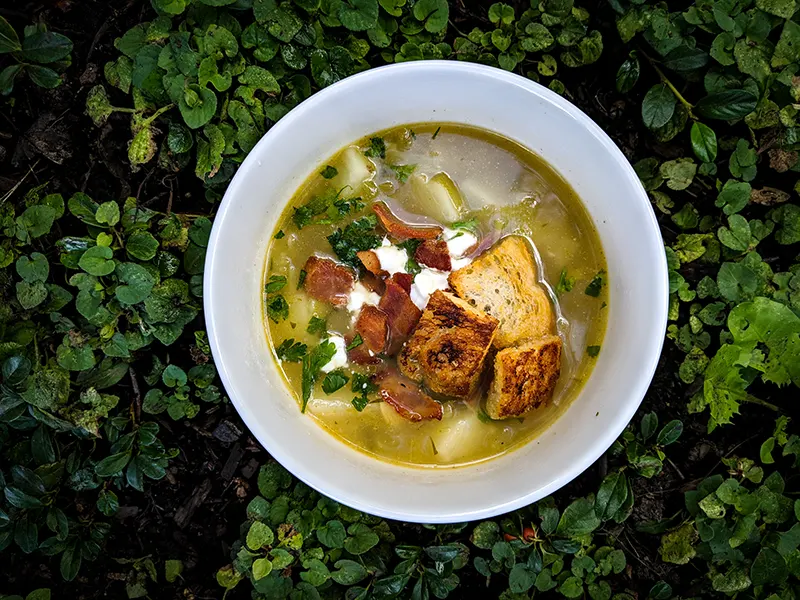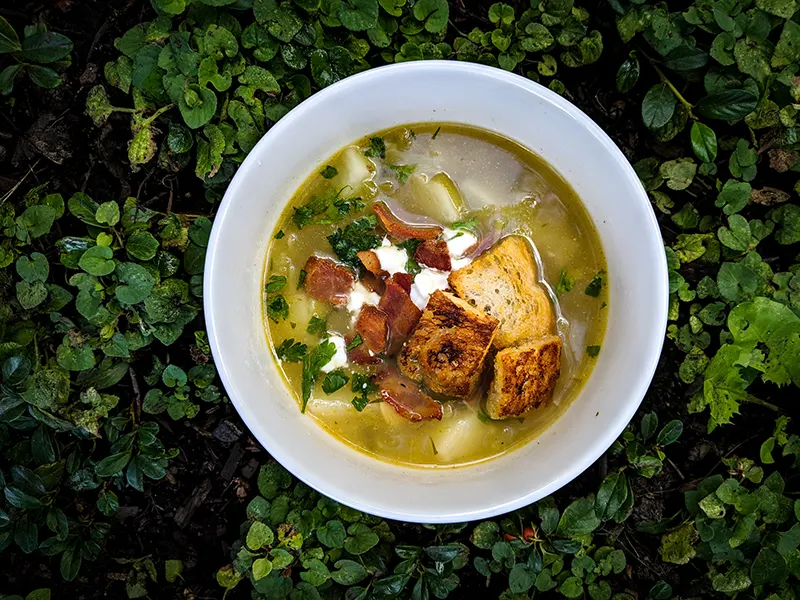 To keep you warm and keep your stomach full, a simple potato soup will get you through the day. It's easy to prepare, plus the ingredients are easy to gather, which is a major advantage when in survival situations.
Aside from potatoes, you can also cook pumpkin and sweet potato soup using similar ingredients and cooking steps.
Ingredients:
Potatoes (peeled and cubed)
Water
Evaporated milk (or powdered milk mixed in water will do)
Unsalted butter
Salt and pepper to taste
Cooking Steps:
Place the potatoes in a pot over high heat
Add water to boil for 10 to 15 minutes or until potatoes are tender
Once the potatoes are tender, do not drain the water just yet
Reduce the heat to low and pour the milk and butter
Mash the potato
Season with salt and pepper

7. Beans and Rice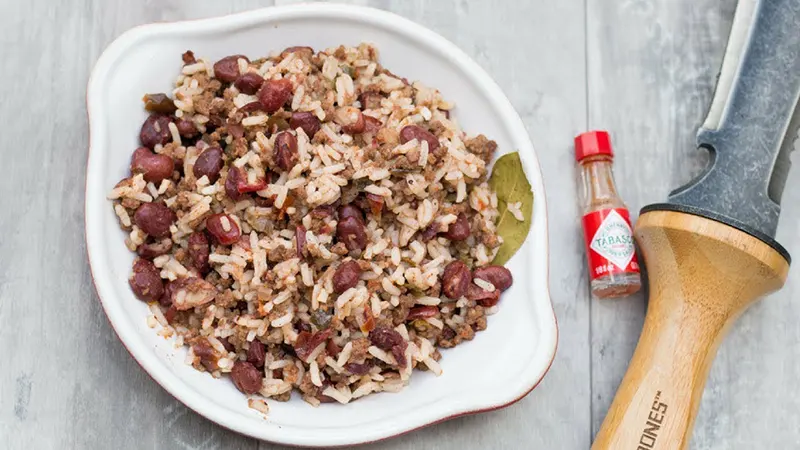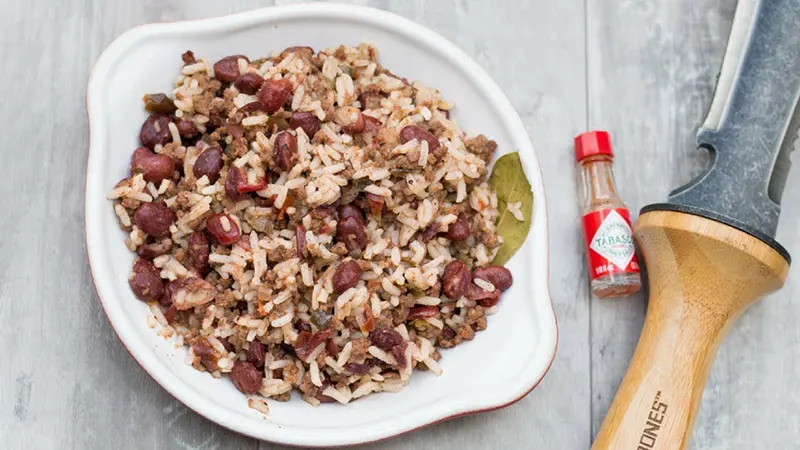 If you're a vegetarian, then you should cook this filling vegetarian meal that's cheap to prepare but is guaranteed to be delicious. You can use this recipe for a burrito too!
Ingredients:
Olive oil
Chopped onion
Minced garlic
Uncooked white rice
Vegetable broth
Canned black beans (drained) or refried beans
For seasoning: Ground cumin, salt, cayenne pepper
Cooking Steps:
In a greased pan, stir onion and garlic until it softens (use medium heat)
Stir in rice for two minutes
Add vegetable broth until it boils
Cover the pan and reduce to simmer for about 20 minutes or until the liquid is fully absorbed
Stir in the beans, cayenne, and cumin until the beans are warmed through

8. Rice Pudding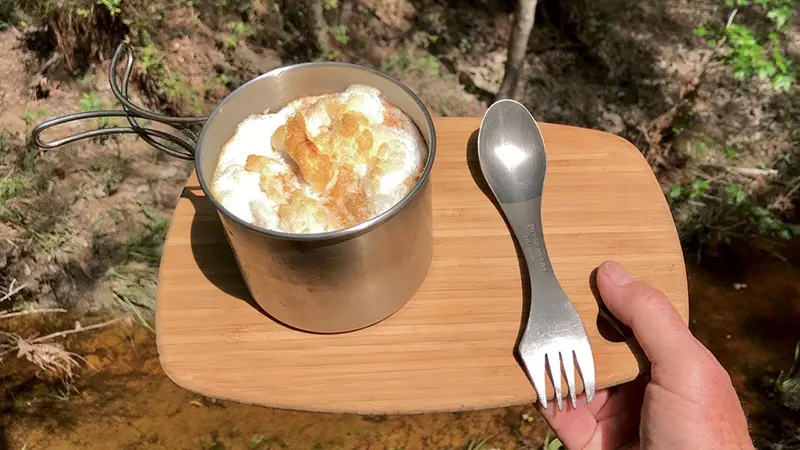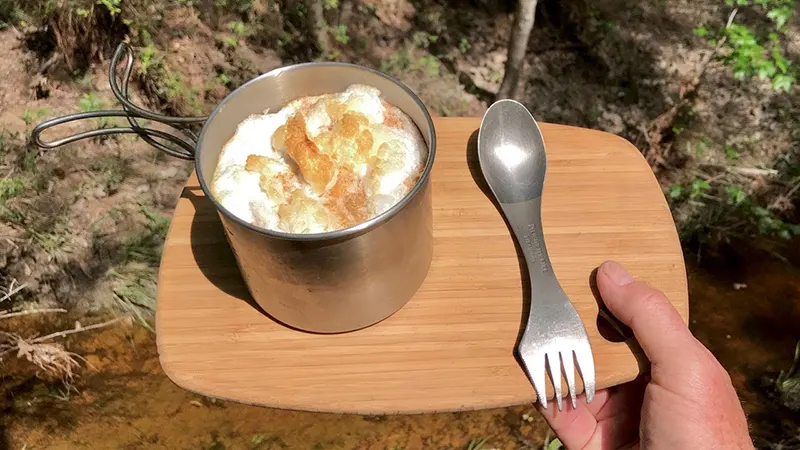 What's homemade cooking without rice pudding on your menu? This carbohydrate-rich meal is another ultimate survival food that will make you full for a long time. Here's a simple recipe when making rice pudding.
Ingredients:
Whole milk or condensed milk
Uncooked white rice
Salt
Egg
Brown sugar
Golden raisins
Optional: Vanilla extract and cinnamon
Cooking steps:
In a saucepan, place the milk, rice, and salt and boil over high heat
Once the rice is tender, reduce the heat to low and simmer, and partially cover the saucepan for about 20 minutes
Stir frequently to ensure the rice does not stick to the bottom of the pan
In a separate bowl, mix the egg, sugar, and whole milk
Add the mixture to the rice until thickened, but do not let it boil
Remove the rice from the heat
Add the vanilla, cinnamon, and raisins
Serve the rice pudding warm or cold

9. Oatmeal Cookies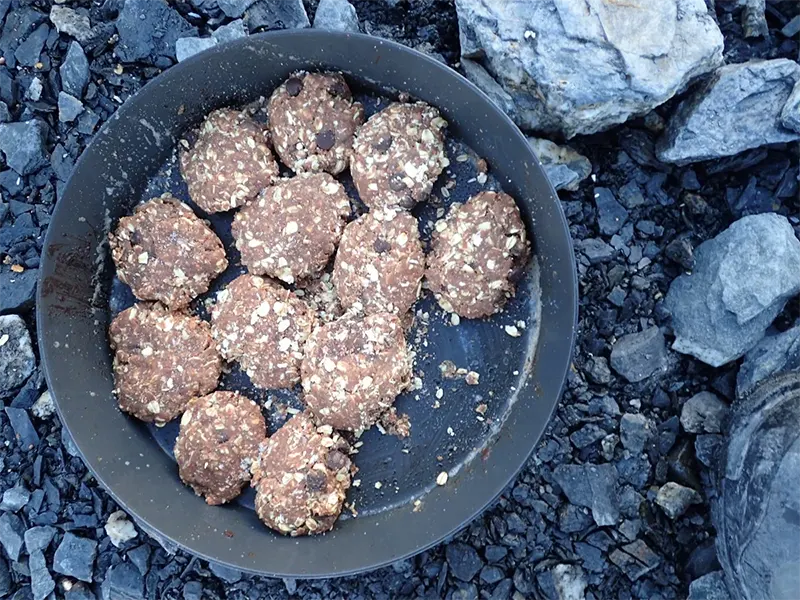 Classic recipes are always the best. Plus, a hearty meal like an oatmeal cookie will keep you in good health while trying to survive outdoors. Learn how to make an oatmeal cookie for your survival food as well.
Ingredients:
Oatmeal
Water
Unsalted butter
Granulated sugar or brown sugar
Eggs
Baking soda
Salt
Optional: Ground cinnamon, nutmeg, and vanilla extract
Cooking steps:
In a large saucepan, combine butter, sugar, and milk
Bring to a boil over medium heat while stirring frequently
Remove from heat and stir in the oats
Add cinnamon, nutmeg, and vanilla extract
Drop by tablespoonfuls into waxed paper and let it stand until firm

10. Peasant Bread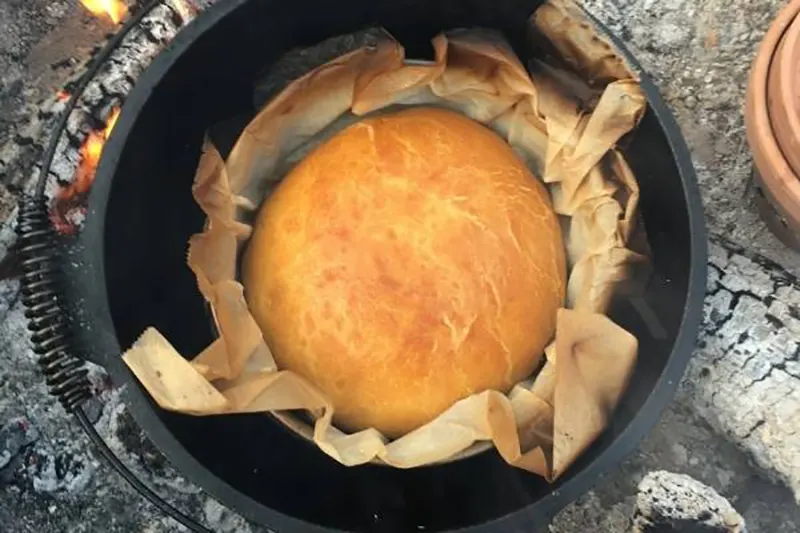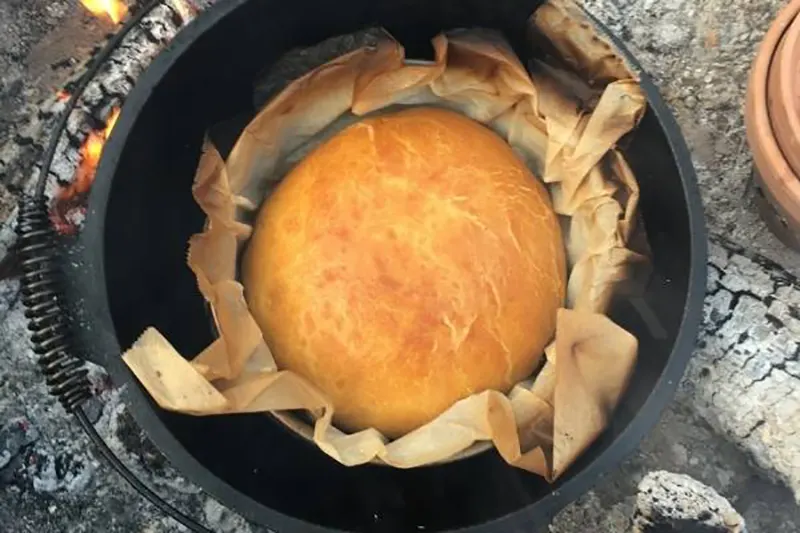 A complete meal will always consist of a bread recipe. So when looking for survival recipes, have a bread recipe ready. Making bread in survival situations is possible using a DIY reflector oven. It's been done before, and it's tested and proven to work.
Ingredients:
All-purpose flour
Salt
Granulated sugar
Yeast
water
Unsalted butter
Cooking Steps:
In a large bowl, whisk together salt, flour, sugar, and yeast
Add water until it is absorbed and forms a dough like a sticky ball
Cover the bowl and set it aside for 1 hour and 30 minutes to let the dough rise
Place the soft dough on your DIY reflector oven
Grease it with melted butter
Bake for 15 minutes on medium heat
Don't forget to turn the bread when it's slightly brown
Use peanut butter and fruit jam to enjoy your bread!
Other Must-Have Survival Foods
Dried Fruit
Creamed soups
Pancakes
Bannock recipe
What to Remember When Preparing Survival Cooking Recipes
When cooking survival foods, there are factors to consider, since your resources are limited. Remember that:
You don't have a refrigerator to keep food fresh
There are no grocery stores to readily buy supplies
There are limited ingredients (spices are limited)
So when thinking of cooking recipes for outdoor survival settings, you must think things through. As much as you want to enjoy the homemade cooking you used to enjoy, here are several factors you need to consider:
Cook Foods High in Calories
You need more energy to survive for a long time. That means you have to cook foods high in calories, fiber, carbohydrates, and protein to have more energy. Also, you need to feel full for longer periods.
Cook Foods That Don't Easily Spoil
Remember that you don't have a refrigerator to keep foods fresh and even to store leftover foods. So you must opt for foods with a longer shelf-life rather than ones that easily spoil.
Choose Easy-to-Cook Foods
Stick with preparing meals you're familiar with. You don't want to take risks and waste what could have been a perfectly cooked meal. Remember that in survival settings, you don't have a cookbook or internet that's readily available. You have to cook with what you're confident in cooking.
Your Method of Cooking Is Limited
Since you'll be cooking out of log fires and limited kitchenware, your methods of cooking are limited. The usual methods of cooking for outdoor settings are boiling, roasting, grilling, or baking if you create a DIY convection oven. Of course, you also need to learn how to make fire.
Cook Foods with Easy to Gather Ingredients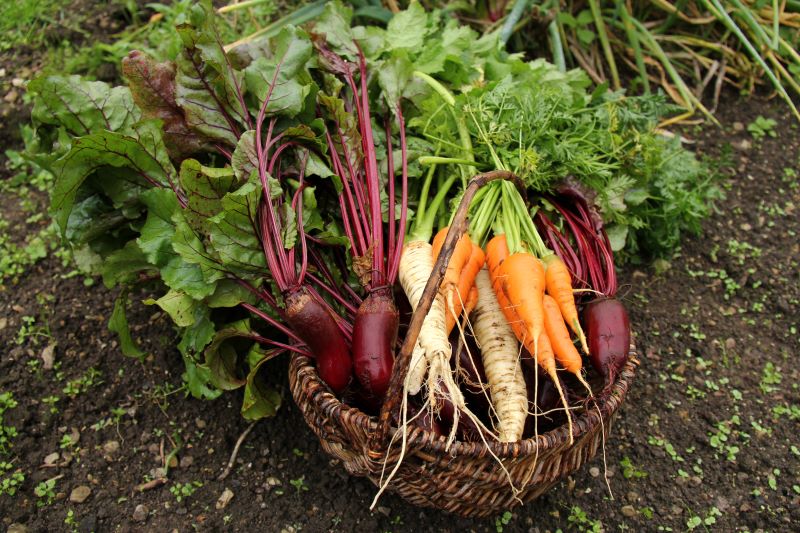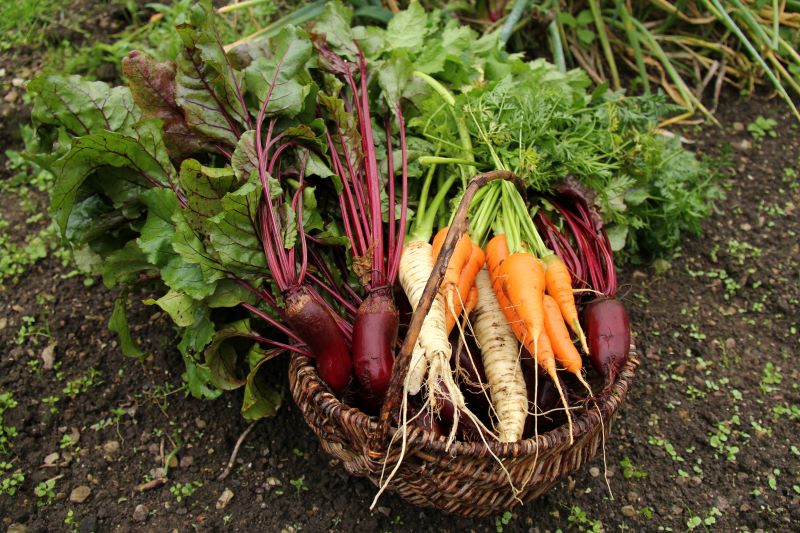 A grocery run is not an option in survival outdoor settings. So you have to be creative and resourceful with the materials you use. Think of recipes with the staple ingredients you have or with the available resources (grown crops, edible wild plants).
Save Your Food
In survival settings, food is a necessity to survive, but unfortunately, it is scarce. So when cooking, make sure to save your food by cooking enough for one meal so that it won't spoil.
Grow Your Own Crops
As a survivalist or prepper, you should learn how to grow crops. As simple as potato, carrots, lettuce, and spices like basil or thyme. Also, it doesn't hurt to familiarize yourself with wild plants you can use for your cooking.
Hunt Animals for Meat
Part of cooking homemade recipes in a survival situation is to source your meat. Learn how to hunt for the usual animals you see in the wild, like deer. Also, learn how to fish. Better yet, take care of domestic animals like chickens for a steady source of protein.
Prepare Basic Cooking Utensils
You don't want to carry around a bulky bug-out bag. But at least you want to have the basic cooking utensils you need. Don't forget to bring a knife, cooking pan, turner, spatula and of course a lighter.
Basic Ingredients You Need for Survival Cooking
In survival settings, your bug-out bag should only contain the necessary supplies. You don't want to carry around a heavy bag, do you?
But you should also have the staple ingredients readily available, so you can cook more recipes and enjoy a good meal. The staple ingredients you should have on your bug-out bag are:
Salt
Pepper
Oil
All-purpose flour, wheat flour, or baking powder
Sugar
Garlic
Onion
If you have these seven ingredients in your bug-out bag and are creative enough to gather ingredients in your surroundings, the cooking recipes you could create are endless.
What Is the Best Way to Cook Outdoors?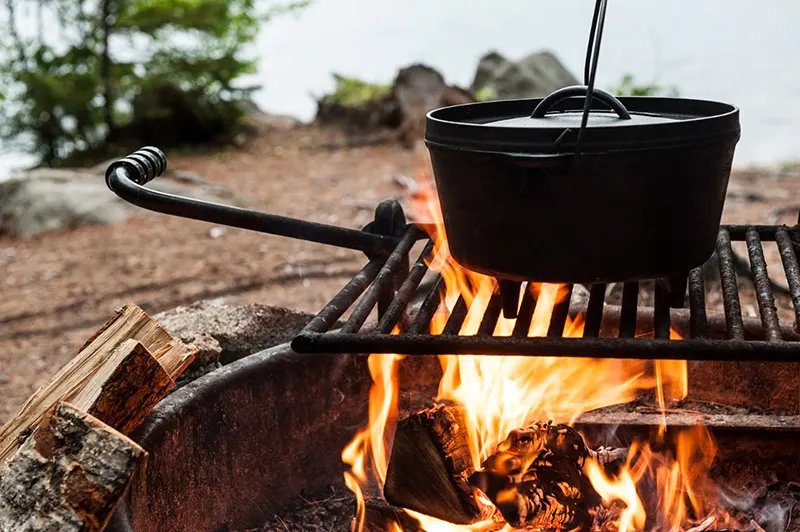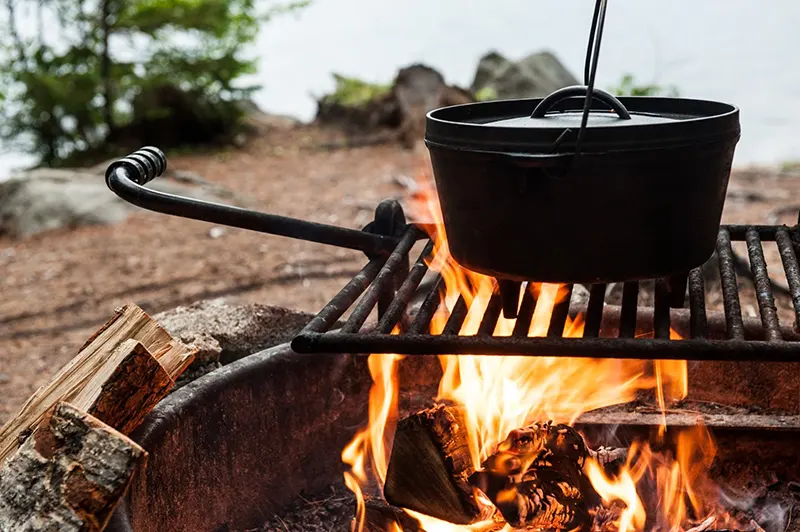 The best way to cook outdoors is by grilling. As you set up a fire, it'll be easy to cook whatever you want. If you have a pan like a cast iron skillet, you can do any stovetop cooking you got used to at home.
Also, if you're creative enough, you can resort to creating a DIY reflector oven, so you can easily bake bread.
That's It!
Now you never have to go hungry and miss out on favorite meals if you're stuck in survival situations. With these recipes that are easy to cook and delicious, you'll stay full, happy, and healthy.
The last thing to take note of is to take advantage of nature's gift and be creative when sourcing your ingredients.