Like in every aspect of life, preparation is the key — especially when it comes to the great outdoors.
The weather can be very unpredictable during outdoor camping. A sudden drop in temperature can be dangerous and even fatal. A tent heater can help prevent this issue.
There is a wide variety of choices – from electric tent heaters to gasoline-powered tent heaters. Here is some useful information that will guide you in choosing a tent heater that best fits you.
What is a Tent Heater?
A tent heater is a device that keeps the tent warm, perfect for chilly nights and extreme cold weather conditions. They come in many shapes, as well as sizes; tent heaters can range from bulky to lightweight (such as portable tent heaters).
Keeping oneself warm during the cold weather has always been a challenge. From heating rocks to campfires, people have devised ways to adapt and survive the extreme cold.
Thankfully, our latest modern technologies have developed tent heaters for camping purposes. With the aid of this device, you'll be able to stay warm and more comfortable with the changes in weather.
How to use a tent heater?
There are many brands of tent heaters out there. Most (if not all) come with their own sets of instructions, specifying how to use their respective products. One of the most important operating instructions is to keep the heating source secure. Extreme cold is usually an expected hazard during camping, but too much heat is also dangerous for the body and health.
Before using any device, it is important to know the risks and learn how to avoid any unfortunate incidents in the future. We have outlined a few safety tips that could prevent any untoward incidents.
Tent Heater Safety Tips
When using heat sources, there is always the risk of fire and even carbon monoxide poisoning. When using tent heaters, it's best to use the lowest possible setting which does not compromise your comfort.
1. Which tent heater is safe to use?
There are many types of tent heaters that are suitable for camping. But the most ideal portable tent heaters are the gas-fueled and electric-powered tent heaters, with the latter deemed as the safest to use for camping.
Electric tent heaters might have some drawbacks on their output and heat capability, but they are safe to use compared to gas-fueled tent heaters. They don't need to combust, do not produce carbon monoxide, and do not deplete the oxygen in your tent. However, they can still produce a fire if combustibles are nearby, which brings us to the next point.
2. Clear out any combustibles near your tent heater
Combustibles are things that could easily catch fire. Leaving any object near a tent heater (that is currently in use) may result in a fire. So, whether the tent heater you use is electric or gas, avoid keeping it in the same vicinity as that of combustibles (such as paper and wood).
It's best to prop it in a non-flammable platform while using it inside the tent. As much as possible, keep it a good distance away from the tent walls too.
3. Make sure there is proper ventilation for your tent heater
Electric tent heaters don't need proper ventilation, but gas tent heaters are a different matter. Any type of fuel that needs combustion to produce heat needs three things: oxygen, fuel, and ignition. This combustion would then produce carbon dioxide and carbon monoxide (the latter of which is dangerous to breathe in).
Good ventilation will prevent this from happening. The intensity of ventilation will depend on the type of portable tent heater you have.
4. Don't fall asleep when using your tent heater
The most important safety tip when using your camping tent heaters is: DO NOT FALL ASLEEP – at least while you're still using it.
While it might be a tempting thought because of the cold temperatures, it doesn't change the fact that the risk outweighs the benefits. Besides, it won't take long for your tent heater to warm up the tent.
So, if you go to sleep, shut it down to avoid the risk of major accidents from occurring.
When to use a tent heater?
Since a tent heater's purpose is solely for heating the tent, you might want to hold off on using them during summer. But for any other season, like spring, autumn, and winter, you can use them.
It's perfectly possible to make camp outdoors in late spring and early autumn. You might be able to withstand the cold nights, but for ultimate comfort, bring a tent heater along. During winter, packing a tent heater with you is essential since it will help you avoid the health effects of extreme cold.
What is Winter Camping?
Camping is always a wonderful experience. To be able to spend time outside and enjoy mother nature to the fullest provides great pleasure and enjoyment. The same could be said when camping in winter, where the ground, trees, and plants are blanketed in white snow!
However, keep in mind that there are a few precautions. As you camp, you would likely have no access to a power supply. Temperatures at night can drop as low as 30 degrees Fahrenheit (or even lower), which is considered too low for our bodies.
When this happens, your camping tent heaters become indispensable.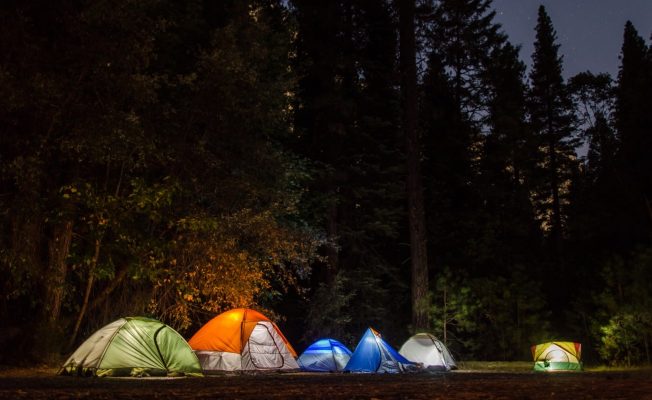 Tips to choosing the best tent heater
There's a certain set of conditions where you'll expect to use one, like family camping trips or winter camping. You can even use them in cars and RVs.
There are many varieties of camping tent heaters out there. It can be big or portable; some are even dubbed as the best by their marketers. Regardless, the most important thing here is that you should choose the one that's ideal for your current set of needs.
Size
There are two aspects you must consider when choosing your tent heater with respect to size: the size of your tent and the size of your tent heater.
For the tent heater size, you would probably prefer portable tent heaters compared to a bigger camping tent heater. Heavy loads could ruin the mood for an adventure, thus having stuff that's easy to carry around is generally better.
If you have a small tent, choosing a portable-sized tent heater would be safer since tent heaters are still fire hazards. So, when in doubt, portable tent heaters are better due to their smaller size and lower fuel consumption. 
Heat Output
Heat output refers to the amount of heat your tent heater produces. In tent heaters, or any temperature-regulating equipment, you will see this with a Btu (British Thermal Unit).
The term Btu indicates how much energy is required to raise the temperature by one degree Fahrenheit. The perfectly acceptable output for tent heaters is in the range of 1,000 to 5,000 BTUs.
Fortunately, many models of tent heaters are equipped with an adjustable climate setting. If you lower the heat output for your tent heater, then less electricity or gas would be consumed.
Fuel
There are two main categories of tent heaters according to fuel type: electric-powered tent heaters and gas-fueled tent heaters. So, what are the differences between these two types of tent heaters? Here it is:
1. TOXIC EMISSIONS
Electric tent heaters do not give off carbon monoxide when it's being used. Gas-fueled tent heaters, on the other hand, do emit carbon monoxide since this type of tent heater use actual fuels like propane, butane, and even kerosene, which gets burned to produce much-needed heat.
2. POWER AVAILABILITY
Electric tent heaters can run for certain periods before their battery or electric supply eventually runs out. If you're in a location where you can recharge or just hook up your tent heater, then great. If not, using gas-fueled tent heaters might be the better option.
Propane and butane are cleaner fuels compared to kerosene. They also present some hazards when used in tight and enclosed spaces.
3. OUTPUT CAPACITY
Electric heaters are safer and more portable compared to gas tent heaters, but when it comes to output, gas tent heaters are better choices.
Some of these battery-powered tent heaters are quite small, thus their heating capacity isn't always up to par since they are very limited in how much heat they can produce. Thus, if you're going on a trip for an extended period, choosing gas tent heaters are the best option for you, since you can always refill them when they run out of fuel.
Durability
It's also important that when you choose a tent heater, pick the one that will last long (highly durable) and could handle extreme conditions.
DO NOT CUT CORNERS just to reduce costs. In the long run, though it might be expensive, a well-trusted brand coupled with good quality tent heater material will definitely be beneficial.
While it's important to save money, keep in mind that safety should come first.
Noise
Noise is generally an unwanted sound. If you're sensitive to sound, then an electric tent heater is not the best choice for you. Electric tent heaters have built-in radiators and fans. If you want to get an electric tent heater, pick one that would generate little or no noise.
Camping Location
The location of the camp is a big factor in deciding what type of tent heater you would want to bring along. If the place you have chosen is equipped with a power supply, then bringing along an electric tent heater might be the best course of action. 
How to choose a good camping spot
Knowing your local rules and regulations (as well as the area's topography) in advance is very important to help you choose a suitable camping spot. Two important spots to camp nearby are a good water source and the camping trail. Make sure these two spots are at least 200 feet away. Also, be aware of any bugs and insects around the area.
When you are off winter camping, placing your campsite on the snow or bare ground where there are no visible signs of plant life is advisable. You might also consider doing so on higher ground as colder air flows downwards and hot air flows up.
As an extra precaution on winter camping spots, research on the location's avalanche activity should also be done.
Different Types of Tent Heaters
As mentioned earlier, the two main categories of camping tent heaters are electric tent heaters and gas tent heaters. Here are the other three lesser-known types of camping tent heaters:
1. Halogen Tent Heaters
These halogen tent heaters can be classified as electric. However, they differ in the process on how produce their heat.
Halogen gas is used to combine with tungsten. This combination would create light, which produces heat. It is for this reason that halogen tent heaters aren't always advisable to use, because they can melt down your tent if placed too close to the sides.
If you are to use this type of tent heater, it's best to hang it up at the center of your tent.
2. Battery-Powered Tent Heaters
This tent heater might seem like the best option for camping. They do not require no electricity and gas, and best of all, they don't give off carbon monoxide.
However, there is one small problem – tent heaters require a lot of power. And due to technology constraints, using a battery tent heater is insufficient for use in long camping trips.
3. Wood Burning Stoves
It's an old-school type of a camping tent heater, and though it had worked great before, its major drawback is the ventilation.
If you want to use one though, you must provide proper ventilation where fumes could escape
Best Gas Tent Heaters
Propane Tent Heaters
Propane is a light fuel and may come in individual canisters or large tanks. They can also be refilled. Most propane fuel is used in portable tent heaters. Here are some propane tent heaters you might want to check out:
Mr. Heater Buddy is a portable tent heater. Its heat settings can range from 4,000 Btu to 9,000 Btu per hour, which is higher than the expected average output for a good heating tent heater. It can even heat spaces of to 225 square feet, which is bigger than a campsite.
Pros
compact and portable
low oxygen switch
heat spaces of up to 225 square feet
Cons
Performance issues when used above 7,000 feet.
This model is the best tent heater for small and medium-sized tents.
This tent heater is the smallest and the most compact tent heater that's ever been invented. It's perfectly designed for outdoor use and can be adjusted up to 2,890 Btu, which is best for personal use.
Pros
smallest and most compact model
comes with a fold-away plastic base
Cons
no tip-over protection
no low oxygen shut off
Always pay close attention when you pick this tent heater.
This tent heater can produce a heat of up to 3,100 Btu and shares a similar build with Texsport, but slightly heavier. This makes it a perfect camping tent heater for small areas.
Pros
long life-span
well-balanced design
Cons
no auto shut-off function
not adequate for large tents
This tent heater is more expensive than the Mr. Buddy models, but it does offer everything you need in a tent heater. Its heat output is adjustable from 3,200 to 6,000 Btu, which is enough for 200 square feet of space.
Pros
catalytic heating system
reduce carbon footprint
heats up to 200 square feet
Cons
Butane Tent Heaters
Butane is one of the fuels used in gas heaters and is similar to propane. It is denser than propane and, unfortunately for butane fuels, its canisters are disposable and cannot be refilled. However, here is a noteworthy butane tent heater you might want to check out:
5. Camplux
Camplux portable butane heater has a heating capability of 4,400 Btu an hour, and it can reach its full heating capacity in as fast as five seconds. With just a can of butane, this tent heater can heat your space for up to five hours.
Pros
versatile use
heat the space up to 5 hours
quickly achieves full heating capacity
Cons
Best Electric Tent Heaters
This electric tent heater is deemed to be the most adjustable tent heater! It is equipped with 11 different temperature settings that can be adjusted with just a turn of its dial. It even has a fan option, so if it's too hot, you can also use this to keep you cool. You can't get burned when touching it because it has a cool-touch exterior.
Pros
has 11 temperature settings
has a fan for use in hot weather
cool- touch exterior
Cons
uses too much electricity
If you choose this portable tent heater, you have to make sure that the campsite has an electricity supply you can hook it up with.
This electric tent heater might be small, but it is highly suitable for small and medium-sized tents. However, compared to Lasko, this space tent heater only have three temperature settings, a safety precaution against overheating, and tip-over protection.
Pros
excellent for small and medium-sized tents
precaution against overheating
tip-over protection
Cons
expensive if you want to do off-the-grid camping
You can't go off-the-grid camping with this buddy because you'll need at least three deep cycle batteries and an inverter to convert the DC into usable AC power.
Other Tent Heater ideas
There are other ways to heat your tent without gas or electricity. All you need is heat and some good planning.
Here are some tips to keep the warmth inside your tent, even after shutting down your tent heater.
Insulate your tent
Insulation acts as a buffer of sorts against temperature changes. Here are some tips to insulate your tent properly:
Place a rug or carpet on the tent floor. This is a good way to prevent the cold floor from draining out the heat from above, as it does during night time.
Place extra layers on the tent. It doesn't have to be the same tent material, any blanket or covering (enough to provide an extra layer) should do the trick.
Line your sleeping bag. This is also a reason you should choose sleeping bags carefully. If you line them with extra coverage from the inside, it should help keep you warm for longer periods.
But aside from insulation, you can also use old-schooled tent heating ideas other than wood-burning stoves.
DIY Tent Heater Ideas
Hot Water Bottles as a Tent Heater
Water is essential for camping. If you're expecting cold temperatures, make sure to pack extra water bottles. Here are the steps:
Boil the water. You can do so in a large pot or pan you have packed along with your equipment. Once you are done, put it back in the water bottle and just make sure you don't burn yourself during the transfer.
Place them around your tent. And viola! You now have hot water bottles as a tent heater! This is one of the safest ways to heat your tent but the process can last up to several hours.
Heated Rocks as a Tent Heater
Have you ever wondered how prehistoric cavemen keep themselves warm during cold nights? Well, one way is to use heated rocks. Here's what you should do:
1. Look for dry, medium-sized rocks. Wet rocks are a no-go since they could crack or explode under heat.
2. Heat the stones, but don't put them on the actual fire. They would only cause the fire to go out. Remember to turn them around to heat every surface.
3. Place them around your tent — just be careful not to touch them directly. You can use a stick or wear thick gloves when transferring them. These heated rocks may last for at least an hour.
Burnt Out Campfire as a Tent Heater
This works best for large tents; you can do this by building your tent on top of the remnants of a campfire.
You might have noticed that despite dousing the fire out of your campfire, there is still some residual heat. This is the heat you will use to warm up your tent. The downside is you will have to set up your tent much later than usual. Doing so under the cover of the night could be a little difficult.
The Best Tent Heater is the Right Tent Heater
There you have it! Tent heaters come in many shapes, sizes, and fuels. It can be used in almost any type of camping, especially if you plan to camp during the winter season.
Despite its many benefits, there are a few hazards when using these tent heaters for two main reasons: inadequate tent heaters and unattended tent heaters. If you don't choose your tent heater properly, you increase the risk of hazardous events.
Fortunately, modern technology and some old-school tricks offer safe ways to mitigate these risks. Furthermore, each type of tent heater has some of the best safety options. Just remember not to cut costs; although it's important to save money, your safety is more important.
Enjoy prepping!