There is no denying that water is extremely important for humans. Whether in daily life or during emergencies, whether you're indoor or outdoor, you need water to function properly and survive. It keeps your body hydrated, aids in flushing out wastes, regulates body temperature, and protects and aids in various bodily functions including digestion and blood circulation.

Water, though, is a finite resource. Although you may have easy access to it now, there may come a time when you need to save water. Natural disasters, water shortages, or even just a camping trip will require you to store water.
With this in mind, here's a comprehensive guide on water storage containers, what to look for when buying one, and other essential tips.
Types of Water Containers
When you're looking for the best water storage containers, consider what you need and how much space you have for the containers.
Large Water Storage Tanks and Drums – the best are made from polyethylene, which is durable, BPA-free, and FDA-approved. This type is great for homes with large spaces since they store large amounts of water and are not portable.
Underground Water Cisterns – made from heavy-duty plastic. These can store a minimum of 250 gallons of water that can be accessed through a pump. Although these are big, they can be set up underground to keep water from freezing outside, especially if you live in a cold climate. Additionally, placing them underground ensures you won't have to worry about space. They are ideal in areas where water will freeze if stored above-ground.
Horizontal and Low-Profile Tanks and Drums – ideal for transporting large quantities of water to a disaster area or emergency site, or when vertical space is an issue. These containers usually have sturdy legs and ribs that prevent tipping and excessive sloshing if they are placed on a moving vehicle.
Large Vertical Tanks and Drums and Rain Harvesting Barrels – perfect for catching rainwater or as long-term storage of water for a small community in rural areas.
Stackable and Portable Water Storage Containers

– stores only up to 10 gallons of water. When you need something moveable and lightweight, these are ideal options. You can stack several of these containers for more stored water.

Collapsible Water Containers – great as emergency water storage containers

since they can be folded when not in use and then expanded when filled with water. These are portable and durable containers perfect for camping, picnics, sports events, other outdoor activities, and emergencies.

Specialized Water Storage Containers – include collapsible onion/pumpkin tanks and collapsible bladder/pillow tanks. The former has been used by soldiers in remote places or during emergencies. They are easy to transport and set up and can store enough water for a battalion. Meanwhile, pillow or bladder tanks are used by people who need potable water in remote areas. These look like large, inflatable pillows that can store large amounts of water.
Top Water Storage Containers
There are many containers out on the market, but these are our recommendations: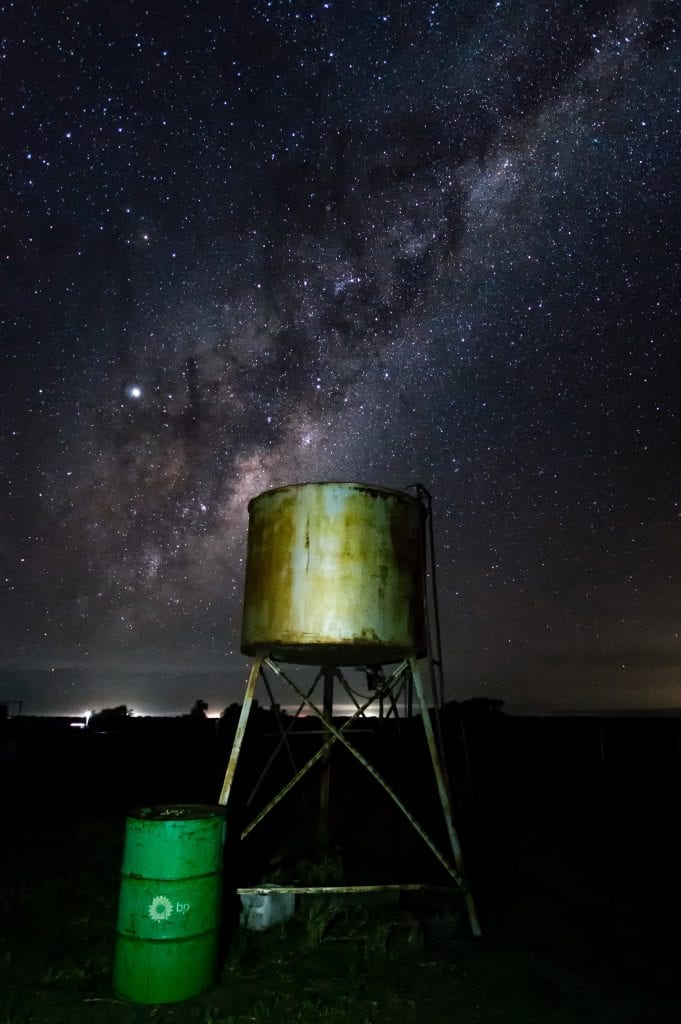 The iSpring T32M can store up to 3.2 gallons of water. It may not be the biggest container among our top picks, but it's a reliable reverse osmosis system that can even fit under your sink. It has a metal body but it won't rust from the water or contaminate what you store in it. It is pressurized to 5-7 PSI and has an option for a 3/8-inch tube fitting. Plus, it has passed NSF/ANSI standards for water safety and quality.
Pros:
Pre-pressurized to 5-7 PSI

Easy to use

Well-priced
Cons:
You need to assemble the shut-off valve, but since it's made of plastic you need to be very careful when screwing it on
Many consider the Emergency Essentials 55-Gallon Water Drum as the best, most reliable, and durable large-scale water container for long storage. The barrel is 35 inches high and 23 inches in diameter. It can store up to 55 gallons of water, so during emergencies, you will have enough water for cooking, drinking, and basic sanitation for about 14 days for four people. The treated water's shelf life is up to four years.
It's made from heavy-duty, BPA-free, food-grade polyethylene materials that meet EPA standards for water quality. Each combo comes with 2-inch plugs, a 6-foot hose with a hand pump, a two-step Aquamira water purification kit, and an opener.
Although many users highly rate this product, the majority of them have complained about the slightly bad smell from the barrel when you first open it. They all advise to follow the cleaning instructions that come with the barrel and the smell will easily go away.
Pros:
Durable and made from quality materials

Stores 55 gallons of water

Comes with a water purification kit

Stored water's shelf-life lasts up to four years
Cons:
Unpleasant odor upon first use of the barrel, which goes away when the product is cleaned

Large barrel so may be difficult to move
If you don't need a lot of water and just want to store water for emergencies, then you will find the 15-gallon Legacy Premium Food Storage Barrel as a great buy. It stands at 27 inches high, 14 inches in diameter, and 125 pounds in weight when filled with water.
Many users consider this brand as one of the best water storage containers that are BPA-free and made from high-grade FDA-approved food-grade plastic. This ensures that the water stored in it will not be contaminated over time.
Each barrel has two pouring spouts, gasket caps to stop leaks, and a heavy-duty carrying handle for when you want to transport the barrel.
Pros:
Made from high-quality materials

Portable

Perfect mid-sized water storage container

Contains all the essential paraphernalia
Cons
Norwesco is one of North America's largest manufacturers of molded tanks. The company offers a three-year warranty on all of its products.
The Norwesco 35-Gallon Horizontal Water Tank is considered as one of the best durable and portable water storage containers in the market.
It is the perfect size for camping trips since it doesn't take up too much space with its dimensions 29x20x23 inches. The two grooves on the body make it easy to fasten or attach to a platform or your RV.
It is made from FDA-approved, non-corrosive polyethylene plastic, which is sturdy yet lightweight. Without water, it weighs only 13 pounds and only 280 pounds when full. It can withstand high temperatures and UV rays while keeping your water safe from bacteria. So, you can install it indoors and outdoors.
It comes with a 5-inch opening, a stopper, and a bulkhead fill point. You will need to buy other paraphernalia like adapters, hoses, pumps, or steel bands if you want easier access to the stored water or need to transport the tank somewhere.
Pros:
Durable

Compact size

Easy to clean and maintain
Cons:
You will need to buy additional paraphernalia if you want to do more from the product
RomoTech is another trusted brand when it comes to durable water storage containers. It even has a lineup for chemical storage containers. If you need a lot of water for a big family or a community, get the RomoTech Vertical Polyethylene Reservoir that stores up to 550 gallons of water.
This product is made from heavy-duty, UV-protected polyethylene. The plastic is dense but still translucent.
Its large fill point and drain make it easy to fill and empty. Although you can see how much water it contains, it has gradation marks to indicate the level of liquid inside.
Since it is made for large amounts of water, moving it is a bit harder than other products on the list.
Pros:
Easy to use

Made from high-quality materials
Cons:
It is not very portable and may require special equipment to transport
The Red Brick 250 Gallon Rain Harvest Collection Tank is designed to gather rainwater, which can be used for activities that do not need potable water like flushing toilets or water supply for livestock. The stored water can still be used in case of water shortage since it has a strainer that filters out debris like leaves or sticks. So, if you live in an area that gets a lot of rain then this is a good water storage container option for you.
Like others in this list, the tank is made from FDA-approved and BPA-free polyethylene. It is also constructed to prevent small pests like mosquitoes from contaminating the water.
Pros:
A good option to take advantage of rainwater

Made from quality materials

Designed to keep away pests
Cons:
Stored water is not filtered so it is not potable
If you love to go camping or want to store water for each family member, then you might want to get a set of WaterBrick water storage containers. Each container can store only 3.5 gallons of water, but you can buy several of them if needed. Each one is designed to stack and interlock with each other. This makes them easy to keep even in an apartment and to carry since you can transport them as one unit or separately.
Like other containers, this brand uses FDA-approved, BPA-free, high-density polyethylene so your water will remain uncontaminated. Each container is so sturdy that you can stack four of them without worrying about the bottom container.
Each pack comes with a spigot that makes it easier to dispense water. Plus, each container has a handle that is easy to use.
Pros:
Great stackable and interlocking design

User-friendly accessories
Cons
Since these are stacked sideways, it may be hard to open each one

Stores only 3.5 gallons of water
Saratoga Farms is another highly-rated brand of stackable water storage containers. Each container holds up to 5 gallons of water and the design makes it easy to carry so it is highly portable.
The dark blue color blocks UV rays and bacteria from contaminating the water. The HDPE plastic of the body is food-grade, further keeping your water safe. Plus, the material can withstand pressure so you can stack several containers without worry.
Saratoga Farms offers 5-year warranties but these containers look like they will last for a long time. One thing buyers need to know, though, is that these containers are not cheap. You will have to pay a hefty price for the convenience of having these stackable containers.
Pros
Cons
More expensive than other brands
If you are storing water for emergencies or if you want something that you know will withstand unexpected disasters, then the LCI Plastic Water Can, Desert Sand, 5-gallon is a perfect option for you.
This container was designed as a military-grade water can. It has a screw top closure for easy filling while a small capped opening and a venting cap for pouring water. The handles are integrated into the design for easier maneuvering.
It's BPA-free and so sturdy that it can withstand pressure and heat. If the military trusts it, then it must be a good investment.
Pros:
Made from quality materials

Easy to use

Military-grade
Cons:
Can only accommodate 5 gallons

Not stackable
The DATREX Emergency Water Pouch for Disaster or Survival is a pouch containing 125 ml of water purified through reverse osmosis. It is perfect for emergencies, camping trips, off-road rides, mountain climbing vacations, or other outdoor activities where you will not have access to potable water.
Each pouch is BPA-free and made from a polymer foil. You can buy several at once and store them in the refrigerator so you can have pouches of cold water. But you can store your packs in any kind of storage space or environment. The water remains safe, odorless, fresh, and generally will not have a plastic-aftertaste even after five years.
The only downside to this product is that some customers have complained of the pouches having leaks or punctures.
Pros:
The purified water lasts for five years

Pouches can be stored anywhere
Cons:
Some pouches developed leaks or holes

With so many brands and considerations when it comes to water storage containers, here are tips to ensure that your stored water will remain potable for a long time and a buying guide to help you make the perfect choice for your needs. Plus, you'll read the steps on how to clean your container.


Potential water sources
The tap is the most popular source of water. Rainwater is free and plentiful in certain areas. For the outdoors, you have lakes, streams, rivers, and similar bodies of water.
For emergencies, consider these often overlooked sources of water:
ice cubes

pools (not for consumption, but can be used for hygiene)

water heater tanks

wells
Water purification methods
The main use of water is for human consumption. So the water you store must be clean, safe to drink, and safe to use in food preparation.
If the water is cloudy, then purify or filter it before you store it.
Sometimes, though, you will not have an obvious clue of the cleanliness of your water. Remember that germs, viruses, and some parasites are microscopic. Your water may be clear yet contain a lot of contaminants.
So, if you are unsure of the source or the water itself, you might still want to purify or filter your water before storing it in a container.
The most basic method is to filter any sediments through a clean cloth or coffee filters. You can then use one or a combination of these water treatment methods:
Boiling

– boiling gallons of water from one to three minutes may not be practical but this is still the safest method of killing any bacteria, viruses, or parasites living in the water. To decrease the flat taste of the treated water, incorporate oxygen back into the water by pouring it back and forth between two containers. You can also add a pinch of salt per liter of water.

Chlorination

– during some emergencies, you may not have access to fire so your alternative is to chlorinate your water. Use only regular liquid bleach and not the scented, color-safe, or other variants.
This treatment process needs safe levels of chlorine so that it can be safe for drinking. Use this table from the EPA website for the recommended ratio of bleach and water:
| Volume of water | Amount of 6% bleach to add* | Amount of 8.25% bleach to add* |
| --- | --- | --- |
| 1 quart/liter | 2 drops | 2 drops |
| 1 gallon | 8 drops | 6 drops |
| 2 gallons | 16 drops (1/4 tsp) | 12 drops (1/8 tsp) |
| 4 gallons | 1/3 tsp | 1/4 tsp |
| 8 gallons | 2/3 tsp | 1/2 tsp |
* Bleach may contain a solution of 6% or 8.25% sodium hypochlorite
Distillation

– germs that can withstand boiling or chlorination can be removed through this method, which involves boiling water and collecting the condensed vapor from it. Besides killing germs, this method also ensures that your water will not have chemicals, heavy metals, salts, or other impurities or contaminants.
You don't have to buy equipment used for chemistry labs to distill your own water (unless you want to buy one). Just half-fill a pot with water, tie a cup to it that dangles above the boiling water, and cover the pot. Boil the water for about 20 minutes and let the condensation drip into the cup.
This process takes a large amount of time, but it leads to high-quality water.
Water purification tablets and drops – technology has created more efficient and faster ways to purify water. Always follow the instructions on how to use the products you buy for safety and best results. This includes the ratio of tablets/drops and water and waiting period. The chemicals in these products have different properties so it is important to get the ratio correctly.
Water filters

– the amount of sediment depends on where you get your water from. Tap water generally goes through some form of filtration. Water from lakes or rivers generally has a lot of sediments from the earth. Rainwater will carry contaminants from the air, especially if the clouds pass through highly polluted areas.
The amount of sediments processed from unfiltered water depends on the type of system you get. A system for the whole house will generally be more efficient than portable water filters. If you want to filter out bacteria, you need absolute filters.
For emergency purposes, it would be best to keep a water purification or filtration system in your house even if you've already treated the water you have stored. This is important if you have family members who have sensitive stomachs like babies or the elderly.
Also, remember to replace your stored water yearly. Although water does not have an expiry date and old water might not infect you with a deadly disease, it is still better to keep water that is as fresh as possible.
You don't have to waste the old water. You can simply repurpose it as water for plants, toilet water, or water for animals.
This doesn't mean you should waste the old water. Simply reuse it for a different purpose when you replace it.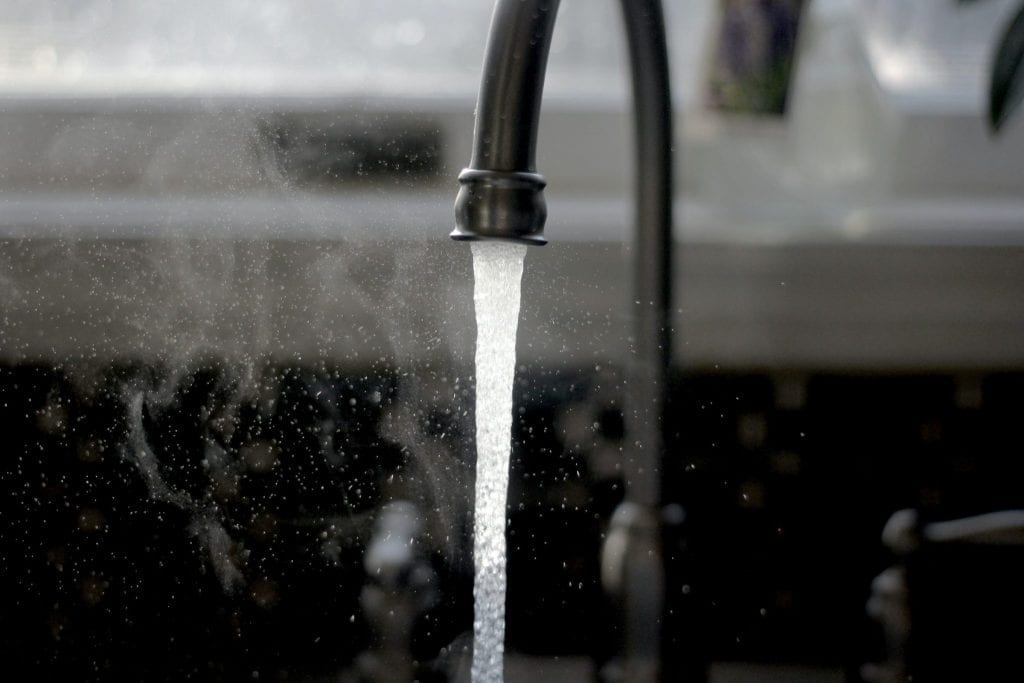 How much water to store
During normal times, an adult consumes around 70 gallons of water per day. As stated above, though, the amount of water you should store depends on your reason for doing so.
The most basic recommendation is to store one gallon of water per person. Half of this amount is for drinking, while the other half is for cooking or hygiene. Experts recommend storing water that will last for at least two weeks. So you need to store at least 14 gallons per person for emergencies.
Of course, each person will need a different amount depending on age, physical condition and activity, diet, and environment. Active children, people with illnesses, and mothers who are nursing babies will need more water. Those who live in warm climates will also benefit from storing more water.
Finally, take into account medical emergencies that will require an additional supply of water.


Buying guide: materials, reason, capacity, design
As you may have deduced from our recommended brands, one of the most important factors to consider is the material the container is made from. Always buy only water storage containers that are BPA-free and made from food-grade plastic so that you won't have to worry about your water being contaminated even after a long time in storage.
You may be tempted to buy an inexpensive container made from an unknown type of plastic, but you have to remember that water absorbs the chemical make-up of its container. So, if you get a container that isn't made from food-grade plastic and you keep water in it for several months, then your stored water might not be potable or usable when you need it.
The safest, most recommended, and most often used material for home water storage containers is polyethylene (PETE) plastic. It's FDA-approved, durable, and lightweight so it's easy to move around.
There are other types of plastic used for various products. One way to check if a container is using food-grade plastic is to look at the triangular recycling symbol with a number inside. This symbol is usually found at the bottom of a container.
PETE plastic is marked as #1. Besides PETE, the FDA has approved #2-#7 for food contact, but only #2 and #4 are considered food-grade.
For industrial and community water storage solutions, glass bottles are a highly versatile material. It is more expensive than plastic but if you want a long-lasting investment then you can scout around for this type of container.
Avoid metallic containers unless you are sure that the metal is 100% stainless steel, which is the only metal that truly resists corrosion. Water will corrode other metals and you will be drinking rusty liquid after several months if you get this type of container.
Also, this may be common sense, but avoid storing water in containers made of paper like cardboard. Not only will the material absorb the liquid, but your container will also leak and your stored water may decrease by half.


The other factors you need to consider are:
Reason – why are you storing water? Do you need it for a short trip outdoors? Or does your area have a history of water shortage? Or are you storing water for a whole family or community in case of emergencies?
Capacity

– how much water do you or your family need? If you need just a small amount for a weekend or if you don't have a lot of space, then a 5- or 10-gallon container might be the best option for you. If your goal is to reserve water for a small family for a long time, then buy at least a 55-gallon container or get stackable containers so you can have enough water for everyone in case of emergencies. If you're creating a reservoir for a community, then buy one of the larger containers like a 250-gallon tank.

Design

– examine the container's design for ease of transport, accessories for filling the container and pumping out water, quality of the closure system, weight of the container with and without water, and other elements that make it user-friendly or maneuverable during emergencies.
Pay special attention to the base of the container. It should have a stable and strong base so that your water will not topple over during emergencies.
Avoid containers that cannot be sealed tight. Otherwise, your water might be contaminated by the environment. For example, mosquitoes might enter the container and lay eggs in your water. Or, polluted air particles might spoil the water.
On the other end of the design, make sure that the tap or opening can easily dispense water and will not have any leaks even if the water is stored for several months.
Also, opaque or translucent containers are better than transparent ones because you know that the UV rays from the sun will not affect your water.
Traditionally, water storage containers are blue because this color limits the amount of light that penetrates the barrel or tank. This also inhibits the growth of bacteria and symbolizes that it contains something safe for human consumption.


Cleaning water storage containers
Although some brands state that you can use their products immediately, prepping your containers is still highly recommended.
Thoroughly wash your container with food-safe soap like dishwashing soap and rinse it thoroughly. This step can reduce or erase any plastic-like smell that many containers have when they are first opened.
The next step is bleaching. You can clean the inside even more if you chlorinate it with a bleach and water mixture to make sure that all surfaces inside are germ-free. Remember to shake the container well and let the mixture stand before pouring it out again.
Air-dry the container before storing your water in it.
When you replace the water, clean your container before filling it up again.
You might be interested to learn about how to store water in a car.
Additional tips
Keep in mind these additional points regarding water and its long-term storage:
Don't use a container that has been used for a different liquid, especially a chemical. But even if you've put something normal like milk in a container, don't use it for water storage.

Even if you scour and clean the container several times, it will be difficult to completely remove all traces of the previous content. Chemicals obviously will change the properties of your water. But, even a liquid like milk has bacteria and live cultures that could contaminate the flavor and odor of your water. The remnants may even make the water unsafe as it slowly absorbs, through time, the minute particles left inside the container.

Ideally, your container should be in a temperature-controlled environment so that sunlight or heat will not affect your water's quality. At the minimum, place your container in a cool, dark place to maintain your water's integrity while in storage.

Avoid placing your container in a room or an area like the garage, which has strong smells or fumes. Your water might absorb the odor from, for example, gasoline or paint even through the container.

Water will naturally lose oxygen particles through time. So, don't be surprised or concerned if your stored water tastes flat, stale, or at least tastes different from fresh water. You only need to be worried if the taste becomes totally different—if it tastes like rust, bitter, or acidic, or if there's a pungent smell from it.

During emergencies, minimize your need to drink water by moving less and staying cool. During regular days, avoid carbonated or caffeinated drinks because these dehydrate the body, thus increasing your need to drink water.

Since you need a minimum of 14 gallons per person for emergencies, you might want to invest in several types of water storage containers. For example, you can buy a water barrel to store a large amount of water and then buy a four-piece bundle of stackable containers for easy portability. This will ensure that you have the minimum recommended amount of stored water with an extra reservoir in case you need to leave your house in a hurry.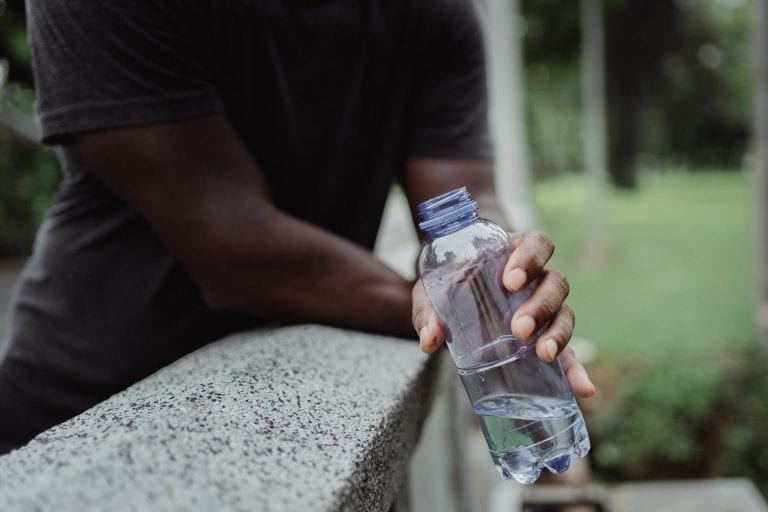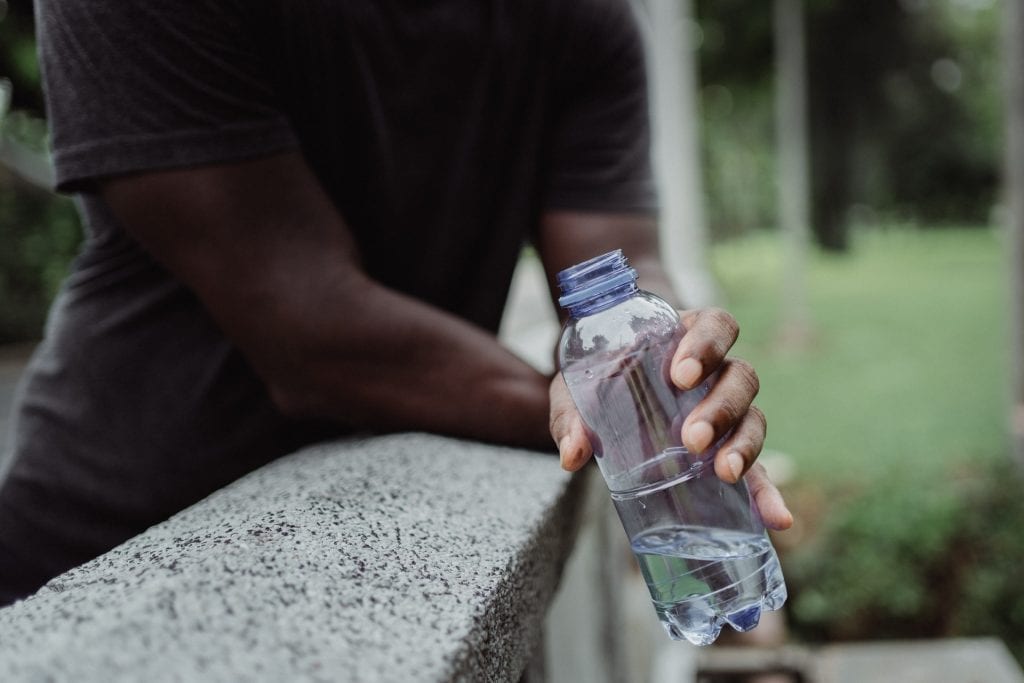 Wrap up
With so many unpredictable natural and man-made disasters happening in the world, water storage is something you always have to keep at the top of your mind. Further, the world's water supply is becoming less stable.
Having a reservoir of clean water for emergency and long-term use could make the difference in saving your life or weathering out a pandemic, war, or riots.
We've created this article to be as comprehensive as we can to serve as a constant guide for you. By considering the factors in the recommendations and the tips—from highly-recommended brands, water treatment and sources, material, quantity, design, cleanliness, and location—so you can create your own prepping list and process.
When you have doubts about a container or your water, follow your instinct. As always safety, this time through clean water, is the most critical factor when shopping for water storage containers.