What zombie survival gear would you use to fight off a horde of the undead as they approach the front porch of your house? The preferences change whether you are Jon Snow from Game of Thrones fighting off an undead army, or you are Rick Grimes from the Walking Dead just trying to make a life for yourself and your survivor group while the rest of the world tries to eat you.
I have long been a fan of undead fiction ever since I sank my teeth into The Walking Dead. Since then I have seen most of the top films and a lot of other human-eating series.
So what's a cool common point about all of them? Every hero survivor uses some pretty cool gear to cut, shoot, slice and blow their way through hordes of not-so-cold cadavers to make their way to a better place.
Zombie prepping for some is a real thing, for me it's a good tv series and makes for a cool movie. However, what really inspired me to write this article was a question from a reader on my advice for prepping for a zombie apocalypse. Well to be honest, I don't think it would happen, there's more likely things that could happen than the dead knocking on my door. But as far as prepping would go, I would take a look at what these characters are doing, because for a zombie survival kit, you're going to need guns, bullets, and lots of them.
So let's take a look at what these zombie killers are using.
Zombie Survival Gear: Whose Gear Would You Use?
The Walking Dead – Rick Grimes
In the tv series The Walking Dead, Rick holds the title for the most zombie kills and so he should. He is a former sheriff deputy who starts out as an honest, caring and humble person and transforms into a dark and hardened killer. But it is explainable as you watch the series you grow with the character to see he's faced a lot and (without giving away any spoilers) he has lost a lot of friends and loved ones.
So what is his choice for zombie survival gear? This guy has a very diverse weapon range and uses a lot of various weapons available to him at any given time, but for his preference of gun he wields a .357 colt python magnum revolver. He used this as his duty sidearm so it is only fitting that he kept using the same powerful pistol to blow away zombies. This revolver is significant as it is referred to as a Rolls-Royce of colt revolvers.
I also decided to include Rick's famous machete, this is not the red-handled one, this is instead a Gerber Gator Machete which features from season two to four. This is not the only tool that Gerber have provided to The Walking Dead franchise, they have had a number of pieces used by different characters and have made a zombie survival kit with all of the cool weapons you can find in The Walking Dead. His hat also features quite a lot in the series and is passed down to his son Carl who has since become identified with the sheriff deputy hat.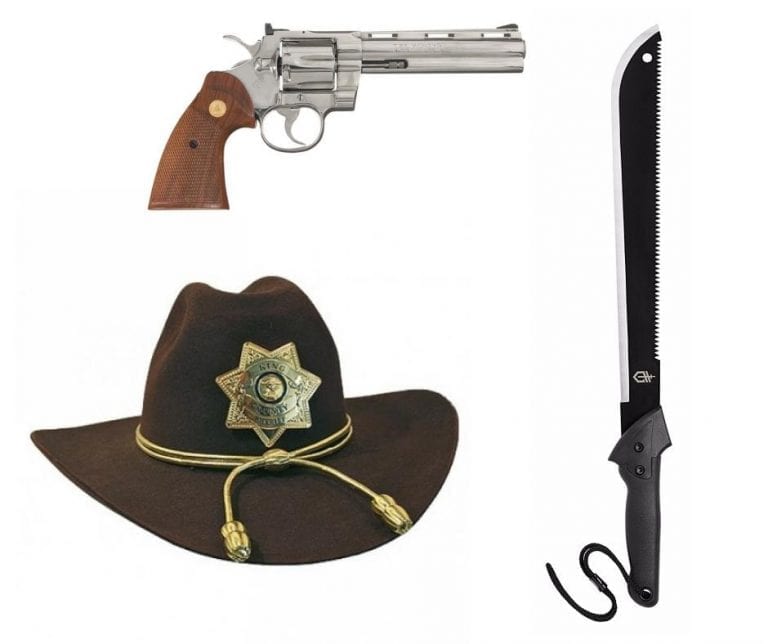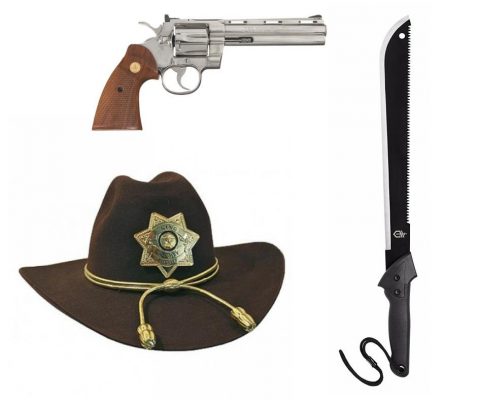 Zombieland – Tallahassee
The cocky gun-toting and shotgun lover Tallahassee from Zombieland is a master of weapons when it comes to kit. He loves a good classical rifle and in one of the movie's scenes uses a sawn-off 1892 Winchester rifle to plough through a zombie horde. A lot of fans of the movie have appreciated the craft of this rifle and some people have made their own versions to replicate the sawn-off effect of the gun.
As you can see from his kit, this character does not shy away from using various types of guns. He also wields two Nickel M1911A1 silver pistols which make a nice feature to his soiree. Including the above mentioned, the kit displayed in the picture is:
Nickel M1911A1
Benelli M4 Super 90 Shotgun
Mossberg 500 Mariner Cruiser
Winchester 1892 "Mare's Leg"
Heckler & Koch MP7A1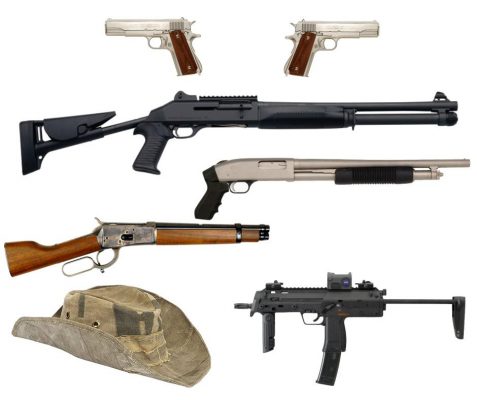 Shaun Of The Dead – Shaun
Shaun of the Dead is one of those comedies where normal life's stresses like relationships and work are the focus of the movie, except in this story there is an apocalyptic zombie outbreak also running in the background where neighbours and friends are trying to eat you alive. Shaun and his sidekick Ed grab shovels, golf clubs and other household items to smack down some not-so-stiff dead bodies.
For what seems to be a common feature in this feature I have written, the Winchester again makes its way into one of our zombie killer's hands with a Winchester 1866 "Yellow Boy" Rifle. We also see some pretty cool additions to the zombie killing kit in Shaun of the Dead like a cricket bat, golf club and even a vinyl record which was thrown at a zombie. Cool hey?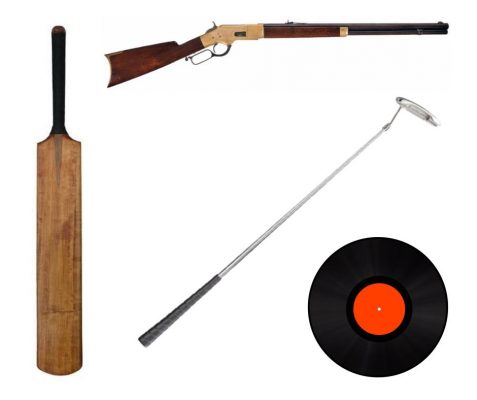 I Am Legend – Robert Neville
Robert Neville (Will Smith) is the focus of I Am Legend as for most of it, he is the only alive person. But he is definitely not the only moving one as he battles overgrown and strong undead in his story of post-apocalyptic survival, alongside his canine partner Samantha.
If I was about to enter an end-of-world survival scenario where an infectious plague has created a swarming zombie-like virus, I would want to be armed like Robert. His choice of weaponry is modern and he uses great customisations on his rifle to make it look and act like the ultimate weapon to survive a zombie-filled world. His choice is a colt AR-15. The company refers to it as a Colt Law Enforcement Model 6920 Carbine, the name on its own is enough to excite you. The add-ons are pretty epic making it an elite piece. He has used the following mods:
His weaponry included:
Heckler & Koch Mark 23 ("SOCOM")
Beretta 92FS
M67 Hand Grenade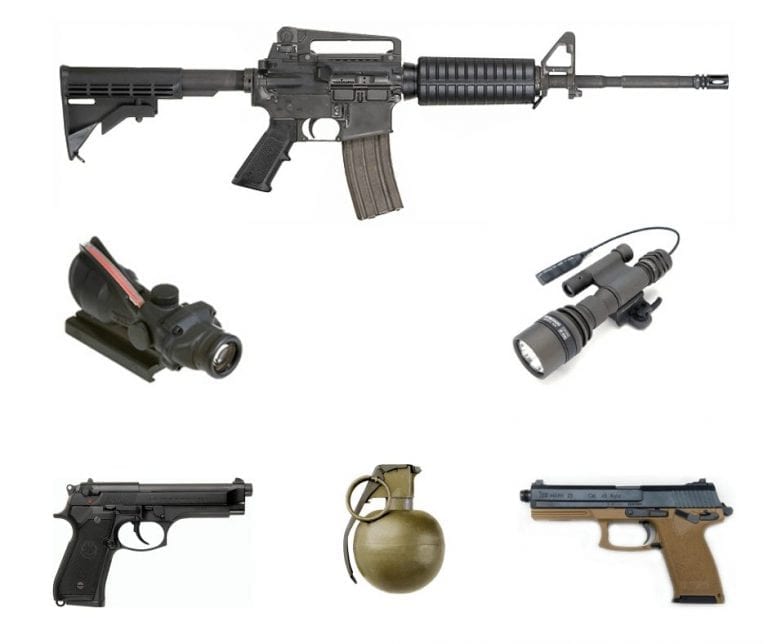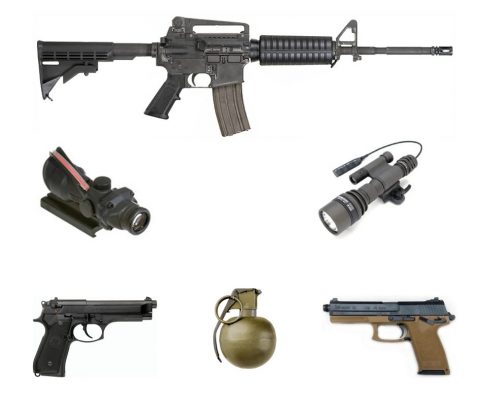 The Walking Dead – Daryl Dixon
I know I already mentioned Rick Grimes from The Walking Dead, but it wouldn't do justice without mentioning an equally popular star of the series, Daryl Dixon (that guy with a crossbow). Daryl fits the image of that guy you want to have with you if the world ended. He's loyal, has no fear, is lethal and is an outright bike-loving redneck. He is everything the bad guys usually are in shows but he's good, if not the best.
Why else is he cool? His main weapon is a compound crossbow which makes for a quiet shot to not attract 'walker' attention and he rides a stunning Honda Nighthawk in a Classified Moto style. Here's the simple kit of Daryl Dixon, the best redneck zombie wrecker ever: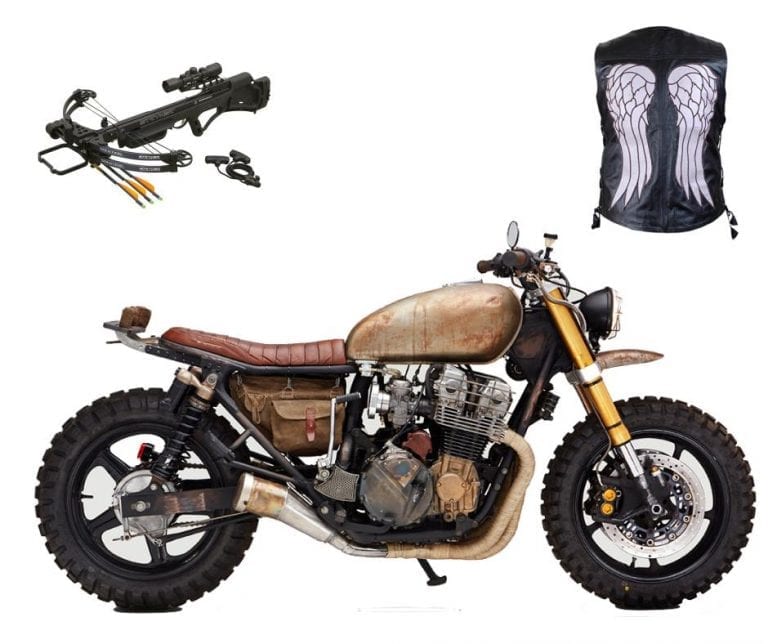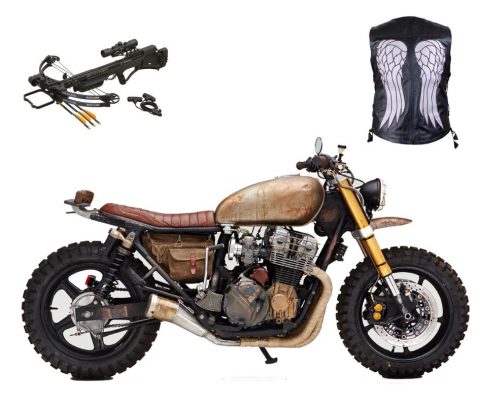 Evil Dead – Ash Williams
There is nothing better than a character that wields a chainsaw as a hand, and there's nothing much more popular than Evil Dead's hand chainsaw wielder Ash Williams. The Evil Dead franchise has a massive cult following since its first movie in 1981. He was even elected by Empire Magazine as the 24th greatest movie character of all time.
It was not until the second movie in the franchise where Ash eventually got his hand cut off and replaced by the Homelite XL-12 Chainsaw (I couldn't manage to get a clear image of the red one that he used, so for this I have used a yellow one with a similar body). His weapon of choice, you've heard it before, was a Winchester. He went with the Winchester Model 37A which he referred to as his 'boomstick'. I would call it that too if I was blowing away the living dead with that thing.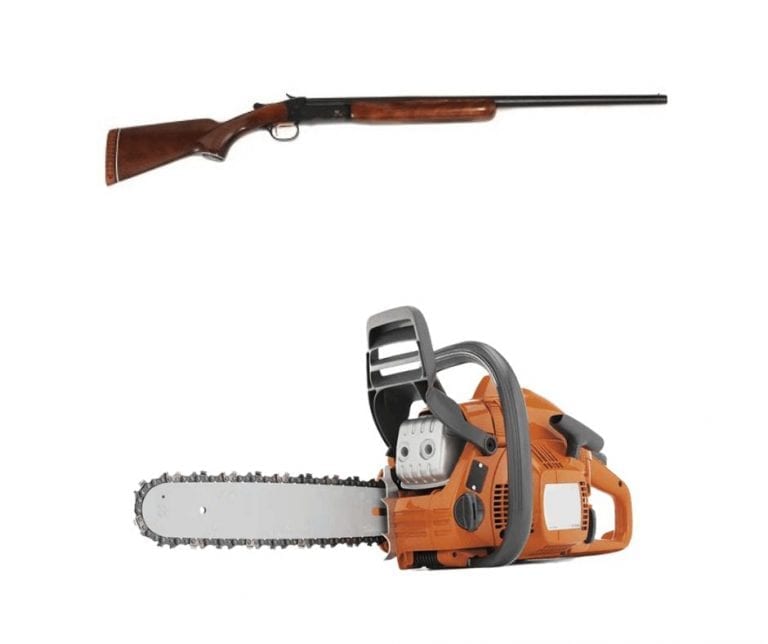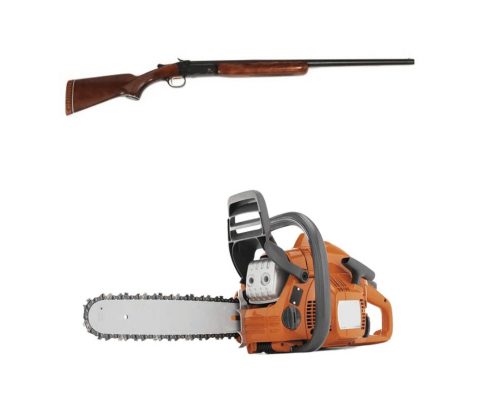 Resident Evil: Afterlife – Alice
Resident Evil, there's a name everyone has heard of. It's a simple storyline too: a virus that mutates every living being, a lot of military baddies and goodies and a skin-tight suited babe (Alice) caught in the middle who fights and shoots better than everything else. Perfect.
So what does Alice carry when she's on a warpath and destroying everything? I picked the Afterlife film to look at her kit, as it looked like a very impressive of dual wield pieces.
She carries:
Two x Smith & Wessons (Model 460V)
Two x 12 Gauge Sawed-Off Double Barrelled Shotguns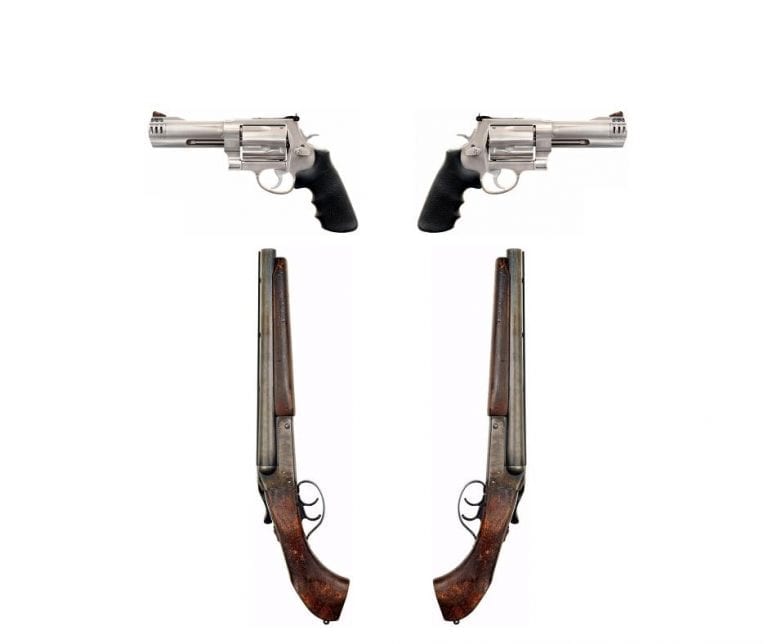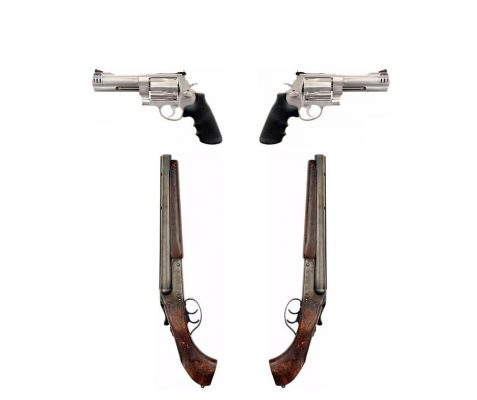 Game of Thrones – Jon Snow
Did you expect Game of Thrones, one of our biggest and hottest tv shows of the moment to evolve into a war between the undead and the living? I didn't imagine it when I first started watching the series, that's for sure. Of course, if you've read the books you would have known this a long time ago.
While most of our top zombie fighters are wielding guns, I think they could help out the guys over at Castle Black with a few rounds of ammunition and a gun or two – they're going to need it when the next season comes around. But at the moment, they have Jon Snow with his valyrian steel sword called Longclaw which cuts down the Night King's undead like a lawnmower. Just in case you lost yours when you were travelling, you can buy a new one online as someone seems to be making Jon Snow's Longclaw Sword in top notch quality.
And for those of you that feel the Night King's cold winds while fighting the undead you can get his fur coat from IKEA and customise it to fit yourself.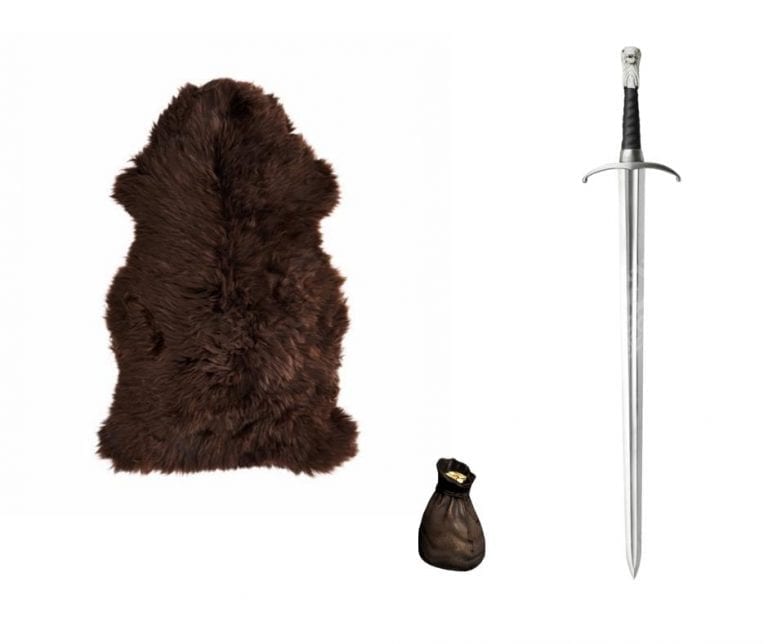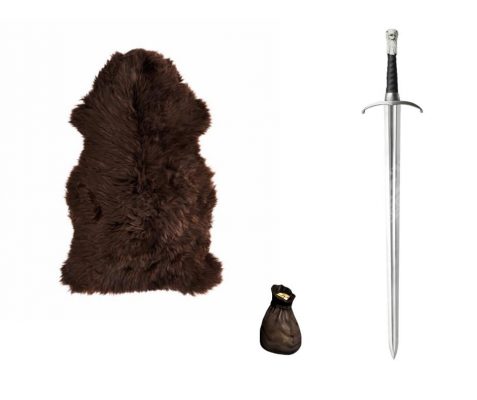 Oh, and Jon always keeps a bag of gold with him. You never know when you might need a drop of rum while fighting the undead.
These are my top picks for the world's best zombie killers and their zombie survival gear. Do you know anyone else who deserves a mention? Let me know in the comments section.
Also, check out the Internet Movie Firearms Database, I used them to reference the weapons I wasn't too sure about and found they were a great resource. If ever you are unsure about a firearm used in a movie, give them a visit IMFDB