Inflatable boats are the best transport that you can keep stored away for when a flood occurs. One quick look at Houston and you can already see the widespread devastation and impact a flood can have and how useful a quick, ready-to-go boat that has been sitting in the garage can be in these types of disasters.
In this environment an inflatable boat is going to save you without a doubt. First, it is a necessary way of water transport. When you are in a flood you are already on food rationing and walking through water is draining on a person no matter what fitness they have. Second is the risk of disease and illness. Stale floodwater is a sponge for hazards as it collects sharp objects, dead wildlife, human waste, typhoid fever, cholera and hepatitis just to name a few.
Staying healthy and safe is your priority so you are going to want to stay out of that water. A short walk down the street in floodwater could cause a cut on your leg and a rampant infection. So it's something worth avoiding.
If you live in a floodplain, you should look at getting an inflatable boat just for the purpose of having it sit in the bottom of the kitchen cupboard or the garage to use as a backup for when and if a flood happens. Sure, this is basic prepping, but isn't it also a bit of common sense and safety?
What to know about inflatable boats
The first thing you need to know is that one boat will not cater for every situation. Say your area has a shallow flood (1m deep) and the boat you are using is a recreational fishing boat, if it isn't a flat bottomed boat, you're not going anywhere. Other thing to think about could be the weight of a boat, the material, make of the boat and the size required.
For emergency situations like a flood there are seven things your boat should have:
The size should be small enough to go into buildings if necessary
A hard bottom to avoid tearing or holes being made by flood debris
Easily cope in shallow waters
Has ample space for storing and holding gear
Has enough weight limit to hold yourself, gear and a few family or others
Capable of having a motor
Light enough to be pulled into a tight area, onto land into a secure area
Things to consider when buying inflatable boats
1. How is the boat powered?
You need to look at how an inflatable boat is driven. Can your five-person boat be rowed by one person? What about if it is full of supplies or someone's precious homewares that you have helped them save from getting wet?
When it comes to flooding areas there are going to be some issues that you need to think about beforehand when it comes to the movement and powering of your boat. These are:
When the survivors you have picked up who are weak and not able to row, will you be able to make the boat move with just you rowing?
Will you be able to move the boat against tides, waves or heavy winds?
Quality inflatable boats come with mounts for a motor which would be a good investment if you are worried about the movement of the boat in those conditions mentioned above. Most inflatable boat motors are electric and boat batteries can be can be rechargeable and give about five – 15 days of power on a full charge.
If you use the batteries made for inflatable boats that average 12 volt power then there is no issue with them shorting out in contact with water or any risk of electrocution, but you need to make sure you handle batteries safely as with any other battery.
2. What type of motor and battery you need
The first thing you need is a motor mount kit for your inflatable boat. This will allow you to attach a small motor to the rear of the boat and is made to connect and disconnect easily. As some boats don't have battery compartments already you can look at getting a power center to store a battery securely and have external terminals and a battery meter. For the battery itself you should be using a rechargeable battery so that you do not need to carry extra batteries. As mentioned above, use a battery that is made for inflatable boats like a Light Trolling Motor Battery to ensure that you have something that is not too heavy and can operate well in flood conditions. A small portable battery charger is useful if you have a generator or access to power to recharge your inflatable boat's battery.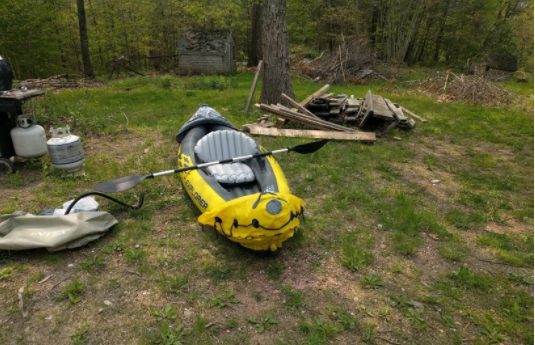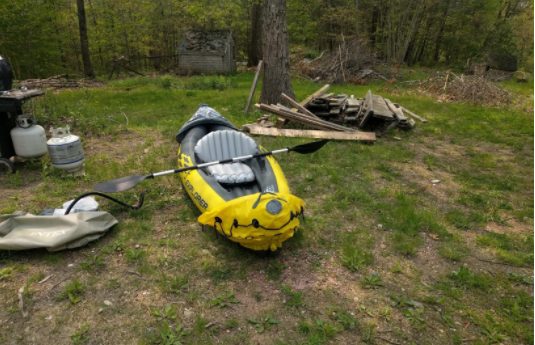 For the engine, you don't need anything too big. Preference should be given to anything made specifically for inflatable boats as you don't want something that is too powerful and battery draining or too heavy. Minn Kota is a brand to keep an eye out for as they make specific trolling motors for small fishing trips in small inflatable boats and is used by many kayak and small boat fishing enthusiasts.
3. Is the boat durable?
The first place you need to look at for your flood-worthy inflatable boat is its bottom. A lot of the time in a flooded area you are not going to know what is underneath the muddy water. This could be sharp metal debris, large branches or shallow water with jagged sharp material. If you are using something that is not durable, it is a sure-fire way to end up with something as good as a plastic bag in water.
Signs your inflatable boat is durable for a flood:
Underneath the boat should have something like an aluminium flooring or a marine grade plywood flooring.
The bottom has a V-keel design to reduce water resistance, add speed and protect it from impacts
Has a crash barrier all around the boat with heavy duty lining
Separate air chambers so that if one of the side panels is deflated, the boat is still functioning
When you are buying an inflatable boat, make sure it has these signs of durability so that when you need it the most, you are sure it is going to help you and anyone else who might need your help with it.
4. Does it have space?
The spacing of the boat is second to durability, but it is also important for a number of reasons. You are going to need a boat with bench seats that you can store a suitable first-aid kit under, a spare battery for the motor, a child's life vest or flotation device and a short supply of clean drinking water and food (energy bars or protein bars). With these contents you have just become a life-saver for anyone in need (further down there is an extensive list of essentials you should have in your boat in a flood).
You are also going to need something with ample space for other people, say if you rescued a family or you have your own family that you need to transport to dry land. So make sure that the boat has a sufficient carrying weight to cater for this.
The maximum weight on some of the boats I have used or have had reviewers use are 610lbs for a two-person inflatable boat, 660 for a three-person and 860lbs for a four-person. Keep this is mind as while your people may not weigh much, the gear that you are carrying might fill that weight gap.
5. How does it inflate?
A lot of the quality inflatable boats available on the market already come with a foot pump on purchase, you can choose to buy an electric pump which can be used with a battery if you want to. I have personally found with inflatable boats and kayaks that the included foot pumps work quite well, however it may be an idea to check on the quality of your pump when you purchase it to make sure you can use it in an emergency.
Three inflatable boats that you should consider buying
Now that we know what we need to be buying, let's take a look at some of the competitive and quality inflatable boats available on the market that are durable and can be used in a flood.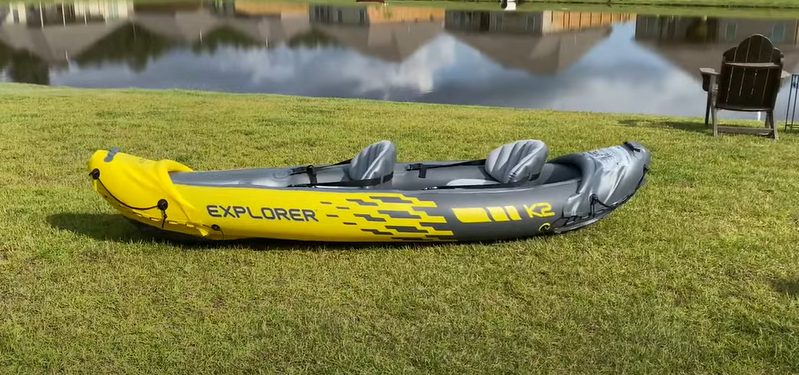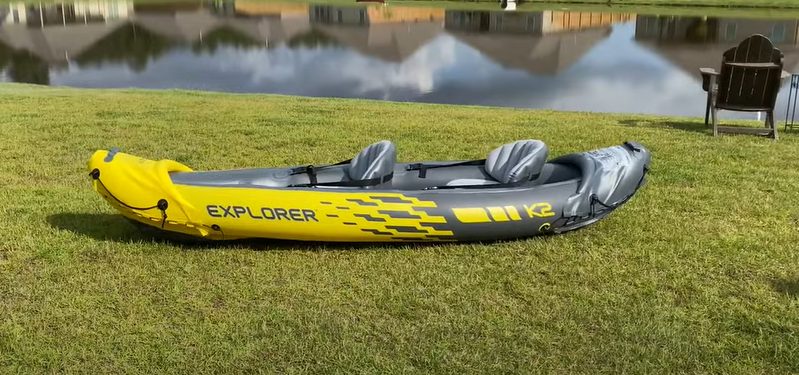 According to many great customer reviews, the Intex Explorer K2 is one of the best-selling inflatable kayaks. We tried the Explorer K2 and paddled it in a bathing lake. We have paddled many inflatable kayaks and can offer you a firm recommendation for who the Intex Explorer K2 is perfect for.
At first glance, the Intex Explorer K2 is in a flimsy travel bag that does not give the appearance of being sturdy. Nonetheless, the bag should be enough for a short trip and may be used to store the kayak at home. The bag includes the boat as well as all of the necessary accessories. Remarkably, it includes so many accessories for such a low price.
There are significant variances in the roughness of the utilized material when compared to higher-quality inflatable kayaks. As a result, you should use extreme caution while handling the Explorer K2 and avoid any contact with stones or branches.
Inflating the two chairs was a little more complicated. The Velcro straps on the boat's floor, on the other hand, were fantastic. When paddling, they keep the seats in the proper position. The lengthened back seat Velcro strap allows you to change the seat's position more independently, whether you want more legroom or more space for your belongings behind the back seat. There are backrests with adjustable straps to the side chambers on both seats. Overall, the chairs are an excellent aspect of the boat at this price range.
The Intex Explorer is quite pleasant to sit in because of the soft chambers. In addition, the chairs are ideal for relaxing on the water.
Specification:
Person Capacity – 2

Length: 10ft 3in

Width: 3ft

Weight: 30.6 lb

Package Dimensions – 16.65 in. x 13.98 in. x 23.54 in.

Weight Capacity – 400 lbs.

Pressure: 0,069 bar

Material: PVC

Depth – 1 ft. and 8 in.

Package includes: 2 aluminum paddles (each at 86 inches), 1 powerful hand pump to inflate the kayak, Inflatable I-beam floor, Grab line (one at the front and one at the back), 2 units of adjustable seats (both with backrests), Quick-fill Boston valve, 1 repair patch kit, 1 pc. carry bag, and U.S. Coast Guard ID with NMMA certification
Pros
Practical carry handles to lift the boat

Inexpensive

Complete accessory already included in the package

Sensitive boat skin

Great design
Cons
Low air pressure 

Paddles are a bit wobbly

Has a little space for luggage 

A short warranty period of 90 days (from the day of purchase)

A fun boat rather than an inflatable kayak 


This NMMA-certified boat is lightweight and portable but durable and long-lasting. With easy-to-use inflation valves that open up for rapid deflation, the boat's three air chambers make it simpler to inflate and give more outstanding balance on the water. The Voyager 500 includes a wraparound grab rope with built-in grommets so you can tie up to a pier or hop aboard.
We remained in a lake for nearly 2 hours after utilizing it. It is an enjoyable and straightforward vehicle to drive. The paddles are durable, and the material is rigid. It has support for fishing rods, but we don't want to risk having sharp fishing hooks near it.
This boat is ideal for a fishing expedition with built-in fishing rod holders and a firm and grooved inflatable floor for added comfort. The Voyager 500 incorporates heavy-duty handles and a tow ring for simple carrying or transporting. If you want to traverse a lake or move about, they provided two oars and oarlocks and oar clasps.
It is excellent for floating about in calmer water, but once you're in it, the midsection sags quite a bit. Overall, it is ideal to fit in your car and use for rafting.
Specification:
Weight Capacity: 573 lbs (260 kg)

Deflated Size: 11′ 10″ x 65″ (361 x 165 cm)

Inflated Size: 11′ 5″ x 56″ (348 x 141 cm)

Person capacity: 3

All-around grab rope with built-in grommets

Built with a rigid inflatable floor and seat cushions for extra comfort

Durable PVC material

3 air chamber construction for better buoyancy

Built-in fishing rod holders

Adjustable air valves for quick inflation and deflation

Storage bag offers a place to keep your safety equipment and valuables

Sturdy oarlocks, oar clasps, and tow ring for added convenience

Includes: one inflatable boat, two 57″ (1.45 m) oars, and a repair patch
Pros
It fits more than 2 people

Sturdy and roomy

Heavy gauge and great for river rafting

Quite light for a large boat

Durable
Cons
It does not include not a carrying bag with it

Not so recommended in windy weather without outboard

No air pump

The valve itself doesn't fit your standard air mattress-type air nozzle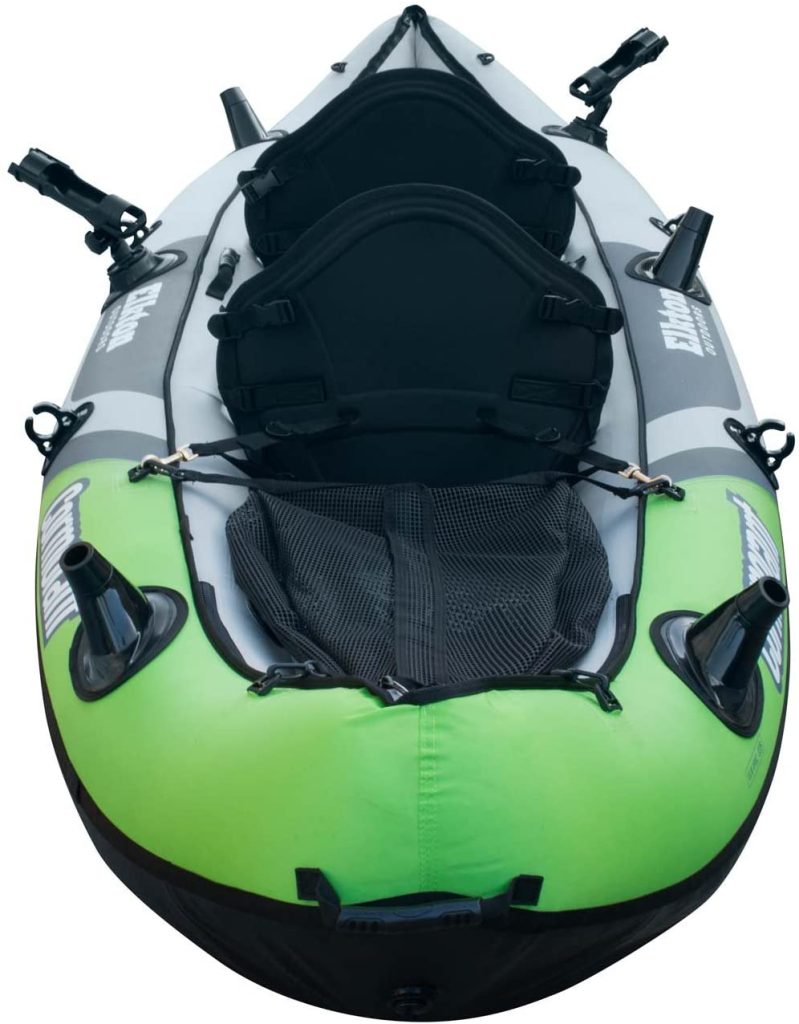 The Elkton Outdoors Cormorant is ideal for those who like fishing trips. This kayak's clever design lets you relax and spend a pleasant day on the lake with friends and family.
The Cormorant is a tandem inflatable kayak with an extra-tough PVC structure, making it one of the most durable inflatables. But it is not just about the power; it also has everything you need to catch fish. For both seats, there are well-placed rod holders and a good gear bag in the rear for your fishing gear.
Thanks to its well-designed amenities, you are in for a relaxing fishing and water fun day. This tandem kayak is simple to set up, comfortable all day and comes with pre-installed rod holders to put your rods away while waiting for the fish to bite.
When it comes to comfort, individuals have different viewpoints. According to everyone, the accompanying kayak seats are fantastic and comfortable enough to sit in for many hours due to their ergonomic design and gel cushioning, which reduces pain. The seats are also simple to alter and remove, giving you a lot of flexibility in arranging the cockpit.
Specification:
Size: 10ft x 35in x 16in

Capacity: 450 pounds

Weight: 27 pounds

Material: 1000D PVC

3 separate inflatable chambers for added security

A removable mesh bag

6 fishing rod holders (2 full-action, 2 vertical, 2 trolling)

Extra tough PVC body is resistant to tears and hook punctures

2 non-inflatable padded seats

Quick and easy setup with the included dual-action pump

An accessory bundle for quick setup

6 mesh pockets on the sides for quick gear stashing

2 lightweight paddles
Pros
 It has 6 pre-installed rod holders

 Fast and easy inflation and setup

 Tough and durable construction

 Contain mesh pockets and a mesh gear bag

 2 comfortable and adjustable kayak seats
Cons
Poor instruction manual (for new users)

The bottom needs another adapter for inflation

Stability problem (from some user reviews)

No clips for the back straps on the front seat to connect to
Extra equipment you should be carrying on your inflatable boat in a flood
If you already have an inflatable boat and are in a flood-prone area you are probably going to have some sort of kit that is helpful to yourself and others in flood situations.
So what do you need?
Everyone should be having a suitable medical kit with them. In a flood you're going to need a lot of sterile gauzes and sterile wipes just for the purpose of keeping any wounds, cuts or grazes clean until you get back to a shelter or your home to patch things up. The priority in a flood would be to stop any floodwater causing harm to your open wound causing an infection, bacteria or disease.
Other essentials you should look at keeping in your inflatable boat are:
Another great item to pack in your kit which takes up a bit more space is a second emergency raft. An Intex Explorer is a great backup to have in your bigger inflatable boat for the purpose that if you find a number of survivors and don't have the space in your own boat, you can fit quite a few more in the backup boat and tow them. Equally as such, if you are in a flooded area where you are gathering supplies and also have a number of people with you, a back-up boat can be used as a supply boat while your passengers sit in the main inflatable boat.
My finals thoughts on the need for inflatable boats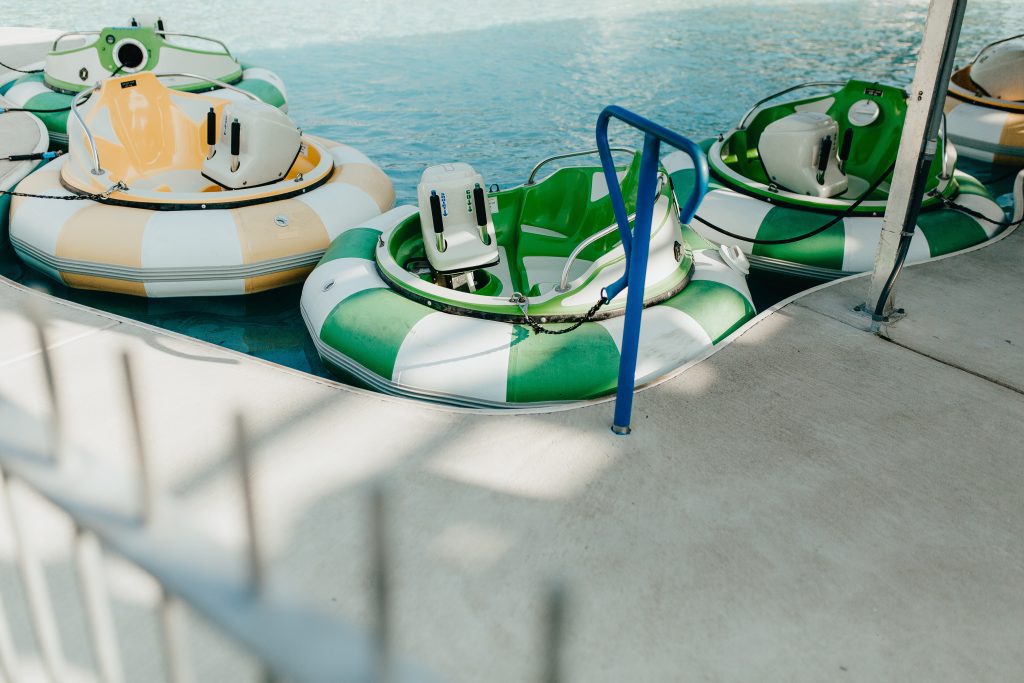 As we have seen in recent flooding disasters not only in Houston but also in the UK, Australia and India, there is a definite need for inflatable boats primarily because floodwater is rampant with bacteria and disease and is the number one risk to your health in floods.
When a flooding occurs, no matter how great your car, 4WD, truck or monster on four-wheels is, there is a risk that you can drive into a hole, a deeper area, or get washed off the road in strong tides. Driving a vehicle in floods is a bad idea and will result in endangering your life and the ones who are with you. This is why there is no doubt you should invest in an inflatable boat. Those boats mentioned above are safe and durable for the conditions that a flood imposes, so it is important to keep this guide in mind when you purchase your inflatable boat.