The origin of the Bowie Knife traces back to legendary frontiersman Jim Bowie.
A blacksmith named James Black crafted a custom fixed blade fighting knife as a gift for Bowie, who used it to fight his way out of the infamous Mississippi Sandbar Fight in 1827.
Bowie's blade garnered a reputation as the fighting knife, and the design soon became a staple in the hands of American soldiers and frontiersmen.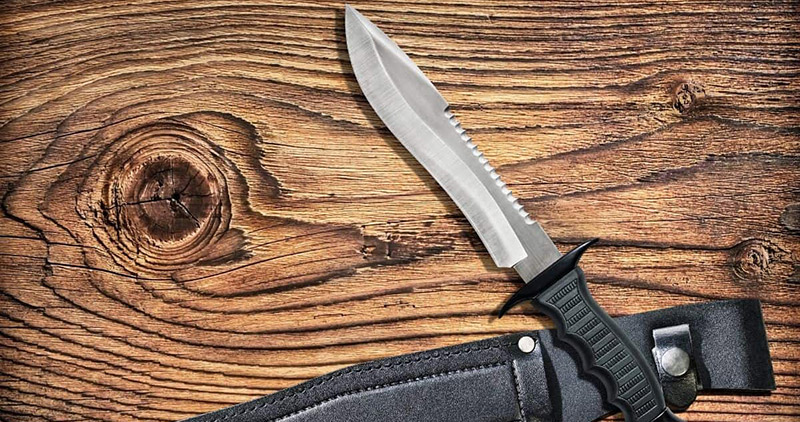 Today, Bowie knives are still the standard-issue fighting knife for several branches of the US military.
They're also popular with local law enforcement officers, who understand that fixed-blade knives are often more effective than firearms in close-quarters combat.
(Don't believe us? Check out our article on The 21-Foot Rule: Why You Should Bring a Knife to a Gunfight).
A Bowie knife is also a great pick for use in the great outdoors. Its prowess in skinning animals makes it the go-to field knife for hunters, and its rugged versatility makes it a prime survival knife.
In short, there are few tasks that a Bowie knife can't handle, whether you're defending yourself, harvesting game, or roughing it in the wild.
Top 10 Survival Bowie Knives
01. KA-BAR USMC Fighting Knife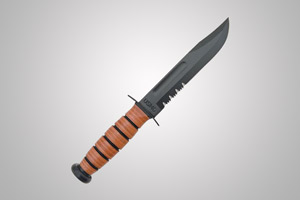 KA-BAR has been making knives since 1898, so they know a thing or two about crafting quality blades.
Their knives undergo a unique manufacturing process and extensive testing to ensure their strength, edge holding ability, corrosion resistance, and sharpness live up to the KA-BAR name.
Their flagship knife — the KA-BAR — is arguably the most famous fixed blade knife out there. Designed for US Marine Corps troops during World War II, it's still the blade of choice for many in the armed forces and law enforcement.
You'll find USMC stamped into the tang to honor the knife's rich military heritage, with USMC and the Marine Corps emblem stamped into the leather sheath.
The KA-BAR Knife is constructed with ultra-tough 1095 Cro-van steel, and features a gold-plated brass guard and pommel.
The protective leather sheath is rugged, durable, and significantly stronger than the plastic sheaths you'll find with cheaper knives. It looks good, feels great in your hand, and will keep your blade sharp and protected for years.
Pros
Good fixed blade length
Full tang
Solid Handle with Hilt and Flat Pommel
Made of Sharon Steel
Long-lasting
Cons
It does not have any lanyard holes
Sheath is subpar
It might be too long for some
02. Perkins 12.5-inch Fixed Blade Bowie Knife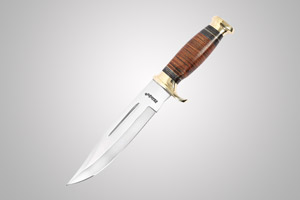 The Perkins 12.5-inch Fixed Blade Bowie Knife was specifically designed for the outdoors.
Where the KA-BAR Knife is first and foremost a fighting knife, this blade is engineered for survival, hunting, skinning, camping, and self-defense.
Backed by a lifetime guarantee, it's intended to be a knife that you enjoy and treasure for life before passing on to future generations.
The Perkins 12.5-inch Fixed Blade Bowie Knife is constructed with a 440C steel blade that's rated 59-60 HRC on the Rockwell Scale, so it'll stay sharper for longer than most blades.
The full tang design ensures a professional feel and balance, ensuring the highest level of durability, strength, and reliability that you'd expect in a serious survival knife.
The classic grip features a genuine leather handle that's comfortable in your hand and beautiful to look at. The knife also comes with a high-grade leather sheath to keep it safe between uses.
Pros
Razor-sharp blade
Full tang design
Classic grip
Leather sheath
Lifetime guarantee
Cons
Subpar handle material
The blade can rust easily in wet environments
Many users complained about defective sheath
03. United Cutlery Marine Force Recon Sawback Bowie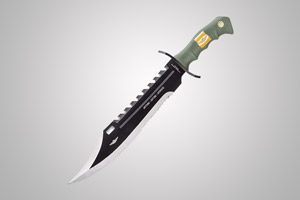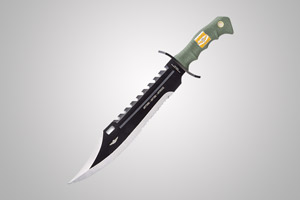 For a military-grade bowie knife that fits any budget, go with the Marine Force Recon Sawback Bowie from United Cutlery.
This Bowie knife features an 11.5-inch AUS-6 stainless steel blade that's corrosion-resistant and coated with an anti-glare finish.
The over-molded rubber handle feels comfortable in your hand, and the coated metal handguard ensures your hand doesn't slip onto the blade when things get dicey. The knife is made with the highest quality materials and includes a durable nylon sheath.
Pros
Nice aesthetics
Rubber handle
AUS-6 Stainless steel blade
Serrated and plain blade edge
Thick Sheath
Cons
Not sharp
Not tactical
You have to sharpen the blades daily
04. Timber Rattler Bowie Knife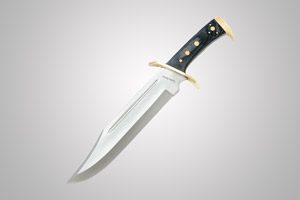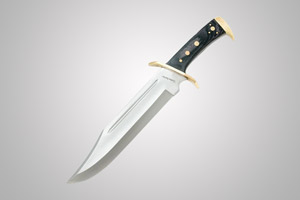 The Timber Rattler Bowie Knife is a big knife that measures between 6 to 24 inches in length and over 0.5 inches in width.
This well-made knife provides a pleasant surprise at a reasonable price. It has a full tang and is sturdy enough to tackle some of the most challenging chores.
Some people commented that the Timber Rattler Bowie is too large, although we found it well balanced. It has a sharp edge as well.
It does, however, need some refinement. There is a plated brass guard to keep you safe from any mishaps. The blade is constructed of stainless steel, durable, simple to maintain, and clean.
The most significant disadvantage for us is that sharpening is quite tricky. Even though Bowie did not create this knife, to be precise, it is better suited for survival and camping. The blade is medium sharp, allowing it to do the tasks you want.
The handle is constructed of gray oak and is pleasant to hold. It also comes with a genuine leather holster created to fit the knife perfectly. This bowie knife is excellent for hacking since it can split logs and cut down small trees.
Timber Rattler knives are known for their high quality and low price. You can't go wrong with this one, in our opinion, when it comes to choosing the ideal bowie knife for your budget.
Pros
Well-balanced
Affordable
A razor-sharp blade
Excellent for survival
It comes with a leather sleeve
Cons
This knife is not a precision knife
Blade with a medium sharpening
05. Winchester 3435 Double Barrel Zebra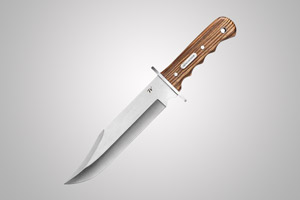 The Winchester Double Barrel stays true to the traditional Bowie design.
The blade tip is positioned below the spine for increased control, there's a beveled edge at the point to streamline the tip, and there's a curved edge near the point that's ideal for skinning animals.
You'll also find the traditional notch near the hilt for repairing nets and stripping wires.
The Winchester Double Barrel features a high-carbon stainless steel blade with a stonewash finish for maximum edge retention, strength, and corrosion resistance.
The fine-edged blade is easy to sharpen, and comes with a snap-closure fabric sheath. In a nod to the iconic rifle that gave the company its nickname "The American Legend", the Winchester Double Barrel features a zebra wood handle based on the original Winchester rifle stock.
Pros
It has a large fixed blade knife
A wooden handle and stainless steel blade
Solid for a hidden tang model
Weight is alright for its size
Cons
Too large and bulky for smaller hands
Guard loose easily
Handle cracked per customer complaints
06. Ontario Knife Company 8681 SP-5 Fixed Blade Bowie Knife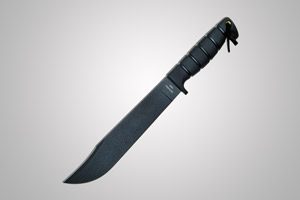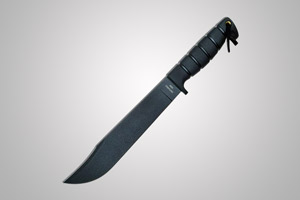 First and foremost, the Ontario Sp5 Fixed Blade Bowie is a large yet agile blade.
The knife has a 1095 high carbon steel blade that is ten inches long, .23 inches broad, and has an overall length of just over 15 inches, with a Rockwell hardness of 53 to 59.
The knife is 15 ounces, and the sheath is 4.6 ounces, totaling 19.6 ounces. The black powder coating has a smooth feel, and although it is durable and doesn't drag much while cutting, you can remove it if needed.
The Ontario Sp5 is hair-shaving sharp, uniformly ground, and optically and aesthetically excellent right out of the box, except where you sharpen the clip.
Furthermore, we noted that the sharpened clips on both blades were somewhat different. Both knives work flawlessly, although the tiny differences may cause an occasional error. That said, this is a minor flaw for a production knife of this caliber and price.
The Sp5 is known as the Survival Bowie in Ontario; thus, the tests we ran on the blade mimic the sorts of usage a survival knife may see. Chopping, batoning, and meal preparation were among the tasks.
When it comes to a discount chopper, survival, or camp knife like the Sp5, the prevalent idea is that if it comes with a sheath, consider it a freebie and expect to upgrade.
Although the Sp5 is no exception, and the knife would benefit significantly from a decent Kydex sheath, we wanted to point out that we are pretty pleased with the sheath that came with the knife.
We appreciate this sheath because, despite the lack of molly attachment points or a nice survival tin storage bag on the front, it performs what a sheath should do: hold the knife securely and safely.
There is no rattling, no movement, and no need to be concerned. If you want as much American steel as you can afford but can't afford to spend ammunition money on a knife, this is the knife to have, and you can be sure that the sheath will do the job.
Pros
Made using a 1095 Carbon Steel
Amazing grip
It comes with a nylon belt sheath for convenient storage
Classic style
Made in the USA
Cons
The knife is dull on arrival
Some users complain about the edge profile
07. CRKT Minimalist Bowie Neck Knife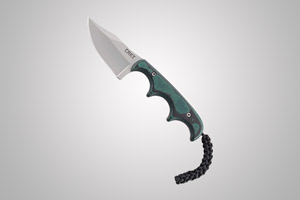 Designed by blademaster Alan Folts, the CRKT Minimalist Bowie Neck Knife is the best compact Bowie knife for survivalists on a budget.
The knife lacks the bravado of a full-size Bowie knife, but it's a versatile wilderness carry you can use for survival, camp chores, cooking, and skinning animals.
The Minimalist Bowie Neck Knife features a full tang blade, three-finger coils, friction grooves for thumb placement, hand-contoured resin-infused fiber scales, and a braided fob.
It's surprisingly easy to grip and control, and feels comfortable in your hand. Unlike most small-neck knives, the handle is functional for a wide variety of cutting tasks, and the blade can rip through materials better than almost any knife of comparable size.
Each blade comes with a custom-fitted, glass-filled nylon sheath for safe storage and carrying. There's also a neck paracord for inverted carry as a neck knife.
Pros
Easy to sharpen
Minimizes reflectivity
Resin infused fiber handle combines strength with visual appeal
Gear compatible
Lightweight and easy to carry
Cons
Finger grooves are big
The blade is a little too thick
Not ideal for rugged use
08. Cold Steel Chaos Bowie Trench Knife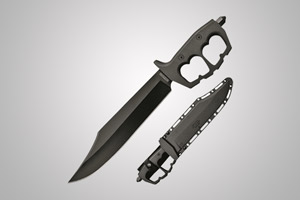 Blade producers are prone to bragging about how their blades have a long history of combat usage, but Cold Steel is an exception in that it went all out.
The Bowie Knife, despite its deadly history, has evolved into one of the most impressive outdoor fixed blades available.
The Cold Steel Chaos Bowie has a 10.5-inch clip-point designed for battle, but you can now repurpose it for your daily carry difficulties.
It is an SK-5 high-carbon blade given a sleek black finish. It also includes a 6061 handle (aluminum) with a glass breaker hilt and a finger guard.
With just one glance at this knife, it is evident that Cold Steel drew inspiration from WWII trench knives. The store, on the other hand, seems unconcerned with nostalgia.
On the other hand, Cold Steel decided to modernize the blade for this new generation. It blended it with new materials while keeping the old design characteristics.
This combination provides an excellent survival blade. It is ready to use in any outdoor situation.
The Chaos Bowie also comes with a Secure-Ex sheath that is very tough. Not only that, but it is also very lightweight and MOLLE-compatible.
That is, in essence, your brute certification. You may attach it to your tactical pack or belt loops, whichever you want.
In any case, you will be aware that you are carrying a hardcore knife with you. What's the most remarkable part? It will only set you back $120.
Pros
Equipped with unique "D" ring guards
Secure and comfortable grip
Tough and secure sheaths
It has a skull-crusher Pommel
Coated carbon steel blade
Cons
Not ideal for chopping
Won't put up to rugged use
09. Uncle Henry Bowie Full Tang Fixed Blade Knife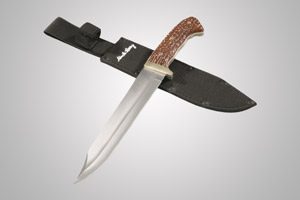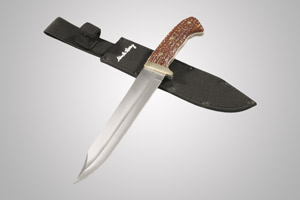 The knife's length is 39 inches, making it a large knife that you cannot carry in your pocket. This bowie knife is 1.7 pounds in weight.
The blade features a strong cutting edge composed of stainless steel, and we found it to be relatively robust. A sturdy grip with a polyester belt sheath sits at the base of the blade. You can also see a robust nickel silver staglon handle towards the base.
The knife comes in handy for cutting and slicing large stuff. We found the pricing to be reasonable, and yet it is effective.
The knife, however, has a thin blade. The blade is a bit brittle and quickly breaks when used on duties like cutting tiny garden branches; as a result, it is not very long-lasting. The knife is unpleasant to grip because of the riveted plastic handle.
The knife was sturdy, and the grip was comfortable in our hands. We held the knife still and dragged the 6-inch Ferro rod over it to see how it worked.
It generated positive sparks. It wasn't the most delicate striker/scraper, but it got the job done and threw some good sparks.
Uncle Henry has established itself as a favorite among traditional outdoors people with various skinning, filet, and gut-hook knives. Overall, we felt the steel was good value for the money. The sheath is well-made and appealing to the eye.
Pros
Staglon handle with nickel silver guard
Black polyester belt sheath
Inexpensive
Sturdy and comfortable
Cons
The blade broke upon first heavy usage (some users note)
The sheath is below average
Plastic handle
10. SZCO Damascus Stacked Leather Bowie Knife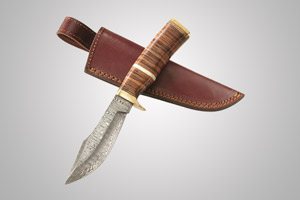 The SZCO Damascus knife has an overall length of 7 inches, with a 3.25-inch handle. This outdoor knife's wooden handle has finger ridges and brass pins.
It also has a comfortably weighted grip, and it comes with an authentic leather sheath. This sheath is excellent for easy carry and storage.
The Damascus Steel's water-like aesthetic includes a simple light wooden handle with unique file work along the blade spine, resulting in a knife as attractive as it is functional.
Its short, lightweight reliability has helped cut more fishing lines, pluck more splinters, and participate in all the little tasks that a light-grade knife should do year after year.
The knife's attraction is evident on its face – it is stunning. We love anything with antler or storied wood, and when you combine those elements with a Damascus blade, you've got a winner. We thought it'd be a pleasant item to look at at the very least and well worth its price.
The blade was not as sharp out of the box as you would expect, but we had no difficulties after a few minutes spent sharpening it.
For the time being, though, we are delighted with its performance. It is weighty in hand, and the handle is just long enough.
Pros
Treated for edge retention
Long-lasting quality
Optimal grip
It comes with an authentic leather sheath
Olive wood handle design
Cons
Not as sharp out of the box