The origin of the Bowie knife traces back to legendary frontiersman Jim Bowie. A blacksmith named James Black crafted a custom fixed blade fighting knife as a gift for Bowie, who used it to fight his way out of the infamous Mississippi Sandbar Fight in 1827. Bowie's blade garnered a reputation as the fighting knife, and the design soon became a staple in the hands of American soldiers and frontiersmen.
Today, Bowie knives are still the standard-issue fighting knife for several branches of the US military. They're also popular with local law enforcement officers, who understand that fixed-blade knives are often more effective than firearms in close-quarters combat. (Don't believe us? Check out our article on The 21-Foot Rule: Why You Should Bring a Knife to a Gunfight).
A Bowie knife is also a great pick for use in the great outdoors. Its prowess in skinning animals makes it the go-to field knife for hunters, and its rugged versatility makes it a prime survival knife. In short, there are few tasks that a Bowie knife can't handle, whether you're defending yourself, harvesting game, or roughing it in the wild.
The Best Overall Bowie Knives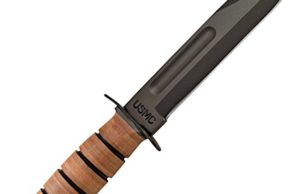 KA-BAR has been making knives since 1898, so they know a thing or two about crafting quality blades. Their knives undergo a unique manufacturing process and extensive testing to ensure their strength, edge holding ability, corrosion resistance, and sharpness live up to the KA-BAR name.
Their flagship knife — the KA-BAR — is arguably the most famous fixed blade knife out there. Designed for US Marine Corps troops during World War II, it's still the blade of choice for many in the armed forces and law enforcement. You'll find USMC stamped into the tang to honor the knife's rich military heritage, with USMC and the Marine Corps emblem stamped into the leather sheath.
The KA-BAR Knife is constructed with ultra-tough 1095 Cro-van steel, and features a gold-plated brass guard and pommel. The protective leather sheath is rugged, durable, and significantly stronger than the plastic sheaths you'll find with cheaper knives. It looks good, feels great in your hand, and will keep your blade sharp and protected for years.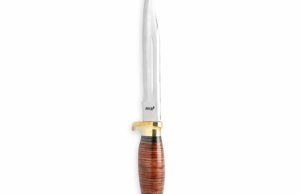 The Perkins 12.5-inch Fixed Blade Bowie Knife was specifically designed for the outdoors. Where the KA-BAR Knife is first and foremost a fighting knife, this blade is engineered for survival, hunting, skinning, camping, and self defense. Backed by a lifetime guarantee, it's intended to be a knife that you enjoy and treasure for life before passing on to future generations.
The Perkins 12.5-inch Fixed Blade Bowie Knife is constructed with a 440C steel blade that's rated 59-60 HRC on the Rockwell Scale, so it'll stay sharper for longer than most blades. The full tang design ensures a professional feel and balance, ensuring the highest level of durability, strength, and reliability that you'd expect in a serious survival knife. The classic grip features a genuine leather handle that's comfortable in your hand and beautiful to look at. The knife also comes with a high grade leather sheath to keep it safe between uses.
The Best Value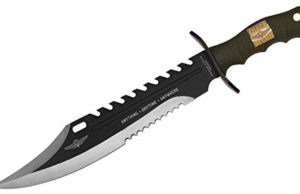 For a military-grade bowie knife that fits any budget, go with the Marine Force Recon Sawback Bowie from United Cutlery. This Bowie knife features an 11.5-inch AUS-6 stainless steel blade that's corrosion-resistant and coated with an anti-glare finish. The overmolded rubber handle feels comfortable in your hand, and the coated metal handguard ensures your hand doesn't slip onto the blade when things get dicey. The knife is made with the highest quality materials, and includes a durable nylon sheath.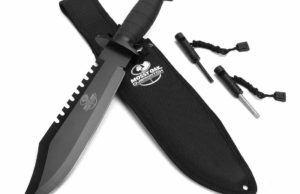 The Mossy Oak Survival Knife is a massive 15-inch-long bowie knife with a 10-inch blade. Built for precision and control, it's a multi-purpose survival knife that can handle any situation in the field. The knife is especially popular with hunters, but it's also suitable for military, tactical, industrial, and general outdoor use.
The Mossy Oak Survival Knife features an anodized clip-point blade that's razor sharp with a partially serrated spine. Field tests have proven the blade to be highly durable and corrosion-resistant with strong edge retention. Surprisingly lightweight, the full tang construction ensures optimal cutting strength and stability, while the TPR rubber-coated handle provides a high-friction grip that's easy to hold and handle.
The Mossy Oak Survival Knife comes with a heavy duty nylon sheath to keep the knife readily accessible at all times. It also comes with a sharpener to prolong the blade's lifespan, and a fire starter for wilderness survival.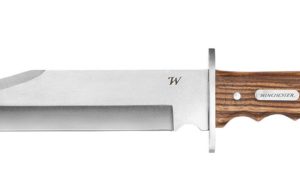 The Winchester Double Barrel stays true to the traditional Bowie design. The blade tip is positioned below the spine for increased control, there's a beveled edge at the point to streamline the tip, and there's a curved edge near the point that's ideal for skinning animals. You'll also find the traditional notch near the hilt for repairing nets and stripping wires.
The Winchester Double Barrel features a high-carbon stainless steel blade with a stonewash finish for maximum edge retention, strength, and corrosion resistance. The fine-edged blade is easy to sharpen, and comes with a snap-closure fabric sheath. In a nod to the iconic rifle that gave the company its nickname "The American Legend", the Winchester Double Barrel features a zebra wood handle based on the original Winchester rifle stock.
The Most Compact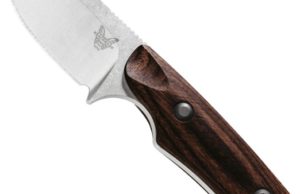 Benchmade has a rich history of producing custom American-made knives, and the Hidden Canyon Hunter Knife lives up to the family name. An ideal choice for the discerning buyer who needs to save space, it's hands-down the best compact Bowie knife on the market. The compact fixed blade knife carries a premium price tag, but it's worth every penny.
The Benchmade Hidden Canyon Hunter Knife is specifically engineered for hunters, with a large applied blade radius that smokes the competition when skinning animals and harvesting meat. The knife features a premium CPM-S30V full-tang drop-point blade with a contoured stabilized wood handle. It comes with a pressure-fit leather sheath with an ambidextrous, horizontal-carry belt loop.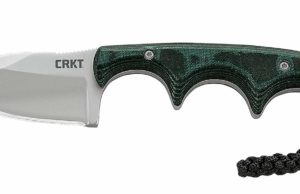 Designed by blademaster Alan Folts, the CRKT Minimalist Bowie Neck Knife is the best compact Bowie knife for survivalists on a budget. The knife lacks the bravado of a full-size Bowie knife, but it's a versatile wilderness carry you can use for survival, camp chores, cooking, and skinning animals.
The Minimalist Bowie Neck Knife features a full tang blade, three finger coils, friction grooves for thumb placement, hand-contoured resin-infused fiber scales, and a braided fob. It's surprisingly easy to grip and control, and feels comfortable in your hand. Unlike most small-neck knives, the handle is functional for a wide variety of cutting tasks, and the blade can rip through materials better than almost any knife of comparable size.
Each blade comes with a custom-fitted, glass-filled nylon sheath for safe storage and carrying. There's also a neck paracord for inverted carry as a neck knife.