Carrying a multi-tool is a great way to ensure you're prepared for anything, but a Leatherman or Swiss Army Knife take up a lot of pocket space.
They'll get you into trouble at security checkpoints when the tool includes a blade, so you can't take them through building security or through TSA at the airport (trust me — I've tried, and it doesn't end well).
For a stealthy multi-tool that's easy to carry wherever you go, consider going with a credit card multi-tool instead.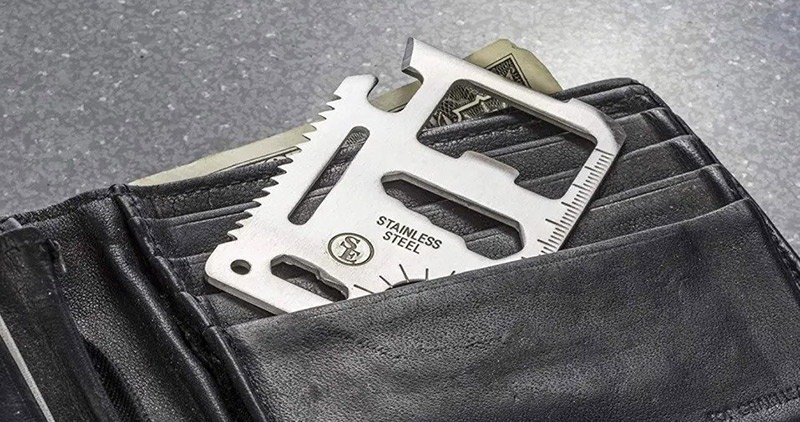 Credit card multi-tools are designed to pack all the tools you need for everyday tasks inside your wallet.
They're ideal EDC tools that take up minimal space, and an affordable way to keep a toolbox within reach when you're on the go or have in your bug out bag for when an emergency strikes.
Most credit card multi-tools are TSA-compliant (providing they don't have a blade), so you can truly take them anywhere.
Choosing The Best Credit Card Multi-Tool
There are a ton of credit card multi-tools out there, and not all of them are created equal. The card needs to be strong enough to handle a significant amount of pressure when you're tightening bolts and driving screws, yet small and thin enough to squeeze into your wallet.
To help you separate the good from the bad, we've compiled a list of the best credit card multi-tools based on field tests and reviews.
These tools don't cost very much, so the gap between the most affordable tool and the most expensive one is less than $50.
It's worth the extra investment to upgrade the metal and double the number of tools at your disposal with a premium credit card multi-tool, but the affordable options are dependable and versatile enough to make a valuable addition to anyone's EDC arsenal.
1. Lever Gear Toolcard Pro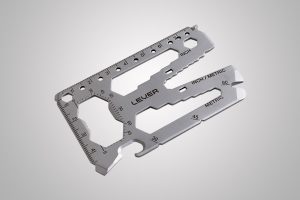 These days, it's all about becoming lighter and lighter. Tools like the Lever Gear are popular among outdoor enthusiasts because of their versatility.
With only one tool, you can do 20 tasks. Why stop at 20 or even 30 items in a multi-tool? The Lever Gear Tool card comes with 40 different tools.
The Lever Gear tool card is rather outstanding. I was pleasantly impressed at how quickly this tiny device sliced through 4mm and 5mm cables.
I'm sure it can handle bigger ones, but they were the only ones I had. It blasted right through them. I expected to be sawing for a long time.
When it comes to photographic equipment, I use screwdrivers the most. Tightening tripod screws and connecting cameras to plates occasionally need the use of a coin or key. The big flathead screwdriver makes things simple.
The Tool card comes with a large clip that serves as a money clip. I've never used a money clip, so I won't be using it, but it could easily double as a belt clip if you wanted to keep it on your belt.
The Tool card Pro is small enough to fit in your wallet at 30ml and the size of a credit card. The pack also serves as a protective sleeve, allowing it to be stowed in a backpack or glove box.
While a wallet card will never replace your toolbox, it will always be close by to help you complete tasks. You may insert it into any regular credit card slot. It also includes a unique protective sleeve.
Tools
8 metric wrenches (5mm – 15mm), 8 inch wrenches (3/16" – 9/16"), 8 open-end wrenches fitting: metric nuts 7,8,10,11,13mm & inch nuts #4,#6,#8,#10,¼",5/16", Bottle opener, Can opener, Cord cutter, Small Phillips screwdriver, Small flathead screwdriver, Large flathead/Phillips screwdriver, Metric ruler (8cm), Inch ruler (3in), Straight edge/scraper, ¼" Hex bit holder, Pry bar with nail puller, Protractor, 30°, 45°, 60°, 90° speed square, and a Circle drawing template
Specs
Dimensions – 3.27" x 2.09" x 0.06"
Weight – 1 ounce
Hardness – HRC 48
Material – 420 Stainless Steel
Finish – Satin bead blast
Tools – 40
Pros
Multi-function
Simple and easy to use
Solid built
Easy to take off money clip
TSA compliant
Cons
Uncomfortable in some grips
Confusing to take off money clip (initially)
Small and easy to lose
2. Wallet Ninja Multitool Card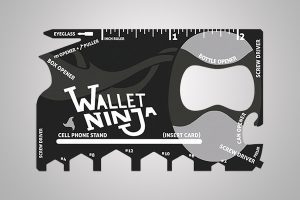 The Wallet Ninja multi-tool allows you to keep a metal multi-tool device in a standard-sized credit/debit card slot.
This unique-looking multi-tool may perform a wide variety of functions that might be useful on several occasions.
The Ninja tool's most remarkable feature is the sheer number of various tools it has. The Ninja is the smallest multi-tool on the market, with 18 different tools packed into a gadget's size of a credit card.
However, how effectively these tools operate or 'get the job done' is another matter entirely.
Overall, the Ninja multi-tool is a helpful tool that performs as expected. The tool's quality does not exceed relatively equal that of other premium lines, but for just $12.99, you can't complain. It is simple to use every time.
We also found the Wallet Ninja to be quite sturdy, and we were unable to bend it due to the heat-treated stainless steel used in its construction.
The product stands out from the crowd and can be counted on to work hard for the consumer and consistently exceed expectations.
Tools
Inch ruler, Screwdriver, Bottle opener, Can opener, Peeler, Screwdriver, #2 Hex, #6 Hex, #10 Hex, #12 Hex, #8 Hex, #4 Hex, Screwdriver, Cellphone stand, Box opener, Letter opener, Eyeglass screwdriver, and cm ruler
Specs
Dimensions – 3.25″ x 2.125″ x 0.06″ (size of a credit card)
Material – 4X heat treated steel
1.5mm thick, completely flat
Lifetime guarantee to never rust, bend, or dull
TSA approved
Tools – 18
Pros
Small and portable
It can be taken with you wherever you go
It includes handy everyday tools, including wrenches, screwdrivers, and more
It can also be used as a smartphone stand
TSA approved
Cons
Needs reconfiguration with the box cutter
Some customers found material is substandard
Some functions are not useful
3. Victorinox Swisscard Lite Multi – Tool – Ruby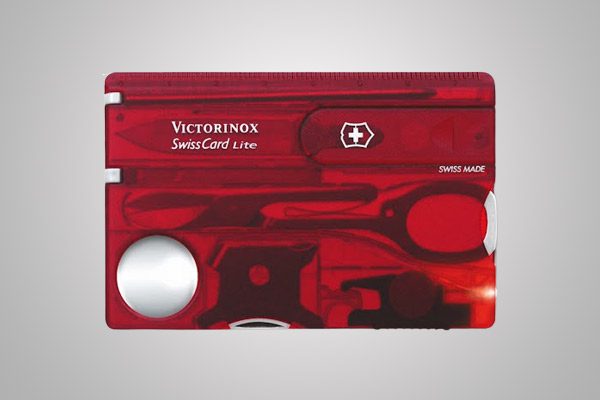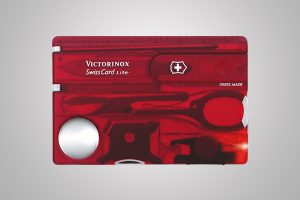 Victorinox — the iconic Swiss company behind the Swiss Army Knife — is the industry leader in multi-tools and pocket knives.
They've been crafting durable, dependable tools for over 130 years, so they know a thing or two about quality craftsmanship.
Despite what the name implies, the SwissCard Lite Pocket Tool is an upgraded version of their Classic SwissCard.
The handy multi-tool doesn't have as many options as some of the other credit card tools on this list, but it's the only one that offers an LED light, pressurized ballpoint pen, magnifying glass, straight pin, and tweezers.
The compact tool is precision-crafted in Switzerland, and comes with a lifetime warranty.
Tools
Emergency blade (letter opener), Scissors, Magnifying glass, Screwdriver 3 mm, Screwdriver 5 mm, Phillips screwdriver 00 / 0, Phillips screwdriver 1 / 2, Tweezers, Pressurized ballpoint pen, Pin, Stainless steel, and LED
Specs
Model: SwissCard Lite
Length – 3.2″
Handle Material – ABS / Celidor
Blade Lockable – No
One Hand Blade – No
Weight – 0.9 oz.
Tools – 13
Pros
It comes nicely packaged and would make a lovely corporate gift
Manages to provide good utility (About the thickness of two credit cards)
Removable blade
Scissors and tweezers are convenient
Cons
The blade is not so strong
Screwdriver is hard to use in some situations
4. Nite Ize Financial Tool Multi Tool Wallet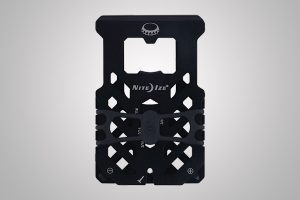 If you're looking for a unique minimalist wallet, quantity over quality is the name of the game with the Nite IZE Financial Tool. Its 5-in-1 design, along with its high durability, demonstrates this.
The stainless steel structure of the Nite IZE Financial Tool enables it to expand out with various purposes, such as onboard wrenches and rulers, rather than just keeping your cards and money in separate locations.
The Nite IZE Money Clip can only hold four debit or credit cards. It is not as awful as the Victorinox Swiss Army Money Clip, which only holds two cards, but it's still not up to par.
It isn't very appealing in terms of appearance. To be honest, it looks like a vehicle that hasn't been painted.
However, its stainless steel design provides unrivaled strength. It is made to endure punishment, such as bending and breaking.
Tools
Cash Wrap strap, scraper, bottle opener, 3 wrenches (1/4″, 5/16″, and 3/8″), flathead screwdriver, Phillips screwdriver/tape cutter, and a metric & imperial ruler
Specs
Dimensions: 3.6″x 2.3″ x 0.14″ | 90.5mm x 58.5mm x 3.5mm
Weight: 1.16oz | 33g
Available in Black & Stainless
Tools – 7
Pros
The rubber band appears to be of high quality
Functional wallet
Minimalistic while being packed with practical tools and features
Small and fit easily in the pocket
Cons
The edges are too sharp
It's pretty tricky to get the plates apart to pull out cards/cash
No replacement bands
5. Zootility Wildcard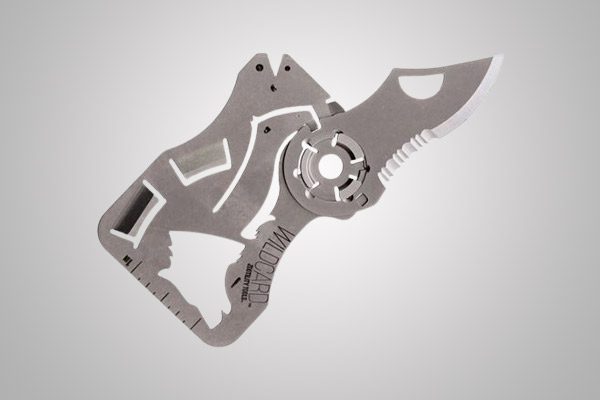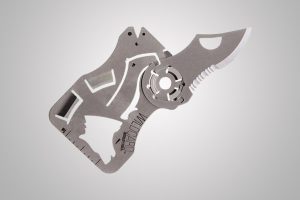 I got the wildcard for Christmas three years ago and first dismissed it as a gimmick.
However, after leaving my knife and emergency tool bag while offroading one day, this tool saved the day and was the only difference between getting home and having to camp in the middle of nowhere.
I have a knife designed expressly for wearing with a suit, but I found this ideal because of the low profile while conveniently available.
It also works great in areas where a pocket or fixed blade would be refused; this fits in my wallet and gets me in every time.
It's also helpful if you forget your knife or multi-tool at the airport; you won't have to throw it away or recheck a $100+ knife or multi-tool.
All you have to do is remove the blade and replace it after you've arrived at your destination.
Overall, it is a beautiful deal for the money. It is still operating flawlessly after three years of semi-regular usage.
At a fantastic price, you get a terrific product with exceptional quality. I'll be buying more things in the future and giving them as presents.
Due to its ultra-thin form and unique FlyOff technology, WildCard is one of the most stunning "credit card" knives I've ever bought.
It's a fantastic idea that's well-executed. The fit and quality are excellent. I like how the blade locks up and closes.
Tools
Locking blade, Serrated edge, 2x slotted screwdriver, Ruler, Wolf-shaped bottle opener, and a Pry Bar
Specs
TSA compliant
Weight – 1.1 oz (31.18 g)
Approx. dimensions: 3.15" x 2.17" x 0.08" (8 cm x 5.5 cm x 0.2 cm)
Material: heat treated stainless steel
Made in the USA
Tools – 6
Pros
Travel-friendly and portable
Thin and light
Nice snug fit
American made
Cons
Blade steel is lower quality 420
The knife needs frequent sharpening
6. Zootility PocketMonkey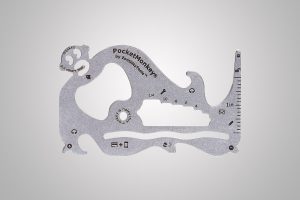 This device is excellent for emergencies. I've used it to screw in items when I did not have any tools on hand, such as my new license plate when I got a new vehicle.
There are many applications for it, and if you have an older thin leather wallet that's a little floppy, this will help stabilize it! It is also TSA-compliant, so you can take it with you everywhere you go.
Though the blade half isn't sharp enough, I'll confess it is not the greatest for letter opening. However, it would be perfectly capable of cutting any string, twine, or other material.
I haven't tried using it as a pry bar or getting in when I've locked myself out, but considering how surprisingly durable it is for being so thin, I'm sure it would do a much better job than damaging your bank card or license.
I first bought this because I needed a lightweight multitool that would enable me to continue traveling with just carry-on luggage.
A leatherman or Swiss army knife could be handier, but the risk of losing it or having to search my baggage was not something I was prepared to risk. It turns out that the PocketMonkey is all you truly need.
When I tested a Swisscard, it was roughly the same size as three or four credit cards stacked! The PocketMonkey is the thinnest I've tested, and it is considerably faster and simpler to deploy because of the rounded corners.
The handiest functions are the bottle opener, screwdrivers, and letter opener/straight edge/micro-screwdriver. The phone stand and earbud wrap, on the other hand, are mostly a gimmick.
I've never used the wrench, but I'm sure it would be handier if they were "open" wrenches. I strongly advise you to acquire one!
Tools
Bottle opener, Flat screwdriver, Phillips screwdriver, Micro screwdriver, Phone kickstand, Letter opener, Door latch slip, Hex wrenches, Ruler, Straightedge, Orange peeler, and a Banana nicker
Specs
Weight – 0.6 oz
Dimensions – 3.38″ x 2.13″
Color – Silver
Material stainless steel
Style – #ZPM100
Tools – 12
Pros
Handy for emergency
Add some stability to a thin wallet
Well-made and thin
Cons
Fruit peeler isn't so sharp
Taken away in the airport even though TSA approved
Weak mail opener
7. ProdPodge Credit Card Multitool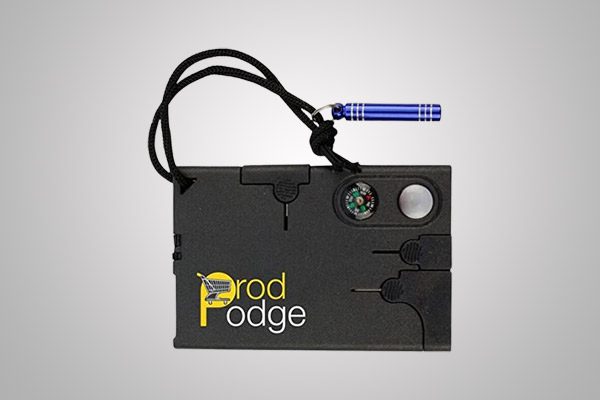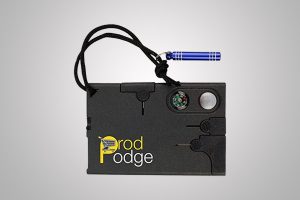 Never be caught off guard, but have the ProdPodge Credit Card Multitool on hand in case of an emergency.
The built-in compass and magnifying lens make navigation a breeze, the serrated knife and matching hook can cut through any fish or small game, and the knife has a built-in sharpener in case it dulls. A pick and tweezer are always helpful (no more splinters).
If you're going camping, the flint firestarter will come in helpful for starting a fire, and the whistle will come in handy if you get lost. It's a card that's suited for any urban or outdoor setting, with a case made of strong ABS plastic and steel tools.
Credit card knives come in various shapes and sizes, each with its own set of uses.
The design is very tiny, and the size is comparable to that of a credit card. It is small enough to fit in your pocket or wallet.
You may use it in a variety of indoor and outdoor activities. Because of its versatility, it is the most fantastic choice for any survival emergency.
This tool is the ideal unisex tool for use at home, on the go, in an emergency, or on vacation.
Tools
Serrated Knife, Bottle opener, Small screwdriver, Large flat screwdriver, Compass Magnifying glass, Tweezers, Toothpick, Ruler, 6 positions – wrench, Key, Ring, Hole, and an Emergency whistle with lanyard (whistle color may vary)
Specs
Weight – 0.8oz
Dimensions – 3.4 x 0.7 x 2.2 inches
Material – ABS Plastic
Tools – 11
Pros
Includes a fire starter
Lightweight
Compact and stylish design
Comes with an emergency whistle
Cons
Fewer tools than some alternatives
Some wallets may not fit