Ham radios are fun to play with on hikes and ATV rides, but they can be an essential communication tool when traditional communication lines fail. When disasters strike down cell towers, internet connections, and landlines, ham radios are often the only means of communication on the front lines. No matter what emergency scenario you're prepping for, you need one or more handheld ham radios.
Ham radios are considered amateur radios, but they still require a license to operate. Obtaining a license is beyond the scope of our conversation today, but you can visit the National Association for Amateur Radio (AARL) for more information on how to get licensed.
There are a ton of handheld ham radios out there, and it takes a bit of technical knowledge to separate the wheat from the chaff. To understand which type and model is best for you, you'll need to answer a few questions about how you'll be using the radio
What type of terrain and conditions will the radio need to operate in?
What type and brand of radios do your communication partners use?
How far will you be from the other parties that you need to communicate with?
To aid you in your search, we've compiled a list of the best handheld ham radios for survival. Each radio on this list offers a unique benefit, whether it's maximum range, compatibility, frequency, or value. All of them are highly reviewed, widely recommended, and guaranteed to aid your chances of survival in emergency situations.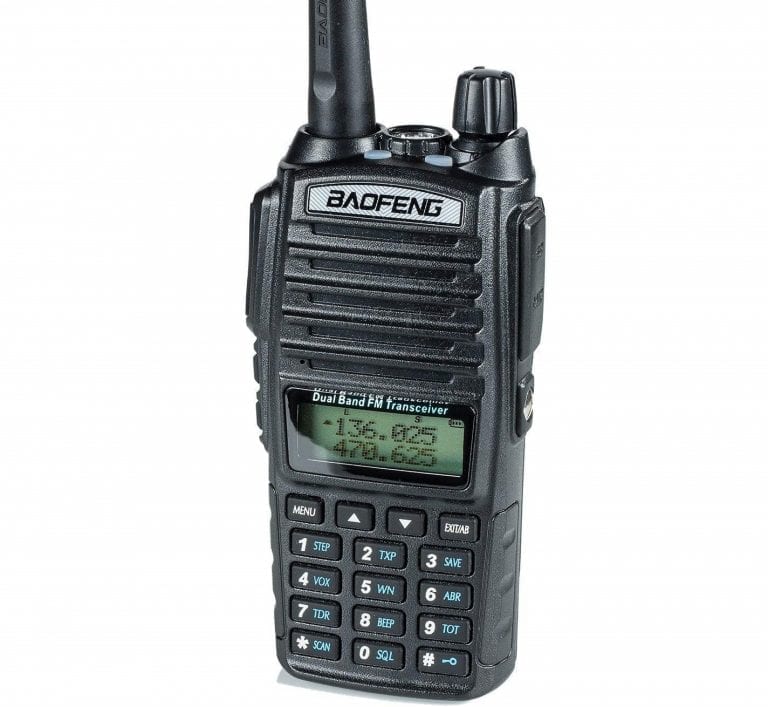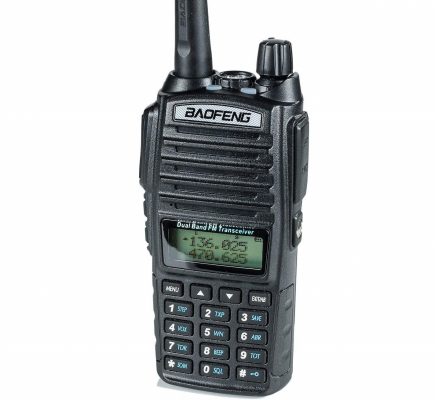 The second generation of the classic UV-82 series raises the bar for affordable handheld ham radios. It offers three power settings, so you can easily control how far you broadcast. The Dual push-to-talk feature lets you transmit on two frequencies with a rocker PTT switch, which you can use to scan channels, frequencies, CRCSS, and DTS tones. You can also use the semi duplex receiver to "watch" two channels on different frequencies, and the radio will prioritize the first station to receive an incoming call. This feature even works while you're listening to the FM Broadcast radio, so your music won't get in the way of an important call.
The UV-82HP supports most common analog tones, including CTSS, DCS, and DTMF calling methods, which you can set up to call by group tones. When you link your UV-82HP to a PC, you can use BaoFeng's free software to synchronize the single PTT button for quick communication with your partner. You can also use the software to lock the frequency mode, set VFO limits, program up to 128 channels, and give the channels alphanumeric names.
Tech specs
Speaker output: 1 watt (low), 5 watts (medium), or 7 watts (high)
Range: line of sight
Push-to-talk: single or dual-watch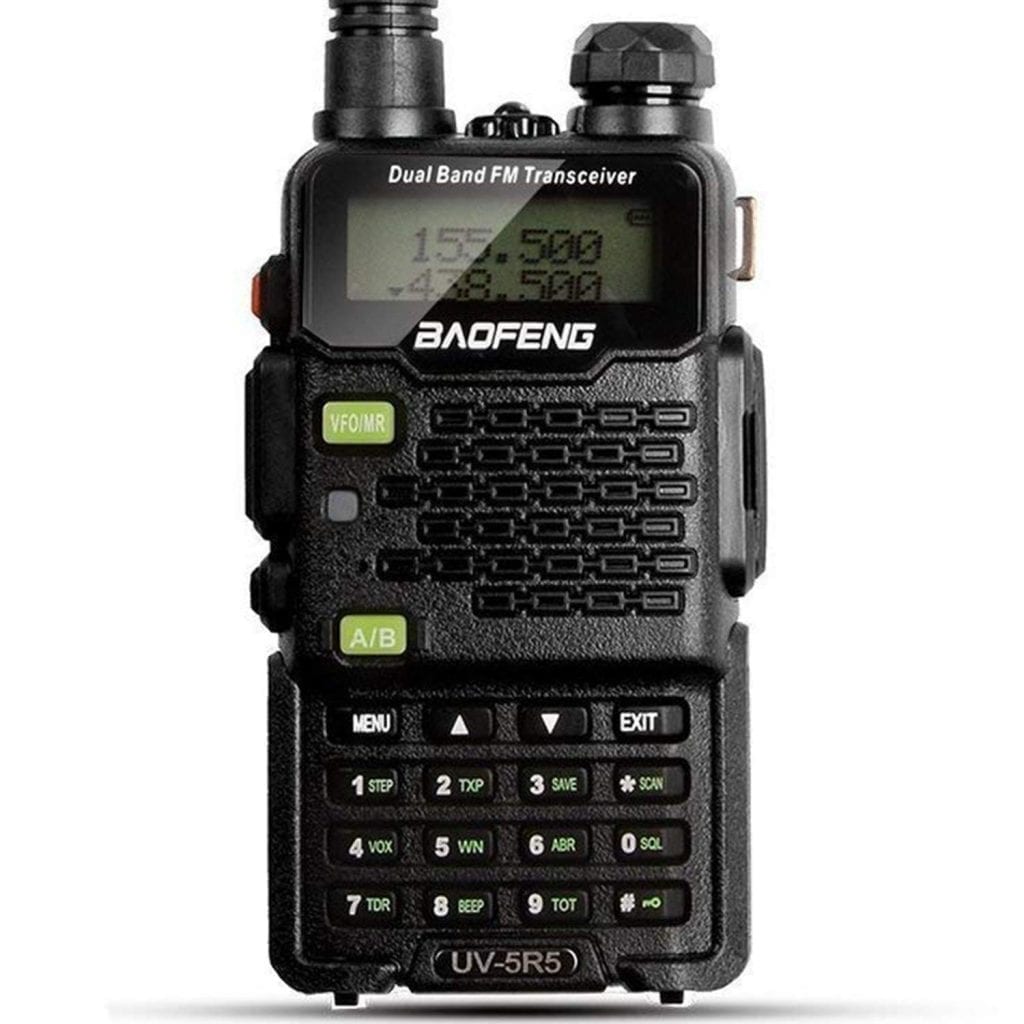 You can't beat the value of the BaoFeng UV-5R5. It's light and compact at just 4.5 inches tall (without the antenna), so it's small enough to fit in a shirt pocket. But don't let the size fool you – it still delivers clear, crisp sound, and the handset is solid with a durable exterior case.
Like its older sibling, the UV-5R5 features a dual watch receiver that can monitor two different frequencies and prioritize incoming calls, even when you're busy listening to the FM Broadcast radio. It supports VOX, group tones, and it can even send DTMF tones that allow for ANI (caller ID) and remote commands. Using the same software as the UV-82HP, you can program and name up to 128 channels and fully customize the handset.
Tech specs
Speaker output: 1 watt (low), 4 watts (high)
Range: up to 3 miles depending on environment and terrain
Push-to-talk: yes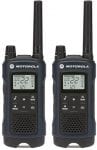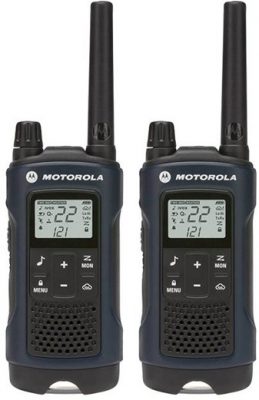 You can keep in touch with others up to 35 miles away with the Motorola T460. The handset offers 121 privacy codes and 22 FRS/FMRS channels, so you can create up to 2,662 unique combinations to ensure you always have access to a clear channel.
When you're in a hurry, the scan function helps you quickly find a channel, and you can utilize the VOX system for on-the-go hands-free control. You can also personalize your communications with 20 unique call tones to help others identify you and recognize when you're done transmitting, and you can lock the keypad with a passcode to keep others from changing your personalized settings.
The Motorola T460 is a great choice for weather-related emergencies thanks to the NAOA weather radio feature. You'll always be in the loop with real-time weather updates and emergency alerts, and the handset's IP54 weatherproof construction can withstand any weather conditions that mother nature tries to throw at you. In the event of an extended emergency that keeps you away from a power outlet, you can swap out the 10-hour rechargeable battery for a trio of AA batteries for 26 hours of extra juice.
Should you ever find yourself in a dangerous situation, you can press an emergency alert button to transmit a siren followed by verbal or incidental sounds to warn your allies. When silence is critical, Quiet Talk (QT) guarantees uninterrupted communication with other QT-enabled Motorola radios, and VibraCall will notify you of transmissions by vibration rather than emitting a tone.
Tech specs
Speaker output: up to 2 watts
Range: up to 35 miles
Push-to-talk: yes, with an optional power boost to extend the range
The Best GMRS Handheld Radio: BTECH GMRS-V1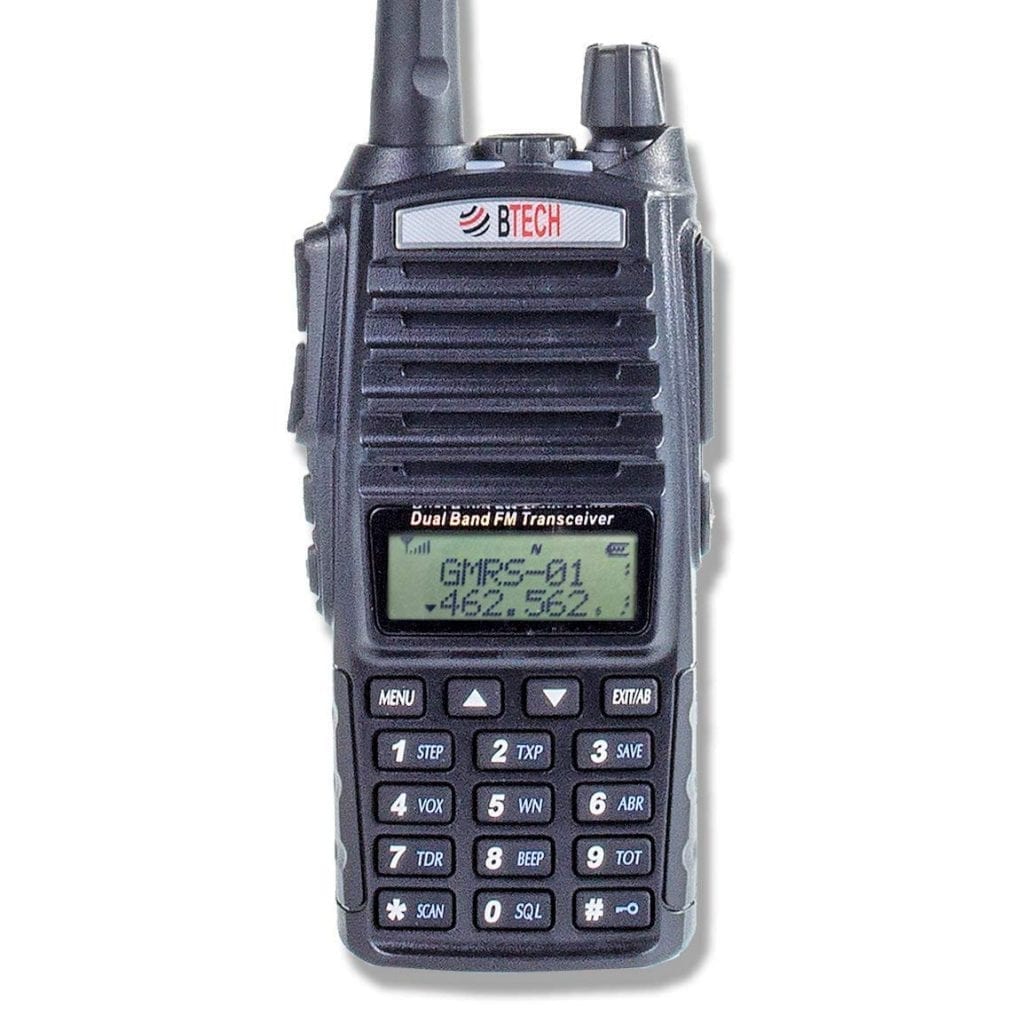 The General Mobile Radio Service (GMRS) is a land-mobile FM UHF radio service that's engineered for short-distance two-way communication. GMRS radios are similar to Family Radio Service (FRS) radios, and actually share the FRS frequency band near 462 and 467MHz. You need to be licensed to operate a GMRS radio, but it's a pretty easy process.
The BTECH GMRS-V1 is an excellent GMRS radio with top-notch features, and the price point makes it a surprisingly good value. The radio provides access to 22 modifiable GMRS two-way channels, 8 modifiable GMRS repeater channels, 98 programmable scanner channels, and a simultaneous display that shows the channel name and frequency for each selected channel.
The GMRS-V1 offers more privacy tones than any other GMRS radio on the market, and allows you to scan for tones even when the other user doesn't know which privacy tone they're using. You can require a privacy tone for incoming transmissions, and you can mix and match tones for repeater usage.
Like the other two BaoFeng handheld radios that we've discussed, the BTECH GMRS-V1 features a dual watch receiver that prioritizes incoming transmissions, even when you're listing to music on the FM Radio broadcast. The internal VOX function provides for convenient hands-free operation, and the included software makes it a piece of cake to customize the handset.
Tech specs
Speaker output: 1 watt
Range: line of sight
Push-to-talk: single or dual-watch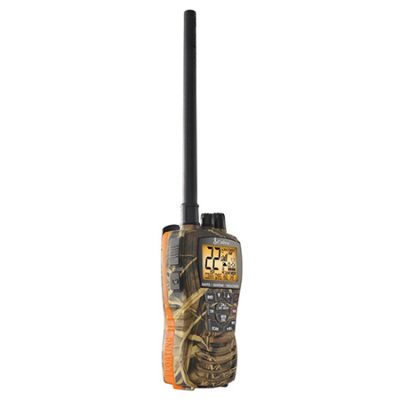 The Cobra MR HH450 is a high-power combination VHF and GMRS radio that can be used for short- and long-range communication. Thanks to its rugged durability and reliability, the handset is safe to take with you wherever you go – by foot, boat, ATV, or vehicle. In fact, they're one of the few handheld radios that are recommended for use on the water, as the device floats, has an easy-to-spot orange core, and is fully waterproof.
The long-lasting lithium ion polymer battery will keep your radio charged all day, and when the juice runs out the rapid charger fills the meter fast. Cobra's exclusive Rewind-Say-Again technology lets you replay missed VHF calls, and the noise-cancelling microphone delivers crisp and clear communications. For local emergencies, the device issues proximity-based S.A.M.E. weather and emergency alerts.
Tech specs:
Output: 1 watt (low), 3 watts (medium), 6 watts (high)
Range: line of sight
Push-to-talk: yes
The Best Analog/Digital Handheld Radio: TYT MD-380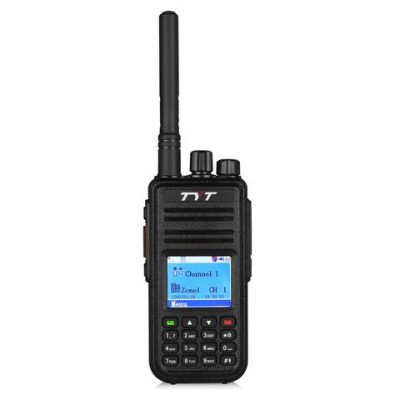 The TYT MD-380 is a great 2-in-1 solution for folks who want analog and digital radio functionality. The DMR two-way radio features a color LCD display, priority scanning, built-in CTSS/DCS, and an optional GPS. You'll have access to up to 1000 channels, with the ability to save up to 1000 contacts. You can even send and receive text messages to contacts in digital mode.
This radio also features remote kill, remote stun, and remote activation features. With remote stun and remote kill, you can send a DTMF sequence that either puts the radio in receive-only mode or prevents it from sending and receiving entirely. As soon as you send the "all clear" code, the device will reactivate.
Tech specs:
Speaker output: 1 watt (low), 5 watts (high)
Range: line of sight
Push-to-talk: yes