The bug out bag designed by survivalists and backed by investors, let's see if it's worth it
The Seventy2 is a 72-hour survival kit was designed on the recommendations from trained special forces professionals, mountain guides, first responders, survivalists and doctors and funded by the grueling investment show Shark Tank for its innovative approach to making the perfect survival preparedness kit.
Simply put, everyone who you would to answer the question "how do I survive in…?", has had their input. Needless to say, tinkering with this bag and testing it out is a boy scout's dream and has even been backed by notable tech investors.
Survival kits and survival gear are a booming market and it is not stopping anytime soon, especially for the makers of the Seventy2 Survival Kit who successfully raised $200,000 from the reality entrepreneurial TV show Shark Tank.
But with that surge in the industry comes a lot of kits that fail to meet the expectations of survivalists and preppers that are after something durable, reliable, and that will really keep them alive should the sh-t hit the fan.
Let's take a look at what all the hype is about this Seventy2 kit, and see if it is really worth the money.
What is in the Seventy2 survival kit?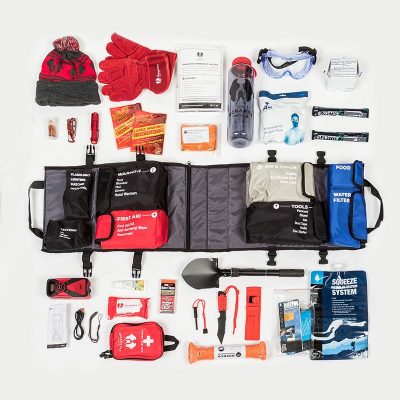 To start with, I will say that the Seventy2 kit is very well thought out. It covers every way to provide a method of coping with the foreseeable risks that may occur outdoors in a 72-hour survival situation. It also doubles as a 72-hour bug out bag as its contents require exactly what you need for a get-out-of-dodge situation.
I would generally talk about the best parts of what is in this kit, and then point out what it doesn't have, but for the purposes of going through this kit, I will list all of its contents.
What is the Seventy2 backpack?

For the bag, it is an external shell made of 600D waterproof tarpaulin with an air-tight roll-top construction. It has two large hip pockets, a reflective logo, an emergency whistle (I've never used that but I can see it's use) and a water pocket.
The bag insert

I am a big believer in using pack inserts and always used them in the military. This is one of the first survival kits that I have seen actually use one which puts it a step above other kits I have seen.
The insert bag is made of a rip-stop nylon with separate pouches to identify and organize the kit's contents. It also has two heavy-duty polyethylene plastic panels which can be removed and used improvised snowshoes or a splint. That's pretty innovative.
The gear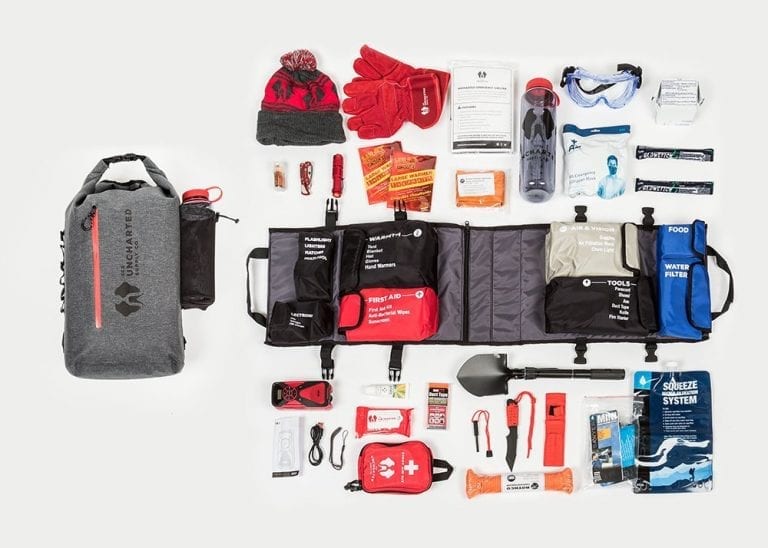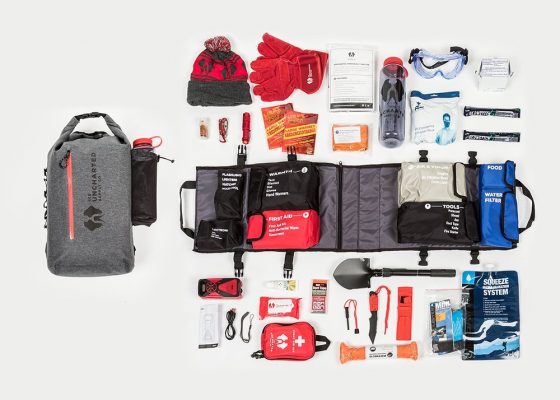 RZ M5 air filtration mask (filters 99.9% of all particulate matter)
Nalgene water bottle
Datrex food (high-caloric food supplements with a five-year shelf life)
Mylar thermal space blanket
20-piece first-aid kit
Convertible shovel/pickaxe
Shovel carrying case
Goggles
Flashlight CREE Q5 LED (300 lumens)
Collapsible water pouch
Survival knife and sheath (paracord wrapped)
Magnesium alloy fire starter
Heat packs (providing up to 10 hours of warmth)
100 feet of paracord with a 7 strand core
Waterproof match case
Sunscreen
Duct tape (my favorite)
Water syringe (good for cleaning the Sawyer water filter and flushing out wounds)
Chem lights (crack and light)
Radio/flashlight/phone charger (charged with DC power or by hand crank)
Gloves with leather fingers and palms
Beanie
Squeeze water filtration bag (works with Sawyer)
Sawyer MINI water filter
Mylar Thermal Survival Tent (provides shelter from the elements for two adults)
Is this survival kit any good?
The Seventy2 survival kit (also known as the 72 Survival Kit) maintains a great state of preparedness. The bag itself is comfortable to wear and does not hinder in any hiking or long-wear performance and has thick straps that are easy to move in.
The dummy's guide for this bag is written on the insert to the bag and is a great way to get even the most underqualified, non-survivalists to use the bag and its contents easily without having to ask "how do I make a fire?".
Seventy2's birth has undergone a lot of professional scrutiny by the public to be what it is today. It was crowdfunded through Indiegogo in early 2017 and has been a kit that has received a lot of attention by various media. But with that scrutiny comes the assurance that what this kit definitely is, is something for the average person as well as extreme survivalists and preppers.
Uncharted Supply Co's founders say that "95% of all survival situations are resolved within 72 hours, but those first 72 hours were the most critical to survival". It goes without saying that these entrepreneurs have thought of everything when it comes to what might occur in that survival situation and isn't packing unnecessary stuff and overweighing a bag.
They've made a pretty good 72-hour survival kit, that's for sure.
What is everyone else saying about the Seventy2 survival kit?
Taking a look on social media for the term '72 Survival Kit Shark Tank' and 'Seventy Two Survival' we found that everyone was in support and interested in Seventy Two's Survival Kit innovation from the Shark Tank. Here's what was said:
@unchartedsupply this #seventy2 bag is pretty cool. Great for disasters. Might grab one to keep with my bugout bag

— Mark Reyna (@HeyYyMarkAReyna) October 4, 2017
.@unchartedsupply great product #Seventy2 survival kit! @robertherjavec best partner Congrats! @ABCSharkTank

— Leslie McClure (@411video) October 2, 2017
It's a bug out kit! #SharkTank

— Yes, I Am Cheap (@yesiamcheap) October 2, 2017
Even tech investor and Hollywood star Ashton Kutcher is right behind the product, showing his support for the SEVENTY2 Survival Kit on Twitter with his tweet:
Maybe it's from being a Boy Scout… but I love stuff like this sooo much. https://t.co/7jNq1Z0CQA

— ashton kutcher (@aplusk) November 19, 2017
These are the thoughts of viewers of the show, but I am also interested to hear your thoughts. Write a comment below, or Facebook or Tweet me and let me know what you think of Seventy2's survival kit.