Carrying a concealed weapon in a holster on your waistband ensures the quickest draw time, but holsters aren't always an option.
When you're moving through sensitive areas where stealth and discretion are paramount, stowing your firearm in a concealed carry backpack may be the best way to keep your weapon within reach without attracting unwanted attention.
Be sure to know your rights, concealed carry laws vary from state to state
What to look for in a concealed carry backpack
While most backpacks can transport a firearm, it's best to go with a backpack that's specifically geared for concealed carry.
Specialized tactical backpacks do a better job at concealing your firearm (it defeats the purpose of concealed carry if you can see the outline of your gun through the bag), and a good one should make it easy to access the concealed weapon in a hurry.
As you're looking around for the best concealed carry backpack, here are a few things to consider:
Quick access – some concealed carry backpacks include a hidden compartment with side zippers where you can access your weapon without repositioning your bag. Others hide the weapon inside the main compartment, but keep the compartment easy to access so you don't waste precious time fumbling with straps and buckles.
Functionality – consider how you'll be using the pack. If you're traveling to work or school, make sure there's enough room for your laptop and other essentials so you don't have to carry another bag on the side. If you'll be outdoors, make sure the fabric is water-resistant and breathable. If you're attaching accessories for outdoor adventures, look for MOLLE webbing and harness points.
Size – the size of your concealed firearm will dictate which backpack is the most suitable for your needs. Compact backpacks are convenient, but they may not offer enough space for a full-size handgun. For larger weapons like an air rifle, you'll need an even larger back to house the weapon and components without alerting others to the contents of your pack.
Following is a list of the best concealed carry backpacks based on our field tests and user reviews. Take a few minutes to consider your specific needs — the size of your firearm, the environments you'll be operating in, and the gear it'll hold — then read through our list to find the perfect concealed carry backpack.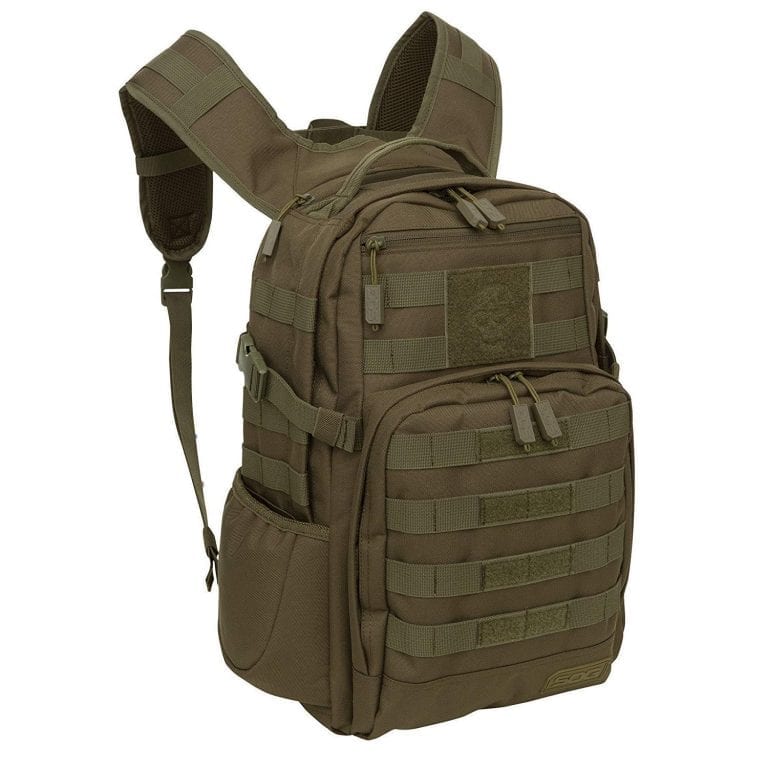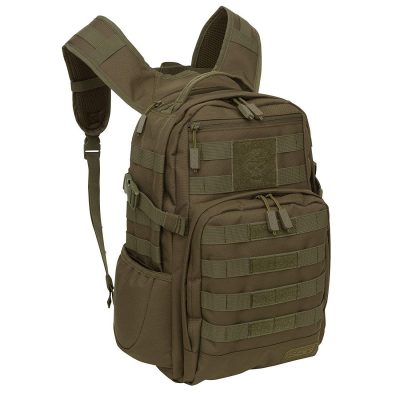 The Ninja Daypack from SOG is the best concealed carry backpack for shoppers on a budget. It's also surprisingly versatile, with enough trail-ready features to serve as your go-to bug-out bag when shit hits the fan.
In addition to the main compartment, the Ninja Daypack provides a soft-lined pocket for electronics and sunglasses, a small accessory pocket for flat items, and a zippered front organizer pocket. There are two grommeted drain holes in the bottom of the pack to keep liquids from pooling around your gear, though leaks shouldn't be an issue with the water-repellent finish. The fully modular pack also features four points on the bottom where you can attach a sleeping bag, MOLLE webbing you can use to attach other accessories, and side compression straps to keep the backpack compact even when it's fully loaded.
Should you decide to carry the Ninja Daypack on a hike, the backpack is hydration-compatible with space for a 2-liter bladder and hose ports on both sides. The military-style daypack rests comfortably on your shoulders thanks to the yoke-style adjustable shoulder straps, and the breathable padded mesh keeps your shoulders from accumulating sweat. The back of the pack features contoured foam with multiple air channels to keep your back cool and airy, too.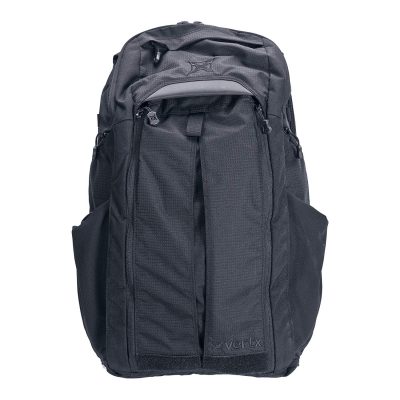 The EDC Gamut Bag from Vertx manages to pack all of the premium features you'd expect from a full-size professional pack into a compact EDC backpack. The primary compartment features a reinforced pocket for a 15-inch laptop and provides enough space for a full-size handgun. The front of the pack opens completely for easier organization and maximum accessibility, and the full-fold, loop-lined draw frame enables quick access to your handgun.
On the exterior, you'll find dual-sized pockets with additional storage capacity, cinch-down side pockets with elasticized straps, and zippered side-compartment pockets on each side. The hideout convertible front flap serves as an additional load sling, or you can stow it away to reveal MOLLE webbing. There's also 1919 modular webbing on the shoulder straps where you can attach other accessories.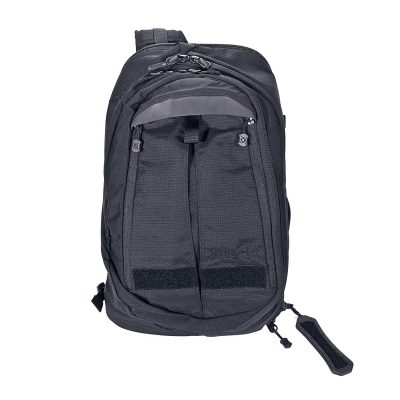 The Vertx EDC Commuter Bag was designed for the prepared professional who likes to visit the shooting range on their way home from the office. There's enough room inside for a full-size handgun, and the reinforced internal pocket will keep your 15-inch laptop secure while you travel. The interior organizational pockets provide plenty of smart storage for your gear and accessories.
The sling-style backpack utilizes an orbital strap design for a faster back-to-front transition, and a forward opening for quick access to the interior contents. Like its older sibling (the EDC Gamut Bag), the EDC Commuter Bag features a hideout convertible front flap that you can use as an additional load sling, or you can stow it away to use the MOLLE field for attachments.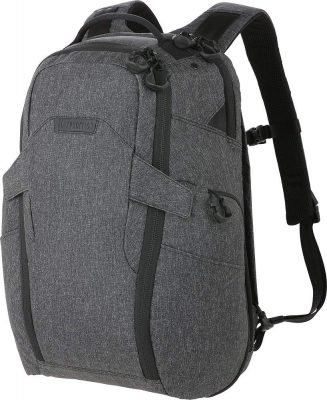 If you're sporting a 17-inch laptop, this one's for you. Where most concealed carry backpacks max out with 15-inch laptop sleeves, the Gear Entity 27 from Maxpedition offers a dedicated laptop compartment that's padded, lockable, and large enough to fit a 17-inch laptop. The loop-lined CCW compartment includes a Security Lockout Strip, tuckable drawbridge straps, and dual-side access for ambidextrous drawing capabilities. The front of the pack also features tuckable magnetic wings that you can use to quickly close the main compartment when you're in a hurry.
The exterior of the Maxpedition Gear Entity 27 is designed for comfort and convenience. The padded shoulder straps are ergonomically designed to sit comfortably on your shoulders, and there's a rear trolley handle pass-through you can use to attach the bag to your suitcase when traveling. The quick release buckles make it easy to access your gear in a hurry, and there are two side ports you can use for headphones and charging cables. The 500D Kodra fabric is coated with polyurethane for maximum resistance to water and snow, so it's safe to carry in inclement weather.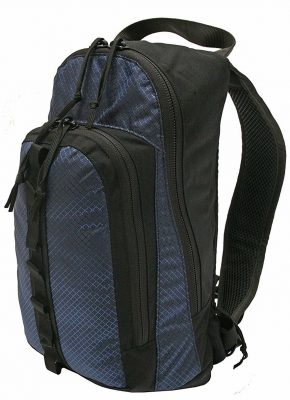 The Concealed Carry Backpack from Tactical Tailor is designed to keep your weapon within reach at all times without announcing to the world that you're carrying. The low-profile civilian styling incorporates the popular single-strap design, which earns style points and offers a faster back-to-front turnaround time. It's constructed with lightweight 500D cordura fabric (or 1000D for the navy blue finish), padded for comfort, and lined with air-mesh for breathability.
Inside the main compartment, there's a hidden universal holster accessible by a discrete side zipper. There's plenty of room for your gear inside the bag, with extra room for magazines and accessories inside the reversible accessory pouch in the front pocket and the zippered accessory pouch. You won't find a laptop sleeve in this bag, but the main compartment is large enough to fit a 13-inch laptop.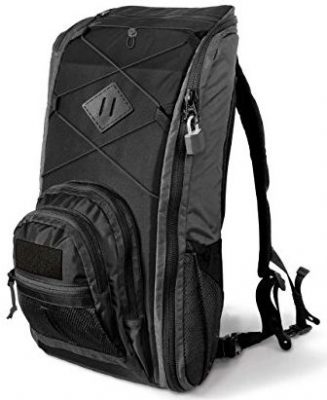 The Copper Basin Takedown Firearm Backpack was specifically designed for discreetly transporting takedown-style rifles and compact firearms without attracting attention. Equally at home in city and wilderness environments, the backpack intentionally avoids materials and fabrics commonly associated with law enforcement and military personnel for a non-descript finish. The pack's integrated structural foam does an excellent job obscuring the contours of your firearm, and the fleece-lined interior keeps everything held tightly in place to avoid noise or unnecessary wear. Should you find yourself in a dicey situation, the backpack features a quick-access top flap for rapid removal and deployment.
Inside the Takedown Firearm Backpack, you'll find perfectly dimensioned pockets for your firearm, optics, bipod, and other accessories. The exterior was designed for functionality and comfort with adjustable straps, a breathable mesh backing, a lumbar support pad, and plenty of extra pockets for personal accessories. There's even a stowaway strap that you can attach to your car seat for safe storage in the car.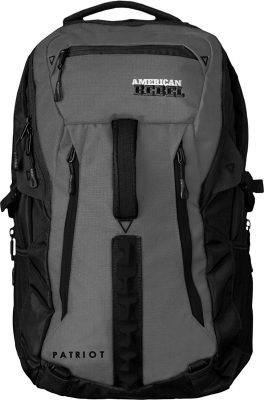 If you're packing a ton of gear and need an extra large backpack, go with the Tactical Concealed Carry Everyday Backpack from American Rebel. It offers a dedicated laptop compartment with enough space for a 17-inch laptop, and a spacious main compartment where you can store gear, tablets, books, binders, folders, clothing, etc. There's a hidden pocket built into the side where you can discreetly stow and quickly draw your concealed firearm in emergency situations.
The Tactical Concealed Carry Everyday Backpack features YKK zippers with branded pull tabs, UTX branded clips, and a water-resistant ripstop fabric. There are multiple compartments with mesh pockets for organizing essential items, many of which are lined with soft fleece to protect your valuables. It's available in 7 colors (yes, they do camo), so you can choose a color to match your unique sense of style.