A small survival kit is one of those backup plans for everyone. Whether you are a hiker, a city-dweller, living off-the-grid or a Silicon Valley specialist, there's no reason to not have one as they are cheap, smaller than the palm of your hand and are an absolute backup when all else fails.
Polymath Products has introduced one of the smallest survival kits on the market, and it is also one of the cheapest and innovative. But that doesn't necessarily mean it is bad quality, it means they have only packed in the bare essentials, sacrificing luxury items to make a small, compact tin of things you absolutely need if you are ever trapped in the wilderness.
I have looked at a number of survival kits in the past, from NBC kits to TV funded 72 hour kits, and while all of them serve a purpose to survive a specific scenario, they are still large packs with bulky equipment that can become more of a hassle for people wanting to maintain a state of preparedness. This is where Polymath's mini survival tin comes in and why you should be looking at getting one, even if you are not a prepper or survivalist.
To say it bluntly, the idea behind this survival tin is to buy it, leave it in an important place like your hiking pack or car, and then forget about it until you need it. This is what survival kits should be, they're not to be used outdoors all of the time (unless you want to try them out for fun) but more so as a backup insurance for when you need a little help.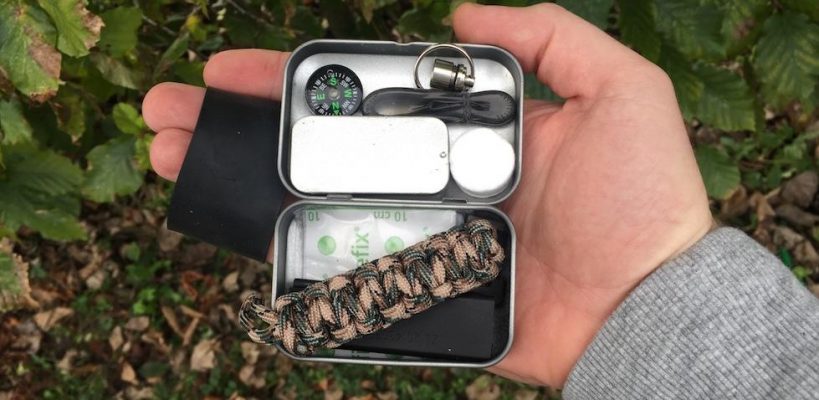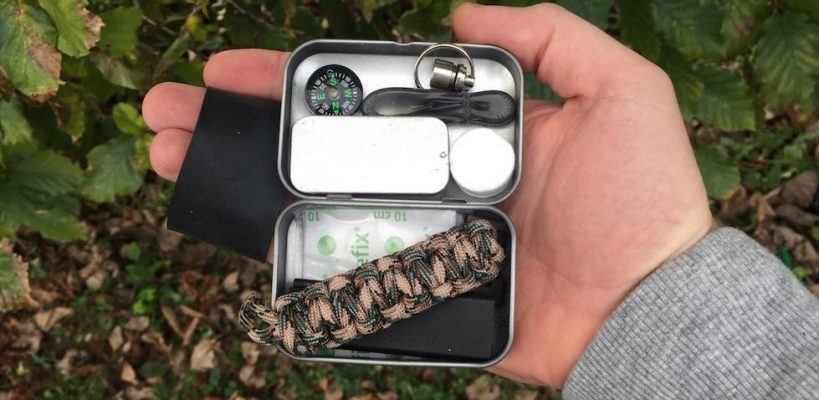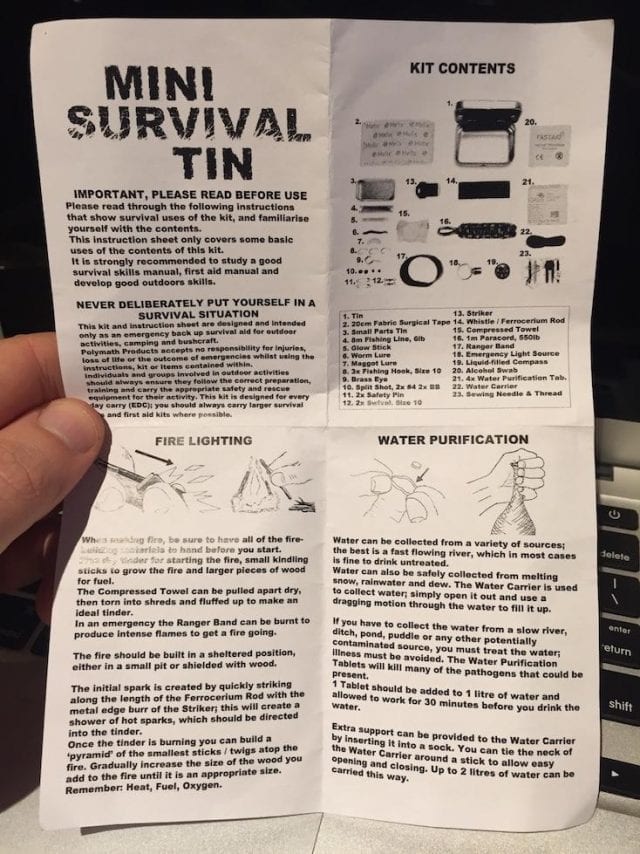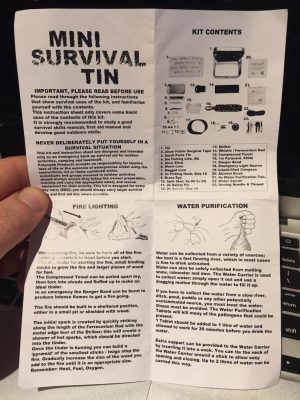 The contents of this tin are very well planned and thought out. When I first opened it I had three other people with me that were pretty impressed to see the range of items, as well as how many there were neatly packed into this compact survival tin.
You can see that some survivalist experience has gone into the construction and dichotomy of this survival kit. And its contents make it one of those ideal backup kits that are versatile and flexible in providing various solutions to a contrast of problems.
What really suits this tin, as it is a survival kit for every person from the most extreme survivalist to a person that has never spent a night outdoors, is the fact that it comes with an instruction sheet detailing the survival uses of the kit. When I first received this survival kit in the mail I let three other people open it up and inspect the contents of the kit, this is where the instruction sheet came into use as it told them (not-so-survivalist types) how to use the contents of the kit to make a water filter or fire, for example.
Let's take a look at what this mini survival kit contains, and the applications those things might have.
The container
For the actual tin that holds all of the contents, the first thing that I had to say about it is that it is small, really small. You can see the image on the right as a reference to the size of my hand. The material is a lacquered steel and is a very hard and durable material.
For a specific sizing, the kit is 79mm x 54mm x 25mm and it weighs just under 80 grams.
The survival contents
Now to the good stuff, what is actually in this kit?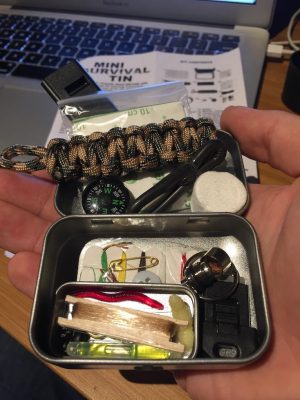 1m Paracord, 550lb
Emergency Light Source
Emergency whistle
Ferrocerium Rod & Striker
Liquid-filled Compass
Mini Sewing Kit
Ranger Band
Water Carrier
4x Water Purification Tablet
Alcohol Swab
Compressed Towel
20cm Fabric Surgical Tape
There is also a small parts tin (the smallest thing I have ever seen) containing:
2x Swivel, Size 10
8m Fishing Line, 6lb
3x Fishing Hook, Size 10
Split Shot Weights, 2x #4 2x BB
2x Safety Pin
Brass Eye
Worm and Maggot Lures
Glow Stick
Is this mini survival kit any good?
This kit is one of the most innovative, jam-packed items I have seen in the survival gear industry. It's as if this tin was made to the specific measurements enough just to fit the micro contents in the tin. Given, there is still a little bit of extra space perhaps to pack a few small tablets or to fit the instruction guide (if folded well), but aside from that, this tin is made to be a micro survival kit.
As for the contents themselves, they are all efficient to do the job. Of course, if you are in a survival situation where you end up using a lot of the items out of this kit, rather than cleaning the items and putting them back in at the end of the day it would pay just to buy another one, as they are cheap enough to almost be considered a disposable survival kit.
https://youtu.be/DZnOjb3wLzs
On that basis, I would say one winning factor is the size and discreetness of this kit. There are comments on the sales page of the mini survival tin where women have thrown this in their handbag and have forgotten it's in there most of the time.
As for the contents, I think these guys have covered a lot of necessary survival innovations and necessities. The kit covers:
Emergency first aid (compressed towel, surgical tape, wound sterile pad, alcohol swab)
Navigation and signaling (compass, emergency light, glow stick, whistle, fire making)
Making a fire (alcohol swab fire lighter, compressed towel, ranger rubber band to make smoke, ferrocerium rod)
Purifying water (water holder, water purification tablets)
Shelter building (paracord to tie)
Catching food (fishing kit, lures, animal snares with paracord, bow with paracord)
Emergency floatation aid (water carrier – condom, filled with air)
Clothes repair (sewing kit, paracord)
With those contents there are more than one way to attain each of the survival necessities or water, food, shelter, heat and first-aid. That, coupled with the ridiculously small size that this survival kit comes in makes it an absolute contender and must-have in the survival gear industry.