Prepping on a budget is easy. When I first started prepping I was looking into the total costs of some kit lists, bug-out bags, and food stockpiles and was calculating figures upwards of more than $2000. If you are someone who is on a budget, or perhaps you have a partner that thinks prepping is a waste of money, then you might be looking for an affordable emergency supply of goods. The following list has just that, every item or multiples of items are under five dollars.
It doesn't matter where you live, you should be able to identify the goods on this list as anything available in your local store whether it be a Walmart if you are in the US, Woolworths for the Australians or Aldi for the Germans. If you can't find exactly what is on this list, be inventive. None of The Prepping Guide's lists are meant to be followed as rigid lists, they are more so flexible guides, so enjoy the process of making your own budget emergency stockpile.
There are a number of ways you can make sure you minimize your expenses when building your preppers' stock and save even more money than I did buying some of these. For instance, keep an eye out on catalogs and newspapers that advertise store specials. You can also see markdowns on store websites such as Walmart's site. Sometimes you can find a great amount of stock that has a long shelf life on sale. When it is, you might want to go a little over your five dollar budget to make the dive and buy extras. Heck, I bought an excess amount of bounty chocolate bars when they were on special just to know that if I was ever caught on a roof in a flood I could keep my partner from nagging at me by giving her lots of chocolate.
When we are prepping on a budget, we are going to need some essential goods. They are food, water, sanitary goods (toilet paper is pretty important), some emergency items that fall into the flashlight and radio category and we need a first-aid kit. As you can see already, a lot of these are easy to fit under the $5 margin. You just need to be creative in how you get your goods and how you store them.
The Five Categories of Stockpiling
As we mentioned above, we can break what we need down into a few categories which we will go into in further detail. They are:
Food
Water
Sanitary Items
Emergency Items
First-Aid
Do I really need all of this?
Of course not, you can go without anything at all for three days. According to survival basics, you last up to three days without water and three weeks without food. When I think about this, I can't even go a day without food and I certainly cannot go without drinking water for a day. So imagine if you were caught in a flood and were stranded on the top of your house for a week? Sure, you could rely on a drone delivery pizza but your cell phone only has such a certain amount of battery. So you might need a charger, and an external battery and maybe even a solar panel while you sit on your roof. You could even eat something while you wait. Stop, that's prepping, that's thinking ahead. That's why we do this.
Doomsday prepping is an absurd concept aimed at marketing big axes to zombie lovers. We don't need that, we are prepping with real items, for real use, that have been used in real circumstances. I am not going to mislead you to buy stuff you don't need or things you won't ever use. These are merely budget necessities that other preppers have used in real disasters and emergencies.
How much do I need?
This is a common debate in the prepping community and one that has a lot of different answers. For those from the nuclear bunker side of the argument, they would probably tell you to store a minimum of 12 months worth of stock. Nope, you don't need that and if you did get that much, where on earth would you store it?
When I was a kid I experienced two floods in my hometown that caused our whole family to sit on our rooftop. This was in Australia where the weather is wild and the kangaroos fight, so don't hate me for not learning the first time around that living in a flood-prone was a good idea. In these floods there were two logical aspects that we had to our advantage. First, we didn't have our food stored in a basement so there was no need to go deep sea diving. Second, and more important, the land was dry so floodwaters would recede quickly in a matter of a few days after the flash-flooding had occurred. In general, the isolation a flood can cause can be anywhere from two to 10 days. For most floods, however, emergency services often assist with supply drops, evacuation, and assistance. There are a number of strategies that every government has in place to deal with this. But instead of relying on a supply drop from emergency services, you might as well have some of your own supply because they have plenty of other things holding them up.
When it comes to disasters, you could also be cut off in a bushfire, wild weather storm, snow or any other natural or possible man-made disaster. In looking at my own experience and the experience of others in extreme circumstances, you could easily make a week-long supply of reserves while prepping on a budget. The US National Weather Service recommends you keep enough supplies to meet your needs for at least three days. So a week would be ideal wouldn't it?
I am letting you know these differences so that you can decide for yourself how much you will plan ahead for. For the purpose of this prepping on a budget list, I am going to stick with a supply for 5-7 days. You may need to make adjustments depending on how many are in your family or friend pack and if you have any big eaters like me.
So let's take a look at the first category, food.
What food can you get while prepping on a budget?
For foods, we need to look for cheap long-lasting items that are also mixable with other foods and delicious on their own.
Here are some options that I could find for less than $5. For the online shoppers out there I have used some links to Walmart on these items – they do free shipping on any order over $35 so if you're saving up to buy them at once that might be an option for you.
Total cost: less than $175 for our prepping on a budget
What about water?
Clean drinking water is a big one. If you are not into purifying your own water or don't want to mess around with the survival skill of creating your own filter that's pretty understandable. For the purpose of our prepping on a budget plan, you can just go and buy bottled water at your supermarket. It is cheap and doesn't expire.
Buying bottled water is easy, but when you make a reserve of it you're going to need a lot. How much is a lot? Generally, the rule is two gallons of water per person per day, this includes drinking water and takes into consideration the sanitary use we have for water as well.
To build up your water supply I would suggest looking at different sizes of water containers you can get. It's cheap, so water is really a no-brainer. I would start with a list like this:
Total cost if you also get the 7-gallon container? $30 for our prepping on a budget
You can build on this and buy more to ensure you have enough for however long you need. I left out the other drinkables from the food list as they are all water based, but for the coffee lovers out there you can easily pick up instant coffee or instant cappuccino mixes for less than $5. For milk, you can get something like the Nestle dry powdered milk which is under $5 and can make about 2 gallons of milk. You can also add this to your dry coffee powder and have it mixed before you add the water.
Sanitary Items for your prepping on a budget
Toilet paper. I can't say it enough. Having been in the army and working out in the field with limited supplies I can truly vouch that there is nothing worse than wiping with a single square of paper. It's also cheap, so buy it.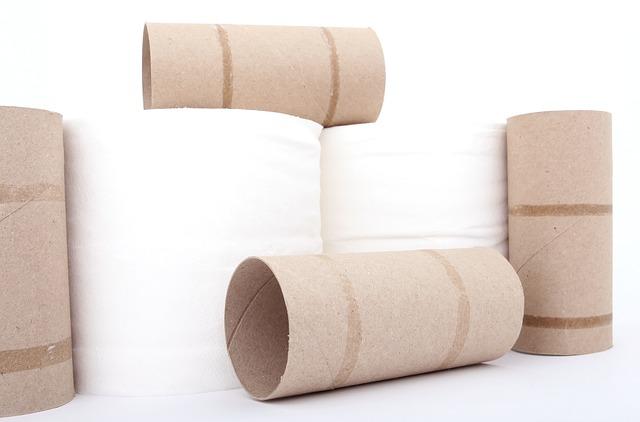 Other items you can get for our tight budget that you might need are:
Baby wipes (basically soft wet wipes) – you can get a three pack of these for about $4-$5
Box of tissues
Tampons (if you need them)
2x gallons of bleach
Depending on your waste management you may want to look into disposable plates and bowls, otherwise, you should add some sort of washing liquid to this list as well.
Spare toothbrush and toothpaste
Thread and needles in a little sewing kit
Total cost: $45 for our prepping on a budget
Emergency items and stuff you couldn't live without
When I look at the name 'emergency items' I think of a cardiac arrest machine and an intravenous kit. Don't think of that. This meaning of emergency items is things that you would find helpful or useful if you were to be stranded in a natural disaster.
The first one on a list is definitely an emergency: a can opener. If you are reading this, chances are you already have one in the house or on the back of a multi-tool. In case you don't want your partner questioning as to why the can-opener is stored away in a reserve prepper supply you should be able to get one for pretty cheap at Walmart.
1 x role of duct tape. (I found a $3 single one on Walmart online but I have seen them in three packs in hardware stores for $4 as well so be on the look out).
1 x box of wood nails
1x Eveready economy flashlight (I'd suggest you pick one of these up in your store soon as they're a 2-pack and good value)
4 x 2pack of D batteries
2x 4pack of AAA batteries
A few plastic bags (if you get these free when you purchase your items then you're at a bonus)
Total cost: $65 for our prepping on a budget
Ammunition and weapons (only if you need it)
So what can you get for under five dollars when it comes to something for self-defense? And is it even necessary? We have all seen the reports of looters that break into houses during floods and emptying them of anything value so there is the possibility you might encounter someone meaning to cause harm in a natural disaster, but it is a very far off possibility.
Nonetheless, most of us like to have a bit of ammo in our kit. It goes without mentioning that there is no availability of $5 firearms. The best weapon I could find was a $2 slingshot. That's not going to help too much.
Assuming you already have a firearm, your choice of ammunition could be limited. For ammunition, I found I could get the following for less than $5:
Total cost: $15 for our prepping on a budget
If you do want different ammunition, perhaps your local ammunitions provider might sell them to your in packs of 10, this is assuming again that you only have $5 with you at the time.
First-aid supplies for prepping on a budget
Okay so don't get me wrong, I didn't just throw a heap of first-aid kits together in this one. The medications and dressings provided here are simple pharmaceutical pills designed to relieve pain, inflammation and act as a dressing for any wounds. The Curad kit mentioned has some great patches and dressings available and the American Red Cross kits are great sealed kits that you can pass onto others, so they all serve their purpose.
The use of these cheap first-aid supplies is simply that, to provide first-aid. I am not going to assume you are a doctor or a paramedic, so something simple is sufficient until you need professional medical help. There is also the fact that each of these listings has been kept under our budget, so I have not listed some other things that you would normally see in a complete medical kit.
1 x 24 pack of Advil ibuprofen
1 x 24 pack of paracetamol
1 x 24 pack of Benadryl liquid capsules
1 x bottle of betadine anti-bacterial solution
Total cost: $60 for our prepping on a budget
How much did we spend for our prepping on a budget?
If we look at the total cost of everything on this list we have spent under $390 for our prepping on a budget. I calculated that figure even though all of these items were bought or valued online and in stores at less than our $5 budget, so there's still some savings on that figure to be made.
Let's say you start with the food list and you manage to put away $15-20 each week for each of those items. There are 35 items on that list so it would take you about two months to complete your stockpile of food. Surely the budget or your family won't notice that?
If you have any winning items that you have found in stores that are less than five dollars you should write in or leave a comment on this post as to where you got it.
For those that are not prepping on a budget and want to shape their stockpile to match their current diet check out this 7-step guide to stockpiling a reserve of food and water.