With Spring and Summer fast approaching, I thought it was about time I visited the newest and latest camping equipment and outdoor gear for this year so that we all have the best gear when stepping out the front door and pioneering to that favorite place we always go to.
A favorite past time of mine is loading up the car with equipment and supplies and heading out with the family for a weekend of camping. There's even time to strike a few days off work just to enjoy the outdoors a little bit more. And whether it's an overnight hike, or we're setting up camp for a few nights, we love our outdoor gear just as much as everyone else.
With that said, I have already started digging around to hunt down some of the best camping equipment and outdoors gadgets available, from those that can make a coffee, warm your bed, give a hot shower or generate electricity. It seems whatever comfort you need outdoors, someone has made developed it into a fully functional piece of durable camping equipment.
After a good look at the best new camping equipment out for this year, my personal favorite was the Klymit Ultralight Sleeping Pad which I have been using a lot over the winter break different hiking and field trips and has let me get a good night's rest on an extremely comfortable base without having to spend ages blowing up an air mattress, not losing air during the night, and being a compact, transportable item to hike with. Next to that, I would list the Wacaco Mini Espresso Maker as my second favorite item just because I am a very regular coffee drinker and have a habit of not eating breakfast (especially when I hike), and much prefer to start my day with a fresh coffee brewed from my sleeping bag.
But why not take a look at the list yourself, and see which piece of outdoors gear you find the handiest when venturing into the wild.
Camping Tools And Outdoors Gear
When it comes to cool stuff for camping, nothing beats the fun and enjoyment most of us get out of finding the ultimate multitool or innovative gear that seems to do everything. Here are some of the newest bits of camping equipment you should consider adding to this year's outdoors gear.

The standard canoe is one of those all-enjoyable items that holds a firm place for a good time in everyone's camping equipment and outdoor gear. The biggest problem is, they are an absolute nuisance to cart around, and take up valuable marshmallow-on-the-fire time by having to lug them onto the roof of the car and fasten them down with straps. Not this one. It's a fold-up kayak. And before you start thinking it's going to take ages to set up, check out the illustration above. That's how easy it is.
The MyCanoe 2.5 is an award-winning lightweight, patented origami folding canoe. It is the highest quality folding canoe in the world that turns into a beautiful Canadian canoe in 10 minutes.
It is a full sized 14.5 ft with two seats which are perfect for sharing with family and friends for a quick tr the p to water. When it is folded to a case, it fits in most small sedans.
A knife and a fire starter are two tools you are likely to find in almost every set of camping equipment. Why not have both in one? The Swedish FireKnife is a colorful outdoor with a FireSteel fire starter. The Light My Fire Swedish FireKnife is a collaboration between Light My Fire and Mora of Sweden, who has been in the knife making industry for more than 120 years.
But this is more than just an extremely sharp, flexible, and sturdy all-around knife: the handle contains a fire starter. You can gut and clean a fish, split kindling, and light a campfire with one single handy tool. Swedish FireSteel firestarter works equally well when wet, performs at all altitudes, and produces a 3,000 degree C (5,400 degree F) spark.
The SOG MacV Tool is handy whether you need to open a bottle, tighten a screw or nut, pry a staple out, cut fishing line, or touch up a blade on the go. It is a versatile everyday carry, keychain tool that will prove handy in many situations. Made out of durable 3Cr13 stainless steel, the one-piece design with hard-cased black coating will last many years.
The number of uses for a convenient tool like this is endless, especially when you take it everywhere you go as it also complies with TSA regulations. It can be used as a: pry bar, bottle opener, small flathead driver, large flathead driver, small Phillips driver, line cutter, blade sharpener, 1/4" wrench, 5/16" wrench, 3/8" wrench, 1/4" hex bit driver, and lanyard/keychain hole. The SOG Specialty Knives & Tools SM1001-CP MacV Tool comes with a limited lifetime warranty that protects against defects in manufacturing and materials.
Cinch-n-clinch is an adjustable paracord accessory for cinching your tools, water-bottles, dive gear, and so on. The rubber loop allows for easy clipping. It is durable and can handle any environmental condition and adventure.
The SOG Specialty Knives and Tools Camp Axe is designed for hammering and chopping. Its light weight and small size makes it easy to transport and stow for when you are traveling outdoors, hiking or just to leave in the car.
This Camp Axe is a quick and versatile go-to tool for starting fires, clearing campsites, and hammering tent stakes. The SOG Specialty Camp Axe comes with a limited lifetime warranty that protects against defects in manufacturing and materials.
The SURVCO CREDIT CARD AX fits in your wallet and transforms into a Tomahawk, Ax, Knife, Scraper, Skinner, Shovel, Arrow, Spear, and Atlatl. Can also be used as a Saw, Seatbelt Cutter, Bottle Opener, Water Valve Wrench, and Gas Valve Wrench. Also, has a Nail Puller, 1/4″ Socket, 3/8″ Socket, 7/16″ Wrench and Flat Head Screw Driver.
The Thermacell MR-GJ Mosquito Repeller effectively repels mosquitoes by creating a 15-foot zone of protection. This small game-changing device can be taken virtually anywhere to repel pesky mosquitoes. Ideal for use while camping, fishing, gardening, hunting, around the backyard, and more.
Thermacell mosquito repellent products are powered by a Thermacell fuel cartridge which directs heat to a small mat infused with the repellent Allethrin, a synthetic version of a naturally occurring repellent found in chrysanthemum flowers. Heat disperses the repellent creating the 15-foot zone of protection.
Thermacell protects millions of people from mosquitoes with no messy sprays or lotions, no scent, no noise, no DEET, and no open flames. For best results, use on days with light or no wind (bugs are at their worst on these days), and allow 10-15 minutes to form a complete zone of protection around the unit. Thermacell products are safe, effective, and come with a 100% Satisfaction Guarantee.
Lighting Camping Gear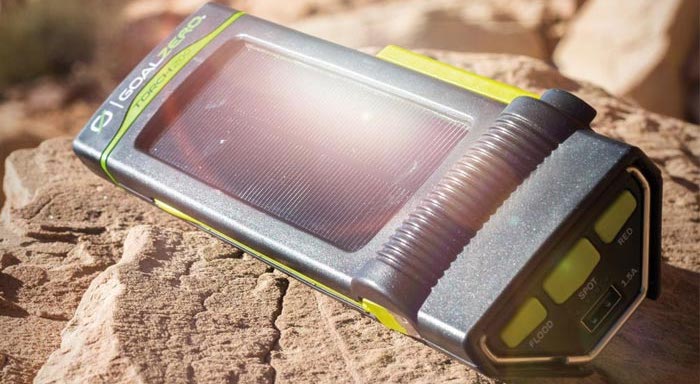 Of course, when it comes to camping essentials, nothing is more necessary than a light to see what you're doing. Whether it be for when you're chopping up the onions to fry with that nice piece of meat over the campfire, or you're late for collecting firewood and need to gather some more in the dark, here are the latest innovations in outdoor lighting.
This is a neat little reliable gadget from Goal Zero, more well-known for their outdoor solar charging kits. This time, they've used their solar charging capability in a flashlight, which also comes with a built-in USB charging cable and a hand crank to make sure this light never fails. It also comes with a red light function and a phone charging port, so your phone will always stay charged too.
Enkeeo's lantern is a 2-in-1 unit that works as a camping lantern for lighting areas, indoors or outdoors, and acts as a mosquito zapper and other insects that like to bite so that you don't have to cover yourself in smelly aerosols and creams.
Cooking And Eating Outdoors Gear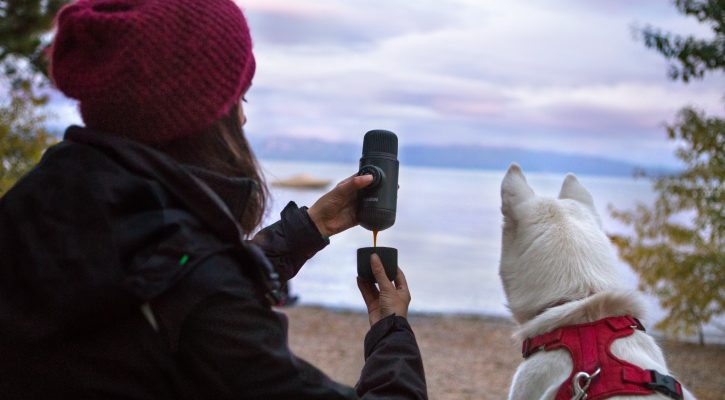 Of course, when you're sitting back and enjoying the outdoors, there's nothing like being able to make a fine meal or drink. Sure, when I am outdoors I don't mind roughing it, but sometimes there's a practical element where some bits of gear just make life completely easy.
Fancy a well-made coffee outdoors? This is an outdoors mini espresso maker with a powerful extraction pressure for well-pressed coffee. This unit does it all from grinding up the beans, to pressing your coffee. This is luxury camping equipment at its finest.
This gas cooking system is for the ultralight camper or hiker that is trying to fight for space in their minimal gear. This stove essentially folds up small enough to fit in the palm of your hand.
The Muncher is one of those devices that you would keep attached to your pocketknife or belt whenever you are outdoors, not only because it is handy for many uses, but essentially because it helps with eating and cooking. It is a pure titanium fork, spoon, knife, can opener, peeler, fire flint, cord cutter, screwdriver, pry-bar and box cutter.
With the Jetboil cooking system, the controlled flame and wind-protective setting lets you boil water in an instant in any temperature, wind or weather.
Cooking equipment for the ultralight chef that still wants to have only the finest dishes while hiking or mountaineering. This setup uses a dual burner system for a pot and a pan to cook simultaneously over a protected flame.
While the design of the Genesis Base Camp System is for fuel efficiency, it allows the outdoors chef to cook family-sized meals with such small and light equipment.
Water Purifiers And Tools

The GRAYL Ultralight Purifier Bottle goes beyond standard filtration, protecting against the full-spectrum of pathogens (bacteria, protozoa, and virus) as well as many chemicals, heavy metals and flavor/odor.
Whether you are on the trail needing to drink from a dirty stream, filling up at a questionable hotel sink in Peru, or making your emergency preparedness kit the GRAYL works by filling the bottle, pressing the top, and drinking its clean sterilized water.
This handy portable straw can safely filter up to 1500 liters of water with three filtration stages, eliminating harmful contaminants including bacteria, heavy metal ions, chlorine, volatile organic compounds, organic, and insect contaminants.
In the event of an emergency situation or any natural disaster, the Etekcity Personal Water Purifier is available for immediate access to safe, drinkable water. There's no water collection or water storage necessary. Simply immerse the straw in a body of unfiltered fresh water and take a sip. It also comes with an extension tube to the purifier to drink from a safe distance and a 16-ounce water pouch can also be used to gather water to take with you on the go.
This pressurized portable shower works with a pressure system that involves no pumping and no batteries and delivers a pressurized spray for up to three minutes. It holds up to two gallons of water and can be used with hot or cold water.
LUNATEC's Aquabot is a high-pressure drinking water bottle with multiple spray patterns: shower, stream and mist. It is BPA free and requires no batteries.
Camping Equipment For Comfort

A technically advanced pad for those who want to travel fast and light but love their comfort, the Inertia XL is the lightest, most compact oversized pad available.
Packed with comfort features such as a built-in pillow, a wider sleeping platform, customizable pressure and support. It weighs in at only 16.8 ounces and packs down to a soda can size. Deep welds increase the thermal efficiency, and patent-pending Loft Pocket Technology positions the chambers to maximize your sleeping bag's performance while minimizing pad weight.
This go-to blanket for any camping trip, festival, picnic, family adventure, and more. The blanket stuffs into itself for use as a pillow, has a snap-attached hood to convert it to an emergency poncho, and is packable, water-resistant, and durable.
As hammock camping has become more popular, outdoor lovers have began to notice the high prices of obtaining hammock camping equipment. Many have tried using a sleeping bag in a hammock and have failed. Outdoor Vitals got to work and designed the MummyPod to help everyone afford gear for both hammock and ground camping!
The MummyPod Features an Exclusive Footbox and a completely redesigned shoulder baffle. These enable it to work just as effectively on a hammock as it does on the ground. The bag also comes with the anti-snag zipper and uses microfiber StormLIGHT insulation, which is twice as warm as standard insulation and effectively waterproof.
Disc-O-Bed Kid-O-Bunk Portable Bunk Bed is a scaled-down version of the world's best on-the-go sleeping solution. From slumber parties to summer camp, the Kid-O-Bunk from Disc-O-Bed delivers easy setup and mattress-free comfort.
Built to the most rigorous standards, kids will have a stable, rock-solid foundation to sleep on and it is easy to set up with its modular, no-tools-required disc frame (thus the name Disc-O-Bed). It disassembles to fit in a convenient zippered bag for easy transport and storage and no mattress or ladder is required.
The NoZipp Sleeping Bag is a premium mobile sleeping system that minimizes hassle and maximizes comfort. By replacing the status quo of zippers with magnets; the NoZipp Sleeping Bag offers effortless entry, elite venting, and unique expandable shape.
Power Generating Camping Equipment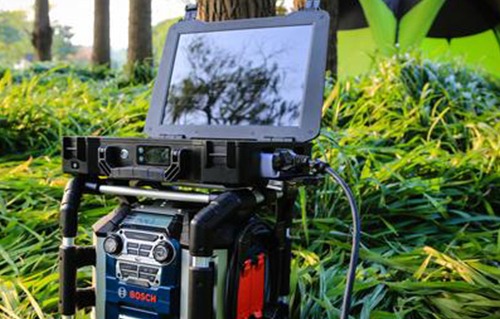 Because sometimes, we all need a bit of power. Whether it's to charge up the phone, camera, GPS or one of those handy electronic mosquito repellants, here are two energy charging and generation items new to this year for camping equipment.
The Phoenix is an all-in-one portable solar power system specifically designed for mobile, off-grid applications, and is ideal for emergencies. This compact, lightweight backup system combines two highly efficient Renogy 10W Monocrystalline Solar Panels and is capable of expanding up to 120 watts.
The included 16Ah Li-ion(NMC) battery is replaceable giving the capability of limitless power. The Phoenix is ideal for powering several on-the-go appliances during a weekend trip, or even in an emergency situation.
A more powerful yet still lightweight model, the KaliPAK 401 is a reliable solar panel and battery power capable of charging an iPhone 64 times.
A Bluetooth transmitter and the KaliAPP allows you to monitor the PAKs consumption level, ensuring that you will never be suddenly left in the dark.
The KaliPAK includes features such as four solar panels, AC/DC power adapter, car adapter and 26Ah Lithium Ion battery.
Over to you to enjoy the outdoors…