Communication, wherever you are, is a vital resource.
Whether you are a survivalist, prepper, hiker, hunter, or homesteader, having a method of off-grid communication is vital. Why is it important? Because when disaster strikes, an emergency happens, or when you are outdoors, too often we are left without cell phone service, and it is generally in those times that we need communication the most.
In regional areas, there is still scant phone coverage. In those circumstances, sure, we could use satellite phones, but if you have ever looked at their pricing you will know that satphones and satellite minutes can be ridiculously expensive.
With changes to technology, there are a few, much more affordable, alternative options that allow us to communicate with others. These options do not require us to use a cell phone signal, making them a way to communicate off-the-grid, so to say.
Why off-grid communication is important
Everyone uses a smartphone. In fact, more than half of our readers view us via smartphone. In this day and age we can use our smartphones for almost anything. But what they can't do is work off-grid without reception. Not only do you need a monthly plan with a phone network, but you need to also be in range of phone towers and reception centers. That is of course, if they are up and running.
So when would you experience no phone signal? There are a number of circumstances where phone reception is scant, or none at all. You could be hiking or camping out in the mountains, but you could also be smack bang in the middle of the city in a Black Friday sale or at a concert where too many people are congesting phone reception networks and it basically leaves you with no signal.
For preppers and survivalists, having an off-grid communication system guarantees us communication during these times, as well as scenarios such as natural disasters or possible terror attacks or cyber attacks, where the grid has been crippled and network towers shorted or destroyed.
Why not a HAM radio you might be asking? In the past, much of the talk around off-grid communication led to HAM Radio systems as the solution. While the HAM radio is still widely used, it requires very technical knowledge to be operated efficiently, is expensive and for most set ups, is a very bulky piece of equipment to carry. The only setback to these devices is that, like all electronic devices, will require a power supply. However I have found that simply using something such as a portable Anker solar charger and external battery will ensure you have no problems with power, should you be outdoors and limited.
Instead, we are going to look at four, more convenient, off-grid communication devices that allow you to use your phone without service or wifi.
Off-grid communication devices for your mobile
| IMAGE | NAME | FEATURES | LINK TO SECTION |
| --- | --- | --- | --- |
| | goTenna Mesh | Meshing, Messaging, GPS | |
| | Beartooth | Calling, Texting | |
| | Gotoky | Calls, Texting, Maps, GPS, SOS | |
| | Fogo | Walkie-talkie, Texting, Map, Fitness tracker, GPS, Flashlight, External battery, SOS | |
1. goTenna Mesh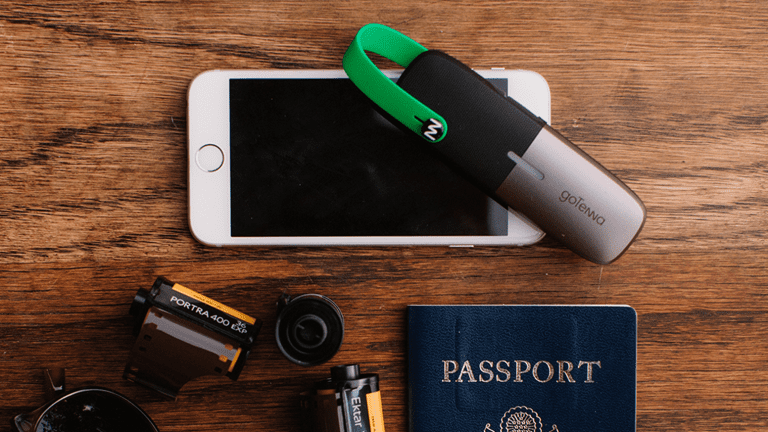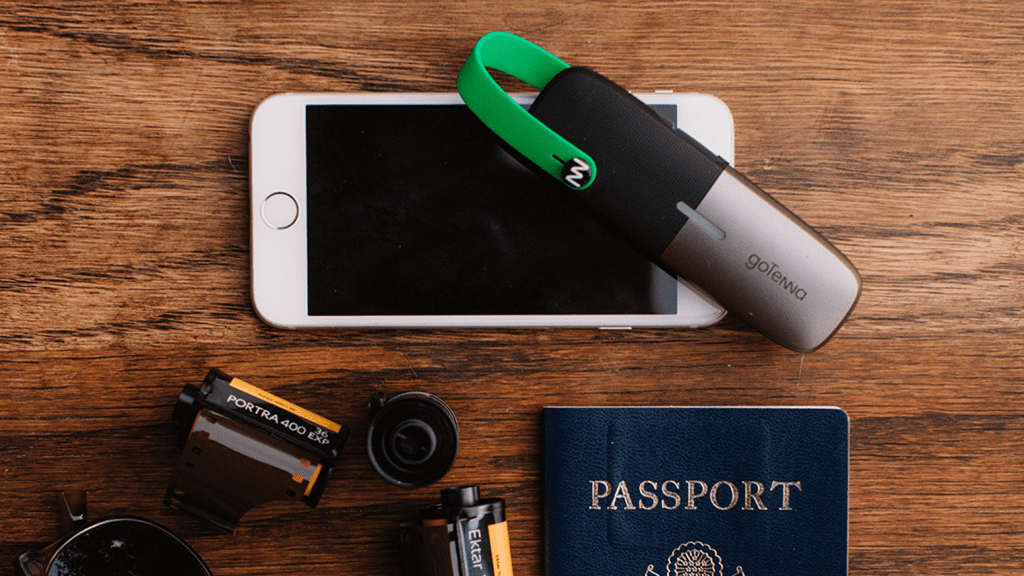 The goTenna Mesh off-grid communication device turns your mobile phone, and anyone else's phone paired with a device, into a self-sufficient mesh network operating free from the constraints of mobile reception, power, network resources, and with complete privacy.
The perfect method of communication in natural disasters, and for fully encrypted networks you'd rather keep private.
New York-based startup goTenna developed the idea in the wake of 2012's Hurricane Sandy where residents in America's tri-state area were unable to contact friends, family, or for that matter anyone else. We have seen this same circumstance with the recent spate of wild weather from Houston's floods and Florida's impact in hurricane Irma.
As a ready-to-go network, this does what a lot of older systems don't do which is to be instantly deployable with cell phones carrying the goTenna Mesh and the app. The range that is built using the mesh network is suitable for tactical, emergency and leisure environments.
The use of goTenna's Mesh device does not stop there. For those looking to move off-the-grid but stay close to their family it is able to generate an encrypted mesh network much like what we would see the military and emergency services use. This is also useful for anyone interested in prepping, survival, hiking, hunting, or even if you are going overseas and might want to avoid purchasing phone cards to communicate with each other.
What is a mesh network?
In the diagram below, you can see that there is the star network on the left, and the mesh network on the right. For most mobile phone users we use the star network. The weakness of this is that it is based on a central point, such as a cell phone tower. When those cell phone towers are damaged or non-existent, the network is dead.
Mesh networks rely on users, not a central point. So if two users are within range of each other, they can communicate. Only phones that are paired with their own individual goTenna device will be able to join the network, so it's not like anyone can just drop into your conversation. With the goTenna Mesh, the network range from one phone to another phone (point-to-point) is 4-5 miles. So this means that if three phones were spaced apart at 4-5 mile intervals, the first phone could contact the third phone which would be 8 miles away.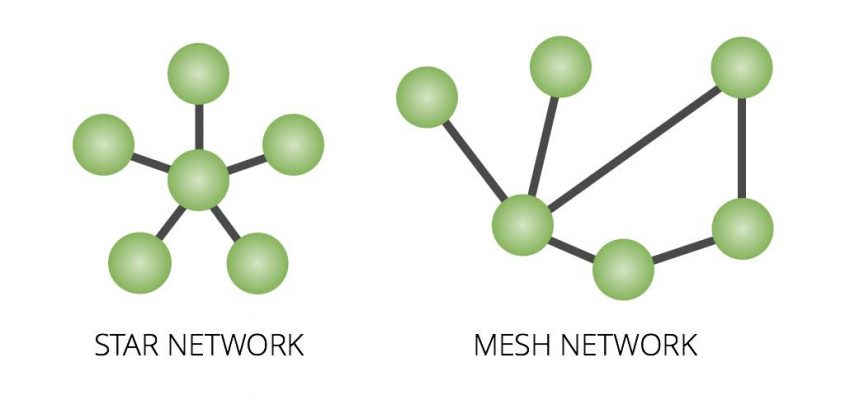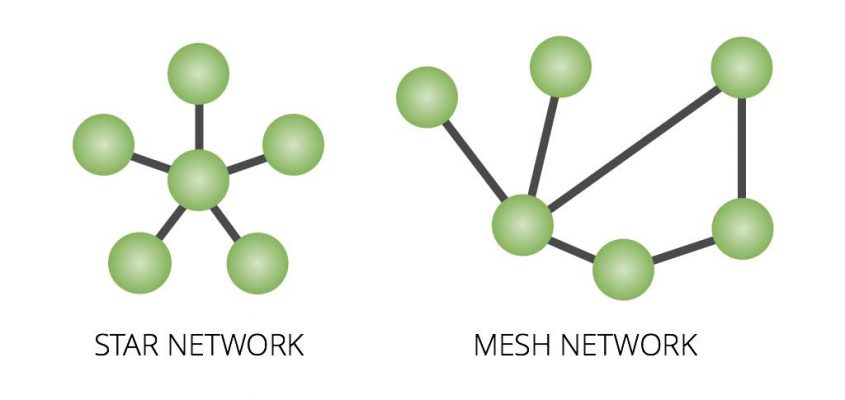 Aside from the mesh network capability, the goTenna is at the top of its market for privacy tools as it uses private messaging and secure encryption. This is because as a mesh network, there is no one intercepting your data, so the messages and communications between the network are only viewable by those in the network. The next leg to that is that all data is encrypted, so even if there was to be a breach in your network, the messaging would be scrambled.
Using the app, you are also able to pinpoint and share your location with other people in the network. This has two benefits, first is that when you are trying to find someone this essentially acts as a beacon locator. The next benefit is that you can automatically share your location. In my experience in the military, I can say that regular reporting of locations was a crucial factor in team management, safety and situational awareness for team leaders. Having this capacity in a digital system only adds a new element to the professional use for the goTenna Mesh.
How far the goTenna can reach – I trialed the mesh network in three environments, flat with no trees, urban and in a mountain range. The website says that up to half a mile is a reasonable distance in urban or built-up environments, however, I was able to reach one mile in my urban area with an instant receipt message that my test had been received.
In the mountain range, I was able to get three miles which I was impressed with given I was expecting substantial mountain interference. In an open area, goTenna promises a reach of 4 miles, but when testing out the product I was able to reach further.
For the battery, it has a life of over 24 hours which is very effective for the outdoors environment. If you are out in the field or outdoors for any longer than that an external Anker battery would be a suitable addition. For other longer uses it might also be great to use this in conjunction with an Anker Solar Charger to keep your private network up and running.
2. Beartooth Smart Walkie Talkie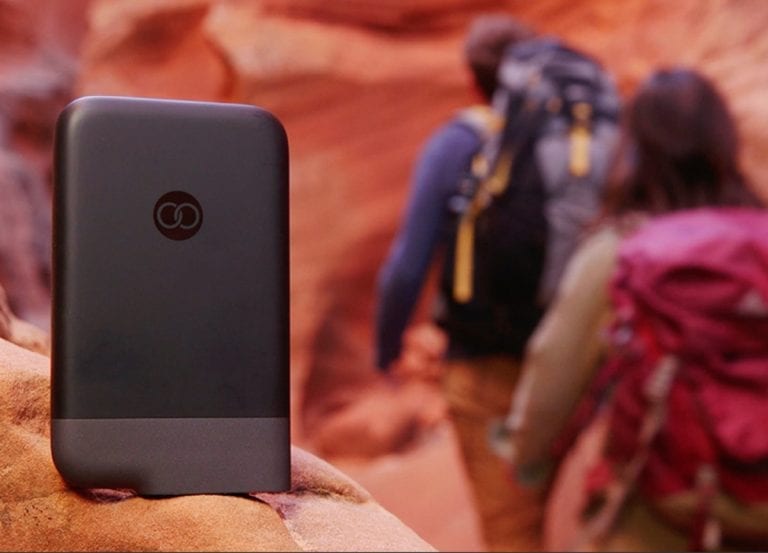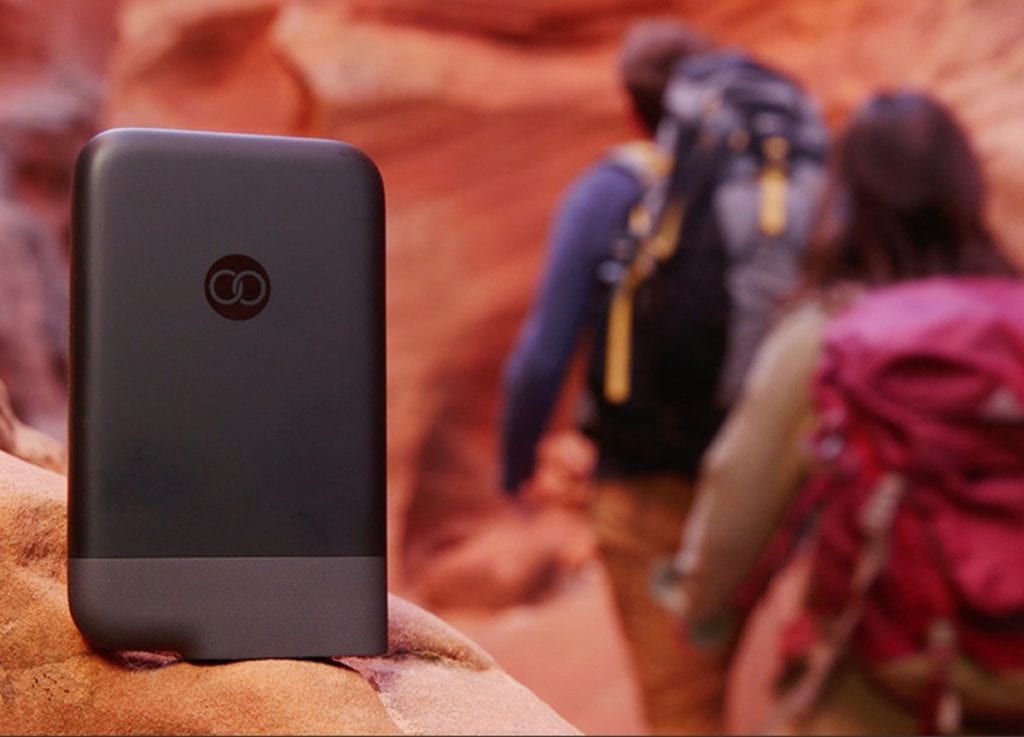 The Beartooth is a little different to the goTenna in that it lets you actually speak to other people using your phone without the need for a signal. Essentially this turns the smartphone into a walkie-talkie, which is a great tool to have when you are navigating the outdoors with nearby friends who also carry the device.
This mobile phone pairing device works by connecting to the smartphone via bluetooth, and in turn, allowing communication with other users who have another device paired with their own Beartooth device. There are a number of features that the device allows users to do, which are group communications using audio messages to several people at once, walkie-talkie one-on-one communication, messaging, location sharing with other contacts and very visual offline maps that are available through the Beartooth app.
In-built backup battery – Previously I mentioned that when using these devices it is a good idea to have a backup battery for when, eventually, your phone or device runs out of battery. The designers behind Beartooth have listened to their field testers and have included a backup battery built into the Beartooth device. This battery is a 3000mAh power supply which is able to provide almost two full charges to a standard iPhone 7 battery.
How far the Beartooth can reach – the Beartooth's voice messaging options is limited to only a range of about five miles, whereas its text messages can be sent out to other users as far as 10 miles away. This is very good in comparison to the goTenna, which is only able to reach 4 miles with messaging in an open area.
One of the things that makes it more competitive than the goTenna is that the Beartooth uses the meshing technology in a similar fashion to how we explained it above for the goTenna. This means that if a device was spread every five to 10 miles apart, you could message anyone over that entire space, which if you are working with a network of friends in an area, makes a great way to run an off-grid communication network.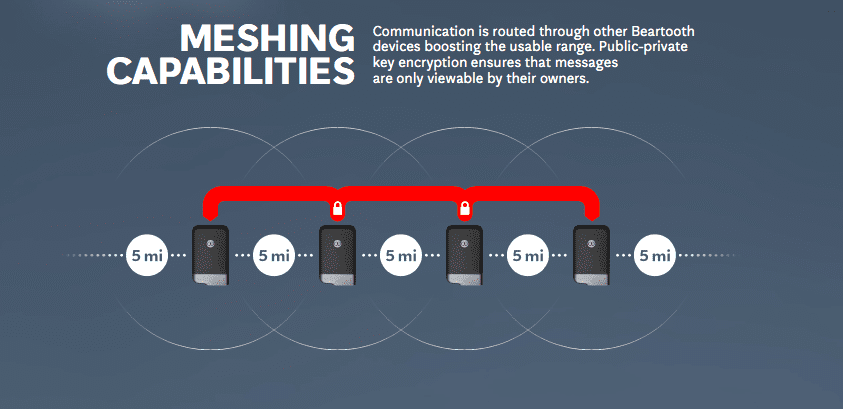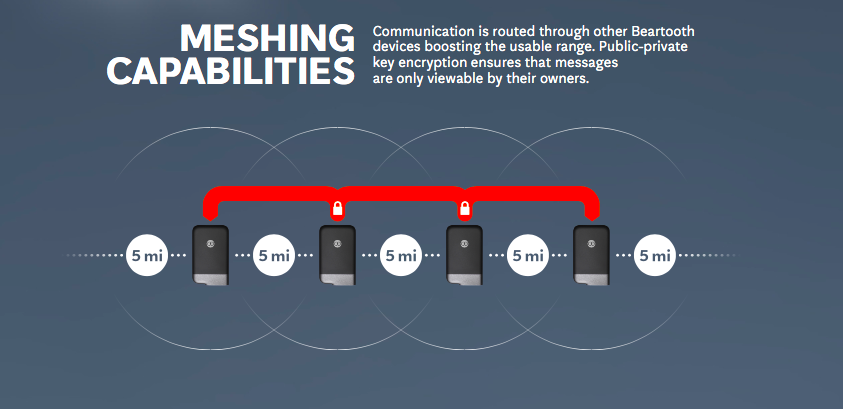 3. Gotoky Secure Off-Grid Communication Device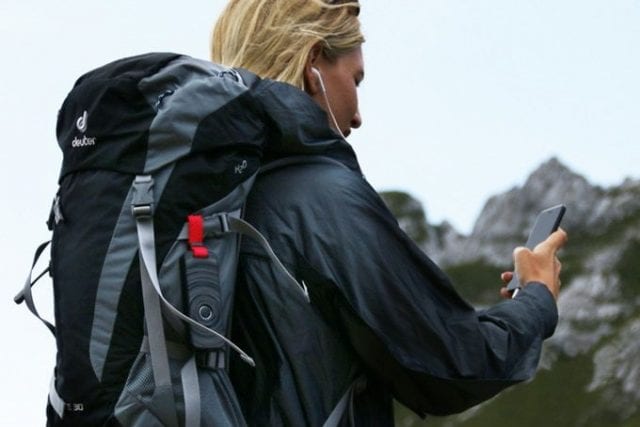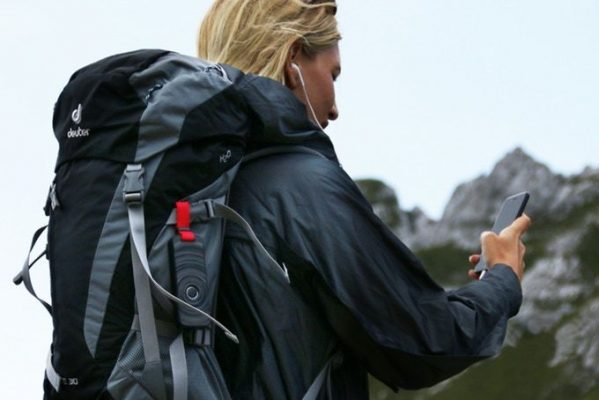 The Gotoky is a crowdfunding-backed off-grid communication device that provides a number of highly useful options to users that consider safety an important element when there is no phone signal.
As a means of providing ultimate off-grid communication for smartphone users, Gotoky addresses a number of the main concerns by allowing smartphone users that are paired with the Gotoky device to send voice and text messages, create a mesh network, group voice and text-based messaging, emergency location beacon activation, navigation and real time tracking, route recording, and sharing GPS locations while all being provided in a completely encrypted format.
Emergency beacon – The device itself is quite impressive, for instance, one feature the Gotoky includes is a push-button SOS feature. This can be used even if your phone has ran out of power and you only have the Gotoky on. When you are in an emergency situation, you simply push the SOS button and it sends out a signal to every single Gotoky user on the network. This alert also sends out your last known coordinates which is stored in the device just before your phone loses power.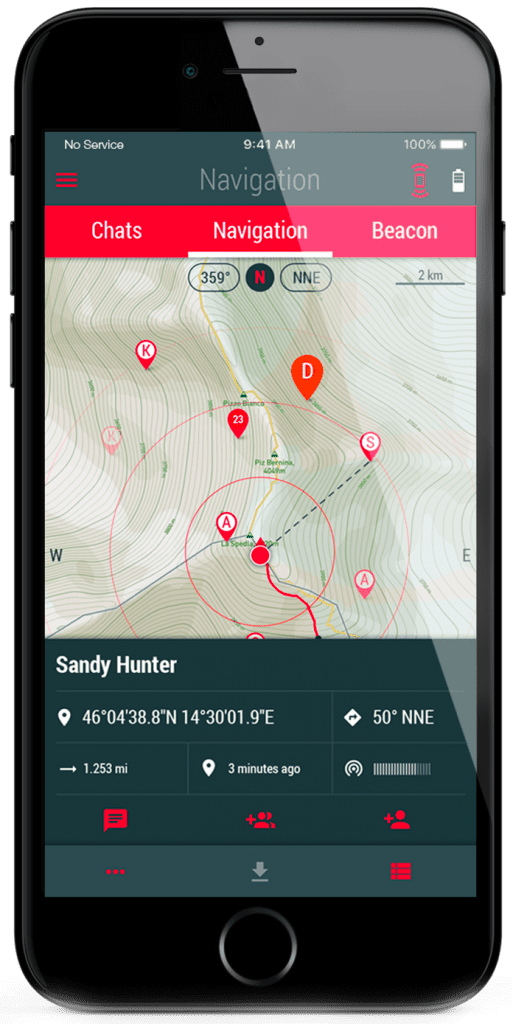 Mapping – Gotoky's mapping system is also something to be desired in off-grid communication devices, as outdoors they can turn your phone into a great GPS tracking device with live feeds from other users. For instance, the navigation ability of the Gotoky app includes:
Free, detailed offline maps of the whole world
Real-time location tracking
Sharing locations
Location pinging
Event creation
Direction and distance to other Gotoky's
Sharing GPS coordinates
"Emergency" location beacon
Route recording
Direct voice communication to selected users
Direct text messaging
Compass
How far the Gotoky can reach – The Gotoky also uses a mesh network to bounce messages from other users to enable it to be broadcasted much further. However, the distances for peer-to-peer messaging has been measured for .5 miles for congested areas (urban, cities, thick forests), up to 2.5 miles for open areas such as mountains, open fields, and just under 10 miles for line of sight messaging (mountain tops, high buildings).
4. Fogo Adventure Off-Grid Device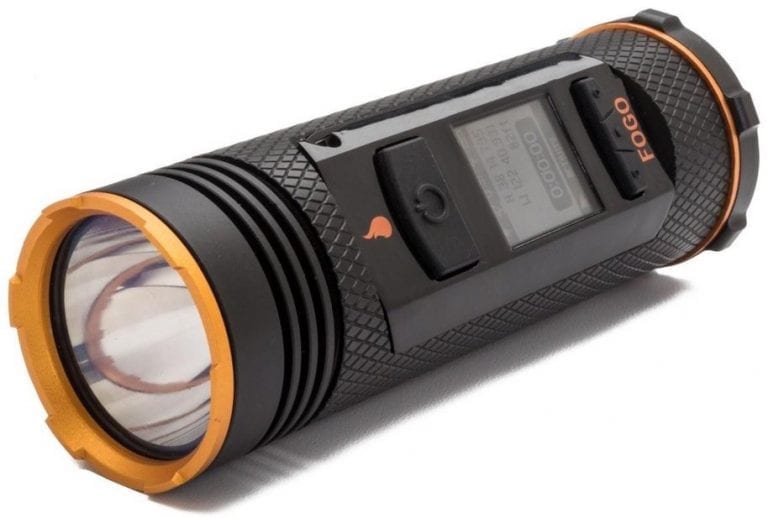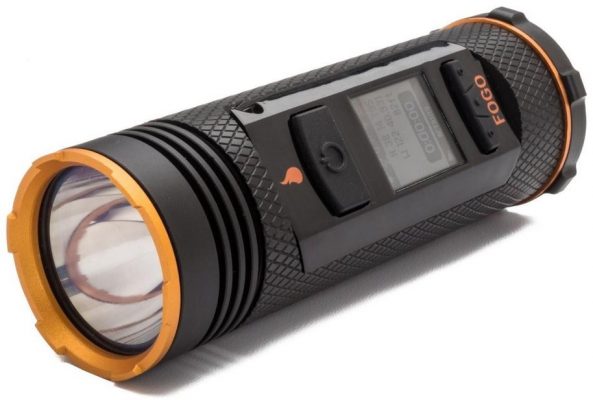 The Fogo is quite a new off-grid communication device that you can use with your smartphone, except it comes with some very different features that make it a great device for anyone thinking about going outdoors. A lot of its features are also standalone, and built into the actual device with allowing off-grid communication for your phone as just one of those features.
So what does the Fogo do that's so different? First, it doubles as a 1200 lumen LED flashlight (an obvious outdoors tool or piece of EDC gear that we all love to carry), personally, I find this quite handy as it doubles as something I already carry in my pocket when I am outdoors meaning I can cut down on excessive gear. But it also comes with:
A 6800 mAh USB backup battery so that you can charge up any drained devices
A motion sensor so when you're fumbling around in the tent at night, a small bump will make it blink
A fitness tracker to count your steps, route, elevation and heart rate
Waypoint navigation system with geocaching
An automatic light sensor for if you are cycling, it will change the strength of the light based on conditions and speed
A crash detection system which will send out a warning if you have crashed off your bike
Bike computer to track statistics
A bluetooth speaker for communication
As you can see, a lot of these specifications have been designed for the purpose of mountain bike riders and cyclists to act as a useful emergency device and off-grid communication device with other riders. However, I think a lot of its included benefits transfer over to hikers and urban users as well.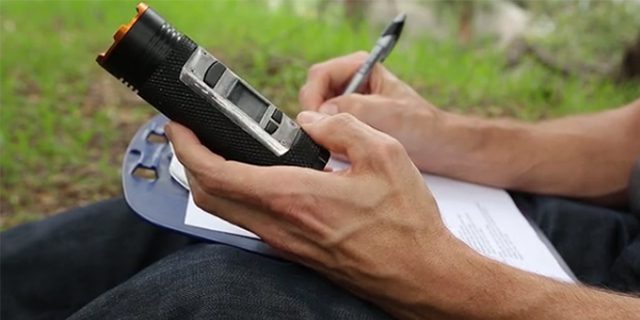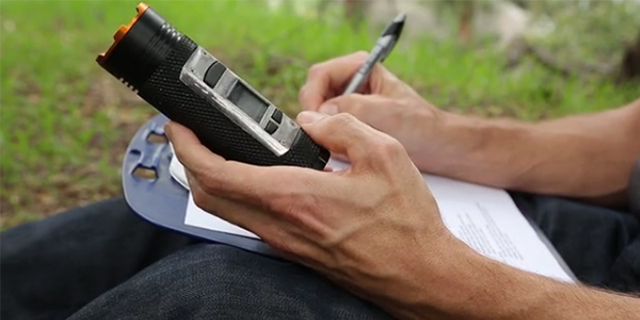 The reason why the creators behind the Fogo designed it as a standalone device, is because they wanted users to rely less on the smartphone, and more on the device, which is also fully waterproof and very rugged. However when paired with the smartphone, just gives it that extra edge by allowing messaging between device holders as well as mapping options.
How far the Fogo can reach – the Fogo radio has a pretty impressive reach which allows messages to be sent out at up to 16 miles away in peak-to-peak environments, with 7 miles for voice messaging. The setback to the Fogo is that it is not yet using mesh networking, and only communicates via peer-to-peer communication.
What do I think is the best?
There are a lot of competing factors with these off-grid communication devices and as you can see, it is a very growing market with many of these devices having only been recently released in the past couple of years. These companies are constantly upgrading their software systems to ensure that their devices win the battle for the most popular off-grid device.
As far as specifications go, I think the Gotoky and the Beartooth have the most features with their mesh network capability and push talk solutions enabling your smartphone to transmit voice messages without reception or WiFi. As for goTenna, they may work on this and enable this feature in the near future. Having that feature would make goTenna the most viable option as it has has a very wide adoption of users in its goTenna Mesh product.
If you are using one of these devices, or another one, let me know in the comment section below!